Indianapolis, IN
Indianapolis
Monster Energy AMA Supercross Championship
Thanks for reading and thanks to
BTOSports.com
for stepping up and sponsoring this thing. Check them out for the best deals on the whole World Wide Web and listen to the Podcast show to save even more!
So here we were at the round ten of the AMA Supercross series, and things were getting hot and heavy in the series. We all saw the stat in last week's Bench Racing Ammo which says that only twice in recent history has the points leader leaving Daytona lost the series. And one of those times would be when Damon Bradshaw lost the '92 title to Jeff Stanton after leading the points heading into the final round…sigh. I will now punch myself in the nuts over and over.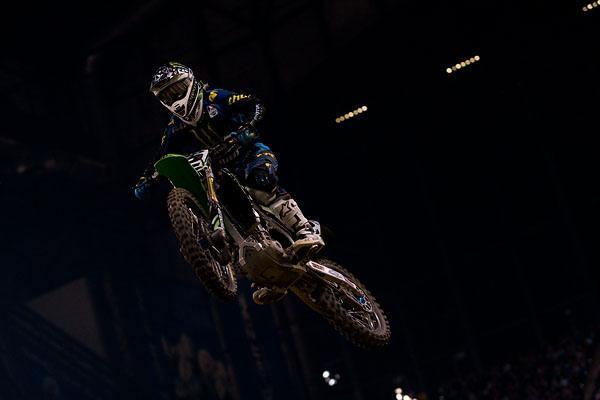 Will Villopoto make if four in a row at Jacksonville?
Photo: Matt Pavelek
So knowing this, the 23-point lead that Ryan Villopoto had on James Stewart was pretty sweet for RV. Just a quick comment on Ryan: we all knew that he was going to be good this year, many people close to him were telling me how fast he was before the season, but I have to think he has surprised many with his speed. He's in great shape for sure and he's riding great. Even a long time guy on another team told me they knew Ryan would be good, but they didn't think he would be able to avoid making mistakes like he has.
Indianapolis is a cool city, I've been there a bunch over the years for the SX and the annual dealer show. I've spent a week in the city here and there and it's definitely underrated. Myself and Jason Weigandt were going downtown on Friday night for dinner (now that I'm back at RXI, we can talk about this kind of stuff instead of hiding our relationship and feeling shame when I was at TWMX) and we were talking about how there were so many bars and restaurants in the downtown core. They were all within walking distance as well. And no matter what temperature it is outside, the places are always packed. A real cool, underrated city methinks.
Oh by the way, I'm typing this on my new Mac book Pro that I purchased after being a PC guy my whole life. It's weird and strange and so far, I'm not sure if I like it. Please excuse any mistakes (aside from the normal ones that I usually make) because I would blame it on the new keyboard, word doc font, page set-up, sharp edges on the sides of the Mac and my stress in trying to get used to this new way of life.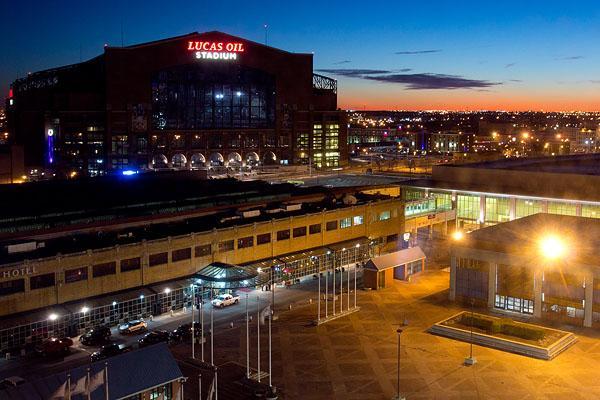 Beautiful downtown Indianapolis.
Photo: Andrew Fredrickson
The tracks at the old RCA Dome were generally pretty soft and rutted and many years, the track's condition was the bigger challenge than the speed of the other racers. It used to break down bad and make just clearing the jumps a challenge. The last couple of years, the dirt has been harder, even a little dusty at times and it was very unlike Indy that we all know and (some of us) love. Well in 2011, the track was back to the way it was in the old days--rutty and technical. Not very many riders made it through the night without having a close call and almost eating poop. As far as the track design, it was pretty challenging and had some jump rhythms that only the top guys were doing. I like this, I like to be able to see the really, really fast dudes do something that the really fast dudes cannot. That section was a triple/triple after the second triple that was busted out first by Ivan Tedesco. That would prove to be the highlight of IT9's night as he crashed out early on while up near the front.
Kawasaki's Villopoto won his season leading fifth race of the year by grabbing the lead early from Chad Reed and then checking out for a solid twenty laps. RV told me afterwards that he had a few close calls but I never saw them, he looked to have mastered the Indy track in every which way. I wrote earlier about the difference between RV this year and last is his physical conditioning and the maturity he's riding with. Look, we all know that I hang out at the Kawasaki truck the most, those guys on the team are my friends, I worked with some of them in the trenches and I like them all so take this "observation" for what's it worth: I've never seen a team or rider be so angry about being 26 points up in the supercross championship. They aren't happy about everyone talking about these "gifts." Rightfully so from their point, but that's part of the game. You have to expect this sort of stuff. Especially when your rider rides around the top two guys laying on the ground on the nineteenth lap and then the next week a rider is two seconds faster than everyone but corkscrews himself into the ground.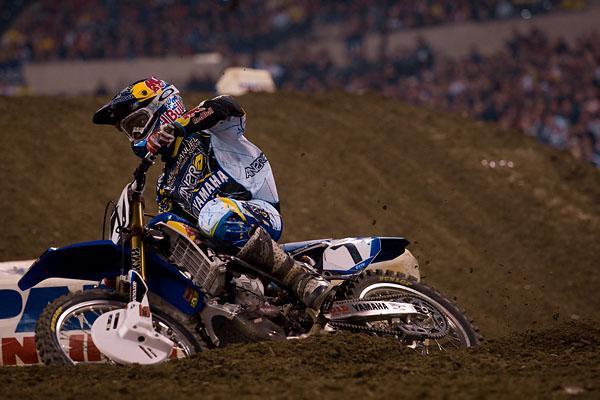 Stewart has now lost five in a row.
Photo: Matt Pavelek
RV's for sure got a chip on his shoulder but along with that chip is 26 points on his competition, five wins and a check that will still cash if he's able to hold onto this series lead to the end. He's been the best rider week in and week out and if anyone says differently they are high or drunk. Or maybe both.
In my opinion something was up with James Stewart this weekend, maybe it was not riding this week because of the Daytona crash, or the atmosphere around the team since the personal changes a few weeks ago, but he was fortunate to have gotten second. There were a couple of almost huge crashes early on in the main and he was struggling with the on/off tabletop sections that he normally does better than anyone else. James has always reminded me of a cat out on the track, he springs around and clears obstacles better than anyone else out there. This week he was plowing into tabletops, getting sideways off jumps and really, to me, he salvaged a second. In talking to riders that were behind him, and managers that were in the tower, there wasn't anyone who was not amazed that James didn't crash hard again. Like I said, he was a little fortunate to get second in my mind. For the first time in his career, James has lost five races in a row and if he's going to win this series, it's going to be a great comeback, no doubt about it.
By the way, Stewie's old team manager Larry Brooks is still out on "family time" and there has been no comment whatsoever by either Stewart or Brooks to tell us what is really going on. Imagine if the Hendrick Motorsports crew chief for Jeff Gordon suddenly stopped showing up at the races and boss Rick Hendrick wouldn't tell anyone what happened to him? Can you see how frustrating it is to be a member of the media that wants to provide the fans that buy the tickets all the news inside and out of the sport that we all love?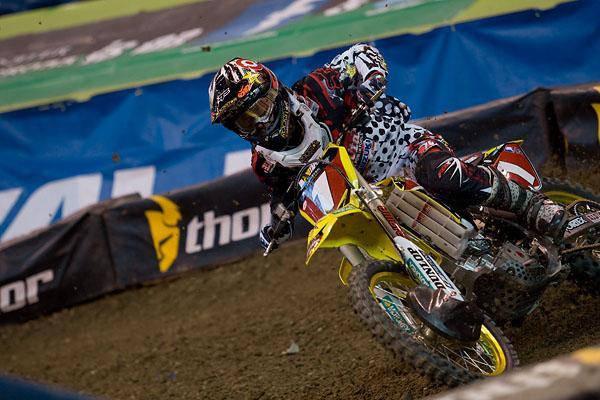 Will Dungey be able to get his first win at Jacksonville?
Photo: Matt Pavelek
Ryan Dungey rode better this week than at any other point in the season. His team manager Mike Webb told me last week that he thought Daytona was Ryan's best ride of the year but I thought that as good of a ride as that was, Indy was even better. Dungey and Trey Canard jostled for position early, which left Trey with a stalled CRF450 and a lot of rage. From there Dungey caught Reed in third and was all over him for that spot but Reed used his veteran guile to hold off the Dunge. At one point, coming off the second triple, Reed looked over and saw Dungey on him and quickly hit the brakes. He then drove to the inside and anticipated Dungey's move perfectly and kept his spot. I was thinking that if Stewie had done the exact same thing in Atlanta a few weeks back, he would've came away with the win instead of leaving the door open a sliver for Reed to come in and clean him out.
Anyways, Dungey would go on to hit Reed's rear wheel and go down. At that point the top four were so far ahead he was able to catch up and get right back on Reed in a gutsy and determined ride but Reed was able to thwart every move Dungey tried on him. After the race we saw a visibly angry Dungey for the first time in a while, there wasn't much happiness with him. The season is over halfway through and Ryan has yet to win a race, he knows what the critics and some fans were saying about his title last year. I'm sure he wanted to shut them up but it's not happening this year for Ryan although like I said, this was his best ride of the year in my eyes.
Reed wasn't himself this weekend, I don't know what the deal was but he was struggling for sure. I know a lot of riders would love to struggle and get a third but he was worked at the end of the night and was hanging on using all of his skills. His lap times reflected his inconsistency, one time he was in the 52's, then he cut a second and a half off the next lap but then right after that, he back in the 52's. He was trying to put down one lap at a time and regroup to fight off the Dunge and at times it was working, at times it wasn't.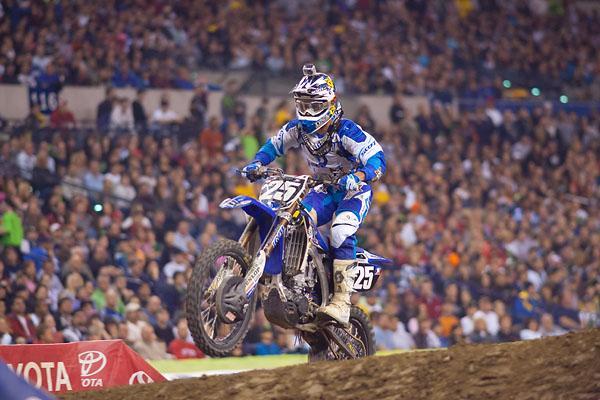 Sipes has come a long way for his moment. Now he's got it.
Photo: Andrew Fredrickson
There weren't too many people in the pits that weren't happy for Star Racing's Ryan Sipes to win his first career 250 SX main event. The Kentucky native is a veteran in the class and someone that is a good guy who tries hard and has never had too much of a chance to be "the guy". Sipes has been great this year no doubt about it and even though he needed a crash by early leader Blake Bagett to get into the lead, I really think he would've found a way around the 57 because he was pressuring Blake pretty bad. Sipes' first career win makes him a player in this title chase--as he's only twelve back right now. Funny last year when I was at Pro Circuit hanging out, Ryan came in looking for owner Mitch Payton and wouldn't you know it, it was right around contract time for him. I'm sure he wasn't there to see about picking up a pipe and I'm not sure if he ever did get a meeting with Payton but I know that he would be a good addition to any team.
What's up with Dean Wilson? The Scottish/Canadian/American was many people's pick for the title this year and after winning his first career race in Atlanta he certainly seemed poised to do just that. But then it's been bad starts and crashes the last couple of races. Dean's doing the typical young rider thing where he's pressing out there on the track because the leaders are taking off and he needs to get to the front. That typically leads to more mistakes made and then you end up with an eighth and a sixth the last two weeks. From a few points from the lead to now 16 points down with only five races to go isn't good. He's got to get better starts to turn this around and I don't mean the main events, it starts in the heats which then gives you the best gate picks for the main and increases your chances for a good finish by quite a bit.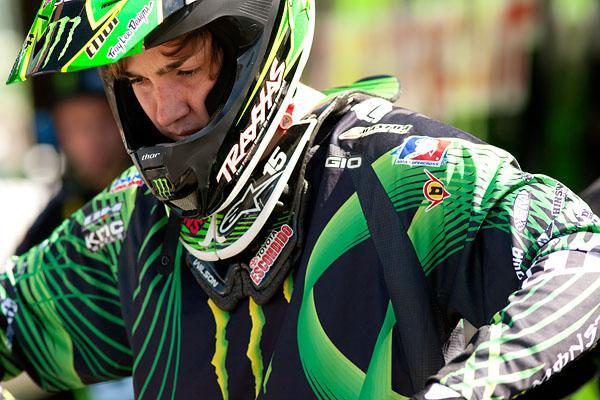 Is Wilson out of the championship hunt after two bad rounds?
Photo: Andrew Fredrickson
Justin Barcia was all over Sipes the last lap but didn't do anything dumb to force something that wasn't there, although I was sort of cringing thinking he was going to do something like that out there. Bam-Bam is riding with some jacked up bones in his wrist and trying to gut this thing out using his speed and, for maybe the first time in his career, his smarts. I heard that six-time national and supercross champion Jeff Stanton is now going to be working with Barcia which doesn't surprise me because, by the way, his mom Lorraine was grilling me at Bercy about Tim Ferry and the effect he had on Trey Canard.
Let's take a look at the race results shall we?
AMA Supercross Lites Class East:
1. Ryan Sipes Yam
2. Justin Barcia Hon- I can see it now, Stanton standing there watching Barcia ride and wondering how in the hell he's going to fix this?
3. Blake Baggett Kaw- Nice recovery from a pretty bad crash.
4. Malcolm Stewart Suz- I've got Mookie Fever and after his best ride of the season, I'd say my temperature is running around 139 degrees. He's one to watch, next stop for him is a podium this weekend. You heard it here first, suckers.
5. Matt Lemoine Kaw- Lemoine's best finish of the year on a privateer Kawasaki.
6. Dean Wilson Kaw
7. Blake Wharton Hon- I didn't really notice Blake all that much and that's a bit of a problem because that's a bunch of rides where you don't notice him this year. He's got to get up and into that mix up front.
8. PJ Larsen KTM- PJ did what he had to do but he collected Lance Vincent and Sean Lipanovich in his wake in the LCQ. I'm ok with the block passing but moving over in the air and clipping Lipanovich's front wheel was nasty.
9. Alex Martin Hon- The little Ewok warrior has quietly been having a pretty good year on the Eleven-10 Mods Honda machine. He's tenth in the points after his best race of the season and passed fellow privateer Lance Vincent in the points with this ride.
10. Les Smith Hon
11. Gannon Audette Yam- I know it's his first year but we now see that the Yamaha machine under Gannon is pretty good, so I think expecting a little better performances out of him isn't asking for much is it?
12. Bradley Ripple Hon
13. Taylor Futrell Hon
14. Ricky Renner KTM
15. Michael Akaydin Kaw
16. Nico Izzi Hon- Without a doubt, Izzi has been the fastest guy in the class who has done absolutely nothing so far this year. Nico needed a bounce back year to get himself back into the discussion for rides on the bigger teams. His 15-DNQ-17-16 scores this year isn't going to help. Neither is his hosting an afterparty this weekend in Jacksonville.
17. Tyler Sjoberg Kaw
18. Jason Anderson Suz
19. Shawn Rife Hon- Rife hasn't been able to do anything since the first round on a privateer Honda. I thought he'd be better, to be honest.
20. Hunter Hewitt Suz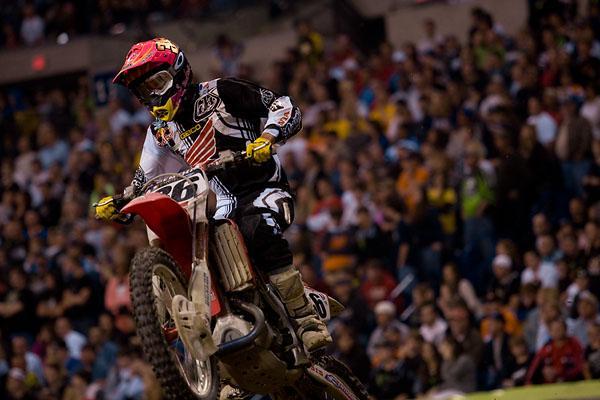 Seely scored a ninth in his Supercross class debut.
Photo: Matt Pavelek
AMA Supercross Class:
1. Ryan Villopoto Kaw
2. James Stewart Yam
3. Chad Reed Hon
4. Ryan Dungey Suz
5. Justin Brayton Yam- Brayton is back after a couple of good rides the last two races. He was strong the entire main and yeah sure, the top four were pretty far in front of him but he beat everyone else!
6. Trey Canard Hon- Canard got into with Dungey after the race and then went over to apologize to Ryan for his actions. Then he told me that he was really happy about seeing a clean truck this weekend.
7. Kevin Windham Hon- Another quiet seventh this weekend for KW. He hasn't been able to break into the lead pack for a few races but I imagine after his horrendous crash at Houston, he may just like it back away from that edge that he was on.
8. Nick Wey Yam- Wey finally broke into the top ten with a good ride. He credits it to some suspension changes he made on the machine. Let's hope we keep seeing him up there like this. Here's a post-race Pulpcast with him http://www.pulpmx.com/podcasts/pulpcasts-indianapolis
9. Cole Seely Hon- Seely did pretty well on the Honda ride for a first timer. Nothing about him really stands out but he's a smooth rider who doesn't make a lot of mistakes.
10. Mike Alessi KTM
11. Davi Millsaps Yam- Bummer for Davi as he stalled his bike on the last lap and Alessi got by him which, judging by these guys' history with each other, probably made Millsaps really stoked on life.
12. Matt Boni Kaw- That's two twelfths in a row for Boni who is trying to get back to his old form that won him privateer of the year a couple of years ago on a Honda.
13. Michael Byrne Suz- This was Byrne's best finish of the year as well and he's slowly getting back into the groove. The comp (get it?) is deeper this year than it's ever been and Byrne has missed two out of the last three years of SX.
14. Fabien Izoird Kaw- I sometimes wonder what Fabien is thinking when he's just standing there in the Kawi truck watching his team and this chubby journalist go back and forth about Tim Ferry, eating, RV yelling and screaming about people saying he's lucky and some stories about me being a mechanic with Big B being my truck driver. Is he just sitting there and trying to catch every third word in English wondering how this is a factory team?
15. Matt Goerke Kaw
16. Tye Simmonds KTM-I finally saw what Tye Simmonds looked like this weekend. Up until now, I had no clue what a Tye Simmonds was. I have to say I'm wondering what they feed those kids in Australia because Tye is 19 and a monster. He's a big kid with a five o'clock shadow! Someone check his birth certificate, please…
17. Robert Kiniry Suz- Good to see BK in the mix and he made it in through the LCQ by battling Matt Georke who he will be seeing a whole bunch this summer up in Canada as those two go at it up in my motherland. Bobby's good people.
18. Chris Blose Kaw- Blose fell about .4 seconds after his teammate Tedesco did and tweaked his already tender ankle.
19. Ivan Tedesco Kaw- Yeah! Tedesco seemed to be breaking through when he did that one section first and then got a start in the main but it all went to poop when he slid out on some plywood that was showing through. Bad night for the Hart and Huntington crew, for sure.
20. Andrew Short KTM- Shorty didn't get very far in the main when his throttle position sensor went out on the KTM 350. He didn't make it a lap and said that on the parade lap it was acting up. He lost his cushion that he had on seventh in the points with this DNF.
A few notes about the night that was in Indianapolis:
-Andrew Short is going to be testing some outdoors this coming week on a KTM 350 and 450 in Southern California. His teammate Mike Alessi will also get that chance and I think both guys will end up on the carbureted, bigger machine for outdoors.
- JGR truck driver Tim Dixon made a fantastic queso dip that was a direct copy of the one that Chili's restaurant makes. Trust me I know as I've probably devoured more Chili's queso than any other human on the planet.
-Not to be outdone, the Kawasaki guys got chicken wings and fries somehow delivered to their truck before the night show. Very good stuff although when I got there, Weege was just finishing his meal and everything was cold.
-I don't think I've ever seen Stewie that mad on a podium before. He used the words "pissed off" and was not happy one bit. I think he's going to come out at his "home" race this weekend swinging.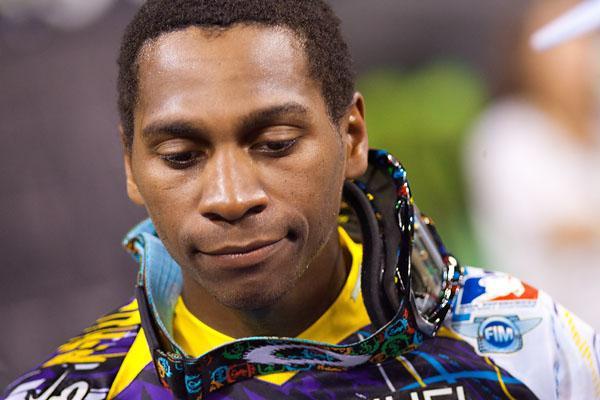 Stewart was not happy with his second place finish in Indy.
Photo: Andrew Fredrickson
- One long time observer in the pits thinks that James suspension set-up isn't right, it's still too stiff in the front and too soft in the rear. This person does suspension for one of the factory teams and knows some things.
- Look for Kawasaki's Jake Weimer to make his debut at St Louis if all goes to plan. Jake is back riding and getting ready to start getting busy on supercross.
- In some USGP news, because Monster is now the primary sponsor for the GP series, look for both Villopoto (who rumors say has requested his amateur #615 for the race) and Weimer to race the Glen Helen event here in the beginning of May. Mike Alessi is also scheduled to race it but it looks like teammate Andrew Short won't be there.
Thanks for reading, email me at steve@pulpmx.com and I'll do my best to get back to you to address your thoughts, concerns and praises.