Lucas Oil Stadium
Indianapolis

,

IN
Indianapolis
Monster Energy AMA Supercross Championship
Team DNA Shred Stix/Star Racing Yamaha's Ryan Sipes is one of the more experienced riders currently competing in the East Region Lites class. The friendly, outgoing Kentuckian is a good dude, on a good team with a good bike under him but has only made the podium once this year out of three races. But don't count him out for a win before this season is done.
The seventh year pro has battled injuries early on in his career, but that seems to be in the past. Sipes has ridden Kawasakis, Suzukis, Hondas, Yamahas and even a KTM for a couple of years. There is no lack of experience on Sipes' behalf, just a lack of wins. So what does Ryan need to do to get that W?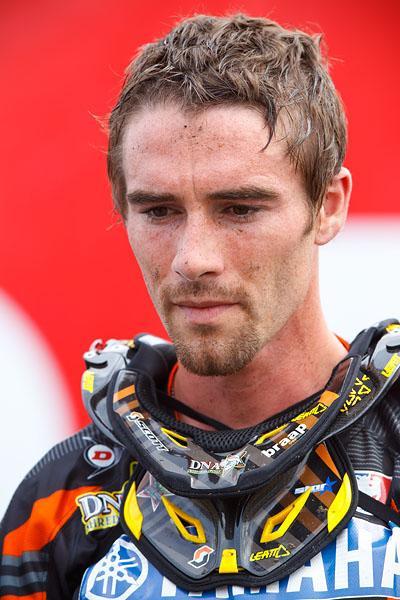 Sipes picked up his first podium of the year at Daytona.
Photo: Simon Cudby
According to his team manager Alan Brown, it's all right there for Ryan and it will come together for him soon.
"He's been working hard, working on sprints and he has the speed and he has the endurance. He's got a great bike under him and he's got all the talent in the world. I think it's coming for him" said Brown.
So it's coming. What needs to happen for him to breakthrough?
"I really think he needs to hang it out a bit more," says Brown. "He's been a bit conservative out there and we've talked about it. He's not going as fast as he can, we've seen in qualifying that Ryan can go as fast as anyone in the class, and he needs to take some more risks like the winners in the class are doing."
And Brown could be right about that, as Sipes has been atop the board in a few practices, and that proves that the speed isn't an issue. In Daytona, Sipes was right there with the top two riders before tipping over and losing touch with the top two. It would seem that a track like Daytona would suit the rugged Sipes to a T, but it's the small mistakes that he makes that are holding him back right now.
At the opening round of the east Lites in Houston, Ryan was criticized by some (including this writer) for forcing a pass on Blake Wharton late in the race that was maybe not there. But Brown sees it differently.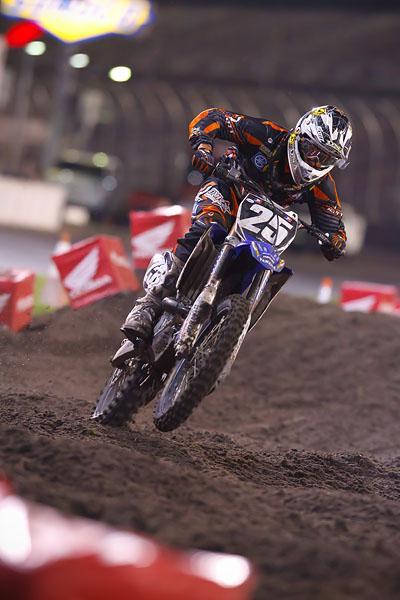 Will Sipes break through at Indy and pick up his first win?
Photo: Simon Cudby
"That pass was unfortunate as both riders went down, but he had been behind Wharton the whole time and made a few runs at him. He was frustrated because he couldn't force an error with his efforts, so he ramped it up and tried something aggressive.
"That was racing and that's what we want him to do, so for me to come down on him wouldn't be fair" says Brown "It was a racing incident where neither guy backed off and both went down. We do want him to have that go for it mentality."
So there we have it. We've established that Ryan Sipes has the speed, the experience, the machine and everything else to win. To Alan Brown, there are no excuses. "We expect him to be on the podium every race, Yamaha expects that and he knows he can be there. We want him to ride smart, but yet take the shot if it's there."
And that folks, is what Ryan Sipes is going to have to do to go for the W.