Your Collection: 1975 KTM
This weeks collection comes from Tom Schwarz from Gold Canyon, AZ.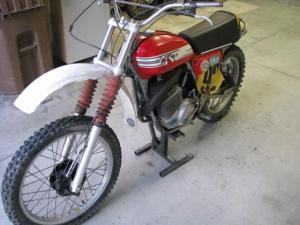 "Good morning! I have a project I'd like to share. This is a 1975 KTM 250 MX I found and couldn't resist bringing it back to as close to original condition as resources would allow. The bike is actually quite unique in that it's the first of the off-road bikes that KTM labeled as an actual KTM, and not as a Penton. Beginning in 1975, East coast bikes were imported into the US and noted on the tanks as Pentons with KTM motors, while the west coast bikes were noted
on the tanks as KTM with the same KTM motor. She
runs as well as she looks! Enjoy!" - Tom
ATTENTION READERS: WE NEED YOUR COLLECTIONS!
Do you have something cool you'd like to show off? Submit a piece from your collection as well as your name and mailing address to madavis@graphicslab.com and be entered to win a Racer X cover poster and Throttle Jockey stickers. You will be notified via e-mail if you are the winner!


*Please note that while international readers may submit their Collections, we are only able to award and ship prizes to winners within the United States.