5 Minutes With... Chad Johnson
If you're not super familiar with AMA Arenacross and its riders, you might compare Chad Johnson to one of AMA Motocross' all-time fan favorite's Doug Henry.  In fact, it's no wonder that Doug Henry is actually one of Johnson's racing heroes.  Both riders are the epitome of the hard working, and humble family man.  When Johnson is not racing, his time is spent working at his parent's concrete business, teaching motocross schools, and spending time with his wife and two young daughters.  The 28 year old is so committed to his family that he spends his winters at home in Rhinelander, Wisconsin where he studs up his tires and practices outside on his home track.  While he may not be the "wildest" rider on the Arenacross circuit, his smooth and methodical style has earned him two championships. Currently a close second in the 2011 series, we caught up with the Team Babbitt's Monster Energy TiLUBE Kawasaki presented by Maxxis Tires rider to ask him these questions.
Racer X: Let's hear your summary of your season to date.
Chad Johnson: So far so good; I've really been working on just staying consistent.  Its Arenacross, so there's a lot that can happen during the races; there are always fast riders and with the tracks smaller, and lap times shorter lots of things that can change quickly.
You're back at Team Babbitt's riding a Kawasaki KXF450 – has much changes since last season?
No, there really haven't been that many changes with the team since last year.  As you said, we are on the KX450 again, and it's a great bike – stock it's awesome.  I have known Team Manager Denny Bartz since I was racing the 80cc class – we get along very well, and he is a huge help with knowing what to do to motivate me.  My mechanic Rob Goodwin does an excellent job in keeping my bike top notch and helping me on the track.
You seem to be friendly with all your competitors in spite of the intensity of arenacross – how do you do it?
Jim; racing is racing; on the track you're trying to win – teammates or not.  Off the track I just try to enjoy myself; life is way too short to have enemies.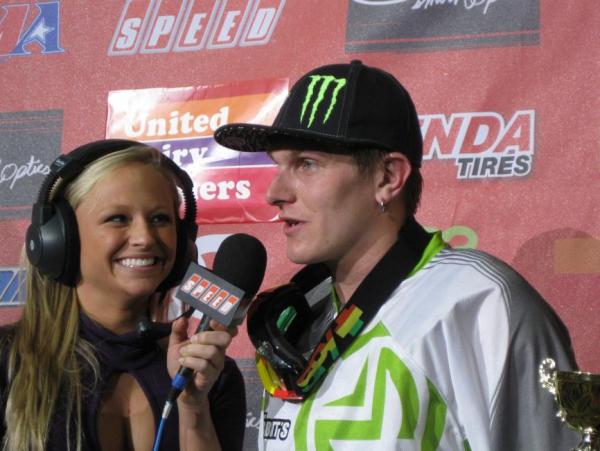 Johnson is having a solid 2011 thus far.
Photo: James Kimball
You're somewhat of a veteran now with a couple of Championships. What's your key to success?
I just train hard in the off-season, and I race because I love it – for me it's just that simple.  Sure, it's also a job that can make you money, but for me I don't really look at it that way – I love to ride and I really enjoy the competition aspect of the sport.  In Arenacross it's all about bike set up, seat time, and finding that right balance of knowing when to go for it, and knowing when to let off.
Aside from being a professional Arenacross racer you are pretty much a normal family guy right?
Yeah, that's right; I have a very supportive family that truly make racing a lot easier on us all, but all the travelling week after week does take toll after a while.  When the racing season is over I still race a little but, but also work at my parent's block yard, and hold motocross camps for kids.
Getting back to racing. So now you're focused on winning another championship; then what?
I would definitely love to get another title for sure; you always want that, but I'm just sticking to what I believe in--which is taking it one race at a time.  As far as the future I'm taking that year by year; as long as I am enjoying racing, I'll keep doing it.
Wrapping things up Chad, who would you like to thank?
I for sure want to thank my family for all their support; they do so much for me.  Also a big thank you to Babbitt's, Monster Energy, Kawasaki, Maxxis, Moose, EVS, Shoei, Tex, Spy, Vortex, Works Connection, and anyone that I missed!