Daytona, FL
Daytona
Monster Energy AMA Supercross Championship
Ahhhh, the dirty south. Atlanta is where we were this week in the ongoing circus that is the AMA Supercross series. This was the first race of the series that was on the east side of the country and the first one in the eastern time zone. The ATL is always one of the crown jewels of the series and this year was no different, although it did seem that the attendance was down a bit from past years.
Whatever happened to the tacky, rutty Atlanta dirt from my childhood? For a few years now it's been gone and the track is very hard packed and slick. It's the Georgia red clay mixed with some concrete hardener or something like that. The same thing in Houston, that dirt was also tacky and rutty when I first started going there and has now turned into the same thing as Atlanta. One of the riders informed me that in Houston, there was a Monster Truck event so the base was left in there and the jumps were built with the newer dirt. Which explains the jumps rutting up a bit but the corners being slick.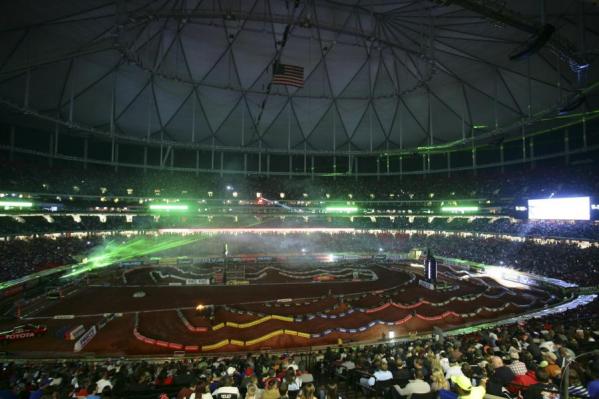 This was just the beginning of what would be a crazy night in Atlanta.
Photo: Andrew Fredrickson
The track in Atlanta was pretty basic, not a lot of things to be done different out there. The 250 riders really didn't have many options, and in reality, there were two spots to pass in (more on that later). I think that due to the limited track, there was more battles and bunched up packs because one guy could really inflict some damage (in the form of seconds lost/gained) to some other riders. The riders may not have been that happy but the track allowed us all to see a great race. If this form of easy track = great racing, look for a circle track with two pylons by Vegas!
Ryan Villopoto won the race and good for him. I have a grand tradition of putting the 450 winner as the top story in this column so let's start with him. He hadn't won in a while and got a bit of a gift in ripping by a downed Chad Reed and James Stewart with a lap remaining to win his third race of the series and open up his points lead. Full credit to RV for being able to keep charging the whole race even when he lost touch with the two guys in front of him because if he had slacked off a bit, he would not have won this race.
A laugh out loud funny moment for me on Sunday when I got this text from Mike Williamson, RV's mechanic, who wrote, "Don't go writing that RV got a gift. We planned on attacking on lap 19 so they couldn't see our lines. It worked, they felt the pressure and cracked!"
Then one minute later it's a text from RV saying, "Mike's text is 100% true. Planned all along."
So with apologies to RV, let's get to the really big brouhaha from Atlanta.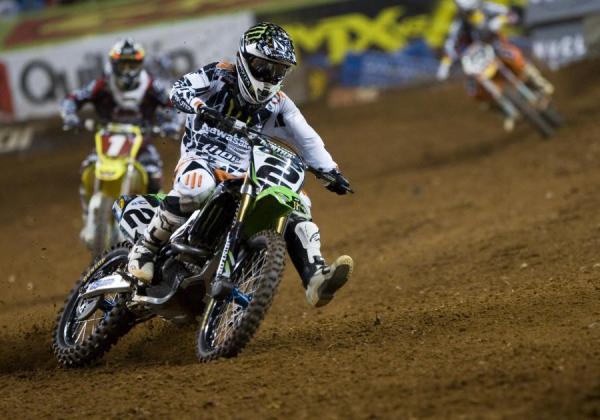 Villopoto got an early Christmas present in Atlanta.
Photo: Matt Pavelek
The big story last week was Chad Reed winning San Diego and completing his comeback from the dead (otherwise known as I-want-to-ride-a-Honda-and-there's-no-one-willing-to-pay-me-enough-ville. It's like Whoville but a lot less friendly). It was a great ride for sure but it was raining, sloppy and there definitely were people who kind of just thought it was a bit of a fluke. Not a Ricky-Ryan-winning-Daytona-1987 kind of deal, but similar.
Well, those people that thought that were wrong.  In Atlanta, the old Reed was back in a big way and I think that's the story here. He didn't win, but he caught old rival James Stewart, passed him and pulled out a lead. Stewie rallied the troops, caught the 22 again and made a big mistake which allowed Reed to gap him again. That lead disappeared when Chad tangled with a lapper (twice actually and one of them was Stewie's teammate and we all had Salt Lake City flashbacks) and James struck quickly. Then, with less than one lap to go, Reed dive-bombed to the inside of the Stewie and there was a collision heard round the moto message boards. Both men went down and all 70,000 of us in the Georgia Dome pooped our pants.
Reed and Stewart both got up at the same time with Ryan Dungey (the guy in fourth) right on them and they all raced to the finish. Stewie was so incensed with the move Reed pulled on him that he spent his last lap looking back, weaving and trying to take Reed down. This allowed Dungey to pass by into second and then in the same turn that he was passed in a lap earlier, Reed got by James and grabbed the last podium spot. It was just an insane end of the race and one we'll be talking about and analyzing for years.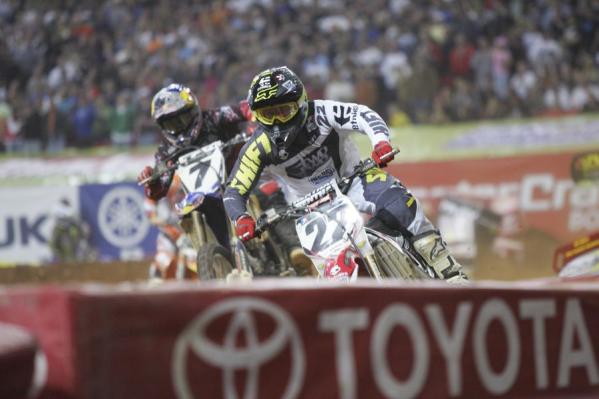 The battle.
Photo: Andrew Fredrickson
First let's talk about the pass by Reed on Stewie. It was very aggressive to be sure. I've been on here criticizing the Dean Wilson/Justin Barcia ram-a-thon from Houston because those guys weren't moving forward. They were in effect screwing each other over and more worried about each other than actually winning the race. In this case, it's the last lap and Reed was already pissed from James getting him when he had to check up a bit when lapping Kyle Regal.  And quite simply, James left the door open for a move like this.
I was talking to one of the big-time 450 guys on Sunday (he was in the main event) and he told me that there were two places to pass on the track. And they were the corner where Reed got James and the right hander before the finish. He watched the race and commented that he couldn't believe James went out there in that turn, it was the only place where a desperate Reed could make a move. But yet, he went outside and wham! Reed came in hot, Stewart t-boned Reed when he was exiting the turn and we have history.
To me, it's almost all fair when it's a last lap thing. I don't have a big problem with what Reed did to be honest. It was a little gnarly and in the end, it cost both guys a shot at the win. Earlier in the 250 heat race in that exact same corner, GEICO Honda's Blake Wharton came over the triple, looked over at Star Racing's Ryan Sipes and when he went into the turn he braked and tried to cut inside of Sipes who was coming into the turn similar to Reed.
What I didn't think was very smart (and James reads this column so I may never speak to him again after this paragraph) was Stewie weaving back and forth on the track and looking back for Reed in order to take him out for the pass. Yes, I'm sure he was super/mega pissed but you can't let your emotions get the better of you, RV was gone and James needed to concentrate on salvaging enough points but he was out for revenge. It cost him two positions in the end which was four points. Remember those four points when it comes down to the end, people!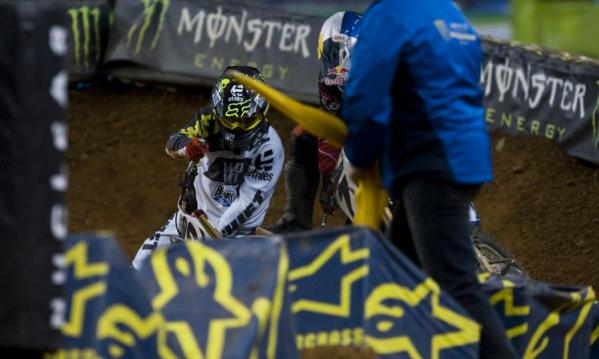 The aftermath.
Photo: Matt Pavelek
Before all this happened, the big news coming out of Stewie's camp was the disappearance of long-time team manager Larry Brooks. Rumors spread like wild fires through-out the pits on what the real story was and truthfully, as I write this I don't know for sure what's up either. I do know that Larry missed his first supercross in 16 years this weekend and I'm pretty sure that he's not going to manage the team that he helped build way back in 2006.
After a few texts and calls, Brooks did finally get back to me (can you imagine how much his phone was blowing up?) but requested that what was shared between us remain private for now but he added that he will come out and give us his take on what went down soon.  The question of the L&M team has been whispered in the pits all year when the team showed up at Anaheim without the L&M logos on the truck, and a prominent JSE logo. I spoke to Brooks about this but he didn't want to comment, I spoke to James about this and he didn't want to comment. It's all a very strange situation for sure and if I had to guess, it would be that James bought either the whole team or a controlling interest and once the deal finally went through (these things do take a while) Stewart made some moves he felt were necessary. I know that a suspension guy was let go a few weeks ago and now, either Brooks was let go or moved over to a new department.
Stay tuned for much more on this.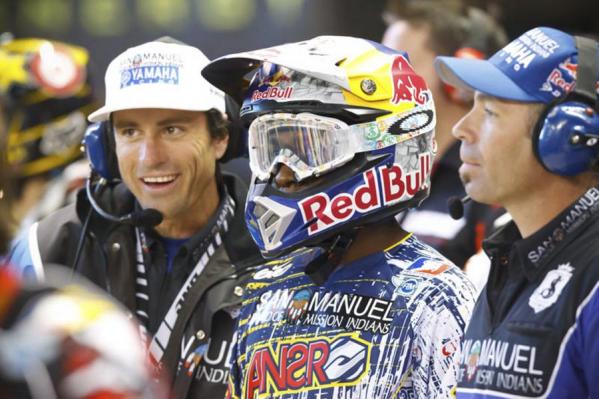 Is Larry Brooks out at San Manuel?
Photo: Simon Cudby
One more Stewart note: After the track walk he came over to Jason Thomas and apologized for their Houston crash. JT accepted Stewart's apology and admitted, like he said after the race, that it was just a racing incident, and he wasn't mad about it.
It was only a matter of time really before Dean Wilson won his first 250 Lites race…hold on. Wait--one more thing on Reed. Do you guys realize how hard it is for a guy to gain speed the way that Reed has the last little bit? He was not on the leaders' pace in the early season races but he has truly gotten better and it now seems that he's ready to start being one of the guys that can win this whole thing. I know Honda has done some testing with him with clamps, Bones at Pro Circuit with suspension (his motor has stayed the same since Phoenix) and it's clearly paid off. He's a real threat now where he was not a month ago, and that, to me, is simply amazing.
Okay, now back to your regular column. It was only a matter of time before Pro Circuit's Dean Wilson won his first race and I bet a lot of people already thought he had won one last year. If you have to picture how the first supercross win is going to go down, coming from fifth and passing all the toughest competition in your class on the way to the front sounds about right. Dean got a horrible start in his heat when he spun on the plastic and was pretty much dead last going into the first turn. He worked hard on a track that isn't easy to pass on to get into qualifying position. Then in the main, again he didn't get the ideal start.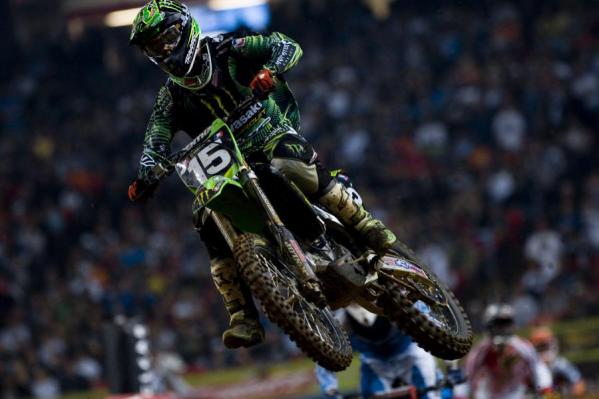 Wilson en route to his first career SX Lites victory.
Photo: Matt Pavelek
From there he got by Ryan Sipes, Blake Bagget and his buddy Justin Barcia, passed a fallen Blake Wharton and went on for the win. It was his first, but his team's 200th combined sx/mx win. Yep, that's right: Mitch Payton's powerhouse team has managed 200 wins since 1991, that's an average of 10 wins a year!
Blake Wharton is going to definitely be kicking himself when he watches the tape because this was his race to lose, no doubt about it. Blake got caught up with some lappers, which allowed the pack of Wilson, Barcia and Bagget to catch up. It didn't look good for him. But then the moto gods allowed the other guys to get jacked by some lappers, too, and he pulled the lead back out. This was his to take, but it all came crashing down when he lost his front end. In two races he's held 3rd and 1st late in the race only to have poopy luck.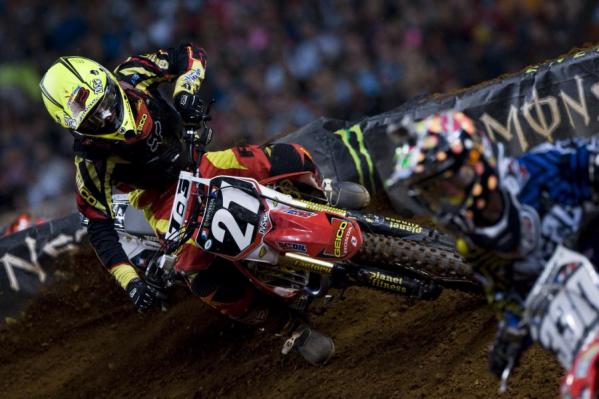 Wharton has had his share of bad luck this year.
Photo: Matt Pavelek
There were a few angry emails to me about last week's column saying that Ryan Dungey isn't quite on the level that the other four guys (Stewart, Reed, Villopoto and Canard). I'm not saying he's terrible or whatever, but Reed has made a move up in speed and passed Dungey in my opinion. This weekend, Dungey was the fifth place guy with the big four right in front of him (then the big three when Canard went down). It was time to make a move and reestablish himself as someone in the mix to win races. Sadly, he couldn't. He did not make up time on anyone, but the good news was with Trey's crash and the Reed/Stewie "incident", Dungey slipped into second by the end. He lost some points to Villopoto, but he gained on everyone else.
Don't look now but Andrew Short is back! After some results that he wasn't happy with, the ever smiling one has now gone 6-5-6-6 on the KTM 350 in the last four races. He's figuring the bike out more as he tells me in THIS podcast. He's basically holding the bike wide open everywhere and using his momentum more. It shows as he's been the leader of "the next pack" the last four races and would have had a fifth this weekend but Canard got him with half a lap remaining.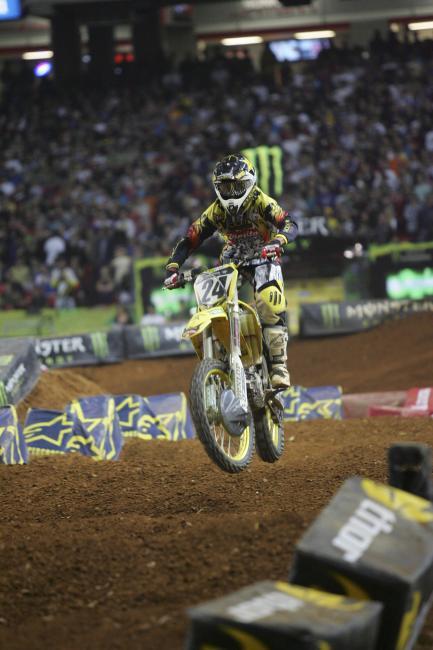 Metcalfe overcame a terrible crash in his heat to get second in the LCQ and take home 10th in the main.
Photo: Andrew Fredrickson
The 450 LCQ is sponsored by DC Shoes but this week in Atlanta, it should have been called "The Steve Matthes Race Between Some of his Favorite Riders" as Nick Wey, Michael Byrne, Brett Metcalfe and Jason Thomas all went at it for two spots into the main. Sadly, Thomas and Byrne didn't make it but Wey and Metty did. I was very conflicted in this race and was hoping that somehow they were going to change the rules and take four to the main.
Let's take a look at the results shall we?
250
1. D Wilson. If you're dreaming of your first win, coming from fifth to first and passing all the good guys in your class to win is a pretty nice scenario.
2. J Barcia. Bam-Bam went down right in front of me in practice and it was a nice crash. Strangely in the main event, he lacked his usual fight when getting passed. I heard that he could have some broken bones in his hand from the crash.
3. B Baggett.
4 B Wharton.
5. R Sipes. Sipes was fastest in practice but went down in the main when he was in the lead pack.
6. H Hewitt. Hewitt had a great race! Isn't it weird that his dad owns the Rockstar/Suzuki team but he doesn't ride for his dad anymore?
7. P Larsen. Larsen rebounded with a good race for the JDR KTM team.
8. M Stewart. Mookie was once again pretty good but went down in the first turn and was last to start the race. So considering that, he rode great in coming from the back. He's got top five speed but hasn't been able to show it yet. I've got a fever and the only cure is more Mookie!
9. J Anderson. Anderson is not quite on the level of the top guys but he's right there in the second pack. His rookie teammate Ian Trettel couldn't line up due to injury.
10. M Lemoine. Lemoine had to make it through the LCQ.
11. L Vincent. The surprise of Houston continued his roll in Atlanta with another solid result.
12.  A. Martin.
13. J. Sipes. Great ride for Pooh in the heat.
14. L Kilbarger.
15. B. Ripple.
16. M Akaydin.
17. S. Lipanovich. He caused some problems for the leaders when getting lapped but it wasn't all his fault if you watch the race. He made approximately 492 errors in a lap with it all cumulating with him shooting off the track.
18. N Myers.
19. V. McKiddie.
20. K Rusk.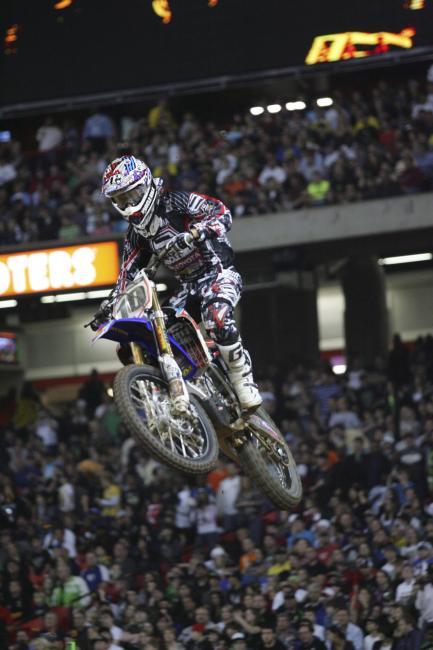 Brayton salvaged a 7th place finish in Atlanta.
Photo: Matt Pavelek
450
1. Ryan Villopoto.
2. Ryan Dungey.
3. Chad Reed.
4. James Stewart.
5. Trey Canard. Canard was right there in the mix until going down.
6. Andrew Short.
7. Justin Brayton. Brayton went over the bars in practice and walked off shaken up. He was a little jacked up so his seventh is probably pretty good.
8. Kevin Windham. I think KW is still battling his Houston crash and the effects it had on him.
9. Ivan Tedesco. IT hit the gate at the start and had to do the whole pull back and then the gate dropped thing. I spoke with him earlier in the night and he's definitely frustrated with his lack of results lately.
10. Brett Metcalfe. Metty went down in the whoops in the heat and it wasn't a good night for him. The good news is he didn't get eighth! The bad news is he got tenth.
11. Davi Millsaps. Davi lost his mechanic this week when JGR's Alex Ewing and the team parted ways unexpectedly.
12. Nick Wey. Wey told me that Atlanta was his best ride of the year because he was so far back off the start.
13. Kyle Regal.
14. Chris Blose.
15. Tye Simmonds.
16. Matt Boni. Boni is working on being in the main event each and every week. Once that happens, he can start to build some momentum and work towards the top ten.
17. Fabien Izoird.
18. Mike Alessi. Honesty, I'm sure what happened to Mike, he didn't seem to be up there at any point and after the race, he was out of there ASAP.
19. Antonio Balbi. Balbi got a Motoconcepts Yamaha ride until Chisholm gets back and he did pretty well by just making the main event, in my opinion.
20. Kyle Partridge.
I'm down in Florida this week hanging out so I apologize for the shortness of this column. I'll be here all week staying at the 1999 Summercross Winner (beating Jeremy McGrath) and visiting some of the real fast guys in the sport. Email me at steve@pulpmx.com and we can chat!