Georgia Dome
Atlanta

,

GA
Atlanta
Monster Energy AMA Supercross Championship
Interviews by Steve Matthes and Jason Weigandt
After the race in Atlanta, we combed the indoor pit area, recorder in hand, and grabbed these quotes from the riders.
Ryan Villopoto: Winner, SX Class
I know where I was a little bit slow on the track and I wish I was more in touch with the battle and those two guys. Sometimes it's not about being the fastest guy, it's about being the smartest and the fastest guy and those two guys jacked each other and I came out with the win. The section that I was a little slow in was the whoops, I looked at the segment times and me and Stew were right there most of the time. I was just a little slow in that one part and it cost me.
I didn't see those two (Stewart and Reed) collide but I was just a little bit behind them. I heard the crowd and once I hit the triple, I looked over and saw them on the ground. I cruised up, looked at them and said, "Thanks guys" and went on for the win.
The track was tough, there were the lappers and (Ryan) Dungey was right there on me on the last lap. If you were to go back and look at the times, you would see that we were all the same unless we hit the lappers.
Carey Hart: Team Owner, Ivan Tedesco (SX Class, 9th) and Chris Blose (SX class, 14th)
It was a great heat race for us but a little bummer of a main event. I was watching Ivan (Tedesco) on the start for the main event and the guy next to him jumped which made him go and hit the gate. (Chris) Blose got a good start and rode solid all night. The track was really hard to pass on and so when you hit the gate and have to come from the back, that makes it pretty tough.
As far as the Blose/Reed thing, I watched it the entire way and to me, I think Blose got the blue flag and started working his way to the outside and then (Chad) Reed and James (Stewart) caught him fast and Reed went to the outside for some reason-a line that really no one had taken all day. So it was just racing and stuff happens.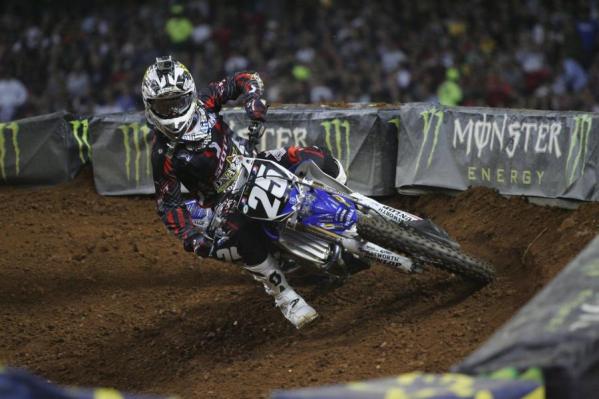 Sipes was strong in Atlanta, finishing the night in fifth.
Photo: Andrew Fredrickson
Ryan Sipes: 5th in SX Lites
My practices and heat went pretty good, I was happy with that. Once I got into the main I just kind of rode around and got locked into the pace of the guys ahead of me. Then Dean (Wilson) got by me-I don't know how, I kind of blanked out on that one- because I was just behind
Blake Baggett
riding around out there. If I had been riding my own race and focusing on going forward, I would have done pretty well, I think.
So then after that, I went down on the on-off tabletop section when I lost my front end, basically the same thing (Blake) Wharton did. Although my result wasn't as good as Houston, I felt like I rode better than that last race.
Nick Wey: 12th in SX Class
The team has been working hard to get me more comfortable on the bike, our suspension guy Todd Brown did some testing with me that helped a bunch. I've been dealing with this back injury for a while now and I'm finally able to ride during the week. I got terrible starts all night except for when it counted, when I was in the LCQ. I was happy to win that race, there were some good riders in there and I got some TV time as well.
In the main event, I got a terrible start, I think there was one guy behind me, and I ended up getting 12th on the night. I was happy with my ride, I think it was the best one of the year for me. I caught the pack of guys like (Davi) Millsaps and (Brett) Metcalfe from a ways back and was right there. With a start, I would've been top ten for sure. Not that a top ten is my real goal, I want to be in the top five, but it's a start. I'm happy with my Vall Rockstar Yamaha ride. And Carl from Winners Take All, AKA Broc Glover, hooked me up with some great tires for the race!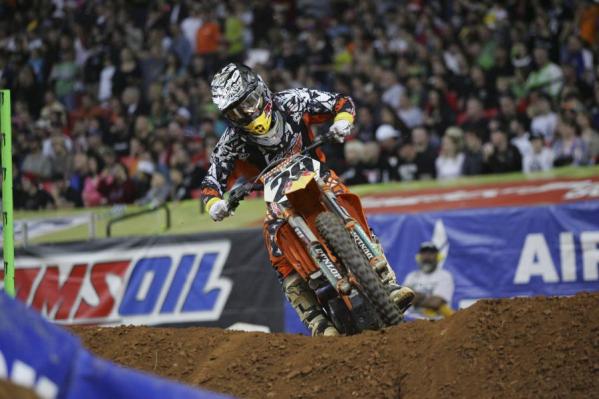 Short is on the cusp of breaking into the top-5.
Photo: Andrew Fredrickson
Andrew Short: 6th in SX Class
That's two weeks in a row I got sixth, but this week I rode well! I was happy with my ride, I had a good start of the race, an okay middle part of the race and then was fifth for nineteen laps before [Trey] Canard got me.  It was my best race of the year, I had good speed and the team is making improvements. I'm learning how to ride the bike better as well.
I think that on the bike I've learned that you have to land off the jumps with the thing wide open. It doesn't have the torque of a 450 so you have to keep the momentum up and you can't cut under a guy and then expect to accelerate them to the next turn. I'm having to change my 450 technique. I'm excited for KTM and Red Bull and we seem to be working in the right direction.
Justin Barcia: 2nd in Lites
It was a pretty tough day. I had a crash near the mechanic's area in the first timed practice. Honestly, the crash wasn't that gnarly, but I hurt my wrist. It definitely affected me for the rest of the day, I had to tape it up, get ice on it and a write brace and stuff like that. I got eleventh in the second practice, but hey, what's new? I got eighth in Houston practice, so you never know. I knew I just needed to stay in the championship run, so I did what I had to do. I got a good start, and I charged the entire race. I had a few run ins with lappers. That was gnarly, it was definitely the highlight part of my race right there. It was even bad in the 450 race, with the lappers, so I think it was just a tough track to pass on.
Do you remember where the passes were made?
"It was nuts!" - Barcia

I honestly don't remember all of it, a race like that, it's happening so fast, I just remember lappers, and all of us going back and forth. It was gnarly, that's all I know. The wrist hurts a little bit, I'm definitely going to take this week off a little bit and rest up, because Daytona is a gnarly one.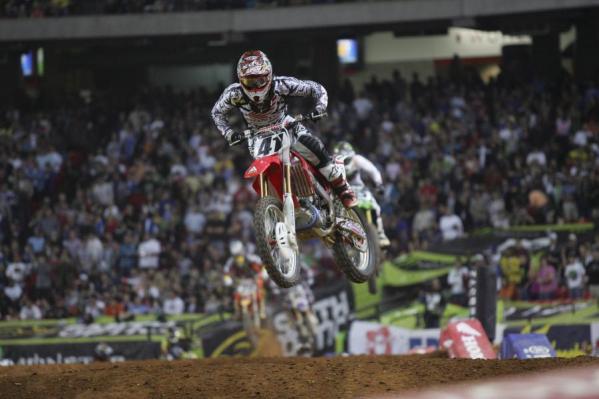 A crash would hinder Canard for the second straight week.
Photo: Andrew Fredrickson
Trey Canard: 5th in SX Class
You were with the leaders and all of a sudden you disappeared. What happened?
Wild packs of stray dogs were out on the track, and they got me. No, kidding. I just got a big huck-a-buck in the whoops, and I lost my feet and mosied right off the track. Took awhile to get going from there, and the track was tough to pass on.
I was bummed. I think the past two weekends I really put myself in position to win the race, and it's just a really big bummer to not come through. I was in third behind James and Chad, so I was ahead of Villopoto, so it was definitely a good position seeing that he won the race. I'm so bummed. I just have to work through it and not get too discouraged. It's my rookie season, and this is a tough season to be a rookie in, there are a lot of experienced, great champions out there, and I can't get too bummed.
We get excited because I'm riding well. I don't know if I should say that I'm running those guy's speed or whatever, but I do feel like I'm up there. So it's easy to get ahead of yourself. I just need to have solid races. I would love to win, but I have to just be okay with solid races, and try to build.
Malcolm Stewart: 8th in SX Lites
I just went down in the first corner in the main. I rode good after. I came back from a long ways, but, definitely not where I want to be. It's better than two weeks ago, I know that for sure. I mean, I know I have got speed, I just to be a little smarter. Being down in that first corner, I don't even know what happened. I'd have to look at the tapes to know. But I feel good about my riding and my speed. I want to be in the top five, though. That's where I feel like I should be.