Qualcomm Stadium
San Diego

,

CA
San Diego
Monster Energy AMA Supercross Championship
By Steve Matthes and Aaron Hansel
It was a wet a muddy night in San Diego, so plenty of the riders where getting out of the stadium as quick as they could after the race. But our crew found a few stragglers willing to chat about their night for Open Mic:

Austin Stroupe—18th in SX Class: Everything was alright until the start of the first triple, I jumped into a couple of Tuff Blox. I put a good charge in and got up to around eighth, and made a couple stupid mistakes and ended up on the Tuff Blox and ended up breaking my clutch off. I pulled off, that ruined my night.

Did it get one-lined?
There were lines, some of them were bad and some of them were good. It was just a tough track all around. It was kind of one-lined, you just had to be real cautions.

Preston Mull—DNQ Lites Class: It was pretty good. The track was extremely challenging, but it was a good experience riding in the mud and everything. It was a rough night, you had to stay on two wheels. My heat was pretty sketchy. The first lap was gnarly, I had a great start and was in about fourth or fifth, and then I just cased the triple, right on the Tuff Blocks. Luckily I didn't get hit by anyone. I just finished the race as best as I could. It was definitely wet out there, it was ridiculous.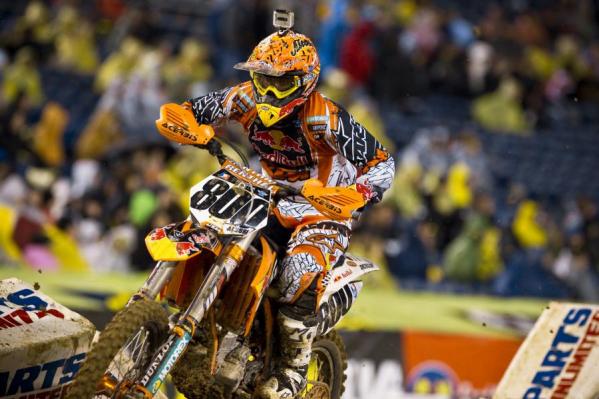 Alessi is starting to find his groove after a rough start to the season.
Photo: Garth Milan
Mike Alessi—9th in SX Class: My race was good, I was happy with the ride. I'm working hard during the week and working on my fitness to get better and better. Right now I was great until about lap 15 or 16 and I'll keep working on it and by Daytona, I hope to be right in there challenging for the top five. That's my goal, get better every weekend and be one of the top guys.

Fabien Izoird—13th in SX Class: It's incredible, it's a big experience for me and I'm happy with the mechanics, Mike Fisher and the whole team. They push me to try and make me better. It's a dream you know? It's perfect, everyone gives their best. I'm very happy and I work all week very hard to do the best for me and the team.

It's no difference from Ryan (Villopoto) to me you know? This is perfect for me and I'm so happy. I'm not the speed of a Jake Weimer and my goal is to make the main events for the team. Once there, I push hard to get a good position. I'd like to thank all the team for what they do for me and they are great.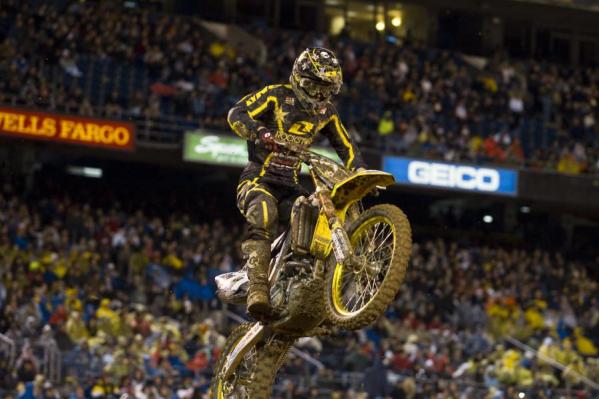 Morais struggled in the San Diego mud.
Photo: Garth Milan
Ryan Morais—9th in Lites Class: It was a rough night for me. Heat race, I got a good start and I don't know what I was doing that first lap. In the main, I got a bad start and was freaking out trying to make stuff happen and ended up on my head. It was frustrating, I spun on a take-off and came up short and high-sided. My bike was in the other lane and I had to wait for everyone to go by. I was nineteenth or something and made it up to ninth. Once I had a clear track, I felt like I rode pretty good.

I finally was able to get ready for this race, I felt good all week this week, because ever since Anaheim one, I wasn't even able to practice until the Thursday after Anaheim 2. I just hit my head before the first race. I went over the bars on a pretty easy double. Coming into the season I felt good, I was riding great and we had done a lot of testing. It's a bummer for sure. At the beginning of the season I was pulling races together but in the last few rounds, it's been no bueno.

Andrew Short—6th in SX Main: It was decent, I had some problems in the middle that allowed those guys to pull close. I just had a problem with one section out there. In the mud, I am not that good but I'm getting better out there and made the podium in Salt Lake City in the mud. I'm getting more time on the bike and it's coming slowly. I'm in that next pack after the top five and in sixth in the points right now. I'm excited for what's happening out there.

Where was the line out there for the holeshot? I thought they used the where the sign was because I went in there a little dirty to get the holeshot! I didn't realize that it was on top of the jump. I didn't dip into the clutch at all and it's key on that bike.

The positive for me was the awesome start. I almost had the holeshot, and ran up front for a little bit. I think I was fourth, with three or four laps to go, and ended up sixth, which is still consistent, and I got some good points. It was a good night, we're building here at KTM. The track was tough. It was really similar to last year, and last year bit me; I broke my foot. I was a little tentative, and I rode really tight. The track was tough. It was greasy on top, and really rutted. It was very tricky.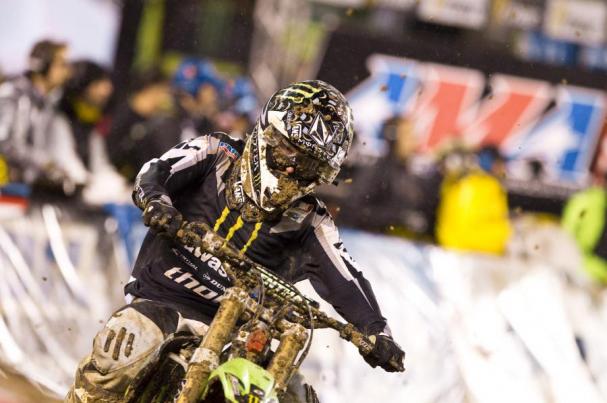 No rear fender, no front number plate, no problem. Villopoto still managed to fight back to seventh after a terrible start.
Photo: Garth Milan

Ryan Villopoto—7th in SX Class: Not a good night for me but I'm still the points leader right now by three. I thought I had a good start but I got tangled up a little bit. I was actually two spots behind Stewie after the triple and we went into the right hander when Brayton stopped a little bit. I just got rear-ended and went down.
"I had to stop in the mechanics area to rip my rear fender off and then I ripped my front number plate off. I was in there for a little bit." - RV


When I was on the line, I felt like I was going to win. I felt really good. I caught up from pretty far and I thought I was riding well when I was finally out there. For the night that could've been, it was alright.

Michael Byrne—16th in SX Class: I wish I would have waited [to come back] a week! (Laughs) The track was brutal, it had a lot of holes in it and was beat up. I rode well in the LCQ to get in and once in the main, it was just survival mode. My wrist injury is my throttle hand and there's no strength in there right now. It was pretty embarrassing for me out there really. I was just circulating and that's frustrating, this track was harder than anything I've been practicing on in the last four weeks. Next week, there won't be any rain out there and we'll be ready.