Reliant Stadium
Houston

,

TX
Houston
Monster Energy AMA Supercross Championship
Houston, we have a problem.

I wrote this here because A) I want to get the jump on everyone who will be running that next weekend and B) because I really think everyone might have an actual problem in Houston. A problem handling James Stewart. His Anaheim 2 performance was the dominant ride only Bubba can produce, the same ride that made me write this back in the pre-season:

James Stewart's potential to just destroy everyone is the scary part of this season. If James still has his fast ball, he could go on a streak and turn this into a route. And I believe he still has that fast ball. Missing nearly the entire racing year last year with a wrist injury was bad, but it was the best thing he could do. Rushing back from a navicular break is career suicide, but James avoided it, and I think he'll be 100 percent for Anaheim. And a 100 percent James Stewart is scary if you have to try to beat him.

Before the Bubba haters grab their pitch forks, keep in mind I only said Stewart had the potential to mount up a big streak. I wasn't sure he was actually going to do it. On the annual pre-season podcast with Matthes and JT$, I said the smartest money would be on Ryan Dungey, because you know he won't throw it away. Then I really wasn't sure of Stewart's chances when Ryan Villopoto ran him down in Phoenix and Los Angeles. But is A2 the new sign of things to come? Is it the latest, newest, new beginning?

We could just wait until the season is over in May to know, but where's the fun in that? Let's guess!

This can go two ways. A2 could signal a season-long declaration of dominance from Bubba. He was struggling with Chad Reed at the beginning of the '09 season, but as soon as he rolled out in practice at the Houston SX (round four that year,) I knew something had changed. His team had made some major bike changes, and for the first time on a Yamaha, Stewart found his classic form—launching huge jumps with the front end down—a style everyone else can only replicate while playing Excitebike (or Mad Skills Motocross for your iPhone!). He dominated that night, and while Reed kept the '09 points race close, there was never a doubt for the rest of the year that Stewart was the fastest man (on the planet?).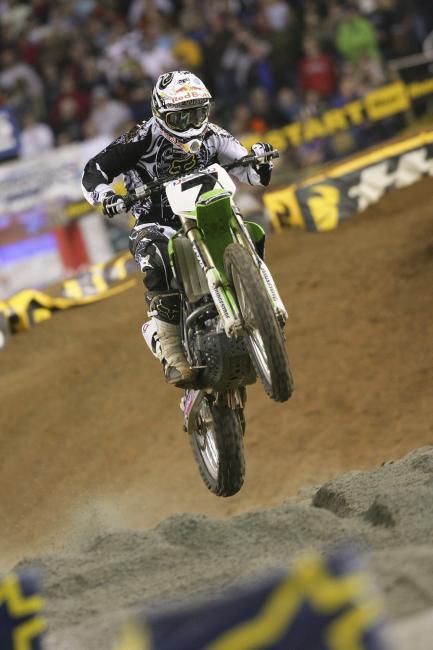 In '06 found his zone in Orlando, will A2 prove to be that race this year.
Photo: Simon Cudby
But, I remember the 2006 Orlando SX as well. Stewart had been battling Ricky Carmichael all year. At most races, James would be a few tenths quicker than Ricky in practice, but Ricky would find a way to generate that speed and match him in the main event. But RC couldn't match James in Orlando. Stewie was just in the zone that night, and no one had anything for him. Oddly, the next year in O-Town, RC came in riding a part season, rushed in from the hospital after his wife gave birth to twins, and was still able to give James a 20-lap duel. After dominating in '06, the next year, he was mortal enough for Carmichael to at least challenge him to the finish.

So maybe A2 was a Houston '09, a sign things will be different for the rest of the season. Or maybe it was Orlando '06. Just a good night.

To further blur the lines, the A2 track lent itself to James' style. The mish mash of jumps through the first two rhythm lanes was very technical, and James exploded through them like he did in Houston '09, or like he did when he was a kid, when people would say, "this Stewart kid rides like he's angry at the track." He was even donning some pink on this evening, like he did when be broke into SX in 2002, in this very building, riding just as hard. Stewart went quad-triple-quad-quad at one point. He was punching the faces of those jumps right in the face.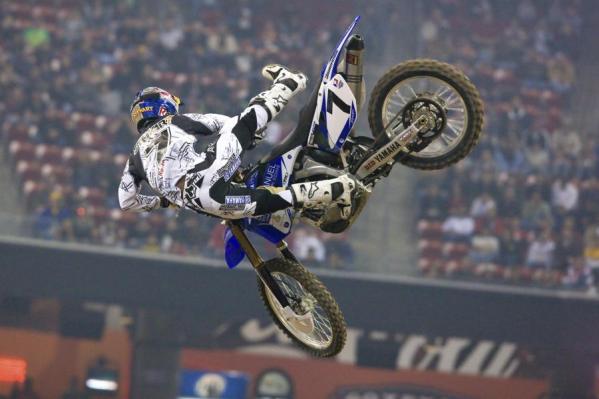 A return to Houston could spell trouble for the rest of the field.
Photo: Simon Cudby
He didn't need to do the quad at the end of the first rhythm lane, (he told me he was praying to God he would get a good start so he wouldn't have to pull it). But watching him launch two quad jumps in the next section, it's as if he's on a totally different type of machine than everyone else—like they're all on 450s and he's on an 850. For those of you saying racing shouldn't come down to who has the balls to jump something big, this combo was all skill. On a slippery track, James nailed the triple-quad-quad combo perfectly each time. One team member said you could have put a piece of paper on the landing of those jumps and James would have landed his front tire on it every lap.

In contrast, Ryan Villopoto is much more gentle over the jumps. When he first came into the 450 class, it seemed like Ryan was getting bounced around. I remember him running up front at the '09 Atlanta SX and it looked like his bike was way stiffer than everyone else. Today, he's very graceful when he launches, and you don't see him getting bucked around or losing traction very often. This is obviously very effective most of the time, but simply no one can match the explosive leaps Stewart if the track requires it.

Houston's track will be different, so we'll see if this was just a one-race wonder, or if James Stewart has taken control of this series once and for all.

Wait, did I admit earlier that the smart money rested on Ryan Dungey? That's worked out about as well as anyone who bet on the Steelers to beat the spread. Lo and behold Mr. Consistency scored a DNF due to a derailed chain, and now he's staring down the barrel of a 38-point deficit on Stewart. A far as title hopes go, the Done-Gey nickname is just tantalizing fans on the message boards and the comment threads right now. It's sitting right there for the taking.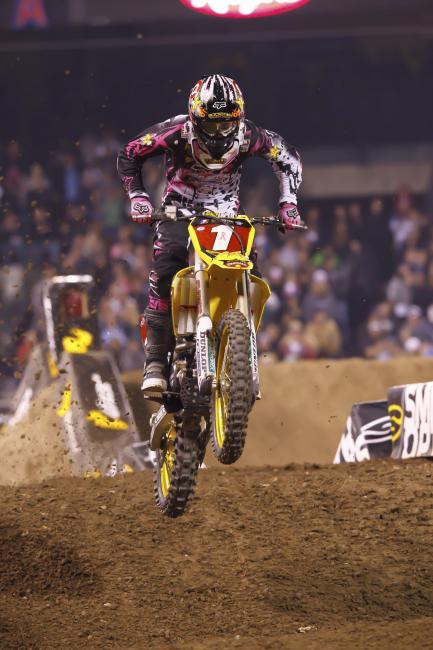 Dungey had a very un-Dungey like DNF at A2.
Photo: Simon Cudby
After the race, Dungey's team manager Mike Webb said the sprocket was gouged as if someone had run into Ryan, but that doesn't really matter now. The Dunge was fastest in qualifying and won his heat, but keep in mind that Stewart elected not to race the second, and faster, qualifying session. Dunge wasn't exactly raging through the pack after a bad start in the main, either, although in his defense it was nearly impossible to make passes on this track. Point is, I'm not sure he would have been able to catch Justin Brayton or Chad Reed anyway, so he would have been looking at a big hole in the standings even if his chain had not broken.

Reed scored a quiet third and Brayton a quiet fourth. Of course, all of Brayton's finishes are quiet. We'll have more on JB today with our Going for The W column.
Last week I mentioned how I will inevitably get lost and make a wrong turn on the way to every SX race. You would think I'd have the trip to Angel Stadium dialed since I've been living in So Cal for a month, and had already driven there a month earlier. But no. For some reason I decided to skip jumping on I-5 (The five, in Cali speak) and just kept on trucking up the 55 for no reason. Eventually, I got lost and had to turn around. The streak continues!

Here's another story: I first attended the AMA Amateur National at Loretta Lynn Ranch in 2002. I was amazed at the heart and effort the kids put into their racing. This one race had the power to change lives, as a good finish could result in support and money and help for mom and dad down the line. So the kids just dug deep. If a rider needed to make a pass in the final moto to win a championship, you'd see him win or crash trying. It was awesome to watch.

Only one rider stood out to me for not trying: Josh Hansen. Hanny was pitted against, believe it or not, Jeff Emig, in the 250 A class. They each won a moto, setting up a showdown for it all in the final race. There, Fro tapped into the ghost of Steel City '96 and grabbed the holeshot, while Hanny had some work to do. He got into second, and I started watching for the all-out, balls to the walls, win or go home, checkers or wreckers charge that you only see at Loretta's. But it never came. Josh just cruised in second and lost the title, saying that Fro got the start, and there was nothing he could do.

So the years go by in Hanny's pro career and everyone's bagging on the guy for not having any heart. I would have never guessed. Until finally, on Saturday night. He crashed, he broke his hand, he sucked it up and raced. Afterwards he told me how much it hurt and how much it sucked, and how he had always had a rep for being soft, and how he knew now was the time to erase that. It was a gritty, gutty performance.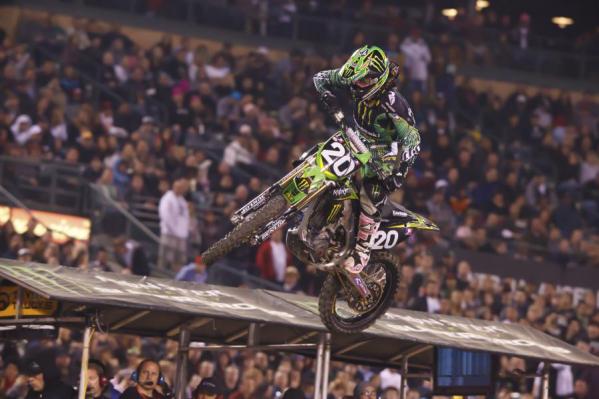 Tickle couldn't take advantage of Hansen's injury, and dropped eight points back.
Photo: Simon Cudby
He may have changed on the toughness scale, but he's the same old Hanny when it comes to race craft. When Eli Tomac made the big pass, Hansen just waited him out, stuck to the inside, put him into the tuff blocks, and got away. A more experienced rider would have hit the brakes and cut back under, but Eli got a little too excited and walked right into that. Hansen has never been afraid to throw an elbow, and he used that skill at the right time. It wasn't dirty, just good race craft.

I have to wonder if Hansen may be feeling even worse in two weeks when the West Region series resumes. Sometimes adrenaline gets a guy through the first night, but the rest are even harder. But after San Diego on February 19, the West riders get more than a month off, so Hanny's looking good overall.

When the season began I thought of Hansen, with his experience and talent, as a man in a boys class. But the boys with the most potential upside are Tomac and Ken Roczen, and they're definitely showing it now. It took them a little too long to figure this out to win the title, but one of them is going to win a race before the season is done. And now KTM just announced that Roczen is racing a 350 this weekend in the big class. This really shows you where KTM's focus sits. Roczen is set to race the MX2 class in the GPs this year, but clearly the Orangemen don't care about that as much as they do getting Roczen as much SX experience as possible. And, maybe his hard-charging style will mesh with the 350, which the KTM guys always say needs to be ridden like a 250F, not a 450. Since Kid Rocz adrenaline is going to be sky high on Saturday night, could you not see him just going off and leading a few laps in the main before reality catches up to him?

I think the wheels have officially come off of the "This is the year Martin Davalos finally breaks through" machine. When he started second behind Hansen in the heat race, I thought he would be able to rally around the injured one-hundred and get a confidence boost. But Hansen was able to fight through the pain, and Martin couldn't get it going. Kyle Cunningham won his heat, showing that he can indeed be smart, smooth and win if he doesn't have to go crazy making up for a bad start. Right now, if I had to vote on which rider will pull a Cole Seely holeshot and get a breakthrough main even win, I'd vote for Cunningham.

Broc Tickle could not take advantage of Hansen's bad fortune. He finished a close fourth behind the kids, but he lost seven points on Hanny. You have to wonder if Broc got a little nervous in the PC truck, wondering if he had just been given a championship gift. He also didn't get a good start, and did I mention this track made it hard to pass?

I know, tough, technical tracks sound good, but they just don't lend themselves to battles. The riders were clearly occupied mostly with just racing the track and getting their timing down on the rhythm sections instead of setting up passes. The only riders I saw getting into it were Brett Metcalfe and Davi Millsaps. They had two killer battles in their heat and in the main and somehow found spots to pass each other in just about every turn. Metcalfe won that one, but when the best battle on the track is a battle for ninth, um, yeah let's just move on to Houston.

Right now I'd vote for Brayton as most improved rider. But I think Kyle Chisholm would be second. Even after a huge practice crash, he was running for a top five early in the race before tipping over. If you chart where Chisholm was early in 2009, (just barely able to make mains) and then early 2010 (struggling looking for a ride) and now (legit 6-10 guy, could get top five on the right night), you see he's come a long way.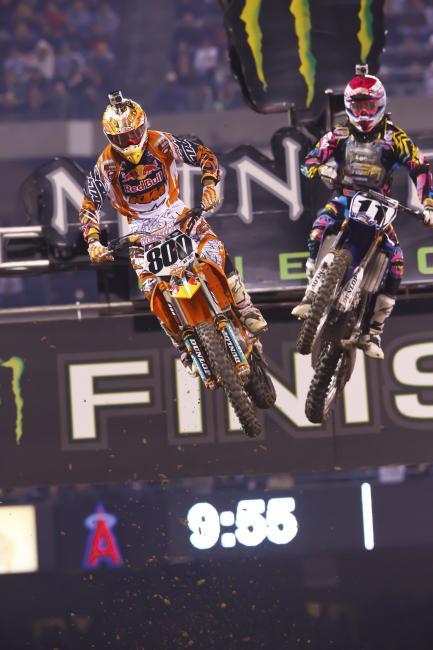 Alessi looked to have found his passion at A2.
Photo: Simon Cudby
Hey guess what? Tony Alessi returned to the races this weekend and Mike Alessi started riding like the old Mike Alessi. He tried as hard as he could to get the best start he could, even if he knew he would go backwards. He may have only been the 12th fastest rider, and he may have only finished 12th, but at least he gave it his full effort. There's no doubt in my mind Mike was in some sort of crazy funk at the beginning of this season, as if he was trying to prove he shouldn't be riding supercross and shouldn't be riding a 350. Maybe now he's just going to move forward. His teammate Andrew Short had his best ride of the season, also, with sixth. I think a tight, technical track worked in favor of the 350 this time.

A2 was the Pink Race again, and I think more teams than ever where behind it. I couldn't find anyone on the track not working in some sort of pink, from gear, to graphics, to exhaust caps. It was definitely cool to see. I also think Stewart's black and pink Answer attire popped the best. You know, he was rocking the pink and black gear before it was cool.

That's it from A2. Shoot me an email if you want to share stories of making wrong turns and getting lost on the way to the races. jasonw@racerxonline.com