Casey Hinson #149 was a fully supported Suzuki amateur rider as a kid, had good consistent results at all the big amateur races and was on the fast track to a promising pro career. Once he turned pro, the support rides all fell thru and major injuries derailed his pro career. Casey was offered a ride for Arenacross and had good results and started to make his climb up to the big show of Supercross. This year he was offered some support from the KTM / Shea Racing / Violation Goggles team and has made three Lites main events in a row and continues to improve every weekend, especially in the heat races. We caught up with Casey this week to find out more about him and how the new team is.
Racer X Online: Hi Casey, how has your season gone so far?
Casey Hinson: Since the Phoenix heat race it has been amazing and if I can make it through the first lap, I think I would be saying the same about the mains. The last two weekends I haven't made it through the first lap without tangling with another rider in the main. Every weekend my heat races get better and better. I just need to turn it around in the main. After I crash on the first lap, I get back up, start charging and actually start riding pretty good. Just that first lap is getting me caught up with other riders and makes it much harder.
What's your background with racing and where are you from?
Well I'm from Central California and I started riding when I was six. At around eight, I started doing the whole amateur national thing and at eleven, I got on with the American Suzuki amateur program under Cole Gress. From then till I turned pro at sixteen, my family and I traveled around the United States racing dirt bikes!
What year did you turn pro and how have you past results been?
I turned pro in 2006 and got invited to do a couple test days with Motoworld Suzuki on their SX track. They gave me some kit suspension and from what it looked like I was going to transfer into that program through Suzuki. But they ended up switching to Yamahas and I was pretty much left with nothing. I couldn't find any support to be able to race Supercross, so ended up signing with the BooKoo Energy Honda team and raced Arenacross my first year pro.
My first year in Arenacross, I got Rookie of the Year and a bunch of top tens. After Arenacross, I went to do the rest of the East Lites series. I showed up at Indy, out of my van, on my practice bike, and posted the fastest time in the unseeded practice. First lap of the heat race Dusty Klatt cased the triple and I landed on him. I cracked my sternum in half, broke two ribs and separated two ribs. From that day on its been a struggle with injuries and being stuck on unsupported teams until now. Now I'm actually getting to see what was supposed to happen back when I turned pro if everything panned out and I landed on Motoworld or a support team.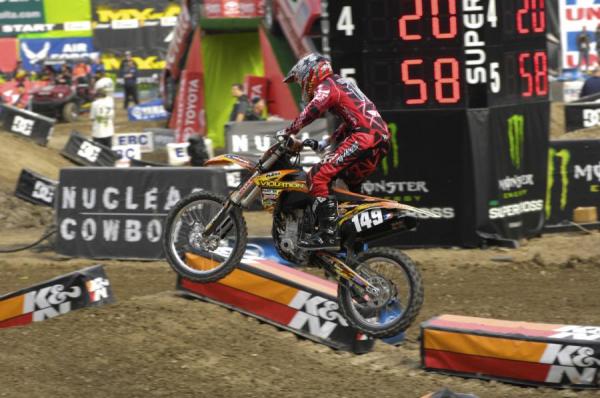 After missing the main at A1 Hinson has bounced back and made three in a row.
Photo: Chris O'Neal/Onealimages.com
Have you raced Supercross or Nationals before this year?
I did three outdoors at the end of 2006, out of a van after I healed from my sternum. But I wasn't really ready and pretty much finished every moto between 20th and 30th. Did Arenacross in 2007 with the Blair brothers on Bills Pipes Suzuki's and I got a bunch of top fives. Then in 2008, I had a deal with the Bloodshot Suzuki team (with Tyler Evans) for West Lites, but ended up compressing my L1 vertebrae at Mike LaPaglia's at the end of November coming into that season. I had a lot of people behind me that year. Evans was hurt so I tried to come back and race so they had a bike on the track. I had no business out their cause my back was still hurt, so I only raced three or four that year. I did Arenacross again in 2009 and last year I rode for a little team out of Texas in the 450 class. My bike had a lot of motor problems so I just tried to make the best of it, learn and have some fun. But it was realistically my first year racing Supercross and was thrown to the wolves! Everyone was so fast in that class!
So after that whole story you can see why I'm so pumped to be healthy, on a good team, running toward the front and making mains! Not many people knew all that happened to me after having a good amateur career.
Speaking of your amateur career, did you get any titles?
No titles but I had probably 40 tops threes! I was pretty much in Davi Millsaps' shadow on Suzuki and was super consistent so I would always be top three. First year at the Texas amateur national I rode five classes and finished top four in all of them against guys like  the Alessi's, Davi, Partridge, Lichtle, Boni, Chisholm, etc. Classes were always stacked for me growing up but, I always had a ride cause I was top five every weekend in every class. (laughs)
Now you're riding for the Shea KTM team. Tell me how that all came about and how it's going.
Actually a sponsor that has helped me since before I even turned pro hooked me up with them. Paul from DT1 Air filters was sponsoring the team, he knew I needed a deal and one of the guys Shea Racing was going to hire fell through. So Paul let Tim Shea know I was open for something. Tim was interested, so he gave me a call with an offer and I took it that same day.
How's the team working out?
The team is awesome! Everyone on the team is super easy to work with. The team manager Tim is really laid back with me and he knows I work hard so he just lets me do my own deal. I brought my own mechanic to the team so we already had a good relationship coming into it, so it's all been really smooth and I'm pumped on it all!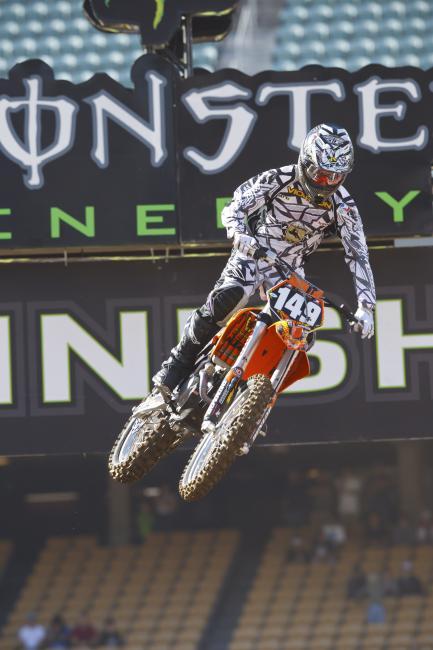 Hinson is hoping to make the most of his oppoutunity with his new team.
Photo: Simon Cudby
Tell me about your deal you have when them cause from the outside looking in it almost looks like your on a factory support team. But talking with you earlier you are paying for a lot aren't you?
Yeah I am, but if it wasn't for what they contribute to the program, it wouldn't be possible. They pretty much got me my race bike. They supplied me with a bike that is fully built and ready to ride. Other than that I pay for everything! I bought my practice bike, pay for everything on it, like the parts Enzo used to valve my suspension. I pay my own mechanic, bought my credential, paid all my entries, pay for my hotels and all my travel expenses.
They also take care of all the transportation of the bike and give me all the support on the weekends like all the setup and everything so that does help a lot.
What's a normal week like for you?
Race on Saturday, Sundays are my day off where I pretty much just hangout with my girlfriend Erica and relax. Just light training day on Monday. Ride and train Tuesdays. Just train on Wednesdays. Ride and train on Thursdays. Friday we just pack up and drive to the hotel or where ever were racing that weekend.
What are your goals and plans for the rest of the year?
I've proved I can make main events so now I just want to get through the first lap and throw down some top 10s in the main! I know I can go 15 laps and I have the equipment good enough to run up their, so now I just need to stay out of trouble in the start of the race and make it happen and be top 20 when Vegas rolls around!
Looking at the results from the qualifiers its pretty obvious you are better when the gate drops! Have you been struggling in practice or what?
I always have struggled in practice! I'm a way better racer than one lap sprinter! I told my team this at round one and I've proved it in the heat races!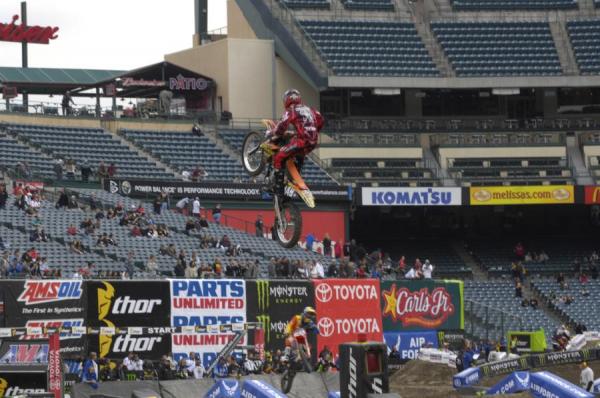 Hinson is hoping to make it into the top-10 before the season is up.
Photo: Chris O'Neal/Onealimages.com
How do you think you will do next year with a solid year of experience and making mains?
I'm not saying I can out and be on the podium every weekend like a lot of guys say. But I know I will be a guy that will be in every main event, in the top 10 and be there every weekend. Once I get more experience and start getting good starts, being consistent, it will all come around. By doing that I will be up in the points come the final round in Vegas. You saw it took guys like Morais a few years to get it done and I feel like I'm going in that same direction.
Do you plan on racing any 450 rounds when the series goes East?
It's not looking like it but I'm open for it if something comes up. I learned what it was about last year and would be able to step up if given the chance. My deal this year is Lites West only and I would really like to maybe get a fill in ride or something for outdoors. With me being a consistent racer and in shape I think I would be able to pull together some good overalls.
Well good luck and hopefully everything works out for you! Is there anyone you'd like to thank?
There are so many people that have had my back from the beginning that I need to thank, but first off I need to thank my girlfriend Erica for sticking by me and helping me out with so much during the week and on the weekends. My mechanic George for busting his ass every week making sure my practice and race bikes are on point, my Mom and Dad for getting me to this point, KTM, Shea Racing, Violation Googles, Tim Shea / Tim Slayton / Adam and everyone on the team, Justin at SVM, Jason McCormick and Ben at Arma Energy SNX, Rico and John at Redwave Tattoo, McCrackens at Sunnyside Bicycles, Jon at Sullen Clothing. Paul at DT1, Max at Fly, Chad Sanner at Eleven10 Mods for the amazing motor, Mark Stiglmeier, Aaron Pipes, Rydane at Snuffy Racing, Colleen at  Asterisk, Jason at Kicker, Malcolm at Ethika, Ron and Dave at Hinson Clutch, Rick at Tulare MX Park, Wilson's Motorcycles, Dunlop, CMA, National Switchgear, Travisa, Powerbar, Munn Racing, Actionsportstv.com, Matrix, Decal Works, Devol, JMP, Odi Grips, Outlaw, Enzo Suspension, Supersprox.com, Iris Chain, Light Speed, Dubach Racing, MotoPR, Engine Ice, Renegade Fuels, River Valley and if I forgot anyone thank you!