Oakland, CA
Oakland
Monster Energy AMA Supercross Championship

It was a gnarly track, coated with rain and ruts, and filled with the toughest set of whoops seen all year. With such challenging circumstances at Monster Energy Supercross' return to Oakland Coliseum, the race would seem to favor those who could ride smart and consistent, and simply not throw it away.
Hard to believe that San Manuel Red Bull Yamaha's James Stewart would be in that category. He reverted back to his old tricks and crashed all over the place in practice. He crashed hard in the free practice and again in the first timed practice, and he was so beat up that he chose to simply skip the final timed session altogether. And last week in Los Angeles, Stewart said he should have won the race, but a crash while leading cost him.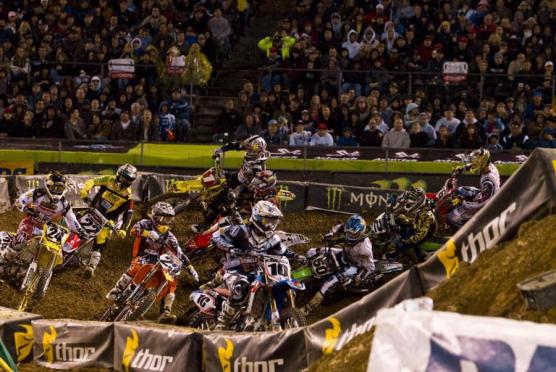 Crazy heat race action like this set the scene for the main.
Milan photo
With all of that in mind, Monster Energy Kawaski's Ryan Villopoto looked like the favorite. He was simply blazing in practice, and looked unstoppable once he got into the lead in the main.

But this week, it's Villopoto who will go home feeling like this was the one that got away. Villopoto crashed while leading in the same exact way Stewart did last week—he lost the front end in a berm. Stewart sailed past and made it look pretty easy after that.

The roles reversed quickly, and now Villopoto can spend the week thinking he should have won, true or not.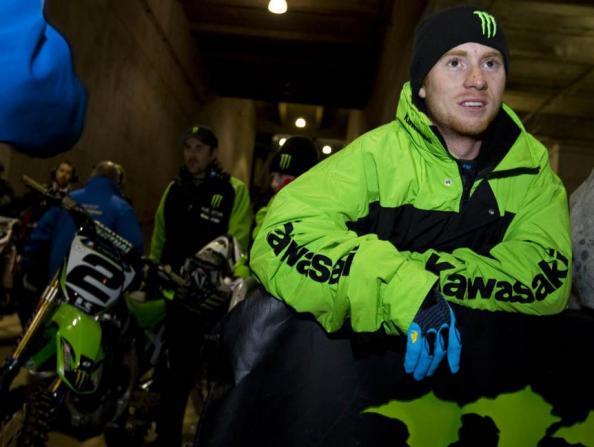 Villopoto went into the main with confidence. A pair of crashes cost him a chance at victory.
Milan photo
But it may have been hard for even RV to stop Stewart once the evening began, as JS7 was over a second faster than anyone in his heat race times, and looked strong and solid throughout the main event. He left a crazy battle behind him, too, with TwoTwo Motorsports Bel-Ray Racing's Chad Reed taking on Rockstar Makita Suzuki's Ryan for second.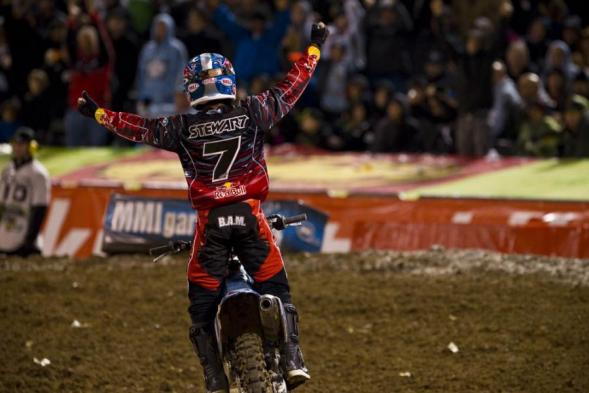 Stewart has won again.
Garth Milan
Dungey and Reed had good starts in the main and found themselves right behind Stewart when Villopoto went down. Stewart pulled away, but Villopoto caught back up to create a three-way battle. Then Villopoto crashed again—losing the front in a corner again--and Dungey edged away from Reed. It looked like the defending AMA SX Champ was ready to grab another runner-up finish, until Reed mounted a hard charge on the last five laps, catching and then passing Dungey in the final corner to steal second. It's Reed's first podium finish of the year, make even more impressive by tracking down Dungey when he could have simply settled for third.

Villopoto took a distant fourth. Brett Metcalfe sat fifth most of the race, until Trey Canard, coming back from an early crash, tracked him down to get into fifth. Metcalfe never let up, though, and managed to strike back and steal fifth back in the final corner, the same way Reed snagged second from Dungey.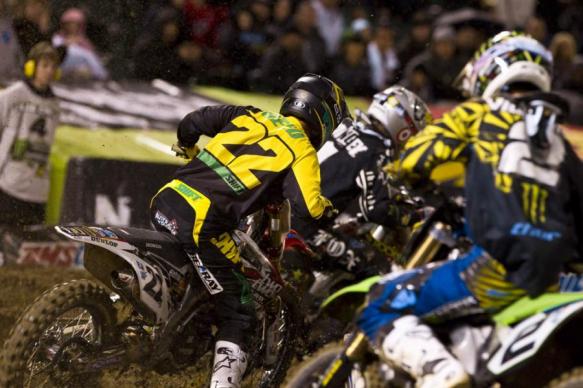 The battle for second was this close at times,
Milan photo
So Stewart and Villopoto go on as the only race winners on the year, and there still doesn't appear to be anyone quite on their pace. But sometimes it doesn't matter who is fastest when consistency becomes the order of the day.
The Lites show favored consistency as well. When the new kids on the block—GEICO Honda's Eli Tomac and Red Bull KTM's Ken Roczen—grabbed the early Oakland lead, it looked like a rookie race, But veterans Josh Hansen and Broc Tickle rolled up close on their Monster Pro Circuit Kawasakis to make up a four way battle. Tomac slid out and went down on the start straight, allowing Hansen to carve into the lead. Roczen put up a fight for awhile before Tickle moved into second. Tickle kept charging and then set up a beautiful block pass on Hansen to take the lead.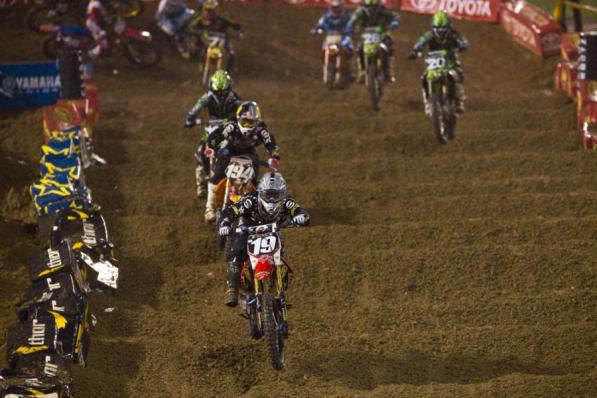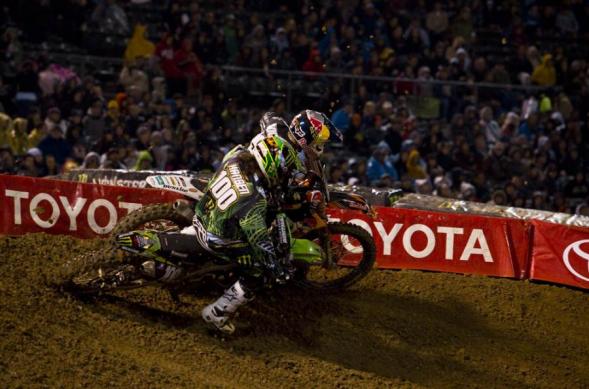 Top: Tomac tries to get away early
Above: Hansen and Roczen duked for the lead once Tomac fell.
Milan photos
Hansen had worn Tickle down for a few weekends, but this time Tickle stayed strong all the way to the end. Hansen took second with Tomac third.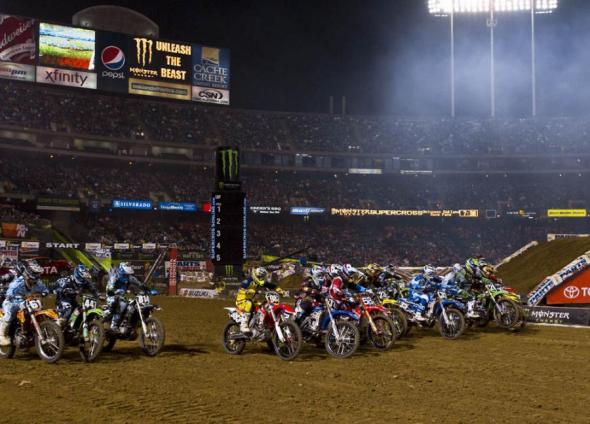 Tickle (20) got a good start and waited for mistakes to make his move.
Milan photo

The race airs on CBS TV (SX class) at noon EST tomorrow and 6 p.m. EST (Lites).
Supercross Class Results
1. J. Stewart
2. C. Reed
3. R. Dungey
4. R. Villopoto
5. B. Metcalfe
6. T. Canard
7. K. Windham
8. D. Millsaps
9. A. Short
10. I. Tedesco
11. C. Blose
12. M. Boni
13. V. Friese
14. W. Peick
15. K. Chisholm
16. D. Reardon
17. K. Regal
18. J. Brayton
19. A. Stroupe
20. N. Wey
250 Results
1. B. Tickle
2. J. Hansen
3. E. Tomac
4. K. Roczen
5. T. Rattray
6. R. Morais
7. K. Cunningham
8. J. Decotis
9. B. Rutherford
10. R. Marmont
11. G. Steinke
12. B. Evans
13. N. Paluzzi
14. J. Canada
15. A. Balbi
16. M. Davalos
17. S. Champion
18. C. Hinson
19. T. Baker
20. C. Seely
Supercross Class Season Standings
1.      James Stewart, Haines City, Fla., Yamaha – 92
2.      Ryan Villopoto, Poulsbo, Wash., Kawasaki – 90
3.      Ryan Dungey, Belle Plaine, Minn., Suzuki – 78
4.      Trey Canard, Shawnee, Okla., Honda – 71
5.      Chad Reed, Tampa, Fla., Honda – 70
6.      Brett Metcalfe, Lake Elsinore, Calif., Suzuki – 55
7.      Andrew Short, Smithville, Texas, KTM – 49
8.      Kevin Windham, Centerville, Miss., Honda – 46
9.      Justin Brayton, Cornelius, N.C, Yamaha – 39
10.   Kyle Chisholm, Valrico, Fla., Yamaha – 39

Supercross Lites Class Western Regional Season Standings
1.      Josh Hansen, Elbert, Colo., Kawasaki – 88
2.      Broc Tickle, Holly, Mich., Kawasaki – 87
3.      Ryan Morais, Murrieta, Calif., Suzuki – 70
4.      Eli Tomac, Cortez, Colo., Honda – 69
5.      Cole Seely, Corona, Calif., Honda – 60
6.      Tyla Rattray, Wildomar, Calif., Kawasaki – 58
7.      Ken Roczen, Mattstedt, Germany, KTM – 49
8.      Martin Davalos, Cairo, Ga., Suzuki – 45
9.      Kyle Cunningham, Aledo, Texas, Yamaha – 44
10.   Jimmy DeCotis, Peabody, Mass., Honda – 40