Oakland, CA
Oakland
Monster Energy AMA Supercross Championship

Not every great ride results in a win. Sometimes, it's what a racer does in the face of adversity that shows his performance. For Eli Tomac, Oakland turned out to be one of those nights.

By the time the Lites main event rolled around, sheets of rain had come down, creating a slick and treacherous surface. Gunning for the holeshot in these conditions could be dicey; one wrong move and you become traction for 19 charging motorcycles. None of that seemed to matter to Tomac, and when the gate dropped, he shot down the start stretch and into the lead amidst heavy pressure from Josh Hansen and Ken Roczen. Tomac held steady though, and proceeded to build a small cushion between him and the competition. Then, on lap three, the slippery dirt got the better of the rookie when his front end washed out as he was ripping down the start stretch. Showing heart, Tomac remounted, and was able to charge back up to third before the race was over.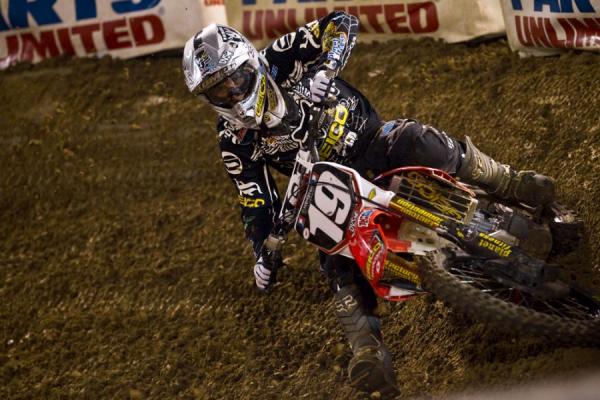 Tomac showed toughness in Oakland.
Garth Milan photo
At first glance, it looks like a good night gone bad. Tomac had been fast all night, but had managed to crash out of the lead all by himself. However, just because you don't win, doesn't mean you performed poorly. In this instance, Tomac overcame his misfortune to score his second podium in a row, which is a drastic improvement over rounds one and two, in which he finished tenth and fifth. That is a good night at the races.