Oakland, CA
Oakland
Monster Energy AMA Supercross Championship
Hello everyone and welcome to Rev Up. As the charge makes its way to Oakland, we can all sit back comfortably and know that nothing short of the good stuff is on its way. As predicted, round three lived up to the expectations and perhaps a little further. Ah, but this is only the beginning. What we have here is a serious power struggle that will only become more voracious with each passing round. Ain't it grand?
Sit back and appreciate this awesome culmination of talent that has met face to face...
Take
Trey Canard
, first up. Here sets a young man that has fought though a universe of adversity in his young life and finds himself sitting at the control of a factory Honda. Canard has the speed and the know how to get the job done, and he is simply waiting for "his time." I believe his time is coming, and the next few rounds will see #41 get to where he believes he can be.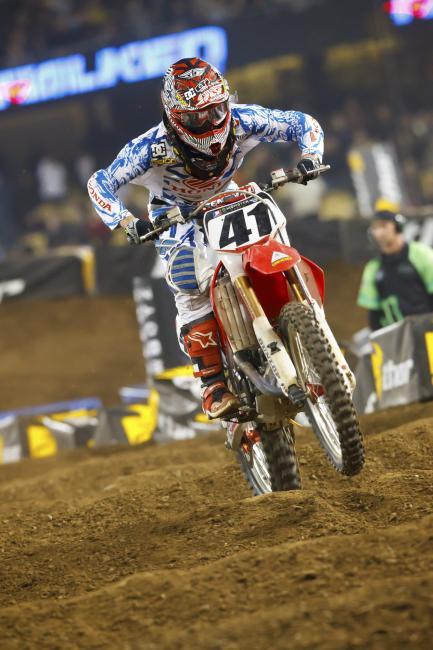 Canard's time is coming...is it now?
Photo: Simon Cudby
Then look at
James Stewart
. He is the man to beat. Say what you will, he is the one that everyone watches in practice and it is his speed and creativity that sets the benchmark. The expectations for James are almost impossible. "The fastest man on the planet" is supposed to go out and beat everyone, everytime. Well, as it stands, he hasn't been the fastest man on the planet in 2011. That honor and chest thumping distinction belongs to an unlikely recipient thus far. But, James is right where he wants to be, and nobody has knocked his confidence or his will to live up to his billing.
Next, lets take a step backwards and see where our champion is sitting.
Ryan Dungey
left the 2010 season as the undisputed, reigning alpha male in all of motocross. He became the first rookie to win the supercross and outdoor titles in his maiden voyage, won the Motocross of Nations, and pretty much left the writing on the wall that he was the man. Hardly anyone in motocross doubted this as we left last year. I knew it would take a little while for him to find his groove and he is super close to getting his first win of the young season. He can taste it.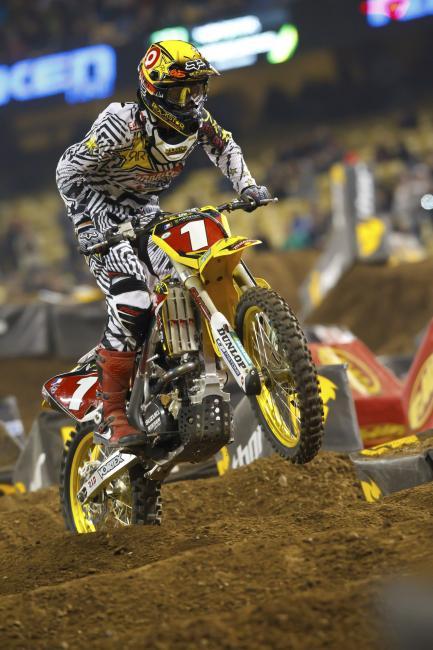 Dungey still holds the number one plate, but for how long?
Photo: Simon Cudby
Meanwhile, there was a sleeping giant.

Ryan Villopoto is showing the motocross world that we have all underestimated him. His early rampage in the 2011 Monster Energy AMA Supercross season has everyone on the bandwagon, and rightly so. He came from the wheelchair to the penthouse by taking the season opener, and then followed it up by absolutely hounding Stewart at Phoenix before washing out. Last weekend pretty much left everyone with their lower jowls in the gutter.

Is it a surprise? It shouldn't be. With my own two eyes, I watched RV ride the fastest I've ever seen anyone ride a motorcycle at the 2008 Motocross of Nations at Budd's Creek. I was standing at the bottom of the finish line sweeper and saw him shift about four gears while standing on the pegs around a crusted outside line, and I'll never forget it. During that moto he led the world's best (on a 250F) by a twenty-second margin. Then he fell down and the gap closed to maybe ten bike lengths...then he pulled out another fifteen-second lead.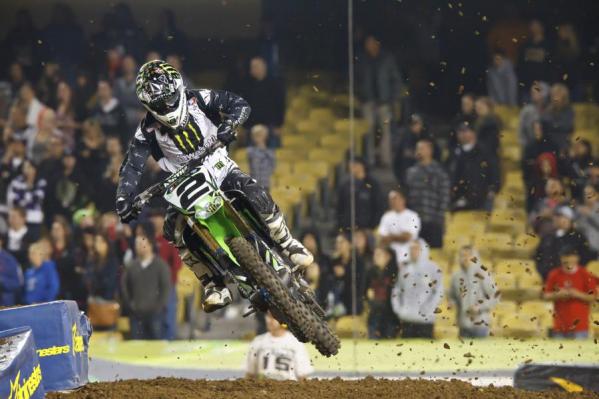 Villopoto seems to be setting the pace in the Supercross class.
Photo: Simon Cudby
Lest you forget in 2010, he was beating Dungey almost every race before he carted huge and blasted his leg. He was winning when he broke, and he's winning now that he's healed. Ryan's leg isn't even fully healed from what I've heard, nor is his wrist. But, there is no stopping the heart of the champion. The eye of the tiger gives no quarter to anyone, and as it sits, RV Park is eating his fill and leaving no tip. No mercy.

Which one of these heroes are you behind as we stare down round four? Man, it's a really beautiful thing to look at as a fan. What a setting we have on our hands in Oakland. The tension is already so thick in the pits that it seems like the title is on the line and we're only getting warmed up. This is what it's all about. This is why we love our sport so much. This is American Supercross.

Thanks for reading, see you next week.