Mad Skills Motocross for iOS Updated
Mad Skills Motocross for iOS Updated
Version 1.3 features new optional iPad controls, auto-flip to left and right landscape mode, and more
Morgantown, W.Va. – After more than two weeks of remarkable performance and featured placement on App Stores worldwide, Mad Skills Motocross for iOS has undergone its first significant update by developer Turborilla. The side-scrolling motocross racing game has made a number of changes in response to player feedback, including:
* New optional iPad controls
* Automatic flip between left and right landscape mode
* Win all races but 2 to unlock the next division
* Computer opponent difficulty level decreased in early levels
* False starts count toward number of tries
* Fixed wheelie bug where some wheelies were not detected (over whoop sections)
* Fixed turbo cheat bug
* Reset leaderboards affected by turbo cheat bug
* Trainer tips not shown on tracks you've already won
* New El Classico track where crashing is not beneficial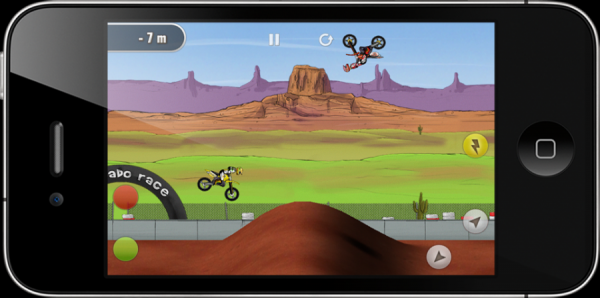 "We take player feedback seriously, and we plan on using it to make Mad Skills Motocross as good as it can be," said game creator Tobias Andersson. "We think version 1.3 is an improvement on a great game and will make the experience even better for all users."
Mad Skills Motocross is available on the App Store now for only $1.99. To purchase, go to: http://mad.mx/hcvL6U The update is free for users who have already purchased the game.
For more information, visit the official Mad Skills Motocross for iOS webpage: www.madskillsmx.com
Follow @madskillsmx on Twitter: www.twitter.com/madskillsmx
Get the official trailer HERE