5 Minutes With... Gray Davenport
Growing up in the small city of Lehi, Utah (thirty miles south of Salt Lake City), Gray Davenport wasn't always blessed with the greatest motocross tracks, or the latest equipment.  Yet Davenport has persevered and over his years as a pro competed in AMA Supercross, AMA Arenacross, as well as the Canadian Motocross Nationals.  With an Arenacross main win in 2009, and several podiums in the 2010 Championship, Gray was recently picked up by the Babbitt's Monster Energy Kawasaki TiLUBE presented by Maxxis Tire Team for the 2011 season.  At the recent Dayton, Ohio AMA Arenacross we had an opportunity to catch up with Davenport to learn a bit more about him.
Racer X: Gray, let's go back for a minute; when did you first begin racing AMA Arenacross
Gray Davenport: I think that it was back in 2007 when the Wallwork family at Triple Effects Graphics took me under their wing.  We did a few races early in the season, but then I broke my hand so had to sit the second half of the year out.  I came back in 2008 with those guys again, and then have been doing it ever since.  For 2011 Eddie Babbitt and Denny Bartz picked me up for the Babbitt's Monster Energy TiLUBE Kawasaki presented by Maxxis tires Team and have been really helping me a lot – and I'm very happy to be a part of it!
How did your Babbitt's deal come about this year?
I was always going to try to find a way race Arenacross this year, but it's been harder than ever with the state of the industry right now; then with Josh Demuth's unfortunate injury that kind of opened the door for me here.  I've known Denny for a while now, and heard that they may be looking for a replacement rider; actually I rode for them in one of the round's a few years ago.  So, Denny called me up and we worked it out from there.
How is this team different from the other ones that you have been involved with?
Well, the guys at Triple Effect are great; they treated me great, did a lot to help me out, and we all are good friends.  The Babbitt's Team is probably a lot more professional and organized; they've been at it for a while.  We have great mechanics, and just more resources and sponsors - it's a great team to be a part of for sure.  Grant Hutchinson in my personal mechanic and he is a very big help.  Everyone here gets along great, works well together, and represents the sponsors so well.  They are definitely a "known" team in Arenacross!
From the racing that I have seen so far this season, it looks like at every round you're progressing.
Yeah, every week I just try to do better, and I keep getting more and more comfortable on the bike.  With Arenacross it's so much about the starts; if you get a bad start it's hard to go all the way through the pack.  It's all about getting starts, keeping focused, and hitting the whoops perfect for twenty five laps – that's what it takes to win Arenacross races.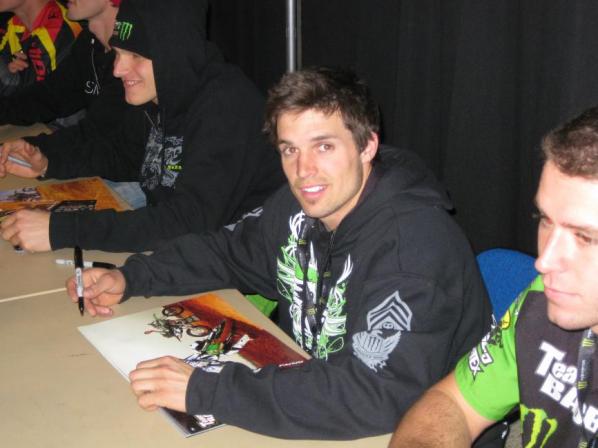 Davenport is having a successful 2011 season under the Babbitt's Monster Energy Kawasaki team.
Photo: Jim Kimball
This is looking out a ways, but where do you want to be when the series ends?
Obviously, I want to win; you don't come in here thinking that you are going to finish fifth, sixth, or whatever – everyone wants to win!  I think that there is nothing that makes anyone happier than winning.  So, I want to win races!  I don't necessarily look at the whole championship thing; I believe that if you are going to win races then you are going to do well in the series.  Really, I just want focus on getting on the podium, and the get that first win.
I think that it's interesting that you are from Utah; I don't really know of any other pro from there – what is it like?
It's definitely been flying under the radar for some time, but there really is a lot of up and coming riders there.  The sport in Utah has actually progressed a lot over the past four or five years.  It's been getting better and I think that more people take it serious now.  Of course we do have snow for three or four months a year which makes it hard to get the practice in.  That's where the kids in California, Florida, and Texas have the advantage.  But as I said, it is coming around more in Utah, which is pretty cool because I love my home state – and I want to do the best that I can for it.
Now this year, you've been able to spend some time in California with Tyler Bowers right?
Yeah I have. I moved there a couple weeks ago and have been doing my training and practicing there.  It's definitely been good for me because you can ride whenever you want.  It's very difficult to just show up and race without riding during the week.  I've been riding at Milestone during the week and just trying to put in the right work so I can get the results on the weekend.
What about after Arenacross, what are your plans?
I'll be going back home to Utah and try to get a bike to race some local events and hopefully do some motocross nationals.  I've done some supercross in the past, and made some main events last year. This summer I would really like to try some outdoors.
Wrapping up, what would you like to add?
I'd like to thank the entire Babbitt's Team, and all the sponsors that support them; like Monster Energy, Kawasaki, TiLUBE, Maxxis, Wiseco, Vortex, K & N, Moto-Master, and Pro-Wheel.  Thanks for the opportunity; I'm going to try to get you some results.