Los Angeles, CA
Los Angeles
Monster Energy AMA Supercross Championship
In Phoenix, DNA Shred Stix/Star Racing's Kyle Cunningham almost had a night to remember. Unfortunately, it didn't end that way. After finishing second in his heat race, Cunningham was involved in an intense battle for third with Ryan Morais and Ken Roczen until Roczen clipped a Tuff block and crashed, taking Cunningham with him. We spoke with Cunningham to get his thoughts on the race, and what he wants to do this weekend in Los Angeles.
Racer X: Take us through your race in Phoenix.
Kyle Cunningham: It went all right, not the result I wanted. I started off in practice with good lap times, and kept the momentum going into the race. I practiced a lot of starts the week before, and it seemed to pay off; I came out of the gate a little better. I ended up second in my heat race. I thought I was going to get Rattray, I probably could have made an aggressive pass at the end, but there's a time and place for that, and that wasn't the right time. I felt really good in the main. I made a mistake in Anaheim, so I was just trying to ride smooth, be patient and get around Roczen. I saw him make some mistakes in front of me, I think because he was trying so hard to get around Morais. Unfortunately he yard-saled when we were in fourth and fifth, and took me down with him. I thought I missed him, but I think I caught his leg or something. I got up and got going in eighth, stalled my bike coming out of the sand, and ended up tenth.
Did you get banged up in the crash at all?
No, I'm good.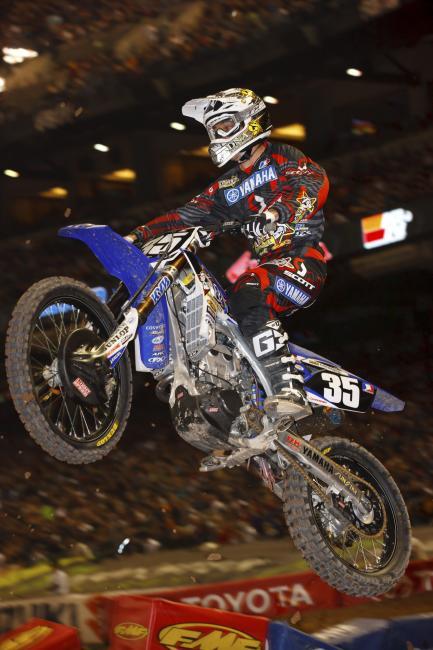 Cunningham had a steallar ride going before he got tangled with Roczen.
Photo: Simon Cudby
What was going through your mind as the crash was happening?
I saw him make some mistakes the lap before, and I was trying to ride my own race, not worry about him, and get around him as quick as I could because I didn't want something like that to happen. I kind of saw the Tuff Block start to come around, and his rear end kicked. I pulled left as hard as I could, but the sand section was pretty gnarly and the tunnel that I went through was maybe six and a half feet wide. I'm actually pretty lucky that I didn't get pitched into the side of the wall. Like I said, I saw it start to happen, I tried to pull left, and it didn't work out for me. I thought I had cleared his bike, which I did, but all of a sudden something felt like someone grabbing my front brake lever and my bike started to nose, and it just sent me flipping. It's a bummer because the first weekend (in Anaheim), I had a good race going, and I came from way back and went down. This weekend, with the lap times I was running all day I should have been on the box, and that's kind of how my race was going. I kind of caught the bad end of the stick and there wasn't really much I could do about it
Watching the race, it looked like it was a tough track to pass on. Was it?
Yeah. It was definitely one of the tighter tracks that I've ever ridden I think. You had to be aggressive. I was fast in the whoops all night, my whoop speed has been really good lately. I feel really in control. It's a bummer when you have a good ride going and someone goes down in front of you, but I guess I have to look forward to next weekend. I've been working really hard, and like I said, I finally got out of the gate good. I really put myself in the position to do good, and that's what I'm going to try to do for the rest of the races. Not worry about the points, just take it week by week and put the DNA bike on the podium. They have a really good program this year. Brad (Hoffman) has done a great job with the motor stuff, and my mechanic Andy (VendeBerg). Bobby Regan, the team owner and Allen Brown the team manager, you know, there's a lot of guys involved. We've all seen I have the speed. I know I have the speed, and I have awesome bike I'm riding. Enzo has done great with the suspension. Maybe the third time's the charm in LA, the first race in Dodgers' Stadium. I plan on getting out of the gate good again, and running the same way, lap by lap, and not catching the bad end of the stick again!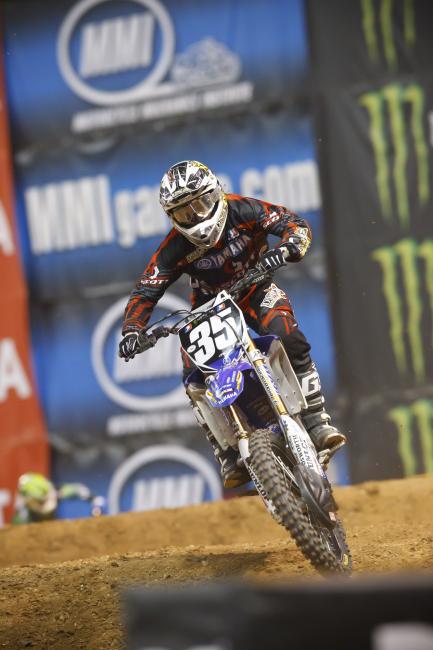 Cunningham looks to rebound in LA after tough race in Phoenix.
Photo: Simon Cudby
If it makes you feel any better, it was awesome to watch until the crash. I think everyone's eyes were on that battle.
Yeah, it was an awesome race. Like I said, Mo (Morais) was in front of us, it was tough to pass, and Roczen was riding good. He had had some mistakes in front of me, and you know, we were all pushing. I was trying to get around him, and he was trying to get around Morais. It was kind of like a freight train. In that sand section, we were third or fourth gear in there, and whenever you're going that fast and something happens that quick… I don't think either one of us ended up really hurt that bad. He got hauled off the track, but I think he's alright now.
Thanks for your time Kyle, and good luck in LA this weekend.
Yeah, thanks for the call, we'll see you in LA.