Los Angeles, CA
Los Angeles
Monster Energy AMA Supercross Championship
Ben Lamay had a good amateur career, winning two championships at Loretta Lynn's and nearly 20 amateur titles through out the nation. Yamaha was keeping a close eye on Lamay during his amateur career hoping the results would turn over to the pro ranks. In 2009, Ben turned pro and raced the last few outdoor Nationals. His results so far are under his expectations, but now he feels its all up to him to make it happen and is racing the 450 Supercross series, full on privateer style. No mechanic, no trainer, just gear, parts, and his Yamaha YZ450F. We caught up with Ben after Phoenix to see how things are going.
Racer X: Hi Ben, tell the readers about yourself, how you got into motocross and where you are from.
Ben Lamay: Well I'm 19 years old and I'm from Wasilla, Alaska. My dad got me a PW50 for Christmas when I was three years old and I have been riding ever since then.
You had a good amateur career didn't you? It must have been hard to race the big races living in Alaska?
Yeah, my amateur career wasn't to bad, it defiantly was really hard and most people don't understand what my sister, my parents and I went through. In 2000 my dad took me to the World Mini's in Las Vegas for my first national to see how I would do. After that we went back and forth from Alaska, to the lower 48 states to race and put on some serious miles! It's about 40 hours just to get through Canada! In 2001, I won my first Loretta Lynn championship and after that we sold our house in Alaska and lived in a motor home driving around like gypsies from race to race, up until 2009 when I went pro.
Once you turned pro what happened?
I did the last three outdoor races as a privateer in the 450 class, putting in a few 15th place finishes which wasn't bad for my first race. In 2009, I didn't get a ride so we got some decent bikes and made it work with what I had. I did the Supercross and National series hoping to maybe earn a shot at a ride, possibly during the year, but nothing ever came about. In the outdoors, I was usually around 15th, which wasn't very good personally but it was decent. My best result was at Washougal, in the first moto. I crashed in the first turn and came from 40th to 17th. In the 2nd moto, I got a good start and finished 9th. I was really pumped. In 2010, I had the opportunity to race in England for Samsung Yamaha, racing the British Championship and Red Bull Pro Nationals.

Lamay is a full on privateer for 2011.
Photo: Chris O'Neal
How did that go for you?
Racing in England was a huge experience for me. I lived at Steven Clarke's with his dad Richard. If it wasn't for Richard I wouldn't have been able to do it, so I want to thank him for everything. At first being over there was hard. Learning how to drive on the other side of the road, driving their cars and learning where everything is at was tough. Also, I didn't know anyone so it was a bit boring at first. (Laughs) But once everything got going it was awesome. My team was excellent and the bikes were great! I put in some great results winning a lot of moto's and overall finishes. In the Red Bull Pro Nationals I was second in the championship, only a bit behind first with about three races to go. We had a break in our schedule so I came back to the U.S.A. for a week or so, to see family and then when I tried going back into England they wouldn't let me in. There was something wrong with my visa and they sent me back on the plane and I flew all the way back home!
That's terrible and must have been heart breaking being so close to a championship!
Yes, it was a heartbreaker for sure. I was starting to get in the groove and making a big charge at the champion Brad Anderson.
So you had to head back to the states and then what did you do?
I went back to Alaska and pretty much lived a normal life for about 2 months. I didn't have any bikes or anything to do so I just hung out. After a while sitting there I couldn't handle it so I flew to California. Chris Johnson and I got together and drove his sprinter van from California to Massachusetts and raced Southwick, Steel City, then drove back and raced the final round at Pala.
Now that Supercross has started what do you have going now and how have you prepared for the series?
Currently, I am living In Corona, CA with Jeff Ward's son Brandon. Jeff is helping me out this year and it really is awesome working with him. I got two Yamaha's and I'm just doing it as a privateer again. I have been preparing on and off the bike, I felt really good coming into the series. My speed is their, especially practicing. I'm just having a hard time putting the whole package together on the race track.
What's a normal day like during the week for you?
Well usually I try and ride Monday thru Thursday. I run everyday in the morning and also do some weight training. I'm already a big guy at 6'0 and 185 so I usually do a lot of cardio and then natural body weight stuff that keeps you in good shape.
Do you have a trainer and mechanic that help you?
No, I don't have a trainer or mechanic. (Laughs) I am my own motivation, I wake up every morning knowing what I gotta do and make myself do it. And at the races usually I just ask a friend to pit board for me and I do all the bike work myself.
That must be tough! How do you get to the races?
Yeah, it is tough but my Dad taught me everything there is to know. I can split the cases and rebuild it so I'm not worried about it. (Laughs) Well getting to the races is the hardest thing. Right now I'm just doing it out of my van. It is going to be hard once SX goes East cause I would like to do as many races as I can. But it's just getting there that's a pain and hard to do. Driving by myself, training during the week, bike maintenance, and resting is very hard to do being a real privateer.
So are you driving by yourself to all the races?
Yeah, I'm just driving to all the races by myself in the van, it is pretty boring but I gotta do it.
How has your year gone so far?
Well at Anaheim in the first heat race, I crashed off the finish line and injured my knee a little bit, and couldn't race after that. I didn't ride all week and went and raced Phoenix thinking it would be OK, but it wasn't. It hurt pretty good every time I landed. I tried to race and had to go to the LCQ, I was in 4th and just had to pull off cause it hurt and I didn't want to hurt it anymore. I got it looked at and my knee will be ready for this weekend in L.A. at the new Dodger stadium.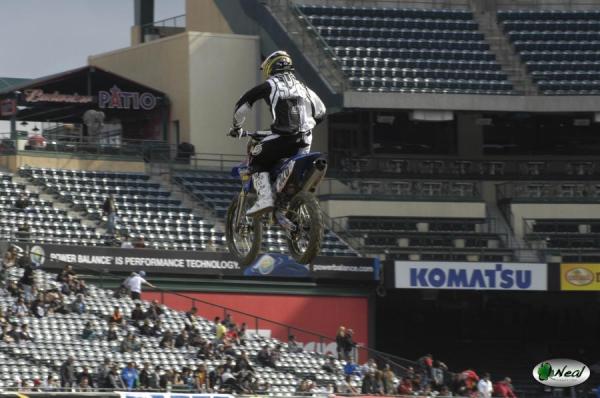 After hurting his knee at A1, Lamay should be 100% come LA.
Photo: Chris O'Neal
Your times in practice aren't bad, how do you feel you stack up against the rest of the 450 guys?
Well it's pretty frustrating because I know I should be in the main event every weekend and improving. Like I said before my speed is right there to qualify and I know it is but I just gotta relax and put it together on race day.
So what's the plan from here on out?
I'm doing all the West coast rounds of Supercross and probably Houston. After that it just depends on how I am doing and if I can afford to go to the rest of the rounds and if I can travel to them.
What's the goal for this weekend?
I want to be top 15 in practice and make the main. After I make the main event everyone always rides different so I would shoot for just a good solid ride and just keep making progress through out the year.
Well good luck this year and we will be watching for you! Is their anyone you'd like to thank?
Yes, everyone helping me this year! Jeff Ward with W3X racing, Tom Morgan, NCY, TLD, Dr.D, Race Tech, RipnRoll goggles,TCX boots, Vans, SRH, Hammerhead, ASV, Vertex, Hotcams, Cycra, StompGrip, Renthal, Kicker, Leatt brace, Decal Works, Uni Filters and thank you so much for the exposure, it really means a lot to me!