Phoenix, AZ
Phoenix
Monster Energy AMA Supercross Championship
Some people may not realize that behind the winners, behind the riders that stand on the podium week-in and week-out, there are guys that put in a tremendous amount of work each week trying to become better racers.
When the gate dropped for the 450 main event this past Saturday, the number nine of Ivan Tedesco led the way. It was a great start to the season for a guy that's as serious as they come, works hard and has experienced so much change in his life, that most would be hard pressed to push it all to the back of our mind and not just feel sorry for ourselves.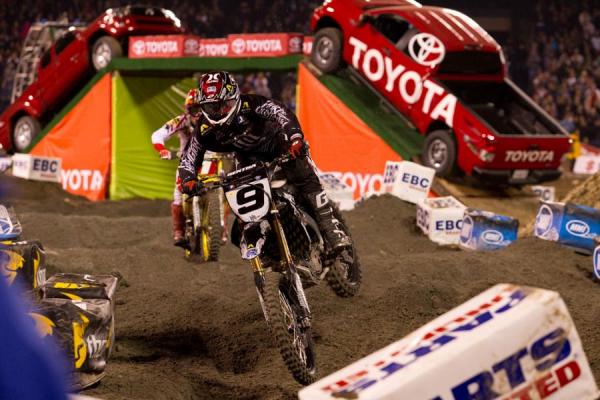 Tedesco surprised eveyone by grabbing the holeshot at A1.
Photo: Garth Milan / TMG
Smash cut to a few years ago, as a 250F national champion and a Lites SX champion, Tedesco got a ride with Factory Suzuki. He moved out to Tallahassee, Florida to work with then teammate Ricky Carmichael. He had some good finishes, but there were more injuries than great rides for the New Mexico native.
After that it was on to Honda factory team. At times, he was right there with everyone. Again injuries got the better of him and in 2009, he definitely was not gelling with the all-new CRF450R. By the end of that season, everyone knew that Ivan was most likely leaving the team due to budget cuts by Honda and nothing that Ivan did wrong. In fact, team manager Eric Kehoe told me that he wanted to keep Ivan, he liked Tedesco but he had two riders with existing contracts for 2010 (Davi Millsaps and Andrew Short) and they would get the two spots by default.
Tedesco is a solid rider, a good guy, a hard worker and a professional. It's not always the easiest combo to find in today's rock star supercross world. He may not win you a 450 title, but he's essential to a team and doesn't shame himself with less than 100 percent effort. He's a rider who's come from humble beginnings.  He was never an amateur prodigy, he was never courted by the OEM's. At his first national, he was in a van in the privateer pits.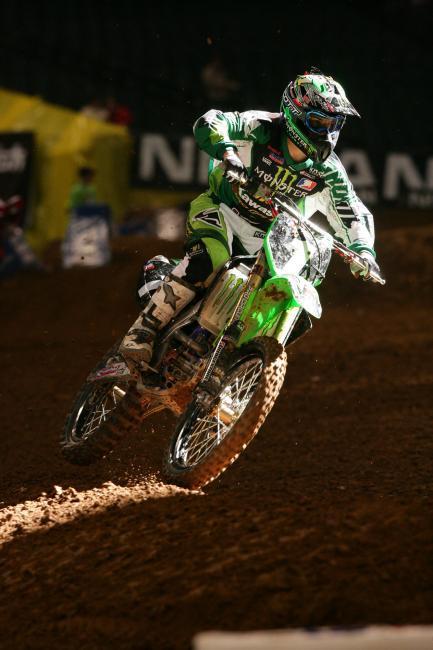 Most forget that Tedesco is a two-time champion.
Photo: Simon Cudby
Through Tedesco's rise through the ranks, he's worked with some key people, like Ray Gubernick (Doc G) and MX legend Johnny O'Mara. Ivan has always subscribed to what Carmichael drilled into his head: If you surround yourself with good people, good things happen. Tedesco believed that and went about investing in his career with those two plus Frank Latham as his trusted mechanic.
So for 2010 Ivan waited for a ride to come to him.
And he waited.
And then waited some more. It was a stunning turn of events for a rider that had won titles, rode twice for America at the MXDN and had a great reputation off the track. Eventually he grabbed a spot on the new Valli Yamaha team, back to privateer life on the all-new 2010 YZ450F. It was actually a pretty good season for Ivan with a couple of podiums in supercross, until St Louis when the number nine went down hard. He would basically miss the rest of the season with lung and rib injuries from a nasty crash.
After this year, Ivan's confidant and coach O'Mara got hired by James Stewart to be his exclusive trainer. Latham went to the KTM team to work for Andrew Short. Just like that, two people that Ivan relied on were gone.  And with every rider's pay getting cut, Doc G wasn't able to get to every race anymore. Just like that, a wolfpack of four was down to one.
As well, Ivan decided to leave the Valli team to sign with the revamped Hart & Huntington team. You have to wonder if Ivan was motivated to get some familiar people back into his life, as the H&H signing reunited him with his old friend and first team manager Kenny Watson. He was also reunited with his wrench from the Suzuki days, Tony Berluti.
That's a lot of change for Tedesco in a short amount of time. So when he grabbed the holeshot this past weekend in Anaheim it represented a new beginning. He was with new (old) friends and back on Kawasaki's, the brand that he won those titles with oh so long ago. From there, he led some, and finished seventh. I asked him if it was still a positive:
"There were definitely some positives, my speed was good at the beginning. We've got some work to do. I haven't been up front for a while. I don't think it's a matter of fitness, I put the work in, but the mind gets in the way a bit. I have to lead races to get used to that. Everyone was happy with the deal except for me, it's embarrassing for me and looks like I didn't put the work in the off-season. We'll keep working and get it better."
Tedesco didn't seem to indicate that he was satisfied at all with his ride. When I turned the topic to him and James Stewart getting together in the heat, he assured me that the incident was over and he had hashed it out with Stewart's father. He didn't want me to blow it up, but he did talk about his motivation behind the move.
"I got the holeshot in my heat, RV boxed me out and then that first lap James bumped me and I lost it.  It was kind of a chicken shit move [on my part] but I was trying to send a message to him. I wanted to get respect from him. It was the first heat race of the year and I wanted to let him and anyone else know I wasn't going to get bumped around. I respect the guy, he's the fastest guy on the planet as people say but I'm no slouch either and I want some respect."
Stewart bumped Tedesco, and Ivan retaliated by trying to take him down. I likened it to trying to kill a mosquito with a shotgun, which made Ivan laugh and sort of agree with me. The incident is over and we'll move on to Phoenix.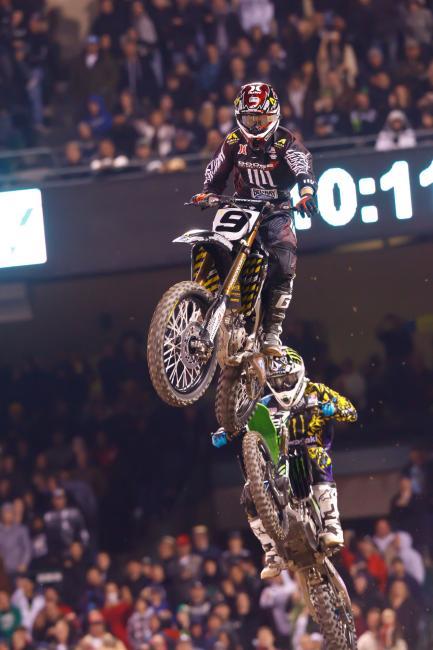 Tedesco started strong at A1, but only managed a seventh place finish at the end of the day.
Photo: Simon Cudby
I watched Ivan ride a lot in the pre-season, and I wondered if I was indeed seeing more raw speed from him. I have seen him ride enough laps in my day to make an assumption, but I wondered if he lacked wild edge that others had. Watching him ride in the pre season, I thought I'd seen that edge but I wasn't sure.
"I do think my speed has gotten better," says Ivan. "That's one thing I was lacking the last two or three years. This weekend-I hadn't ridden a race like that in a while and the wheels fell off about halfway and I had to survive. I just need to get used to that speed for sure."
He agreed with me that it's a better class than ever before ("stacked" he says) but he's ready to meet any challenges. He doesn't know any other way but hard work and dedication. The one word I would use to describe Tedesco is professional. He's professional in the way he goes about his racing career. He's going to give you a solid effort, he's going to work his ass off and speaking of ass, he's also an asset to any team that is lucky enough to get him.
I wonder if the H&H team image (some of it perceived and some of it truth) is something that the semi-serious Ivan was worried about. He assured me it's not. "No problems at all, it's awesome. I love the team, we have great bikes and people on the team. It is different for sure, there are a lot of people hanging out in the truck. They draw a great crowd of people but when I needed to, I just went to the riders lounge to focus and do my deal."
So next time you're at the supercross race and some racer goes from leading to seventh, and you think he's a slacker compared to the guys on the box, remember that there are guys like Ivan Tedesco fighting night in and night out. He's working hard and trying to get better while also trying to represent his team and the sport on a professional level.
The sport would be much better off if we all cheered for guys like Ivan Tedesco.
No matter where they finish.