5 Minutes With... Kelly Smith
By Jim Kimball
Kelly Smith has now been racing professionally for over fifteen years. Through this time he's raced for virtually every manufacturer, from factory rider to privateer. And although he may have not won a well-known championship, he does have some impressive wins to his credit – like winning the 2000 High Point National on a KTM, and winning the 250 Class at the U.S. Open of Supercross on his debut race on Yamaha of Troy. Moving to Arenacross in 2008, Smith started off slow, but by series end he had racked up an incredible string of wins, significantly closing in on point's leader and eventual winner Chad Johnson. Based on that 2008 season, many of us pegged him to be a shoe-in for the 2009 Arenacross Championship. However, a severely broken leg derailed that plan, and then with a black cloud following him, Kelly again broke his leg early in the 2010 season. A couple months later, Smith would regroup to race the Jacksonville Supercross where he holeshot the Lites class as a Honda of Troy replacement rider. This past summer I had heard from friends that Kelly decided to retire from racing to become a Real Estate Agent – so when I saw the just turned 31-year-old suited up at the recent Tulsa Oklahoma Arenacross, I had to track him down.
Racer X: After watching you in Tulsa you looked pretty good, Kelly. How do you feel now that Round 1 is in the books?
Kelly Smith: Well, during the first practice I actually felt great, but during practice session two I made some mistakes out there. Then later I didn't get that great of a start in the main as I had to start from the second row (Ed. note: Kelly was caught up in a heat race first lap bottleneck and was nearly last, therefore had a very poor main gate pick). With my poor start I felt that I was somewhat rusty and not that great at making passes through the field.
What have you been doing since last March when you filled in for Honda of Troy and holeshot the Supercross Lites class at Jacksonville?
I got my Real Estate License this past summer back home in Michigan, so I have been working at Century 21 Bay Shore, our local office in Ludington. Still, this whole time that I've been doing that I've felt that I still have something left to prove, so I decided that I still wanted to race. I love the competition and just like being on a motorcycle. I didn't even have a dirt bike to ride this summer, so I was really jonesing to ride one. So, not too long ago I began contemplating as to whether or not I could do something on my own, but then with the way the economy is I knew it would be tough. Last year I pretty much did it on my own, so when I broke my leg I ended up wasting a lot of my own money. I've always been a strong Christian, and over the years I have known the guys at Team Faith, especially Kevin Johnson, who I've always been friends with. One day I called Kevin and asked him if he was going racing and he said that he wasn't sure, but wanted too. So, I told him to let me see what I could do to help; I'd like to go racing with them. From there it all just took off, and eventually worked out. Kevin's dad at Bobby J's Yamaha really helped us out with bikes, and I ended up meeting a guy who's originally from Michigan, and now in Alabama, named Robbie Miedema, who had always wanted to help me out. He's actually the first guy that I called when I really started thinking about racing this series. Robbie has taken care of all my flights and travel, so that was a huge help. It all came together over time. Of course we got started pretty late, but once again we were provided for, and the Lord took care of us. Team Faith got the right help to keep it going, and I got to be a part of it - which is very cool as really like the message that the team brings.
How long have you been riding your Yamaha 450?
I've had my bike for about three weeks now. The first week that I had it I studded up some tires and went trail riding in the Michigan snow – just to get some seat time. Bobby J's kindly did a trade with a local dealer for me so I could start riding as soon as possible. I knew that I would be going down to Texas to ride and test for a week prior to Tulsa, but just figured that every day that I had to ride would be a big plus for me. Even though it was snowing in Michigan I got a chance to ride the trails and play around. I did that and then went down to Texas where I was able to get my suspension done and actually ride a real track. So, we prepared as fast as we could with what resources we had. We slapped on a few aftermarket parts and are just going for it. The Yamaha 450 is already so good and fast that we don't have to worry about modding them out much at all - we're having a great time!
Many of us may recall that you were a member of Yamaha of Troy some years ago. Are there any similarities to your new bike?
This bike is completely different than the old steel frame Yamahas that I used to race. Since those days there have only been one or two times when I was able to ride one of the newer aluminum-framed bikes. I had not ridden the newer Yamahas with the rearward engine and EFI until three weeks ago. Fortunately, throughout my career I've been able to adapt to new bikes pretty quickly, and I was able to do that here. It was just like last year when I had broken my leg (early in Arenacross) and been on the couch for ten weeks prior to riding the Honda the day before the Jacksonville supercross. That was on a 250F and I had not even ridden a 250F for a year and a half until then. I wasn't really stressed about adjusting to the new Yamaha 450F at all. Actually, that's what most riders and teams have to do these days anyways with the budgets being stretched and everyone starting so late. As I said, now I get to be at the races I love for much more than riding a motorcycle – with Team Faith there is a higher purpose. I still have a lot of competitive desire, but the ultimate goal is to be here every weekend spreading God's message.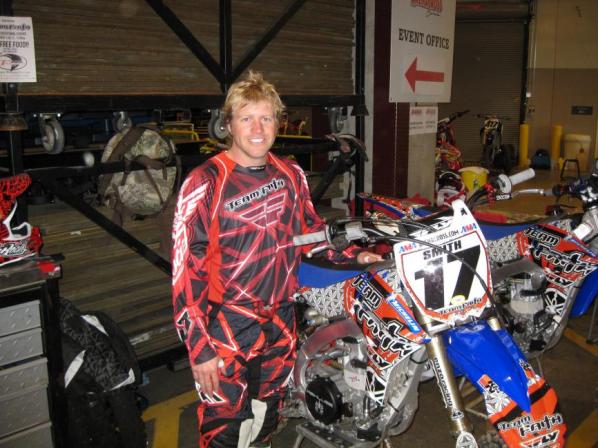 Kelly Smith.
Photo: Jim Kimball
You've got some unfinished business in Arenacross. Can you put this series together?
I'm really hoping too, Jim. I would love to have that redemption. My first year in Arenacross I got second and closed the gap a lot on (eventual winner) Chad Johnson late in the series. I think that if I would have been smarter in the beginning of that rookie season that I could have won the championship. It was a learning curve, and I admit that at the beginning I wasn't the best at it. In that early part of the championship Chad did well and built up a good points lead – he capitalized on that and finished off strong. Breaking my leg early these past two seasons, I feel kind of shorted, like I never really got that chance to have a real shot at the title. Tyler Bowers may almost feel that same way about this past season, he should have wrapped it up in 2010 - only to break his leg just as the series was ending. At this point in the series my number one goal is to stay healthy and consistent. It's fourteen weekends, so there is a lot of time to keep making changes and improving. I'm confident that I will keep getting better as I get more time on the bike. There are a lot of fast guys that will do well this year and I feel that I can be one of them.
In closing, is there anything that you would like to add?
I'd like to thank our Team Faith sponsors, for sure. Pilot, Western Power Sports and Fly Racing, Enzo, team owner Brian O'Rourke, and our mechanic here this weekend Chuck (Lemaster) and all the other sponsors like Pro Circuit that help us. I've either never realized, or maybe just took it for granted, how many little sponsors there are that help. As long as we are healthy and here at the races, we will be having a successful season.