Anaheim, CA
Anaheim 1 (A1)
Monster Energy AMA Supercross Championship
What a night for Pro Circuit's Mitch Payton this past Saturday at Anaheim Stadium as his team went 1-2-3 in the 250 class. It was a fantastic way to start the year for the powerhouse Southern California house of horsepower and one that I'm sure Mitch and his entire team put a lot of work into to make sure it happened. The team just shows up, year after year since 1991, and no matter who's on the bike, the rider performs.
Not all is perfect in PC land though as the switch of exhaust pipe companies by the factory Kawasaki team is something that has stirred the pot a bit for the man that many call the most powerful in the pits. I spoke to Kawasaki team manager Mike Fisher to get his take on the switch HERE and now, I called up Payton to talk about this and, of course, his tremendous night.
Racer X:  Mitch, thanks for doing this and is there any way that your Anaheim could've gone any better?
Mitch Payton: No, I don't think so. I'm really happy for all the guys and we've all worked so hard to make this happen. It's awesome when it all comes together and this year was a little more difficult than usual. We had some difficulties in getting all of our parts that we needed and all through Christmas and New Year's, it was a little bit of stress and a lot of work to get here.
And was there one guy, for whatever reason, that impressed you more than another?
No, I was actually impressed with all of them in different ways. I'll start off with Tyla (Rattray) because it was his first supercross ever in the States and it's one of those things where you're watching practice and someone does something. Then we all go "Uh oh, you have to go out and jump that" which we shouldn't do but he went out there, jumped it and crashed pretty good. He hit his head, a little bit of a concussion but we got him checked out by Asterisk. At one point he wasn't going to ride but he decided to and I'm glad he did.
I'm really happy for Tickle also. He's in good shape, I knew he'd be ready and it was just a question of if he got a good start, how he was going to do it you know? He was awesome, rode flawless and rode his own race, didn't let anyone affect him out there.
And Hanny, we all know Hanny and with him all the little pieces have to be lined up. I think that trip down to Australia was good for him, it kept him racing and it showed that there weren't any distractions. If you go back and look at the tape from last year's Anaheim to this year, you'll see a lot of improvement.
Yeah, he really looked like he was in complete control out there and even when he was in second, it seemed that it was no problem for him if he had to turn it up.
Yeah, he didn't look like he got tired. Look at his times, he was solid and wasn't winded when he got off the bike at all. I'm really happy for him and for all the guys.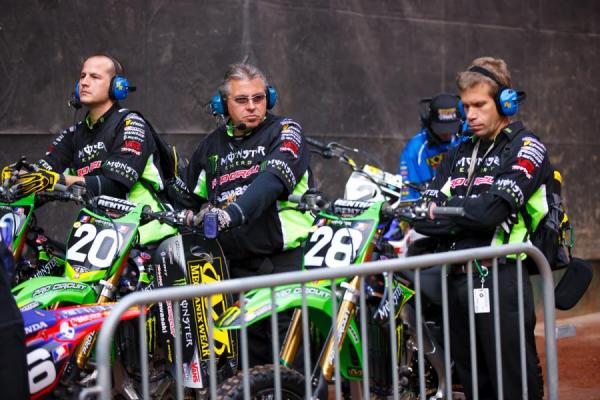 Pro Circuit sweep the podium at the opening round of Monster Energy Supercross.
Photo: Simon Cudby
How about the 2011 KXF 250, what do you guys still have to work on as far as making it better?
We're still waiting on a couple of things. It's nice when you feel like you have everything under control and we need to know that we have everything that it's going to take and spares as well to feel real comfortable and we still need to work on that. Overall, we're still really happy with the performance and Anaheim was the first race that we ran the new Showa forks, the new one-sided SFF fork that they have and I'm really happy that they looked good. In testing they liked it but you never know until you get it under race conditions. The EFI system seemed to be really good this weekend, no issues at all. It was a lot of work this year to make sure our bike was better than last year's- that was our goal.
What about the competition? Anyone that caught your eye or anyone that you know is going to be a factor before this thing is over?
I think it's so unpredictable. I think Martin (Davalos) looked good, I think Ken Roczen looked good-Travis Baker also. (Nick) Paluzzi, Ryan Morais there were some guys in there. It's the first race and I think that those guys will be in there. I'm really pumped about our results but it's nothing to gloat about. We have to get better because everyone else will get better also.
What happened to Tommy Searle? I thought he was going to ride west for you?
Yes he was. We were going to have him under truck and supply him and bike and everything. When he went back to England, he twisted his ankle running over there and when he got back here he was limping and was under the  eight-ball as far as when he could start riding. So then when Harry (Nolte) got over here, we had a meeting with Tommy and the decision was made that he was just going to concentrate on the GP's and not add another whole element to the program. It just didn't make a lot of sense so Tommy's been out practicing and we'll do some testing with him and get him ready for the GP's.
So the question on everyone's mind is what do you think about Factory Kawasaki switching from your exhaust to FMF?
Well, I don't really know how it happened. I'm not really sure (laughs). I guess I'm disappointed in that I had a conversation with Mike (Fisher) in mid-December because I had heard they were thinking of changing exhaust systems and he said it wasn't true. We were made aware that there were some issues with the exhaust.  We did address every issue at hand and had viable solutions.  Unfortunately, they refused to look at what we came up with, I think he did me wrong and I was lied to. I don't appreciate that, I have a great relationship with Kawasaki and I would think that they would have respect for us as well.
So this has definitely fractured a friendship but I suppose you're happy with the fact that Ryan (Villopoto) won as he's one of the guys that rode for you for so long.
That's the thing because we help them with some of these guys. Ryan's been with us since mini-bikes, just like (Ricky) Carmichael was and (James) Stewart was, they were brought up on the program and you supply them with rides because you want to bring them up and keep them going and you don't want to lose them over a deal like this.
Thanks Mitch
Thank you, see you this weekend.