Anaheim, CA
Anaheim 1 (A1)
Monster Energy AMA Supercross Championship
Tremendous buzz and hype heading into Anaheim 1 this year, and Ryan Villopoto fired first by grabbing the win at the first round of Monster Energy Supercross, Anaheim 1. The win was even more impressive when you realize RV2 has gone from the hospital and the couch to the top step on the podium. But early in the day, it didn't seem to be shaping up quite this well, as Villopoto took fifth in timed qualifying, and was run down in his heat race by James Stewart. But in the main, he was ready, and charging just like he was before his big injury. We grabbed him for this week's Alpinestars Monday Conversation.

Racer X: Okay so practice was only okay, and the heat race was only okay. Did you think you had a shot at this going into the main?
Ryan Villopoto: I think in practice I was just out there. And I put it on the board way easier than last year. Last year, I really struggled to get my number on that board! So, you know, I was just up there trying to be in the top five, I'd like to be first but it's really just a qualifier for gate pick.

So last year, even on nights when you won the race and had the fastest lap time in the main, you weren't qualifying at the top?
Yeah, it's been hard for me to get on that board! So then the heat race, that was the first time I had lined up on the gate since St. Louis, and the last time I raced, I ended up in the hospital for three weeks. I obviously saw James coming up from behind, and I got a little nervous and started making mistakes. I tried to follow him a little and picked up on a few things here and there, spots where he was quicker than me.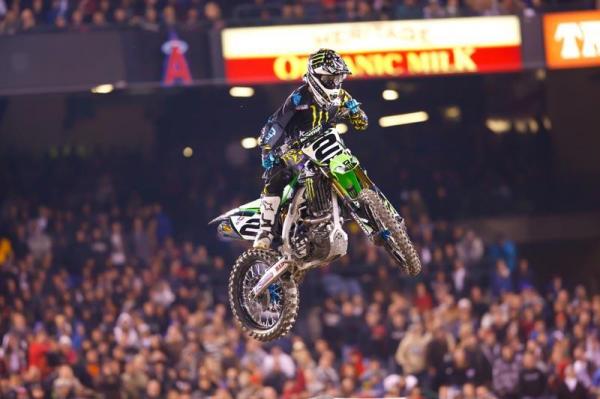 RV2 had it under control once the main event began.
Cudby photo
Mike Fisher, your team manager, has told me there have been races where practice or the heat race weren't great, but you figured something out along the way, maybe a new line or obstacle on the track, and once you had it dialed in for the main event you knew you could win. Did you get to that point? Did you go to the line in the main thinking you had the speed you didn't have in the heat?
You know, the track was really tough tonight. Everyone knows there was a lot of rain here, so the track was soft. Then it got dark, and the moisture really started coming up out of the ground. The track deteriorated really quick because of all the moisture. It was a lot different as the night went on. Overall it was good, though.

So you get the start and you're out front. Did you think you could win it, or were you getting nervous?
I knew the times were so close in practice, that I knew, even if I wasn't the fastest in practice, that I had good laps in me. And I knew with the training I had done in the off-season that 20 laps is no problem. I mean, it's different during a race, and it was. I could see I had four or five seconds on him (Dungey) and then I hit lappers, and he closed in a little bit. So I turned it back up a little bit and got the gap back, and by then it was already lap 15. Then I just backed it down a little bit.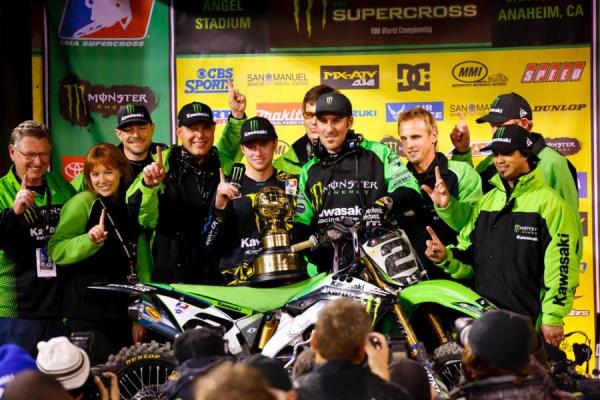 Looks like the bike gets the job done....
Cudby photo
In opening ceremonies, they showed a clip of your St. Louis crash, and then some shots of those gnarly x-rays. Did you really think, really, that in your very first race back from all of that, you could win?
Yeah, you know I wanted all the fans to see what happened. I knew what I had went through, and I know a lot of people in the sport knew. But I'm sure a lot of the fans had no idea. And that was just a small glimpse of what I went through. It was bad. So tonight, I was just shaking the cobwebs out. I would have been fine with a podium tonight. But it's even better to have a win.
Last year it took a few races to get going.
Yeah I've never won Anaheim 1 before.

So, do you think you can be better?
Oh, it's going to get better. Like I said, I just needed to shake those cobwebs out before I really start turning it up.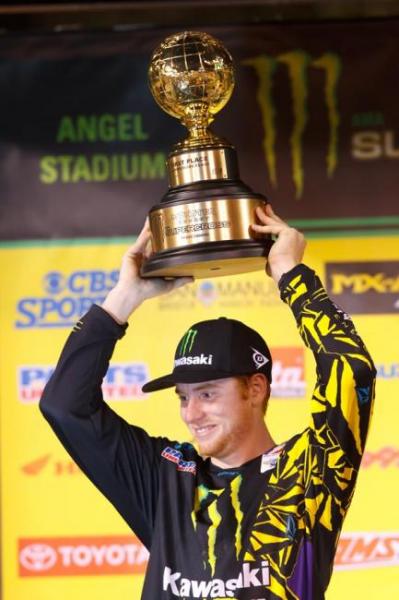 Monster Energy Kawasaki has worked hard to lighten their bikes for 2011, just to make sure they grab some more heavy metal on the podium.
Cudby photo