Babbitts Motorsports AX Race Report
Weekend race report brought to you by Maxxis
MUSKEGON , Mi. – Babbitts Motor Sports Racing® Starts the new season off with two riders on the podium, in Tulsa, Oklahoma at BOK Arena
The Team Babbitt's Monster Energy TiLube Kawasaki presented by Maxxis Tire team stormed into the BOK arena in Tulsa ready to set the stage for an exciting 2011 season.

And to later have their riders' finish 2nd, 3rd, and 6th courtesy of Tyler Bowers, Chad Johnson, and newcomer Gray Davenport; they are picking up where they left off in 2010 - certainly off to a very promising start.  "It's been a very good evening; with Arenacross you never know how it's going to play out.  To have two guys on the podium, and then have Grey finish sixth after winning the LCQ definitely made me happy," exclaimed Team Manager Denny Bartz immediately following the main event.

Top finishing team member Tyler Bowers rode expertly well all night, and after taking his heat race win, looked primed to take the night's overall win.  Rounding the first lap of the main event in second behind leader Jeff Gibson, Bowers was clearly focused on getting to the front.  Unfortunately a minor mishap cost him time on Gibson; also allowing teammate Chad Johnson to pass for second.  A few laps later Bowers worked his way past teammate Johnson, and back into second – where he would finish.  "It went well; maybe not exactly as I wanted it to, but it was okay.   I learned a lot tonight - it's been a while since I've been on the bike.  At times I would catch him (Gibson) then lose him; then catch him again only to lose him again.  In retrospect I made some small bike changes that were probably not the best" stated Bowers.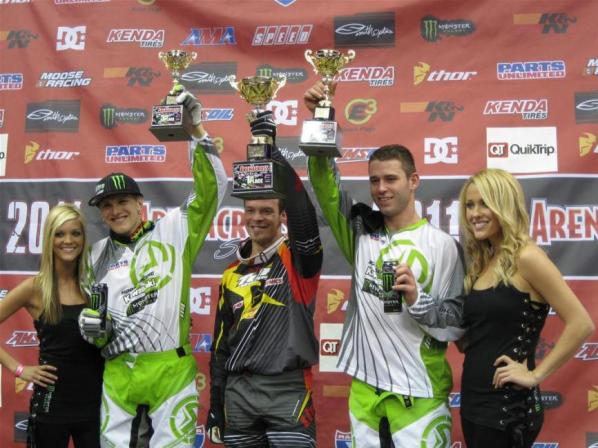 At times known for being a slow starter, Chad Johnson maintained a podium position the entire race; briefly passing Bowers for a few laps mid-race – before finishing in 3rd.  "It went okay; of course after the first race you always realize that you have a couple things to go home and work on – like my corner speed.  But other than that I felt great; my endurance was strong, and I rode consistent.  It's only the first race, so you definitely want to keep it on two wheels.  During this first part of the season, it's only about being consistent, and making it to the end of the season" laughed Johnson.

Gray Davenport worked his way into the main the hard way, by winning the Last Chance Qualifier.  Unfortunately this earned him a poor gate pick – still the team rookie would finish an impressive 6th place.  "I had a back row start so to come out of the first turn in 8th I was pretty happy.  For how badly my night started, it ended pretty well.  I really cannot think all the guys with the Babbitt's Monster Energy Kawasaki presented by Maxxis team – they have been great!" said Davenport.

Additional excitement generating within the team's pits included seeing current champ Josh Demuth getting his 2010 Arenacross Championship ring, and having Enzo Suspension's Craig Decker there to add technical support.

With Tulsa now over, and the riders more relaxed and confident; the Babbitt's Monster Energy Ti Lube Kawasaki presented by Maxxis Tires will make its way to round 2 in Kansas City, Missouri this coming weekend .   For more on the team, check out www.babbittsonline.com