Anaheim, CA
Anaheim 1 (A1)
Monster Energy AMA Supercross Championship
Maybe our expectations were too high in the first place.
When James Stewart first burst onto the pro scene, the sport wanted him to put it on his back and launch it straight into the mainstream. The exploits of Jeremy McGrath, Ricky Carmichael and Travis Pastrana had pulled in fans from all angles, and just when so many new eyes were checking things out, Stewart, the most perfect package of all, hit the big time.
Young Stewart had all the tools. Amazing speed and style on the bike, and amazing personality off of it. And to top it off from a PR perspective, Stewart was making waves as the first black athlete to ever win a major Motorsports championship in the U.S.
The Stewart story was so compelling to some mainstream press outlets that they had to tell it, yet they knew so little about supercross that they tried to tie James' future fortunes to NASCAR, if only because that was the only motorsport they really understood.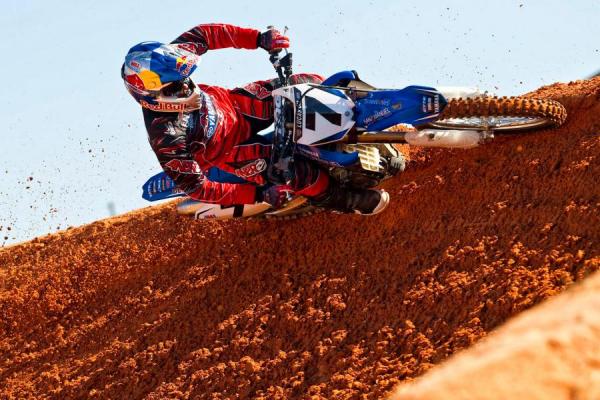 Expectations have always been high for James Stewart, 2011 should be no different.
Photo: Garth Milan
The expectations were stratospherically high. On the track, fans expected to see him break McGrath and Carmichael's records. Off it, he was dubbed "The Tiger Woods" of the sport, with hopes he would boost his sport's popularity the same way Woods did. There were rumors of Michael Jordan starting a team, or sponsoring James, or maybe Nike making gear, all sorts of pie-in-the-sky dreams that only Stewart's considerable talents could draw. He was not treated like any other rider, and never will be.
Today, Stewart is in a different position. For the first time, he's the veteran trying to get his crown back, while a young charge of next gen stars like Ryan Dungey and Ryan Villopoto try to elbow him out. Stewart has already delivered on much of his promise, with five AMA National Championships, a ton or wins and the respect of being quite possibly the fastest rider to ever cut a lap on a supercross track.
And yet, the feeling always persists that he's fallen short, because the expectations were so impossibly high from the start. Challenging McGrath and Carmichael's records is a lofty goal, and while there's still time left for Stewart to close in, it's looking likely that McGrath's 72 career supercross win mark will stand. And while Stewart has done his part to boost the sport into the mainstream—like it or not, his Bubba's World reality show is pulling in fans that would never watch have watched the sport otherwise—many hardcore fans are not satisfied with the show. And Stewart elected to skip the 2009 AMA Motocross tour, and missed most of the 2010 season with injury. Over the last 18 months, a core group of fans have been left wanting more.
Last night Nike held their Night With Champions event at the Spectrum store in Irvine, California. Stewart and Dungey, Nike 6.0's moto athletes, got to chat with fans in a casual setting, sitting on a couch, answering questions from Facebook, laughing, telling stories, and showing how different they are when not under the pressures of Saturday night.
Stewart's been pretty far from the motocross spotlight ever since his appearance at the Unadilla national. But he was back in it last night, and he shined bright as ever. He had the full repertoire—he was hilarious at times, articulate and intelligent at others, an amazing spokesperson for the sport.
When asked what's on his bucket list, he comically replied, "My dream was pretty much to win a supercross championship, so I guess now, yeah, I would just like to be the first person to travel to Jupiter."  When asked if he played other sports as a kid, he said, "In gym class, I never got picked!" He then went on about his first girlfriend, and how they never actually spoke, but communicated only through notes passed between friends. "I passed her a note that said "Do you like me? Yes? No? Or maybe? And she checked yes. So we were contractually obligated to date!"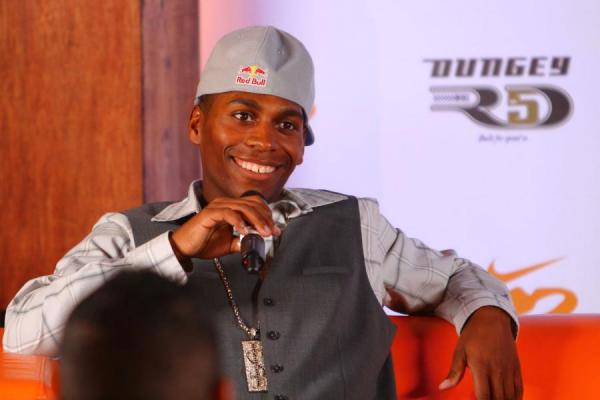 Stewart answering questions at the Nike 6.0 Night With Champions event.
Photo: Matt Francis
Finally the questions drifted to results on Saturday night. Stewart and Dungey immediately tensed up, and Stewart broke the tension with, "Is this the part where we're supposed to get nose to nose like the boxers? We need to get Don King up here! Look at us, we were all joking around, and now we're moving away from each other on this couch, getting all tense. I'm gripping this boot in my hand right now like, "Hey this is my boot!" We're already getting all competitive!"
On he went, cracking people up, and yet saying the right things about how his parents sacrificed everything for him to make it. None of the folks at Nike could have picked a better representative for their brand—and this sport couldn't have had a better representative, either.
Remember, for all the faults fans might have had with him over the years, he hasn't even come close to the mistakes of Tiger Woods. He's lived a clean life, he's won a lot of races, and he very may well win a lot more.
Throughout the evening, Stewart kept coming back to the idea of staying grounded, and being a good, regular person away from the track. "My parents always told me that just because you win races doesn't mean you're better than anyone else," he says. "At the races, maybe we're not as outgoing as we could be, because we're focused on doing a job. But I'm just a regular, outgoing guy normally."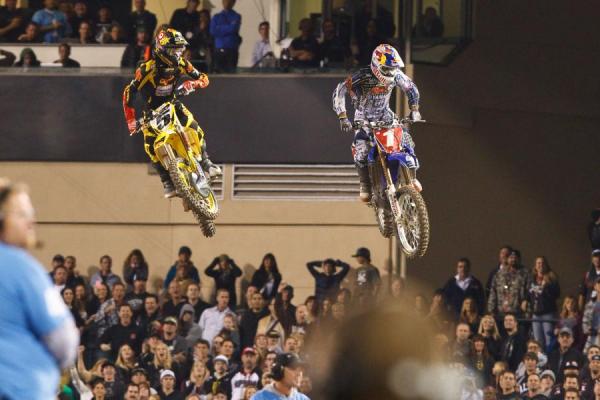 The Dungey-Stewart showdown should be in full swing come Saturday.
Photo: Simon Cudby
A regular guy. Unfortunately, Stewart was once thought of as a gift from the moto Gods, someone expected to hit loftier goals than any mere regular person.
The next test begins this weekend. Is this still Stewart's sport? His wrist injury is long behind him, he looks fit and ready working with Johnny O'Mara, and his San Manuel Yamaha team is committed to improving itself, bringing on a new suspension tech handpicked by Stewart. Team manager Larry Brooks recently commented that the team has performed more suspension testing this season than the last two years combined, to make sure they finally have their bike ready for Anaheim 1. And when it comes to natural speed and talent, it's still James Stewart. No one doubts what he can do when he is healthy. But he's in a different position now, as a year of injury has erased his cloak of invincibility.
Stewart is just 25 years old, and all of the talents he possessed when he was 16 are still there. The original goals may have been impossibly lofty, but he still has the stuff to take this sport to another level. And it might not be too late.