DG Performance was a Southern California based race shop that became an icon of the late 1970s motocross scene. The company pioneered and manufactured a number of bolt-on performance products during the early days of American Motocross, and was founded by a man named Gary Harlow in 1974. DG was an early adaptor of the "in house" race team, which they used to promote their name and products. By 1975, little more than a year after it was started, the company put a box van on the AMA national tour and sponsored two young racers named Bob Hannah and Broc Glover, who, outside of Southern California, were basically unknowns.
Today, DG Performance is very much still in business, but focuses on selling ATV-related products. We found Mr. Harlow retired and enjoying life in Arizona.
Racer X: Gary, thanks for checking in with us. We thought it would be a cool story to find out the story behind DG Performance and to see what you are up to these days.
Gary Harlow: Well, thanks! I am basically now retired. We started DG Performance in 1974 when my son was racing, and Honda had just come out with the Elsinores. Initially, I started out with a partner named Dan Hangsleven, and that's how we got the name DG—for Dan and Gary. We were 50/50 partners. I used to ride the old Huskys in the 1960s, but once my son started racing, I pretty much was just helping him. Well, I met Dan at the Honda shop, and I had a different company at the time, a crane company.  We started DG and put it in a little shop on 1200 square feet on Collins in the City of Orange.  It grew so fast, I had to sell the other company in order to step in full time. After about six months, I bought the other 50 percent of the business from Dan, and just started focusing on selling products.
What were some of your first products you sold?
Our first products were carburetors and airboxes for the 30mm Mikuni carbs. We would put them on the 125cc Hondas.  I had molds made to make our own air boots, and it went from there.  Those bikes were very cool, and lots of fun to work on. I then started to contract with J&R over to Orange to build us exhaust pipes, but shortly moved over to Cobra.
You found success pretty quick. In your mind, what really put the company on the map?
Well, about one year into it, we moved into a 3000-square-foot space on La Palma in Anaheim. I had more room and hired some mechanics and started to do our own performance work. FMF was our main competition, and well, they were a little ahead of us. Donnie Emler really made some good bikes, and they were faster than ours at the time. Of course I would never admit it back then, but it was true!
About that same time I met Bob Hannah, who was working as a welder or something and building exhaust pipes at J&R. Well, Hannah was riding this clapped-out Husky and was looking for support. Yamaha had just come out with a new bike that no one seemed to like, and they gave me a few bikes to see if I could fix them up. So, one day I asked Hannah to come help me test them and see what he could do. Well, I used to get to the office around everyday around 7 a.m., and the day Hannah was supposed to come, there he was, sitting on the curb waiting for me at 7 a.m! To top it off, he was wearing all his riding gear and was all ready to go.  I think Harry Klemm was in charge of our R&D at the time, and so he took Bob riding. The guy was simply amazing, and he really impressed all of us. He was the best we had ever seen.
We had another guy who tested for us named Davey Williams, who was from Corona.  Davey was just as good as Bob but didn't have the drive. Well, I had hired Davey's brother Rocky to be a mechanic, and I decided to send a box van out on the circuit. We put a kid named Broc Glover and Bob (Hannah) in that van and sent them down the road. Broc had just turned 16 and raced his first national.  I think he finished fifth overall for the season, which was an amazing result for a rookie.
In 1976, factory Yamaha wanted a new rider for their team. Strangely, they were looking for someone who was a little unknown. I suggested Bob and literally had to beg them to hire him! Mel Calloway was the guy running the racing department for Yamaha, and in fact, I told Mel that I was so certain Bob was the next big thing that if things didn't work out, I said I would pay his wages instead.  So they hired him, and well, of course, you know what he did!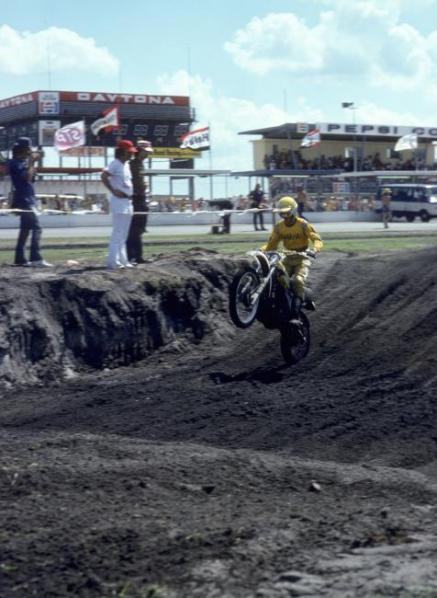 Bob Hannah racing at Daytona in 1976.
Photo: Racer X Archives
So I guess you didn't have to pay Hannah's wages then?
[Laughs] No! Bob is a different fella; he comes from a different cut. He was extremely loyal, just an amazing guy. He went on to achieve so much, and it was a great honor to work with him so early on. I remember in 1978 or something—and forgive me with the dates—but JT Racing had given him a new Ferrari. Well, even though he wasn't a DG rider, he still wore our patches, just out of loyalty. We didn't pay him for that.
In those early days, what were some of the challenges that you guys faced with the racing and that corresponded with the business and sport growing?
Well, as time went on, the factories kept taking our best riders. Mike Bell, Broc, Bob, they all went onto factory rides. Of course, I don't blame the riders, the money was better and the factory was the place to be. We managed to hang onto some of the other guys, guys like Gary Denton and Davey Taylor, but we kept losing our best guys.
As things moved along, I stayed on the marketing side mostly. Kenny Boyko and Harry Klemm really kept the team together, and Harry was one of the best wrenches I ever saw. We did most of our testing over at Saddleback, since it was so local. In 1978, we moved into yet another larger space, which was 10,000 square feet on Van Horn in Anaheim.  At that point, we were selling mostly performance kits, exhaust pipes, swingarms, radial heads, some apparel, and even a line of BMX bikes. Those (pedal) bikes were pretty cool, we called the DG1 and the DG2. They are real collectable today.
The company seemed to fade away in the 1980s, and today there is almost no presence in motocross for DG Performance. I know the brand is still around, but what happened with that?
Well, I sold company in 1982 when the motorcycle market took a dive. Back then, the Carter administration had interest rates up real high, and the economy was a mess. I think loans were around 18 to 20 percent, and the economy was in the gutter. Bike sales were non-existent, and the market crashed. Well, I was more into my Mercedes and Ferrari at the time, and I didn't retain enough earnings in the business to see it through tough times. So I sold it. Don't get me wrong, I made plenty of dough, but I spent it all as well. But everyone had problems, even Emler. So I just figured I would sell it and go and do something else, which I did. The guys that bought it were named Bill and Mark Dooley. I think they have done very well, but I didn't keep up with them.  In fact, I heard that one year they did close to $100 million in sales!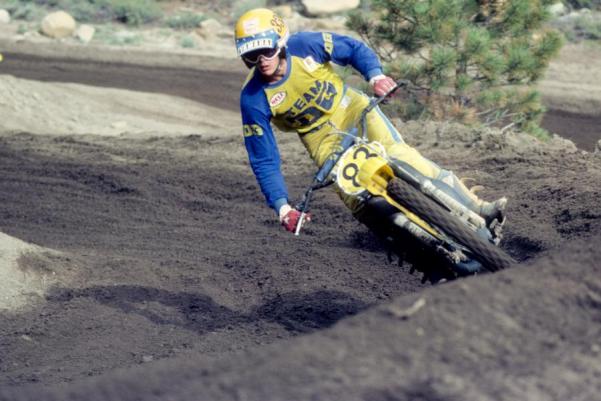 Mike Bell rode on the DG Performance team in 1977.
Photo: Racer X Archives
So you walked away from DG Performance in 1982 after creating, growing and selling an iconic company. What was next for you?
Well, I took about six months off, and traveled around with my wife Sharon and visited some friends. We ended up settling out on Bullhead City up on the river sometime around 1983 or so. We had some friends up there and got into real estate and development.  We opened a real estate office and built into the top real estate office in Bullhead City. We also did some custom home-building as well, which was a whole lot of fun, and we did okey-dokey with that! I have now been retired now for a few years, and we moved down to Prescott (Arizona).
How much do you keep up with the sport today?
Well, I really don't follow it much anymore. Today there aren't any motorcycles in my life. I still talk to Bob Hannah and John Gregory, as well as a few others, but now everyone has grandkids! We are really enjoying Prescott. It is a very cool little town with maybe 40,000 people. Get this – despite its small size, we have some 33 restaurants which feature live music every week. It's just a real neat place. I also do a lot of Jeep driving in the mountains and enjoy the retirement. But no, I don't really follow or keep up with motocross anymore.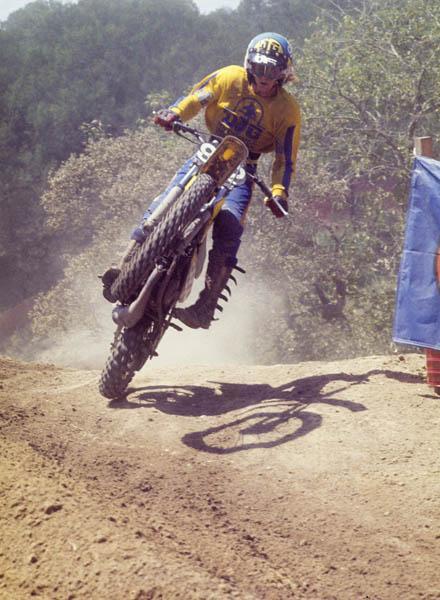 In 1976 DG had a box van on the road for Davey Williams and Broc Glover.
Photo: Racer X Archives
Well, thanks for the time and the stories, Gary. It sounds like during your time in the sport you had a pretty amazing run!
DG was a whole lot of fun, and the people and friends who I met were the best. The prime time to be involved with things is the pioneer time, and back then, the industry was just growing and developing at a fast rate. Today, when I look at the sport, I don't even like the modern jerseys! I guess I am old fashioned, but I like how everything was clean and neat looking back then. But, it was just a special time to be involved in the sport for sure.