South Island Riders Move Ahead
by Andy McGechan

Christchurch's Craig Smith came good at the second round of the New Zealand Supercross Championships at the new track in Taupo on Sunday afternoon.

The Honda rider scored a hat-trick of wins at Taupo on Sunday, rocketing from fifth to first in the Lites (250cc) class championship standings.

There are just two rounds remaining, both of them in the South Island, and Smith is now ideally placed to win the title.

The first and second-ranked riders after round one of the backflips-sponsored series in Tokoroa just over three weeks ago, Queenstown's Scotty Columb (Suzuki) and Taupo's Brad Groombridge (Suzuki), are both now sidelined with injury and Smith paid tribute to them.

"It's a pity about Scotty and Brad … they are great riders and it would have been great to race them.

"I didn't have a good night at Tokoroa and crashed in the first race. But three wins this afternoon certainly made up for that," he said.

"I'm looking forward to the next two rounds in the South Island."

Smith now finds himself 13 points ahead of new second-placed rider Nick Saunders (Kawasaki), of Taupo, with Tauranga Honda rider Peter Broxholme another three points further back in third overall.

The next rounds is at Motueka this coming weekend with the fourth and final round near Timaru on January 15.

In the open class, Motueka's Josh Coppins (Yamaha) improved his position at he top of the rankings and he has moved from 10 to 13 points ahead of new second-paced rider Cody Cooper (Suzuki), of Mount Maunganui). Third overall after two rounds is Christchurch's Justin McDonald (Honda), another four points behind.

"It was a pretty easy track and I rode steadily today," said Coppins, who finished 1-2-2 to be overall runner-up for the night. Cooper placed 3-1-1.

"The sun was in my eyes, making it dangerous late in the afternoon, but I got the job done, so I'm happy with that."

Cooper actually won this second round, finishing 3-1-1 in his three outings.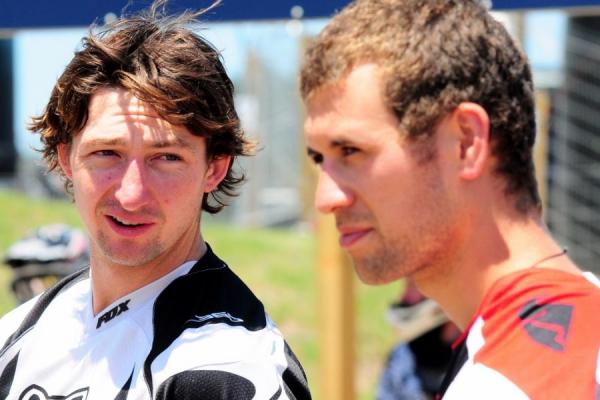 Mount Maunganui's Clody Cooper (left) chats with Hamilton's Jesse Wiki beofre the start of a race at the New Zealand Supercross Championships in Taupo on Sunday.
Photo by Andy McGechan, BikesportNZ.com
Meanwhile, Atiamuri's Dion Picard (Suzuki) won all three junior 250cc races at Taupo on Sunday, elevating him from third to first place in the championship chase, 16 points ahead of Rangiora's Micah McGoldrick (KTM), while Hamilton's Josiah Natzke (Yamaha) finished 1-2-1 at Taupo to extend his lead in the junior 85cc class to 20 points over Pahiatua's Scott Sowry (Kawasaki).