RC Daytona Amateur SX and University for 2011
For Immediate Release
MX Sports Presents the Second-Annual
Ricky Carmichael
Daytona Amateur Supercross Championship on March 6 and 7.

Morgantown, W.Va. (December 21, 2010) – MX Sports, producers of the AMA Amateur Motocross Championships, is pleased to announce that the second-annual Ricky Carmichael Daytona Amateur Supercross Championship will take place on Sunday, March 6, at the Daytona International Speedway, following the Daytona Pro Supercross event. On Monday, March 7, Carmichael will host Ricky Carmichael University, with riding instruction from the 15-Time AMA National Champion and friends.

"We were thrilled to hold an amateur race on the storied grounds of Daytona last year, and we're going to make this year's event even better," says Tim Cotter, director of MX Sports. "We learned a lot at the first annual event, and we're excited to put those lessons to work and help this event grow. With big thanks to Ricky, his family and friends, we believe this event is about to become a mainstay on the amateur circuit."

"I'm really excited to be back for year two," says Carmichael. "As far as racing goes, Daytona is home to me, and it's a great feeling to give back to the sport that made me who I am today. The racing should be fun to watch, and I'm really looking forward to applying what I know to help these riders in Monday's school. This is a supercross country, and you have to be able to ride it to succeed."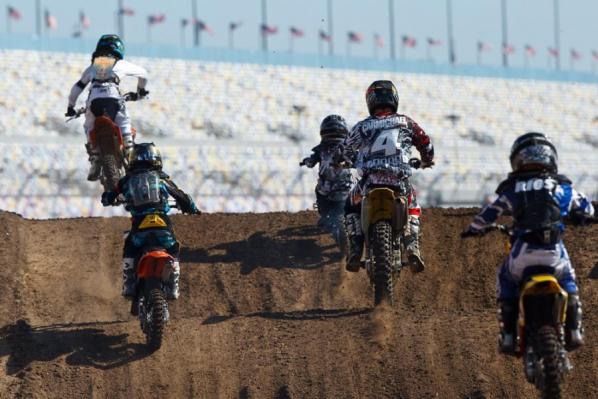 Come ride and race with RC at Daytona!
Cudby Photo
Sign up for the events begins on December 28. Riders can access the pre-entry link at www.mxsports.com

Sunday's race allows the top amateur riders in the world to race on the coveted Daytona Supercross track. After filling every gate position last year, this year's event expands to run under the lights into Sunday evening, allowing more classes, more laps and more riders.

MX Sports organizes the event by utilizing their nearly 30 years of experience operating the AMA Amateur Motocross Championship at Loretta Lynn Ranch. The class structure includes classes for youth riders on 50cc bikes all the way up to vet and senior classes. The race will follow a supercross format, using heat races and last chance qualifiers to seed the field of riders into a main event in each class. Unlike the Loretta Lynn Ranch format, riders do not need to qualify at other races in order to participate in the Daytona event. Full online signup information is posted on MXSports.com

Monday's Ricky Carmichael University marks the only U.S. riding school opportunity with the 15-time AMA National Champion. RC and his team will share exclusive riding secrets during a one-day-only Supercross camp on the Daytona track, with breakfast, lunch, instruction and plenty of riding included.

Amateur riders and their families are encouraged to come down early and camp on the Daytona infield, where hookups are available. Move in, sign up and camping begins on Saturday, March 5, so amateur families can watch the pros compete on Saturday night in the Daytona Supercross. Amateur racing takes place on Sunday, March 6, with Ricky Carmichael University commencing on Monday, March 7.


About MX Sports
MX Sports, Inc. is a Morgantown, West Virginia-based motocross production company. The group coordinates the AMA Amateur National Motocross Championships, which includes a national qualifying program consisting of 52 Area Qualifying races held annually from February through May and 12 Regional Championship races conducted in June at select motocross facilities across the country, leading to the national championship finals during the first week of August at the home of country music star Loretta Lynn in Hurricane Mills, Tenn. In 2010, MX Sports helped create the inaugural Ricky Carmichael Daytona Amateur Supercross and Ricky Carmichael University. For more information, please visit www.mxsports.com