Finally, some of the bigger pieces are falling back into place after a very turbulent off-season. Both Chad Reed and James Stewart have been flying pretty low and off the radar for the past few months, albeit for different reasons. But both popped back up in a big way this week, and both look like they are ready to get back to the business of racing.
Reed invited Racer X's own Simon Cudby up to Castillo Ranch, where he was shaking down his new Bel-Ray-backed Honda CRF450R under his own Two Two Racing banner. He explained to Simon how his team was set up, with industry veteran Dave "Ozzy" Osterman as team manager and Lars Lindstrom as his mechanic. He will have his own rig, and he's running some very cool Shift Racing threads (which settles another off-season question). He also turned some very smooth laps on the Mark Barnett-built SX track up above Santa Barbara, which you can watch right here.
And speaking of Reed, our good friend Mark Rodgers brought up some good bench-racing ammo today. If Chad Reed wins a race this year, he will have won four seasons in a row (MX/SX) on four different bike brands. Has anyone else ever done that? If you know of someone, let us know at letters@racerxonline.com.
As for James Stewart, he's got a whole new program too, with Johnny O'Mara now squarely in his corner. Stewart has also been putting the finishing touches on his 2011 race plan with San Manuel Yamaha, though what we saw of him this week was a much different side than we've seen in a while: it was James having fun, working on a spoof "James Stewart Comes Clean" video with Yamaha that was a holiday treat for just about anyone who watches this sport. If you missed it, check it out right here.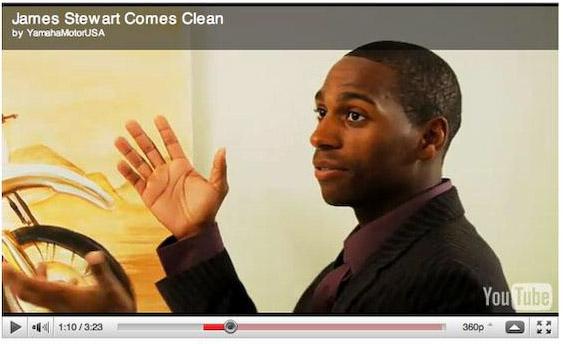 The thing I like about this video, which Yamaha itself produced, is the fact that this seems like the playful, fun James Stewart of those "Bubbalicious" days, when he was the epitome of how fun motocross racing really is. I'm not saying he needs to bring the sprinkler dance back or anything, but he just looks like he's enjoying being James Stewart, and that bodes well for his team's chances at another Monster Energy AMA Supercross title run. If Stewart is smiling, the other guys should be worrying a little....
One person we did not see this week was Ryan Dungey, who has also been flying low during the off-season (Wow, no sooner did we mention that Ryan Dungey has been laying low than we see his latest "5 Spot" update lands in our in-boxes. Check it out, we just posted it: HERE ). In fact, he stayed home from the FIM Gala Celebration that took place a couple of weeks ago in Europe, much to the chagrin of the FIM. Dungey was to receive another award for winning the FIM portion of the Monster Energy AMA Supercross Championship, even though he was already presented an award by Dr. Wolfgang Srb back in May at the series celebration in Las Vegas. With Anaheim just around the corner, as well as the fact that he was celebrating his 21st birthday with family and friends, he told the FIM it would be tough to travel to Europe—especially when he's deep into his training prep for his defense of that #1 plate. Dungey's a young man absolutely committed to his craft.
In other FIM news, for reasons not fully explained, the 2011 Motocross of Nations has moved from the last weekend in September to September 18, which is one week earlier—and just one week after the close of the 2011 Lucas Oil AMA Pro Motocross Championship, as well as one week after the Grand Prix tour ends in Italy. It definitely makes things harder for Team USA, which has to ship race bikes—using unleaded gas and lower sound limits—from California to France. Not making pre-excuses, just pointing out how difficult this will make it for Roger and the team to win a seventh MXoN in a row.
Meanwhile, another Rockstar Suzuki team was out doing their photo shoots. The veterans Ryan Morais and Martin Davalos, along with the newcomers Ian Trettel and Jason Anderson, rode for Simon's still cameras, and there was also some exceptional representation from Rockstar Energy's modeling corps. Check it out right here.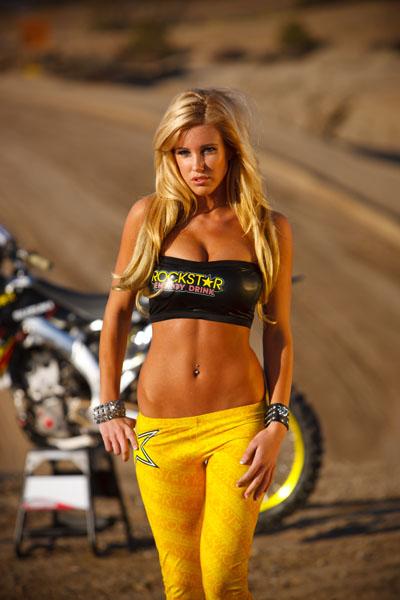 This Rockstar Energy Girl was a shoo-in for our Fan of the Week.
Photo: Simon Cudby
Now is the time that people start really asking who's riding where, but all of the teams—especially from Mitch Payton on down—like to keep their plans as secret as possible, for a variety of reasons. The biggest reason is so that they can make last-minute adjustments due to injury, just in case something happens to a rider. It also keeps other teams guessing as they try to place their own talent. Regardless, we are working on a comprehensive list of West Region/East Region lineups, so stay tuned.
And speaking of Hansen, he was crowned the Australian Super-X Champion a couple weeks ago after a solid series down there, but the Lites Champion there is still not entirely clear. As you may recall, PJ Larsen lost his #1 plate to Matt Moss by two points, but there was a question as to whether Moss made enough laps in one of the three races in the finals to be awarded points. A protest was filed and the officials later ruled that he had not finished the required laps, took away his six points for fifteenth place, and award the title to the American export Larsen. But now that's been appealed, so we may not know who's what until the start of 2011.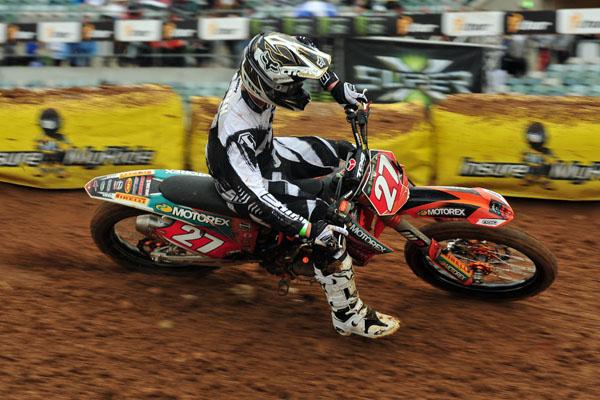 PJ Larsen the 2010 Australian Super-X champion? Stay tuned.
Photo: Sport The Library
Have you ever wanted to race around Budds Creek? Wait, of course you have—or likely did. But have you ever wanted to race around it on foot? And did you ever want it to actually become kind of a crazy survival race where you have to climb walls, jump over mud holes, scale rocks, cross over flames, and just generally have it be the obstacle course from hell? Our own Julie Kramer has, and she's going to get that chance on May 21-22! Check it out.
Phil Alderton was supposed to be running the 2011 Honda of Troy program—he founded it back in 1992 and enjoyed great success over the next dozen years before things in his life got sideways. But the '11 program also got a little sideways, albeit for much different reasons. He spoke to Racer X contributor Aaron Hansel, and we will have it up on Racer X Online over the weekend.
If you're looking for a last-minute Christmas gift, the new Great Outdoors video Man The Machine is on sale now. It's another exceptional look at the Lucas Oil AMA Pro Motocross Championship, with behind-the-curtains coverage of what top riders like Dungey, Trey Canard, Mike Alessi, and more go through in their quest to win. The two-part DVD is available for $24.95 and you can grab your copy right now at www.tgomx.com. It will make you want to go ride!
If you're coming out to the first Anaheim Supercross, you won't want to miss this: we've teamed up with the the crew over at Pala Raceway to offer a Racer X Subscriber Ride Day on Sunday, January 9, 2011, following the season-opening Monster Energy AMA Supercross at Angel Stadium in Anaheim. The day will include open riding on all of the groomed and prepped Pala Raceway tracks. Racer X editors and staff members will be on hand, as will many industry friends and personalities. This is an event you won't want to miss! Stay tuned to Racer X Online for more details.
Okay, let me turn it over to Ping:


The economy has definitely thrown some blows at local tracks, and the closing of Perris Raceway was sad proof of that last week. I've got my fingers crossed that someone grabs the reins and opens the gates back up over there. In the meantime I heard news that the Lake Elsinore Motocross Park would be opening up again in the near future. It is being reportedly bought out by the Pala Raceway crew, and they hope to return it to world-class form again. Maybe this is a good time for me to go into a monologue about the circle of life? Oh, forget it.
Have you ever picked up a dirt bike from Costco? You might be able to soon, thanks to the hard work of Jeff Skeen and his company, Affinity.
Man, I really felt bad when I heard about Levi LaVallee this week. The snowcross rider was attempting to jump over 100 yards on a snowmobile as part of a Red Bull-sponsored New Year's Eve stunt. He crashed practicing for the stunt and, the last we heard, is in stable condition in the hospital. I was sitting at dinner talking with the Red Bull guys about this last weekend, and I explained that the high-speed stunts make me the most nervous for the riders. There is a mass-times-velocity-squared theorem that is used to determine the severity of injuries in an accident like this. That means that speed is twice as critical as the weight of an object when there is an impact. That doesn't bode well for these guys when they're doing over 100 mph when they hit these jumps (especially on a snowmobile). Anyway, I hope Levi heals up quickly and completely.
Is KTM taking over the world? They've already pretty much dominated motocross racing in Europe. They've got the right people in place, including Roger DeCoster, to really increase their impact in American racing. And now they've hired Jean-Sebastien Roy to help with all things orange in Canada. Okay, this is just getting creepy, guys.
And speaking of Everts, there's an incredible new feature on his role in the whole KTM global racing program in the February 2011 issue of Racer X. Subscribers should be getting it in their mailbox shortly, and should be on news stands in a week or so.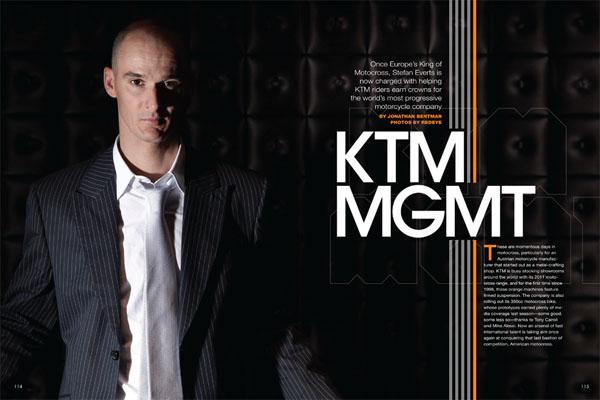 Word on the streets out here is that Ken Roczen is absolutely flying. His feet aren't on the pegs very often, but his lap times are flat-out impressive. And we all know Andrew Short is going to get holeshots and be near the front consistently. Be prepared for big things from KTM in 2011.
The boys at Panic Rev Ministries have a lot going on this Christmas season. Andrew Short is the guest speaker at this weekend's service, and if you're looking for something cool over the holidays, check out their Christmas Camp flier.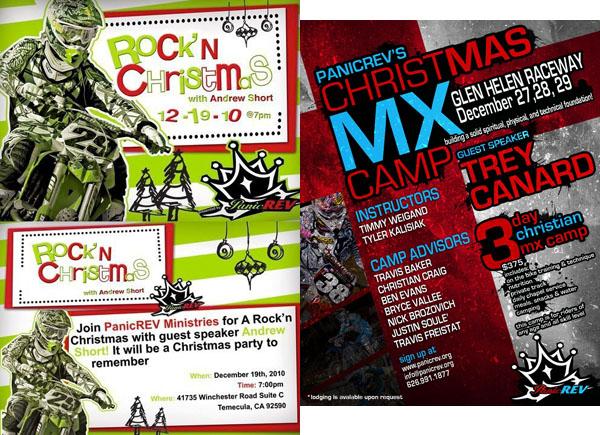 Here's some info we've gathered during the week:

Save the date: The 2011 Stimilon Motocross Challenge will be held Southwick, MA's Moto-X 338 on Memorial Day Weekend – May 28-29. "The idea is that we will follow the same format as year's past," says event organizer David Olcott. "Load in Friday, race Saturday, party Saturday night, private ride day Sunday and get you out in plenty of time Sunday afternoon to pool, party and BBQ with friends on Memorial Day (Monday)."
Here's a note from renowned motocross artist Rob Kinsey:
"Thought you might be interested in this latest artwork commissioned by Honda Europe to celebrate Mika Ahola's World Enduro title. It was a colour illustration on Bristol board that's been etched on an A2 piece of copper plate. Honda wanted to do something a little different as they commissioned a painting of him last year. Roger Harvey, Honda Europe's off-road manager, will arrange a presentation to Finland's Ahola over the holiday period."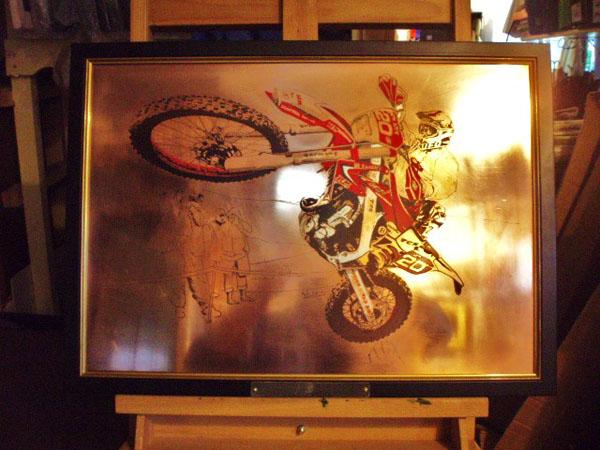 Check out how James Stewart has been working with his growing legion of Twitter followers: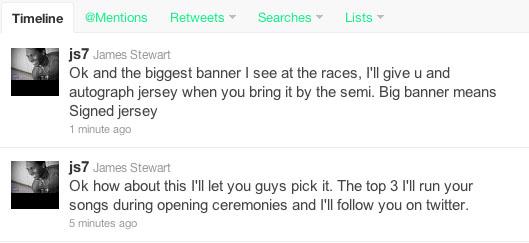 Still shopping for gifts? Buy a gift subscription to Racer X and we will send you both a free 2011 calendar. Buying a present is even more fun when you get a little something for yourself! Only $19.98 for 12 issues and they will be thanking you every time a new issue arrives.
Already ordered a sub and are wondering about your calendar? Don't worry, they should be arriving shortly!
Speaking of the 2011 Racer X Calendars … this brings us to some flash trivia! Can you name the rider/race/year of this photo? Email the correct answer ALONG WITH FULL NAME AND SHIPPING ADDRESS to contests@racerxonline.com and we'll pick a lucky winner out of the bunch and send them a 2011 Racer X Calendar!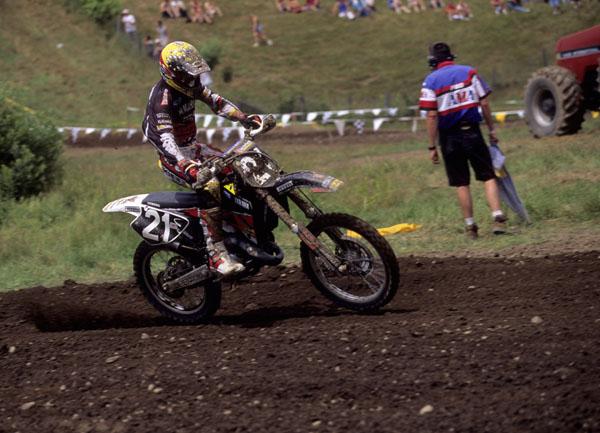 Here is a few ideas for your favorite GNCC junkie.


You can give a dirty gift, Round 1 of the 2011 GNCC will be in sunny Florida at the West Gate River Ranch.  If is one of two venues that has hotel accomidation on the property.  The folks at River Ranch recently rolled out some great deals on lodging.

Inn Rooms - $89.00
Courtyard Rooms -$109.00
Efficiency's - $89.00
2 Bedroom Cottage - $249.00
2 Bedroom Cabin - $289.00

To get the rate just call 863-692-1321 and tell them you are wanting the GNCC rate.  Code 14-432.

Also, the schedule for the 2011 Loretta Lynn's Regionals and Area qualifiers have been posted over at the MXSports.com website: HERE

After Bobby Myers made our Facebook Old School Photo of the Day, "Paul1PA" had some Photoshop fun with his affection for Mike Alessi: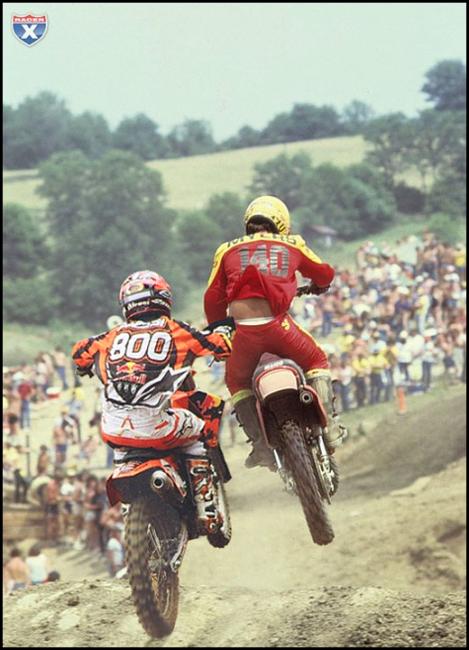 Also, as the new season unfolds, keep an eye out for a new project by our longtime collaborator Stephan Legrand. LeBig has a cool deal he's putting together that race fans are going to enjoy.

The Racer X Inter-AM Vintage MX in Boise is scheduled for April 2-3 2011 at the famous OMC track. Legendary riders like Brad Lackey, Chuck Sun, Damon Bradshaw and Ronnie Lechien expected to attend as well as an appearance by Darryl Schultz and Bob Hannah. Perhaps Ping will make it back up for this unique event.Check out some great pics on their Facebook page: HERE.
That's it for now. Good luck to everyone in the last-minute holiday rush, and thanks for taking some time to read Racerhead. See you at the races.