Welcome to Racerhead. It's been a rather slow week for motocross in most of the world. The holidays are approaching of course, but so is the Anaheim opener of the 2011 Monster Energy AMA Supercross Championship. That will bring to an end what has seemingly been the longest off-season in history. Maybe it was the lack of a U.S. Open in October, or maybe just the waves of a troubled economy continuing to wash up on everyone, leaving some very good riders and team personnel with uncertain futures. Thank God we go racing a couple weeks after Christmas.
But the business of motorcycling continues. All of the teams are busy finalizing photo shoots, graphics packages, and press kits. Simon Cudby and Steve Cox have been busy shooting riders and teams for the 2011 Monster Energy AMA Supercross Yearbook, and according to Simon, things have never come together as late as they are this time around.
Meanwhile, there's another dark cloud forming—a lead one, actually—over our industry as the stay of enforcement that was issued by the CPSC to give everyone some relief for its controversial Consumer Product Safety Improvement Act runs out in May. I ended up in Washington, DC, on Thursday with my sister, Cobra Minicycle's Sean Hilbert, AMA President and CEO Rob Dingman, and VP of Government Relations Ed Moreland. We were invited to the capitol to meet with the new CPSC Chairwoman Inez Tennenbaum, who gave us a sympathetic ear but also explained how difficult overturning the law would be. Hopefully, some kind of "carve out" for motorcycles and ATVs will come, because they are not toys that children stick in their mouths, and banning them outright will just cause bigger problems (unintended consequences) because people will just buy bikes and ATVs that are bigger than their kids are ready to ride. Anyway, stay tuned—we will have some ideas on how everyone can pitch in again by writing your representatives and explaining just how disastrous banning minicycles and ATVs for people under the age of 12 would mean even more lost jobs, closed dealerships, and likely injuries....
There was some racing last weekend: Josh Hansen wrapped up the Australian Super-X title Down Under, winning the muddy finale in Brisbane, while Steven Clarke topped the MX2 class. The title in the latter division went to Matt Moss by two points over PJ Larsen, but that was being reviewed last we heard because Moss may not have completed enough laps to be scored in one of the three mains. Stay tuned.
And over in Switzerland, Muscle Milk/JGR Yamaha's Justin Brayton won the Geneva SX, sweeping both nights. That race was like an early Christmas present for everyone here—it was streamed live on the internet, so we got to watch it as we were closing up shop last Friday!
And speaking of Christmas, if you're still shopping for the racing enthusiasts in your life (or yourself) keep an eye on our X-Mas Countdown, which is now at 13 + 2 days to Christmas. If you're looking for some last-minute gifts, this would be the place! Check it out HERE.
Also, how about these stockings Smooth Industries did again this year with Alpinestars? They have the full size available in blue or green, with a four-pack of mini-boot stocking ornaments also available. You can grab them up right here.
The latest Cycle World magazine has an interesting article on Ryan Dungey by the dean of U.S. race reporters, Kit Palmer. The article discusses Dungey's steady rise, as well as how things are shaping up for the future for the defending AMA Supercross and AMA Motocross Champion. Palmer turned to none other than Ricky Carmichael for his take on how Dungey might fare without Roger DeCoster, who is now at KTM.
"Roger is a great manager," said RC, who still keeps an eye on Dungey down in Tallahassee. "But there are other great guys out there, too. I don't mean that as any disrespect to Roger. He is great. But he is just one guy, and its a team effort. I've worked with a lot of great managers, and they all got to the bottom line but in different ways. [Ryan] will be fine without Roger."
The new team manager at Rockstar/Makita Suzuki is Mike Webb, the longtime manager of Suzuki's very successful off-road program. He's also a lifetime motorcycle enthusiast, and his brother is Tom "Wolfman" Webb, himself a legendary dirt bike journalist.
Have you been checking out our Old School Moto Photo of the Day over on the Racer X illustrated Facebook page? Each day we dig into the archives and pull out some rare gem of a moto pic and share a little bit of backstory on it. Back on Monday we ran a photo of Donnie Hansen at the '82 Unadilla 250cc U.S. Grand Prix, with some trivia: Who won the race that day, and on what?
Turns out the answer was Kees Van der Ven, the Dutch KTM rider, and the win marked the first major motocross success for a KTM in America. Later we got a note for Racer X reader Joe Hartson, along with photo that showed how Hansen's day ended, which we'll share right here.
On our 2011 AMA Supercross team roster, we accidentally left off Team Tedder/Monster Energy. The Tedder boys will be competing in the 2011 Monster Energy AMA Supercross tour, the Lucas Oil AMA Pro Motocross Championship, and several select amateur events. Monster is marketing them as the nation's largest family motocross racing team, and they will likely be picking up a 450 rider thru Kawasaki or Monster in the near future.
Also, the team was close to signing Nick Wey—"I was actually getting ready to print up Nick's posters!" explained Matt Tedder—but funding and other circumstances saw it all fall through. So for now it's: Dakota Tedder #133 and Myles Tedder #166 for West Region Supercross and the outdoor motocross tour. "And, hopefully some more Loretta Lynn Championships!" added Matt, who is hard to beat in Tennessee in the +50 Masters class.
Though still in development stages, it was cool to hear that a new version of On Any Sunday began shooting last weekend at the Red Bull Catalina Grand Prix. It's being shot and directed by Dana Brown, the son of original film producer Bruce Brown. On Any Sunday was such a good documentary that it received an Academy Award nomination in 1972, so the younger Brown has his work cut out for him! But Dana has some chops of his own, as he's shown with films like Dust to Glory and Step Into Liquid. According to the press release on this film, no formal name for the next film has been decided, but it will include "On Any Sunday" as part of it.
Oh, and time to help the wife out: If you're looking for some really cool clothes for your better half for Christmas, check out Vance's Blues Boutique. That's Shannon's store here in Morgantown, but they ship all over the country! The girl knows fashion better than I know motocross gear, and she and the girls down there can hook you up with some cool threads for the hot chick in your life.
And in case you missed it, here's Brobee from Yo Gabba Gabba, working out with the Kawi boys for a Vans commercial. Check it out HERE.
Now I'll turn it over to my esteemed colleague Steve Cox:
I was shocked to hear this week that Perris Raceway closed its doors. Well, the actual story seems to be that Perris Raceway got its doors closed, as the Riverside County Sheriff's Department showed up and locked the gates that morning due to the track not paying rent on time, as I understand it. Perris has a lot of history, and for me, the majority of my time racing when I was young was done at Perris. I've always loved the dirt there, and the track itself always seems to be fun.
In California, it's different from many other areas of the country in that tracks are open during the week for practice frequently, and there are some tracks that rarely hold races at all. And this works well for me, as someone who has little interest in racing anymore at the tender, old age of 33. I love riding, though, and I go as fast as I can (comfortably). So, for a guy like me, the way things run in California is perfect. On any given day of the week, I can ride at Milestone MX (in Riverside), Pala (in Pala), Starwest (in Perris), or I can ride Thursdays at Glen Helen if I want to be really sore on Friday and Saturday. Perris was also open during the week, and I'm speculating here, but perhaps one of the things that kept Perris from making enough money is that they had a schedule that was a lot harder to remember and understand for practice days.
Whereas it's easy to note that Milestone is open basically all the time, even after dark (they have lights), and the same can be said for Starwest, and Pala is open during daylight hours with the exception of times leading up to big events like the Pala MX National, and Glen Helen is open Thursdays, Perris had a schedule that said that they're open on maybe Monday from 4-10 p.m. for big bikes, then Tuesday from 8 a.m. to 4 p.m. for minis, then Wednesdays from 8-4 for Vet riders and then from 4-10 for minis.… That's not the exact schedule, but that's how it was, and I know that from my perspective, when I wanted to go ride, I always had to try and remember if I even was allowed to ride at Perris that day, and if they were open during the day or at night. So, typically, I would just opt for Pala or Milestone instead, knowing they'd be open.
I think Perris' contract was with the city, and it was a very long lease (like fifty years or something?), so hopefully someone comes along and takes it over. I would be really bummed if I could no longer ride at Perris Raceway, and I think a lot of SoCal agrees with me. But please, whoever takes it over, help us out with the practice schedule!
Last Saturday I went out to Pala to ride and hung out with Elizabeth Bash a bit. Luckily, she didn't live up to her name and run into me out on the track, but the Pala main track is a ton of fun. They have divided the National track into two separate tracks, and the "pro" track or whatever is the section of the National track that includes the start line and the jumps in front of the grandstands, and it's a lot of fun to ride. While I was out there, I saw a Monster Energy-sponsored Kawasaki KX250F going pretty fast, but the bike had no numbers, and the rider's jersey had no name or numbers, either. Well, as I came off the track from my initial arm-pump session, I saw who it was; Tommy Searle.
Searle is back in California, all healed up and ripping on his Pro Circuit Kawasaki as he gets ready for the 2011 Lites West SX Championship riding for CLS Kawasaki/Pro Circuit. At the conclusion of the Lites West, where he'll be battling, among many other riders, young Ken Roczen, Searle will return to Europe with his team to continue battling Roczen for the MX2 World Motocross Championship. Searle looked good out at Pala, where he was just trying to adjust to his new bike before heading out to the Kawi track in Corona. He'll be hitting supercross up today or tomorrow, though, and as for the MX2 championship, if the same Tommy Searle shows up for the races in Europe who showed up for Hangtown in 2010 (prior to re-injuring his shoulder), he should be very tough. And he's definitely motivated, and hopes to return to the US to race full-time as soon as 2012.
Here's Jason Weigandt:
This weekend I'm hosting the annual Can-Am Grand National Cross Country banquets, which take place on Friday and Saturday night at Lakeview Resort here in Morgantown. If you're anywhere near our area, feel free to crash the party once the banquets are over at around 11 p.m. But don't expect a seat at a table during the actual show—our ATV banquet on Friday is up to nearly 700 attendees, which makes it beyond a sell-out.
For those interested in racing in the series, you may want to check out GNCC University, which will take place at the beautiful Snowshoe ski and golf resort in West Virginia a few days before the GNCC there. Team Yamaha's factory off-roaders conduct riding schools during the three-day event.
GNCC University will be held Wednesday, June 22 through Friday, June 24, followed by the MotorcycleUSA Snowshoe GNCC weekend event.
Rates begin at $378 (plus tax) per student and include three days of GNCC instruction, two nights' lodging in a Village Gold Junior studio, and meals. Other accommodations with variable pricing are available. Call 866-851-4551 for details.
That's all from me. I have GNCC ATV results to go study.
Now here's Ping:
Yamaha had us out this week to introduce, or reintroduce, their two-stroke line of motocross bikes. There were a couple changes made and both the 125 and the 250 are as fun to ride as they ever were. Grant Langston came out to help us and it was fun to bench race about some of our favorite races on bikes that required pre mixed fuel. It was a great time but it did get a little weird when GL gave me a 32:1 tramp stamp tattoo. Check out the video that Matt Francis did right HERE.
I bumped into Mike Brown this week we talked for a while about his most recent off-road success. It got me thinking about how long that guy has been kicking butt on a motorcycle. He rode for the Peak Honda team way back in 1992! He's a good guy. On an off-road note, I keep hearing rumors that Super X is going to be taken out of the X Games and replaced with an Endurocross-type of event. If that happens, Brownie could add an X Games medal to his trophy case.
If you are a person that Twitters and follows all things Tweeted, you may have seen some knucklehead shredding people this week under the handle @pingaling101. That was not me. After months and months of urging from Dave Castillo I was finally compelled to join Twitter just so people know that I wasn't the one posting those tweets. If you want to follow me you can do so at @davidpingree
And now for random notes:
Paul Buckley shared a note from Doug Henry that he received this week: "I really appreciate all the support and people willing to sacrifice their memorabilia (though) I'm not looking to replace my memorabilia at this point. What I am looking for are any photos or video that people may have of the kids at the races, hanging around the pits or wherever. Those are the things we need to rebuild the home we lost."
Here's a good sign for the economy. Our good friend Jeff Cernic is opening his fourth motorcycle dealership in Pennsylvania!
Earlier today we got an email from Moto Concepts team manager David Vuillemin: "Just a quick question/favor: I'd like a picture of Bradshaw on the YZ490 for my office, just want to show it to my guys when they complain about their bikes…"
We found some photos and sent them over, then a single minute went by and Vuillemin sent us a photo of the photos already up on his wall! DV12 might be getting old, but he's still fast!
Did you catch the new Hurley/Tron commercial featuring a certain supercross rider with championships on his resume?
Check out this entertaining David Knight vs. Gee Atherton video, downhill bike vs enduro moto:
Here's a note regarding a fun event in Simi Valley:
"Tomorrow afternoon in Simi Valley, California, The Racers' Edge will be hosting Mike Alessi, Cole Seely, Lance Coury, and Timmy Weigand for their Holiday Parking Lot Extravaganza! They will have some of the industry's top manufacturers pedaling "insane blow out deals!" The event starts at 9 a.m., with the autograph signing at from noon until 1 p.m., with free food and drinks at the same time. There will also be some raffles at 2 p.m. GPS it:
The Racers Edge, 2139 Tapo St., Unit #108, Simi Valley, CA"
Still shopping for gifts? Buy a gift subscription (HERE) to Racer X and we will send you both a free 2011 calendar! Buying a present is even more fun when you get a little something for yourself! Only $19.98 for 12 issues and they will be thanking you every time a new issue arrives.
Already ordered a sub and are wondering about your calendar? They're at the printer now and should be shipped off within a week or so.
And finally, congratulations to Jennifer Beattie, wife of longtime moto exec Hylton Beattie of Parts Unlimited, for scoring the cover of Corridor Magazine, a statewide magazine here in West Virginia. The headline? Fashionistas!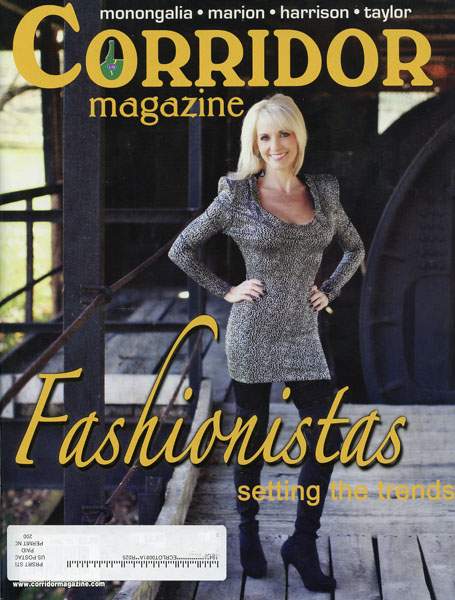 Okay, that's it. Thanks for reading Racerhead. Enjoy getting ready for the holidays. See you at the races.