The Story of French Immigration
This revolution wasn't only reserved for the French. It changed the whole motocross world. On March 5, 1989, at the AMA National MX opener in Gainesville, Florida, Frenchman Jean-Michel Bayle, on a Pro Circuit built, privateer Honda CR250, captured the overall win. It marked the first U.S. National win for a non-U.S. rider since the sport's early days here in the 1970s, and set the scene for a massive changing of the guard that created today's multinational AMA paddock. Until Bayle's conquest, the thought of a European rider coming to the U.S. and winning races seemed, well, foreign, which is part of the reason Bayle was on a privateer bike in the first place!
Bayle, the 1988 125 World Champion, was in the U.S. on a working vacation, learning supercross and auditioning for a factory deal for 1990. American Honda's squad was full at the time, so JMB put together his own plan with help from Mitch Payton and Roger DeCoster so he could learn the ropes. Famously, he rode with the nickname "Starbuster" on the back of his pants at Gainesville, and between his win there and the Daytona Supercross the next weekend, he reportedly slept in his box van in the Disney World parking lot.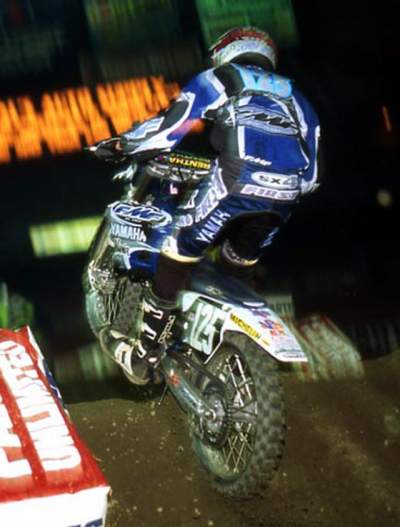 JMB wasn't the only young Frenchman to build a support ride and win in the U.S. Here's David Vuillemin on an FMF-backed Yamaha en route to the 1997 Seattle 125 Supercross win.
Racer X Archives
His '89 supercross results were mixed, but the Gainesville triumph proved he was the real deal. Following the 1989 250 World Championship, and Team Honda placed him on the factory team in the U.S. for '90.
He was alone. Australian Jeff Leisk rode for Team Honda in 1988, but moved to the GPs for '89, so when Bayle arrived full-time, he was the only non-U.S. rider on the circuit. But damn was he good. His lessons from a few races in '89 led him to a runner-up finish at the 1990 Anaheim Supercross opener behind Damon Bradshaw. An elbow injury knocked him out of rounds two and three, but by midseason he had figured it out—Bayle won round nine in Dallas, then won four of the next six rounds to close the gap on Jeff Stanton in the standings. Despite missing two early-season races, Bayle finished second in the series, just seven points behind Stanton.
Outdoors, Bayle dominated the 125 Nationals until breaking his arm in a crash at Washougal—throwing away a massive points lead. Guy Cooper scored that title, but Bayle had served notice that 1991 would be his year.
It was. He simply dominated the 1991 season, claiming three AMA National Championships—250 Supercross, 250 Motocross and 500 Motocross. He's the only rider to ever win all three titles in one season, and with the 500 Series long gone, it's a record that will never be broken. Unfortunately, the appreciation for his amazing accomplishment never seemed to come. American fans booed him at the races, and the AMA Pro Athlete of the Year Award went to AMA Dirt Track Champion Scott Parker. Bayle turned his attention to road racing and cruised through the 1992 season, winning races despite seemingly not even caring. At just 23, he left motocross forever at the end of the year, and, sadly, his impression on the U.S. race scene left only mixed feelings. JMB was ahead of his time, and only when looked back on by history does the enormity of his career get full credit. Had he not come here and won, we may never have never seen foreign-born stars like Reed, Langston, Pourcel, Albertyn, Tortelli, Vuillemin and Roncada racing on U.S. shores.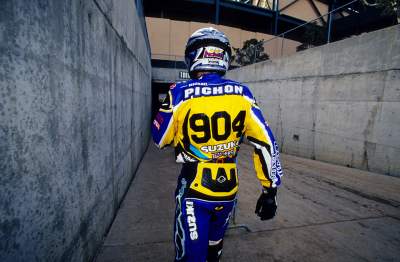 Mickael Pichon claimed two 125 Supercross Titles before returning to Europe and bagging two 250 GP Motocross crowns.
Cudby photo
Bayle's rep was so bad at first that the next great French talent to emigrate here, Mickael Pichon, had to continually say he was his own person, and not another JMB. They did have winning in common, though, as Pichon won the 1993 San Diego 125 Supercross in a shocker, then moved here full-time to take the 1995 and 1996 125 East Supercross Titles. Pichon never quite found his stride on 250s, though, and he had a reputation of being hard to deal with at times, which like, Bayle, may not have been fair. His troubles culminated when his father got into a fight with an official at the 1999 High Point National, leading to his dismissal from Team Honda.

By then, a full decade had passed since Bayle first arrived, and he and Pichon had proven French talent could win in the U.S. That's when the floodgates really began to open, just in time for a trio of riders who were raised in a special French academy for athletes.

David Vuillemin ran a JMB-like privateer program over here for a few races in 1997, and promptly won the Seattle 125 Supercross on an FMF-backed Yamaha before heading back to the GPs. In '98, DV was able to squeeze in the full 1998 125 West tour before heading back to Europe. He battled John Dowd to the wire for the championship, finishing second by twelve points. By 2000, he was racing in the U.S. full time, and winning 250 supercross races.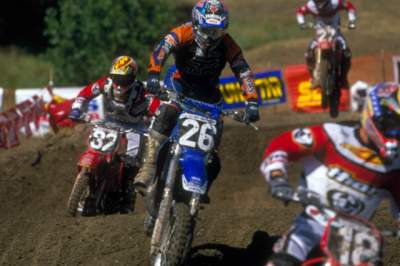 In 2000, Stephane Roncada (26) was a force in the 125 class.
Fran Kuhn photo

Stephane Roncada, who most French riders of that era say was the most talented of all, rode 125 Supercross for Honda of Troy in 1997, and also racked up plenty of wins. He won the 2000 125 East Supercross Championship, and nearly the AMA 125 Motocross Title that same year.

Sebastian Tortelli was the last of the three Frenchman to leave Europe, but he packed some serious hardware. Tortelli shocked the world with a muddy L.A. SX win in 1998, then headed back to Europe and out dueled Stefan Everts in an epic battle for the 1998 250 GP crown. Seb moved to the U.S. full time with a Team Honda ride for 1999, and blew everyone away at the Glen Helen AMA MX opener that year. He was never quite able to find that magic again, and injuries and struggles with supercross hurt his results. But overall, Vuillemin, Tortelli and Roncada proved strong in the face of American competition like Jeremy McGrath, Ricky Carmichael and Travis Pastrana. They came up short in championships--save for Ron-Ron's 2000 125 East Supercross triumph—but they won plenty of races.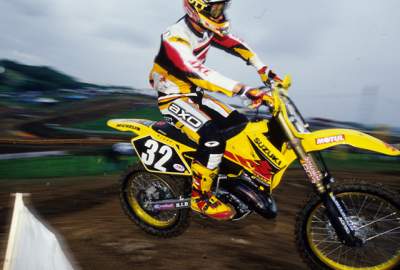 "Hot" Rodrig Thain.
Cudby photo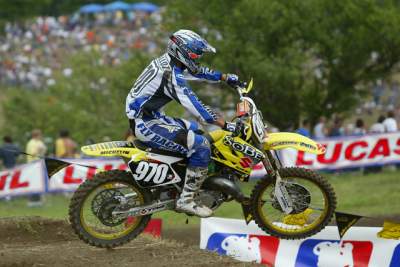 Matt Lalloz.
Racer X Archives

But this trio did more than just win races. They won fans. The public warmed to them like they had not for Bayle and Pichon, and as a result, teams began mining France for more talent. In came a massive group—Steve Boniface, Matt Lalloz, Eric Sorby, Rodrig Thain, Ben Coisy, and many others—and in essence, the switch had flipped. Whereas Bayle had to pry his way into the American scene, this third wave of French riders came carrying factory contracts. Lalloz had a factory Suzuki deal, Boniface a Factory Connection Honda ride, Thain rode for Yamaha of Troy, Sorby and Coisy raced as fill ins for injured riders on Pro Circuit Kawasaki and Team Honda.

The difference? These riders rode well, but they were able to deliver wins. Meanwhile, Australia, led by riders like Chad Reed, Michael Byrne and Brett Metcalfe, was positioning itself as the new hot spot. Much like JMB paved the way for the French, Australian riders like Jay Marmont, Craig Anderson, the late Andrew McFarlane, and Matt and Jake Moss may not have gotten the opportunities they did here if Reed not won supercross races as soon as he showed up here in 2002.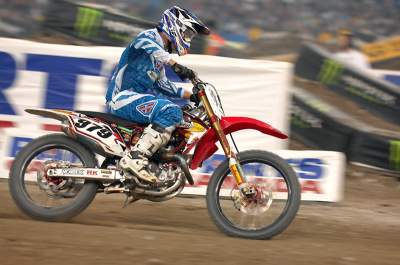 Ben Coisy
Carl Stone photo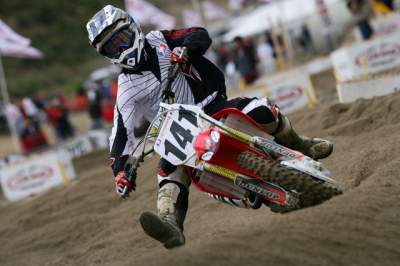 Steve Boniface
Cudby photo

But the next group of Frenchman is coming. As Vuillemin, Ron-Ron and Tortelli headed into retirement, and the next group was unable to live up to their lofty standards, a new standard emerged. Thanks to the considerable talents of Christophe Pourcel—the 2006 MX2 GP Champion, and, of course, the Supercross Lites East Champion for the last two years, France is back on the map, and riders like Marvin Musquin are right behind Pourcel looking to make an impact here.

It's interesting to note, however, that Christophe Pourcel was only seven months old when Bayle won that AMA National in Gainesville in 1989, and by the time Bayle had traded his dirt bike for a road racer, Pourcel was only four. Today, there's probably another young French boy hopping on a bike for the first time. His first rides may not be smooth, but if he desires to race in the U.S. the way has been paved thanks to the likes of Bayle, Pichon, Vuillemin, Roncada, Tortelli and Pourcel.