Monday Conversation: Jeremy Albrecht
About to enter its fourth year of AMA competition, the Joe Gibbs Racing MX team (Team Muscle Milk/Toyota if you want to be all official) has ushered in a new concept in how a moto team can work. But does that concept actually work? For this week's Monday Conversation, presented by Alpinestars, we caught up with Team Manager Jeremy Albrecht to gauge the team's progress, and talk about its new recruit, Davi Millsaps.

Racer X: J Bone, you have a new rider for 2011 with Davi Millsaps, and Justin Brayton stays on board. Weren't you rumored to be working with Millsaps a few years ago?
Jeremy Albrecht: True. Actually, we met with him the first year we were going to have a team, and I think he flew down here and met with Coy (Gibbs) before I was even here. Come to find out he had an existing contract that his agent at the time didn't know about. So they couldn't do the deal. Then two years ago, before we hired Grant, we offered him a deal, and he didn't take it. And that's what's kind of cool, I got to talk to him a couple of years ago, and I got to talk to him now, and I feel like he's completely different now. Before, I think he was more about the money, and if we had offered him a dollar more the deal would have happened. Now it's more about where he wanted to go and what he wanted to do. We had our first meeting with him and we talked for three hours. It was awesome, real honest, and I had a good feeling. So far, I'm pumped. We've given him a schedule and he's sticking to it.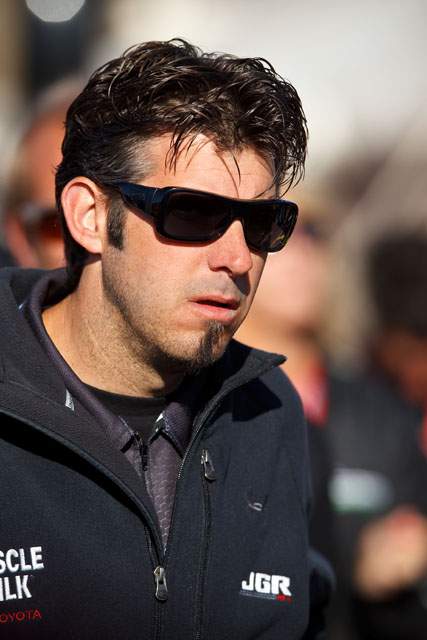 Jeremy Albrecht was a championship mechanic for Jeff Emig and James Stewart at Kawasaki before coming over to Team JGR.
Cudby photo


Because you guys are still running this team concept, with everyone working together during the week, and living in North Carolina.
Correct. That's the way Coy (Gibbs) wants it, it's the same way they run their football programs and their NASCAR programs. And I think there are positives to it. Now obviously a guy like Ryan Dungey, if he's living in Florida and he's winning, you might not want to change anything about his program, but if what you're doing isn't working, why not try going somewhere new? We do see our riders everyday, but it's not like a prison, it's more like a family.

So Davi was looking for a change?
Originally he would have liked for his mechanic to come, and we would have no problem with that, but we weren't going to get rid of a mechanic just to bring in a new one. And he was okay with that. He wanted his trainer at first, but that's one of the things with this team, you get a trainer, and Coy believes in that program. Training is just like religion, you believe what you believe and that's all Coy believes. This is the way he wants to do it. Millsaps was okay with that. We told him he has to live here and he's okay with that. So he's changed just about everything.

I've never quite understood Davi's deal. When he was younger he came from the MTF program, which was known for pushing riders harder than anyone. But then you would also hear Davi didn't train hard enough. Same thing today—you'll hear he trains hard but then you'll hear he doesn't. I'm very confused by these conflicting reports. What's your take on the guy?
It's always hard to know for sure, and that's what I like about our team. If I know he's in the gym and riding, I can't blame him for not training and riding. I can't point fingers. Last year with Brayton, I can't get mad at him because I knew he was doing everything he could and wasn't screwing around. Some of the guys do tell stories. But I believe Davi was putting in the work, maybe he wasn't doing enough. I don't know. He's been here for a month and he's doing everything we tell him. He'll admit, he's never going to come to us and say, "I need to train more today." And most people are like that. We'd tell Grant the same thing, when he was out in California and away from our trainer, we told him that most people don't push themselves on their own. A few people do, so maybe they don't need a trainer, like Dungey, because he must be able to push himself. But there aren't many of those cases. But if we tell Davi what to do, he'll do it. And hey, that's why racing never worked out for me, I was never into that training thing!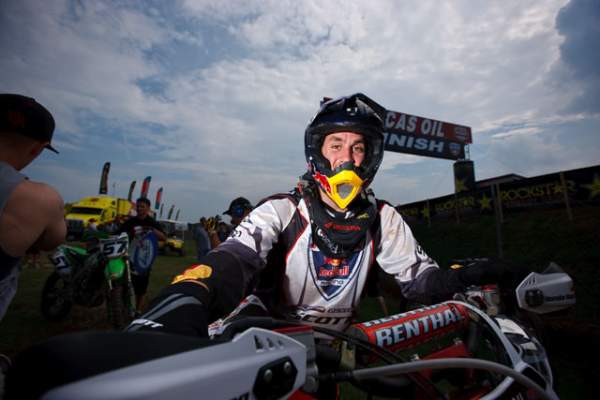 Millsaps will be the other number 18 in the JGR family, as NASCAR star Kyle Busch runs the digits as well.
Cudby photo
When people heard Joe Gibbs Racing was starting a motocross team, many assumed you guys were going to bring in huge money, huge outside sponsors, offer someone like James Stewart a ton of money, and win a bunch of championships immediately. Was that ever the goal? Is that the goal now?
Our first goal, the first year, was just to show we're a professional team. We wanted a top-five guy the second year, and championships were maybe in the cards in a five-year plan. So we had time to grow. And they didn't want to buy titles, they want to earn it. We talked to some top guys that first year, but a lot of people didn't want to come here. We didn't say, "We want Hansen and Summey" as soon as we started, we tried for an established top-five guy, but most riders weren't sure because we were new. The money is there if you pull it from a different budget, but it doesn't make sense on paper to go pay James Stewart, for us, right now. I'm not saying we would never do that at some point, but until the sponsors come and the sport opens up so we can do more for a sponsor, it just doesn't make sense. But I think this sport is heading in the right direction with better TV and everything, and NASCAR right now is heading the other direction, so we're in a good position in this sport.
So we wanted a top five guy at first, but we weren't really ready that first year. Now I think we are, because each year we get better. But it's not our goal to just spend a bunch of money and get a top guy to come here. If they want to come to us and we can make sense of it, then we would love it. The guy needs to want to be here.

How about Brayton? How's he doing?
Yeah he did three rounds over in Australia, and he was excited because the format was different, and he needed to work on sprints and stuff like that anyway, so it was good for him. He's a pretty regimented guy so it's good for him to do different things. As for this year, I'd say in supercross he was better than we expected, and outdoors, he was worse.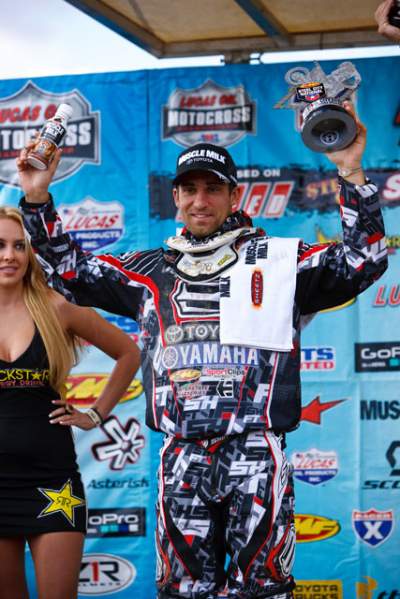 This year Justin Brayton grabbed a podium indoors and out, and just won round three of the Australasian SuperX Tour.
Cudby photo

Wow there's some honesty!
Yeah! I was very impressed with fifth in supercross. I thought he would be an eighth place guy and maybe get a fifth if he had a good race, but he got a podium, and he could have had more podiums because he rode well, but he takes his time at the beginning of the race. That's something he's working on. Outdoors, I thought he was going to kill it, but he really struggled, and we struggled with it, because he was definitely putting in the work. That's what I'm saying, we know what he was doing, he would practice fast, look good during the week, but on race day it didn't happen. The whole sport is about the team gelling together. It's so mental, if the riders are second-guessing anything, you lose confidence. If they think they're bike isn't right, or their training isn't right, or maybe they're mad at their girlfriend that week, it's not going to work out. There are so many things that have to work perfectly together at the same time.

So when the team started, riders weren't sure what to expect. Where is the team's rep at this point? Do you believe you're considered equal to a factory team?
I think we've gotten better, but I think some people do think a factory team is better. I feel we've gotten a lot better, and maybe we're equal to those teams. But it's hard to say because we have the component of moving here, and some people don't want to do that, and I don't blame them. It wasn't easy for everyone who works for this team to move here, either. I mean, if I had known I had to move here to run this team, I wouldn't have called!

(Laughs) No way!
Yeah, I had never lived anywhere but California. So I wasn't sure. But when I came here and saw the facility, it made sense. They had all this stuff in this shop that we could not afford as a motocross team. And I understand this concept, the family comes from football, and you would never take a young kid, pay him a bunch of money, and on Sunday after the game say "Thanks, we'll see you next weekend." They would never make it! So they have to have organized practice and training, and take care of their athletes. This is a big change for the sport, and not everyone is going to like it, and it depends on the guy. I understand if people don't want to do it. But I think Millsaps has bought into it, and Brayton, he's going to do the right thing no matter what. So I'm excited about what we have here.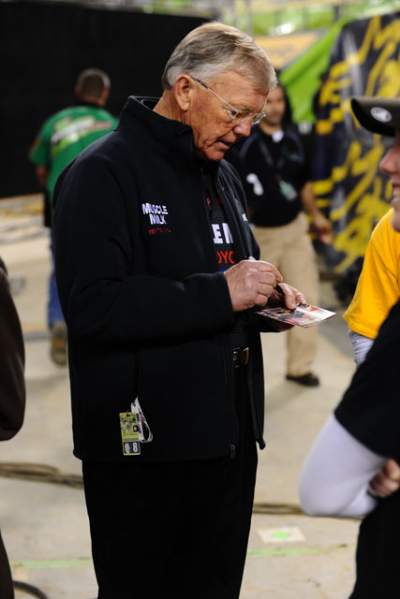 Whatever happens at the races this year, Joe Gibbs himself will be taking notes.
Cox photo