Another Halloween, another strike out on getting my wife into one of those Monster Girl outfits for the night (something about the fact that kids trick-or-treating on Grand Street wouldn't understand). Oh well. Bet Broc Tickle's fiancee, Jessica Brewer, won't be running one—that would be like going to work. Same goes for Josh Grant's girlfriend Ashley. And Jake Moss'.... Welcome to Racerhead.

Seriously, the busiest Kelly Louch's phone is all year long is the week leading up to Halloween. Kelly is the boss at The Connection, her modeling agency that specializes in places "spokesmodels" in action sport. That means she picks out the Monster Girls and helps coordinate the outfits. Kelly gets calls from friends new and old looking to borrow a set of the gear for Halloween, along with a 30-second board and some fishnet stockings. It's the "trick" part of the eternal question.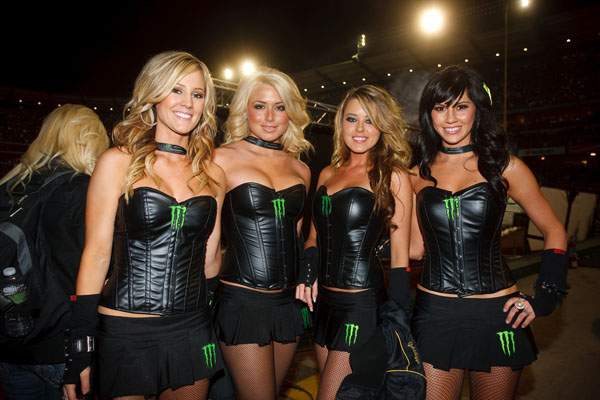 You just know there are some motocross girlfriends going on as Monster Girls this weekend.
Photo: Simon Cudby.


Personally, I might go as Johnny O'Hannah, which means going as an eighties motocross star with an afro and a deep voice. God knows I've got the gear.

I apologize for missing last week, but I was on a family vacation in Spain, visiting Ken Block and checking out his World Rally life on tour. Not much motocross going on out on the island of Ibiza, but when we got to Barcelona, in the southeast corner of Spain, I spotted the road signs to Sabadell. That's the town where Jim Pomeroy became the first American to win a Grand Prix and beat the Europeans at their own sport. Pomeroy rode for Bultaco, a Spanish brand, and what he did still resonates not only over there—it was also Bultaco's first win—but here as well. Next time, hopefully I will have time to go see if the track is still there.

Also in Barcelona is Adam Wheeler, a Racer X contributor and the FIM's Journalist of the Year for 2010. We met up in a coffee shop there near his home, did some bench racing, and talked about the cool places to go around town and just how crazy the town is for their soccer team, which is led by Argentina's Lionel Messi. They were playing a Champions League match with Copenhagen the next day, and the streets were filled with fans from both teams, riot police, vendors, and more. It was pretty damn cool.


And that leads me to another soccer-related matter: There are two sides to every story, and that includes the one where a soccer match got put out to pasture because dirt bikes messed up their pitch. Down in Australia, the Newcastle SX left the stadium's turf in less-than-perfect conditions, which really pissed off the soccer team that was supposed to play an A-League game their 10 days later. The soccer coach let the race have it, but according to TransMoto in Oz, there's more to this controversy. Click
HERE
.
Apparently, this has become a national sports scandal down in Australia. The only place I can think of in America that has turf that sacred is maybe Dodgers Stadium in Los Angeles, which conveniently enough was the site of a press conference for Feld Motor Sports this week as they ramp up for their first visit by the AMA Supercross tour. Don't worry—the Feld guys know how to tread lightly when it comes to these ball fields!
There was an investigative sports journalism piece on the energy-drink market on ESPN's E:60 last night that did not paint a pretty picture of the beverage industry and, in particular, NOS Energy, which is made and distributed by Coca-Cola. Monster Energy was also looped into the piece, with video footage of Adam Cianciarulo as the narrator explained that they sponsor athletes "as young as eleven years old." There was also some footage of
Travis Pastrana
jumping his Red Bull car on New Year's Eve last December 31. The crux of the piece was that the industry is marketing their products toward kids without proper warnings.
The Paris-Bercy Supercross will go off next week without one of the biggest names planned to attend, the 16-year-old German sensation Ken Roczen. Roczen was supposed to be there, but a change in plans - first his Suzuki-to-KTM move and then the change in the AMA's minimum age rules back down to 16 - has the kid champing at the bit to be ready for the 2011 Monster Energy AMA Supercross tour on the West Coast, so he's focused on California instead and testing as much as possible with his new boss, Roger DeCoster. Also, Roczen will wear
Fox Racing
gear for the next three years.
Okay, here's
Ping
:
Chad Reed
to TLD/Lucas Oil Honda? Well, not yet, but they are definitely working on it.
Reedy
rode the bike this week and seemed to like everything about the program there. Still, there are some very serious financial hurdles that will have to be cleared before anything is finalized.
I spoke to
Chris Blose
this week and it sounds like he's going to be back with Hart & Huntington for 2011. According to Chris, they are going to be riding Pro Circuit Kawasakis, and they might even hit a few nationals in the summer. Chris struggled last season with a broken bone in his wrist, but he had it fixed this summer and is looking forward to next year.
If you signed up to race the Catalina Grand Prix in December and you're waiting to get something in the mail confirming your entry … you might want to get comfortable. They aren't sending you anything in the mail. If you go to their website,
www.thecatalinagrandprix.com
, they have a list of accepted riders posted. That should be a really cool event. I have the boys at KTM building me a special race machine for the event. But since the track is 20 percent asphalt and 80 percent dirt and winds all across the island of Catalina, I have no idea what type of bike will work best.
I saw
Blake Baggett
out riding his new Pro Circuit bike last weekend at the Competitive Edge supercross track opening. Blake looked comfortable and fast and he told me that his arm is completely healed up and feeling fine. He showed me the scar where his humerus bone popped through the skin and left a scar. If you didn't see his crash at
Budds Creek
this year, it was really ugly. Blake will be a threat to win races throughout 2011.
I also saw new GEICO Honda rider
Wil Hahn
at the event. He was signing autographs, kissing babies, and waving to fans. It was great to see him, but when I got in my truck to go home later that day I had a text message from him that said "I miss your scent." Should I be worried?

Finally, if you haven't done so already via absentee ballot, please go out and vote on Tuesday. To steal a phrase from one of the all-time greats, Ron Burgundy, it's kind of a big deal. Go pull the lever, folks. And I mean that in a very decent, political way.

Now we'll swing it over to The Weege:

So the silly-season trap is still sprung on two riders, Chad Reed and Christophe Pourcel. We're tracking the rumors as hard as we can, but we cannot lock either man into a deal yet. Amazing that two riders of this stature are still on the block at the beginning of November, but perhaps this is the tipping point we've been expecting all along. In the fall of 2007, long before the housing crash, credit crunch and what is now dubbed "the great recession" I heard about some silly season negotiations that just didn't seem right. A few manufacturers mentioned cutting back their marketing budgets.

Terms like "sales down 30 percent" were thrown around. I'm not an economist, so instead of believing trouble was on the horizon, I just thought this was a cheap excuse by teams to cheap out at the negotiation table. A year later, we all knew things actually were bad, the fears were legit and budgets were slashed further.

So things were a little slow in the fall of 2007. Then slower, and scarier, in the fall of 2008. Last year's silly season was downright terrible. Rumors of factory teams shutting down. Massive salary cuts. But by the time the racing started in January, things didn't look that different. Team Yamaha was gone, but there were plenty of Yamaha teams out there to fill the gap. All the rest of the trucks showed up, the same riders and bikes rolled out of them, and when the gate dropped, the racing looked just like it always does.

Teams have had to resort to some trickery to make this happen—more money from outside sponsors, more cutbacks behind the scenes—but all seemed well enough at the races. Now we're looking at the very real possibility of two great riders sitting out for 2011 because they just can't find the right deal.

The rumors are everywhere, and all you have to do is follow Reed on twitter to know what's up. He flew back from Australia to California to test a Yamaha and a Honda. Some have linked him to Hart and Huntington, but that's going to be a Kawasaki team, and that's not going to work. As for Pourcel, he was originally linked to Team Honda and Team KTM, but those squads are now full without him. Monster Kawasaki already has Villopoto and Weimer, so they're full. We've heard CP could get a third seat at Kawasaki, maybe if Monster unlocks more money. We've heard he's investigated riding a Pro Circuit Kawasaki 450. But these are just rumors. People are trying but it's not working.

We want to see these guys race, because we all want the deepest field of contenders possible. But I can't blame either rider for waiting this out. Stock bikes are better than ever, and factory teams may not have the budgets they used to, but running on a privateer team bike with some help from, say, Pro Circuit, is still not quite the same as factory unobtanium. At the level of Reed and Pourcel, you don't go to the starting line with a bike that's a few percentage points off. And you don't ride for free. Pourcel, who spent six months in a wheelchair after a crash at the 2007 Irish GP, knows too well the risks of this game.

The biggest problem during a monetary pullback is working with an infrastructure built in the good old days. It's just like a factory built to produce 100,000 cars suddenly only needing to produce 25,000. Profits sink. We're hearing that bikes sales, revenue and budgets are down to mid-1990s' levels. So salaries could be dropped that far, as well. But no top rider has a program built around a '90s salary. In the case of Reed and Pourcel, for example, they have practice tracks in Florida. Building and maintaining these is an astronomical expense, and something no one took on 15 years ago. Teams then have to ship parts there, which is very expensive. Practice mechanics need money. Most of today's top riders have trainers and doctors around them. They need money.

In the '90s, no riders had a trainer or private practice track at today's level. In the 1993 Fox Terrafirma video, Doug Henry's backyard track looks like wooded trails behind my house that the local kids ride old utility ATVs on. And Doug has to rely on pro bono coaching from Elvis to rev over that triple. Compare that to the James Stewart compound, and working with someone like Aldon Baker or Johnny O'Mara.

So just like the car plant suddenly cutting back to 25,000 cars, it's hard for a rider to cut out 75 percent (or all) of his salary and maintain the same infrastructure, but it's hard to win races without it. Something has to give, and in this case, it may be one, or both, of those guys not racing.

This is by no means a guarantee that a deal won't come. As the thought of not actually racing draws closer, it may motivate a rider to compromise a little more on a deal—or make a team feel the same way about snapping up such high-profile talent. But this is just the reality of today. This time, we all saw it coming.

That being said, here's Steve Cox:

It's Halloween! Well, you know, almost. Here at the Cox house, we're holding our second-annual Halloween Party. This year, we're upping the stakes (with some help from some of the guests) to include a mechanical bull, so those who follow racer Twitters may find some people bragging about their performance on the mechanical bull, or on karaoke…. Or not. But it's basically guaranteed to be a great time. Apparently, the bull weighs 1800 pounds and has a head on it, so my only hope is that none of the racers get concussions doing their best Urban Cowboy rides….
Still, I have a mathematical hypothesis that I hope to prove tomorrow night, which is that Costumes + Alcohol + Mechanical Bull = Fun. For those who are attending, the party starts at eight and goes 'til it stops.

Hopefully, you guys got a chance to read my Monday Conversation (actually, Tuesday Conversation) with Chad Reed. It sounds like he really likes the Honda he rode in Australia (and perhaps the Yamaha he rode last Monday at the Yamaha track as well), so can he make something work with the TLD/Lucas Oil Honda team? I'd say it's possible. However, my take is that it's going to be expensive, so TLD is likely going to need Lucas Oil to step up with some cash, along with Red Bull, to make it happen, because I highly doubt that racing for Troy Lee Designs would allow Reed to get his own gear deal, for example.

However, mechanically speaking, the TLD bike has to be pretty close to the one Reed rode in Australia, as both his Newcastle bike and the TLD bike feature full-on Pro Circuit everything. So, if it's just a matter of equipment, Reed should be happy. And a happy Reed is a fast Reed. Probably very fast.

Then again, it's possible that Reed will go the route that Kevin Windham went a few years ago, when he had a terrible year and then stepped up with a much smaller contract the next year to prove himself again before graduating the pay scale back to the upper echelons. Perhaps Reed will do the same. But that will also mean that the TLD team will have to hit both coasts of supercross, which is a whole other expense in and of itself. Time will tell, but Reed says he wants the deal done within two weeks from when I talked to him, which was last Monday night. That means his deadline is fast approaching at about November 8th. He said he doesn't want to end up in the situation like he was in with Kawasaki last year, where he didn't get much testing done before Anaheim 1.

Also, thanks to Beeker for outfitting a few sets of Fox Team USA gear that I bought from Temecula Motorsports over the phone. Yes, I paid full retail. I'm not that spoiled. Beeker got it all logo'd out to match the gear Trey Canard and Ryan Dungey wore in Colorado this year, and after they sign them, I'm going to add that gear to the Andrew Short set Shorty signed and gave me at the race and sell the set, along with some other cool memorabilia (like a Support the Troops racing tire, used and signed by Clint Bowyer, thanks to his brother Andy, a Team USA team shirt signed by all three riders and The Man, Roger DeCoster, etc.) to help out my buddy Johnny Joseph Jones; the Marine I know who was badly injured in Afghanistan (for the whole story, click HERE. The money will go toward helping him outfit a truck to drive as well as add a room on to his parents house, since most of the amenities at that house are upstairs. I'm counting on you folks with a few extra bucks to pay up once the auction starts. The gear will be sold as a set of all three, so start saving now.

Yesterday, I was out at the Corona test tracks shooting for an upcoming feature and ended up at the Yamaha test track. While I can't prove it empirically, Kyle Regal looks damned fast and smooth on the L&M Yamaha YZ450F. Sleeper, anyone? That's exactly what we needed, more contenders in the 450 Class in 2011! Add him to the list that includes Ryan Dungey, James Stewart, Brett Metcalfe, Ryan Villopoto, Jake Weimer, Chad Reed (if he lands somewhere), Chris Pourcel (likewise), Trey Canard, Josh Grant, Davi Millsaps, Justin Brayton, Ivan Tedesco (at H&H Kawasaki), Tommy Hahn, Kyle Chisholm, Andrew Short, Mike Alessi, Kevin Windham, Austin Stroupe, Mitch Kumpstein, Michael Byrne, and LCQ champ Jason Thomas. That's 22 guys right there, and that's leaving out guys like Michael Blose, who is returning to H&H, and any other top privateers. Sure, injuries will come into play, but as it sits, being a privateer in the 450cc class just got a little less motivating. It used to be that privateers raced 450s because the higher purse money helped them get from round to round, and sometimes half the main-event field were privateers. Now, if people stay healthy, we'll be lucky to see one privateer in a main event, and to finish in the top 10 might feel like a podium finish used to! It's going to be gnarly, folks!

Here's looking forward to an amazing 2011. See you guys there, at every round just like normal.

Okay, here's some random Info from the week:

We spotted this YouTube video of a fast young prospect out of Washington state named Alyas Wardius, 15 years old. Check it out.

If you're a privateer looking for a way to get your bike and bags to the races in 2011, check out Gus Decker's privateer program right HERE.

With Halloween upon us, its now not too early to start thinking about Christmas, and nothing says Merry Christmas to a motocross enthusiast like his own factory bike....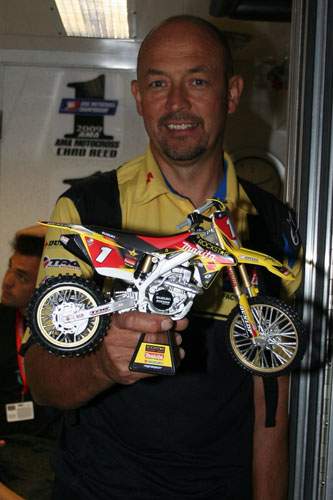 Of course you can't get one of those unless you're name is Christophe or Chad Re— er, wait. Unless your name is Ryan Dungey. And New Ray Toys has some brand new Ryan Dungey miniatures for sale. Check out their full product line right HERE.

Our friends at Moto (UK) magazine took a jet ride to Italy to test the championship-winning KTMs of Tony Cairoli, Marvin Musquin, and Steffi Laier. Check out the video HERE.

Mick Varsava, a friend from north of the border, sent us coverage of the Canada Southern Ontario Vintage race at Gopher Dunes. Mick himself rode the #9 Marty Smith RC Replica that we featured in a recent version of Your Collection.

This week we tweeted a press release about 1970s superstar Marty Smith endorsing the Resistance Chair. That's not the only new venture for the former MX teen idol (and three-time AMA National Champion), as he has been tapped to train and coach a new West Region Lites SX team, Slayton Racing. The team did race a few events last year in a limited capacity, but they're planning on stepping up big time with Marty helping whip the riders into shape. Look for an announcement on who is riding for the squad soon.

The organizers of the Catalina Gran Prix have released the event entry list. This epic race last occurred in 1958 and promises to be a very cool event. If you are in or around the So Cal area, it is certainly worth checking out. For more information, visit www.thecatalinagrandprix.com.

Last Sunday's edition of the New York Times ran an interview with Kenneth Feld, Chairman and CEO of Feld Entertainment. The story doesn't mention dirt bikes, but if you want to learn a little more about the man who owns Supercross, take a look right HERE.

Check out this pic we got from Christian Craig's mom: "Here is Christian and his brother Jeremy (his current mechanic in 2011). Christian is in the wagon and Jeremy is pulling him. Thought it was a perfect picture seeing as they both grew up to have the career they wanted as children."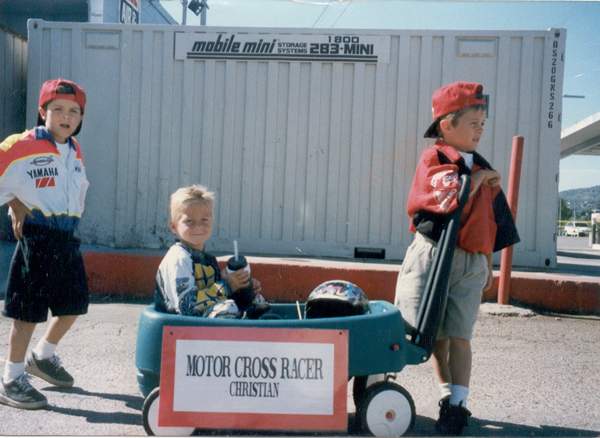 Donnie Hansen Motocross Academy/Thousand Oaks Powersports will have 2011 KTMs at the Donnie Hansen Motocross Academy school at Piru MX on Friday, October 29, for students to demo. They will also be providing lunch for the riders. World Vet Champion Doug Dubach will be a guest instructor/demonstrator at the DHMA class scheduled at Glen Helen on November 4-5 prior to the Vet National and Pit Pro will be providing lunch for the students. Contact DHMA at 877-883-7260 for information and registration.

The gang down at Chet Burks Productions has a new motorcycle series up and running on HD Theater. Cafe Racer is a 13-part series airing every Wednesday that explores the history, development, and worldwide culture surrounding the café racer, a motorcycle directly responsible for today's superbikes. Check out the promotional video HERE.

I know it's not motocross, but you have to admit, it's a cool subculture they have going on there! Check out the show's website, www.caferacertv.com. It airs every Wednesday; check your local listings for times.

Finally, longtime motocross friend/photographer Will Pattison suffered a back injury last spring and has basically been through hell. Although it wasn't as bad as other spinal-cord injuries, it was devastating to him and his family and friends. He has been rehabilitating his body as best as possible, but like Jimmy Button, he will never be the same as he was before he hit the ground. His friend Mark Bumgarner recently pulled together a short documentary about Will's situation and struggles, and it's called Partial Quad. RiderDown has been a big supporter of Will and his girlfriend/life partner, Carol, who traveled to RedBud with Will this summer so he could visit with some old friends and check out the biggest race in American motocross. The video is heavy, but it's also part of our sport and our community. Take 15 minutes over the weekend and watch this if you want to have a better understanding of how quickly life can change.

That's it. Happy Halloween, be safe, and thanks for reading Racerhead. See you at the races.