Welcome to Racerhead, coming to you from the back of the press room at
Thunder Valley
, site of the 2010 Red Bull Motocross of Nations. The whole motocross world—and motocross industry, it seems—has gathered for the annual race of the nations, and the vibe here is really good. If you can't make it to
Thunder Valley
, make sure you tune in to the live, free streaming of the race on
www.redbulltv.com
or
www.motocrossmx1.com/tv
to watch all three motos on Sunday, hosted by 1994 Motocross des Nations hero Paul Malin, with cameos by GP competitor
Jimmy Albertson
and other special guests.
David Clabaugh and his staff here at
Thunder Valley
have done a fantastic job getting the already-competitive and well-liked track in superb condition. I took a a track walk this afternoon and you can see exactly what the riders are going to see in our DeCal Works iLap right
HERE
.
They've shortened the start a little from the national in order to get the big pit-lane boxes in behind the starting gate, and they've trucked in lots of good dirt and topsoil, added more jumps, and also built up some pretty spectacular ones. It looks like it's going to get rough, fast, and hopefully stay safe and very competitive. The weather also looks like it's going to be good, so here's hoping a huge crowd comes out for what will be only the third Motocross of Nations held on U.S. soil.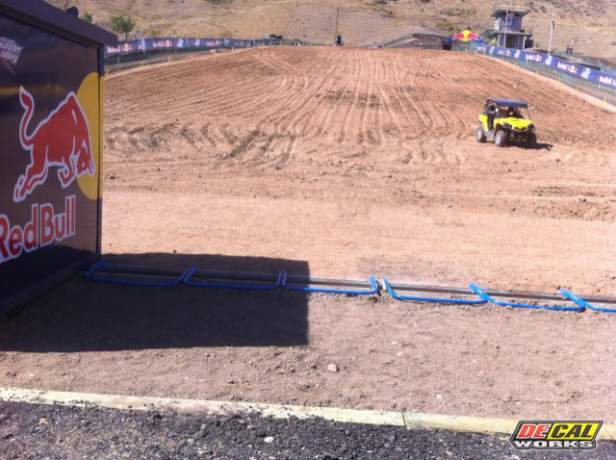 Thunder Valley
start that will be lined with the world's fastest on Sunday.
Photo: DC
The favorites have to be Team USA, to no one's surprise. It's on our home soil; the fans will be behind
Ryan Dungey
,
Trey Canard
, and local hero
Andrew Short
; and they are familiar with the track (though it's only about 75 percent similar to what it is for the national).
On the other hand, some other countries are missing some top talent. Italy may have the great Tony Cairoli, but they do not have David Philippaerts, who is out with an injury. France does not have the man who won the
Thunder Valley
National earlier this year,
Christophe Pourcel
, after he damaged his shoulder at the
Pala
National finale.
Chad Reed
is still out sick, so he will not be representing Australia. And South Africa and the Netherlands did not field teams at all due to injuries and finances.
So that leaves the Yanks as a solid team, but the Europeans and Australians and New Zealanders should not be counted out—crazy things happen at this race.
Giuseppe Luongo did just announce that the 2013 Motocross of Nations will be back here in the USA, though he didn't say where—maybe on Sunday evening he will, as he has some interesting meetings coming up. Stay tuned.
Even though my only job out here is as fan of the event and to help cover it for Racer X Illustrated, I am extremely busy—it's my birthday! It's also Mitch Payton's birthday (he's 50) and my longtime friend Marshall Plumb of Dunlop's, so we'll be having a nice little get-together later. So let me turn this over to the other guys and enjoy a weekend off!
Here's Ping:
There was quite the virtual brouhaha last week when someone wrote in to my weekly column, Ask Ping. There was a quote that bothered me attributed to World Champion Antonio Cairoli. I looked up the interview and found the quote the guy was talking about. I won't regurgitate it here, but Tony said he thought the MX2-class riders were faster than Ryan Dungey. Of course I poked back at such an outlandish comment and defended the newly crowned national champ. And I think I called Tony a "ravioli-eating dude."
Well, I got an email from Tony the next day and he was a little upset about what was written. It wasn't the ravioli part because, as he explained in the email, he loves ravioli! (That spurred on the best nickname in years … more on that later.) Here's what Tony said in our email exchange (read in a heavy Italian accent):
It s Tony here, i get a few email's wich linked me to your page, sadly i read your reply on racerxonline. I think your talking is a little bit unfaire and also a little bit arrogant, against Italian people. About Ryan he Have all my respect for what he did the last two year, and i think he is one of the fastest guys right now! You were also a rider, and sometimes journalist missunderstood your words. I sad that i was thinking that the riders in the mx2 class where maybe faster than the guys in US lites class.


Normaly I am the first one who can laugh about it, maybe it's just because they misinterpret what I said why i couldn't.. :) Cause i like to eat Pasta and Ravioli, wich make me a ravioli eating dude ;)
So now you know my words, i'm looking forward to the race next week!!!
I hope to hear from you soon, and to see each other in Denver!
Ciaoo, The ravioli-eating dude,
Tony Cairoli :)
I was really glad Tony cleared things up and even had a sense of humor about, well, my sense of humor. It showed a lot of character and personality on his part, and it made me more of a fan. It also produced the coolest nickname in the last couple decades: Antonio "Ravioli" Cairoli. Is that awesome or what? Can we please get some signs going for this weekend with that written on it?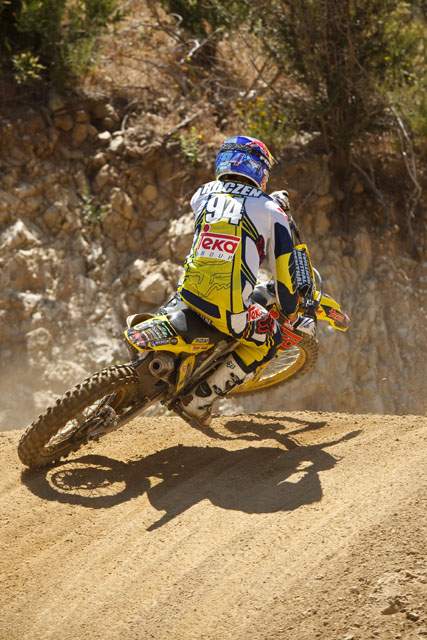 Cairoli clears that up, but that still raises the question... So who's Roczen faster than?
Photo: Simon Cudby

Michael Young has been let go as the manager of the Moto Concepts Racing Team. I'm not sure exactly what happened there, but apparently, he got a phone call on his honeymoon telling him he was without work. There's always free Mai Tais. No word on who will take over the reins there. [Ed. note: It's David Vuillemin!]
I spent a day this week riding with Christian Craig. He's been on the bike almost two weeks now and is already flying. I'm not exaggerating at all: he is really going fast. It meant a lot to see him out there again, because the last time I watched him on a bike was last November when he crashed at our test track and broke his back. I'll never, ever forget the sound his bike and his body made when they hit the ground 20 feet from where I was standing. It was nauseating. He immediately lost feeling in his legs, and it isn't very often you come back once you've crossed that line. Once we had him loaded in the ambulance and headed off to the hospital, I literally dropped to my knees and prayed that he would have some kind of miraculous recovery, knowing very well that the odds weren't in his favor.
Sorry for the melodrama, but for him to be back and already riding at a competitive pace is nothing short of amazing. Welcome back, CC.
And now Steve Cox:
A friend of mine used to laugh at me sometimes and tell me that what I had was "rich-person problems." Of course, he didn't mean rich as in "driving a Ferrari, living in a 4,000-square-foot house on the beach" rich, but the point he was always making was that, when I was sitting around complaining that my flat-screen TV wasn't working correctly, or that I had a mechanical problem on my dirt bike, or something like this, it was a problem that many of the less fortunate people in our society would love to have. They'd love to be able to afford a dirt bike in the first place, or to afford the flat-screen TV I was complaining about.
That really stuck with me for a lot of years, and even today, I try to pay attention to when I'm complaining about something that is, in reality, so trivial; but it still happens. We get caught up in life as we live it, and our problems are always big to us, because they're relative.
But sometimes something happens that takes you completely out of that way of thinking (and I always hope it's for good, but so far it hasn't been): As we head into, in my opinion, the biggest motocross race of the year (and the most fun), the Motocross of Nations in Lakewood, Colorado, to watch our chosen three athletes take on the chosen three from most other motocross-loving countries (with few exceptions, such as South Africa), a lot of us, including myself, were completely focused on the event. Who is going to win? Can the U.S. keep the streak alive? I know I was sitting around and wondering about the politics of the event, and how they might affect my ability to do my job, or many other things.
Then, yesterday morning, I got a phone call from my friend Johnny Joseph Jones, who I thought was still in Afghanistan as part of the 1st EOD (Explosive Ordinance Disposal) unit in the Marine Corps. I had texted him about my upcoming Halloween party (which I hope to make into an annual affair) on the off chance that he was in the country. He was, as it turns out. At Walter Reed Army Medical Center.
"Did you hear what happened?" he asked, as soon as I picked up the phone. My heart sank on hearing the question, because his job is to disarm IEDs, and that's got to be the most high-risk job in the service. "No," I said.

He proceeded to explain to me that, on August 6, an IED that he was working on detonated. He lost both his legs above the knee, has very little use of his right arm, and dislocated his left wrist pretty badly in the blast. But he was upbeat, and said he feels lucky because the following day, someone else in his unit died in similar circumstances. He is happy to be alive and around people who love him, and he wants to regain the use of his arm, get up on prosthetics, and remain in the Marines as an instructor.
I asked him if there was anything I could do, and deadpan, he joked, "I could really use some new shoes...."
And just like that, this weekend's race was put into perspective for me. It's just a dirt-bike race after all. The politics? They don't matter all that much. I write about and shoot pictures of dirt bike races for a living. That's pretty cool, and it beats the shit out of disarming massive explosives. And maybe some of today's racers will read this and understand how incredibly lucky they are as well.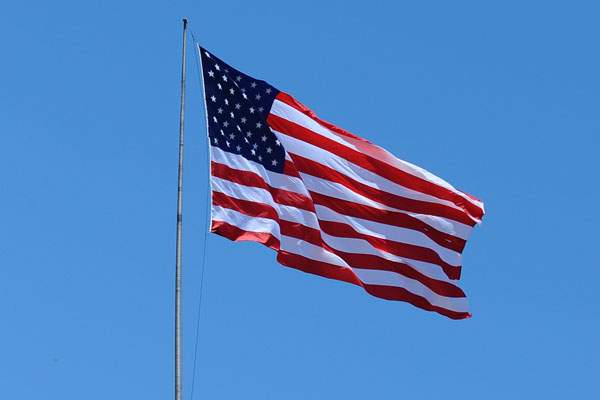 Photo: Steve Cox
So, when "The Star Spangled Banner" is sung this coming Sunday at Thunder Valley, while many or most in the crowd will be thinking of Ryan Dungey, Trey Canard, and Andrew Short, I'll likely be thinking about Johnny, his buddies, and all of the rest of the men and women who are still in harm's way trying to help people they don't even know, for a wage that would put many of them under the poverty line.
While I was shattered to hear my friend tell me about what had happened, even though he seemed in great spirits, I feel rejuvenated and ready to take on whatever is thrown at me. Deadlines? Marital issues? Paying my bills? These are problems that a lot of people would love to have as their biggest issues.
So pay attention to Racer X Online over the weekend and make sure you check your Twitter, as we'll be updating both as often as possible from the Motocross of Nations. But in the end, remember that it's just a dirt-bike race. It's the best sport on earth, but it's still just sport.
Now we turn it over to the Weege:
Here's what I like most about Motocross of Nations: it's different. By late September, fans of both AMA Motocross and Supercross and FIM GP Motocross have seen the same riders on the same teams and same bikes battle week after week. By the time Nations rolls around, it's the perfect time for a change.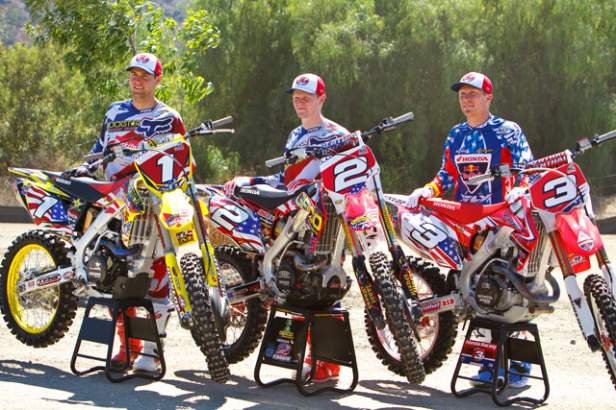 Another thing we've noticed about MXoN? It's hard to get all the riders looking at the same camera...
Photo: Simon Cudby

Not unlike Anaheim 1, we get to see new gear and new numbers busted out for this race. Shorty wearing #3? Ravioli Cairoli wearing #16? Then you have the strange match-ups. First, riders who don't get to race each other all year finally battle, like Cairoli and Dungey and Canard and Musquin. But you also have riders racing on bike sizes they don't normally compete on (such as Frenchman Gautier Paulin, who has raced MX2 in the GPs but pulled off a moto win last year on a 450). You also have the added drama of 250s battling 450s, and the potential for one of the fast small-bore pilots to pull a Johnny O'Mara-style ride and blow past the faster bikes.
Throw in something else we never get to see: team strategy. On the surface it would seem like this race comes down to riders from each country trying to go 1-2 in every moto. That's almost impossible, because each team has to put a rider on a bad gate. Then what? Last year Team USA put Dungey on a good gate and let him race for the moto win, while Jake Weimer was saddled with the bad gate, a bad start, and a 250. Realistically, he was lucky to just break into the top ten coming through the pack against 450s, but if you look at the results, it would have been easy to say, "Dude, Weimer only got eighth? What's up with that?"
Well, that's how this race works. It's a team event with a completely different mindset than any other motocross race, where the goal is normally to win for yourself. At this time of year, that type of change is welcome.
For more go check out PReduX presented by Renthal, were I did my best to preview this weekend's top teams. Check it out HERE.
In non-MXoN news, the Can-Am GNCC Series continues this weekend with the Titan GNCC in Lafayette, Tennessee. Most race series start out with multiple winners before one or two riders get the momentum and confidence and take over. This series is the opposite—FMF/Makita Suzuki's Josh Strang started the year with four straight wins, then Obermeyer/Am-Pro Yamaha's Charlie Mullins reeled off three straight of his own. Looked like this was a two-horse race, but now three different riders have won the last three rounds! FMF KTM grabbed wins in Ohio and West Virginia with Cory Buttrick and Nate Kanney, then Jimmy Jarrett scored a huge win two weeks ago at Unadilla. Jarrett, on
the GEICO JG Racing Kawasaki, had not won a GNCC since 2000! Yes, ten years.
So now, with three rounds to go, we're back into anyone-can-win mode. Should be good. Check out GNCCRacing.com for live timing and scoring while you're on your computer watching the MXoN stuff.


Also, this week our TV crew finished up the 2010 AMA Amateur National at Loretta Lynn's Ranch. The show airs next Tuesday on Versus at 5 p.m Eastern. In 30 minutes of coverage, we managed to fit in a lot of great rides and riders from this year's event, including: Jason Anderson, Ian Trettel, Gannon Audette, Zack Freeberg, Justin Bogle, Kyle Peters, Jesse Nelson, Luke Renzland, Justin Hill, Joey Savatgy, Cooper Webb, Dakota Alix, Jace Owen, Adam Cianciarulo, Luke Purther, Joey Crown, Jake Pinhancos, Jackson Turpin, Stylez Robertson, Lance Kobusch, Robbie Reynard, Keith Johnson, and Kevin Walker. Lot's of good stuff there. Set your DVR now and enjoy it next Tuesday.
Randoms:
We got this note from Steve Wise:

In 1980 Honda came out with an awesome RC works bike. Mine broke often, usually when I was running toward the front. It never seemed to brake when I was in 10th. I guess I was going to slow. LOL After the 1980 works RC Hondas were by far the most exotic best works bike on the pro circuit. Below is the 1982 RC 250. What a beauty - 1 years after Wiseguy! I was going 200 mph by then!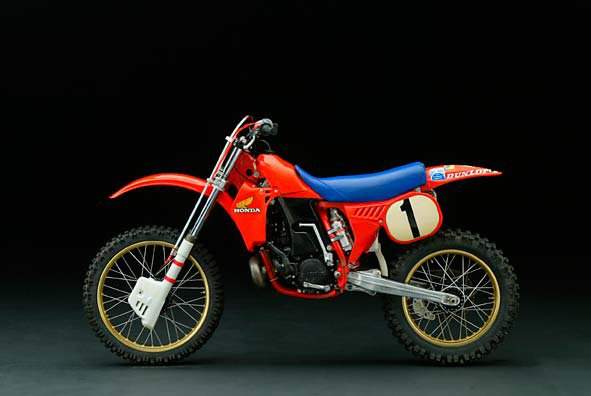 1982 RC250. What a beauty!
Jeff Cernic sent over this picture of Team Germany's Ken Roczen acclimating himself to the Colorado altitude by jogging inside Red Rocks Amphitheater in Morrison, Colorado.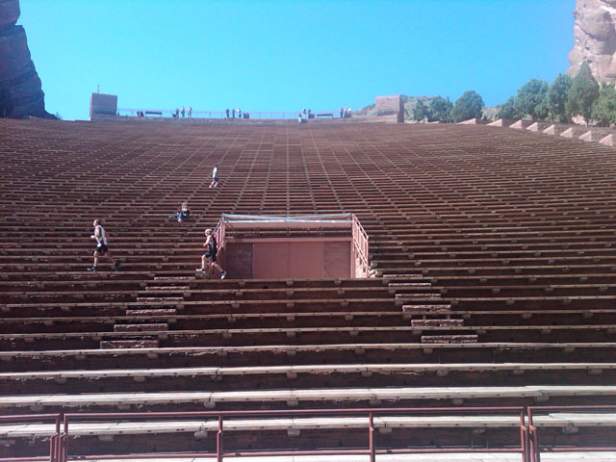 Photo: Jeff Cernic
Be sure to visit the Racer X booth at the Motocross of Nations this weekend for your free MXoN event sticker. If you subscribe or renew your Racer X subscription at the race, you'll also be entered to win a Kicker iPod or iPhone docking station, plus walk away with a bag full of goodies including a Racer X/Thor Roost Rag, the current issue, a cover poster, and a sample of Fogshield Sport Anti-Fog treatment for your goggles. All that plus twelve issues of your favorite MX mag for only $12!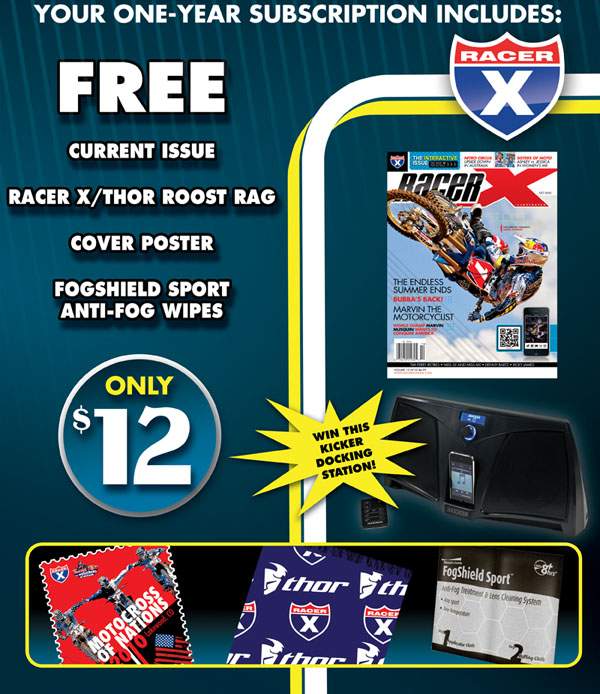 And finally, a note from Langers:

Motocross lost a great man this past weekend when English rider Richard Phillips passed away at only 37 years old. Anyone who grew up racing motocross in the southeast of England in the late '80s or early '90s knew who Richard Phillips was. I remember him as a fast, stylish rider who would show up at Mid Sussex meets when there was a break in the English nationals and just smoke everyone. With his JB gear (yes, that's JB gear, not JT) and white Yamaha, he'd simply school everyone.
During his motocross career, Richard won multiple schoolboy championships, competed in supercross events around Europe, had IMBA victories, was an AMCA and M.R. Thumpercross frontrunner, and was a top-ten British Championship rider. Over the last year, he had restored an old 1989 CR125, which he planned on racing at the recent Vet/Twin Shock/Legends event at Farleigh Castle.
Richard is survived by his wife, Piney, and two young sons, Lewis and Elliot. Both boys intend to continue their dad's legacy, racing around the tracks of England, and I'm sure they'll both do him proud.
Godspeed, Richard. You will be missed.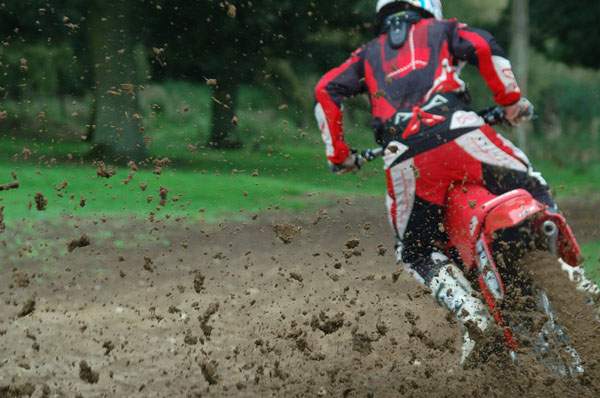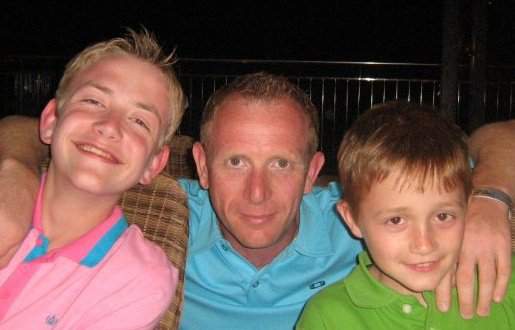 See you at the races.