KTM and Strider Team up to Announce Strider PREbike
KTM Strider PREbike™ Introduced Just In Time For Christmas
Toddlers Easily Learn Balance and Steering On a PREbike Which Speeds the Transition to Sportminicycles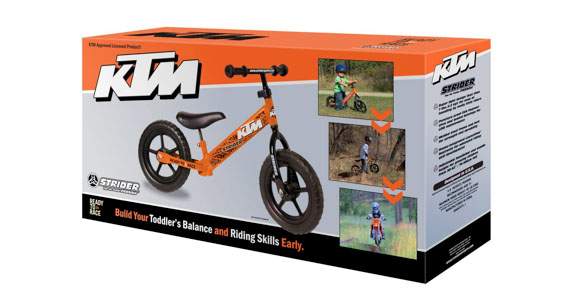 MURRIETA, CA
— KTM North America, Inc. and Strider Sports International are excited to announce a licensing deal for the introduction of the KTM Strider PREbike™.
The KTM Strider PREbike™ is a revolutionary pedal-free bike that enables toddlers as young as 18 months to learn how to ride and balance on two wheels… years earlier than if they used the conventional tricycle or training wheel method. Most important, Strider™ teaches the skills needed to safely and easily transition to riding both a pedal bike and a Sportminicycle, making the first experience on each much more successful and positive.
KTM North America, Inc. President Jon-Erik Burleson introduced the KTM licensed Strider by saying, "KTM has invested in young motorcycle riders for many years with our large line-up of minicycles, and now, with the KTM Strider we can welcome riders into the KTM Family at a much younger age. We believe wholeheartedly that learning to ride on a PREbike will develop strong riding skills and have kids Ready To Race when they graduate to our minis."
Built for off road and every other terrain, the KTM Strider PREbike™ highlights include:
·
Bold KTM Styling:
Color matched to the KTM big bikes with dirt-inspired action graphics that get kids excited to be like Dad.
·
Sized Right:
6.9 pounds - built small and light so even the smallest kids can have full control over the bike.
·
Highly Adjustable:
Seat height adjusts from 11" to 16" from the ground (and up to 19" with the optional XL seatpost) & handlebar height adjusts from 20" to 22" from the ground – perfect for toddlers 18 month to 5 yrs old.
·
Frame Design:
Custom-welded thin-gauge steel frame with U.S. patented, performance-based frame geometry and integrated Launch Pad™ footrests located directly below the saddle allows children to learn advanced riding skills like gliding, standing, manual wheelies, and bunny-hops… all making the transition to dirt bikes that much easier.
·
Tires/Wheels:
Puncture-proof, super-lightweight, EVA-polymer tires with sealed bearings running on 8mm steel axles mean a maintenance-free bike that is always ready to ride.
Strider Sports International Founder Ryan McFarland adds, "The Strider PREbike was born out of my desire to teach my sons how to ride on two wheels at the youngest age possible. Motorcycling has been a passion of mine since my childhood, and I wanted to share the thrill and adventure of the sport with my children. We are confident that offering the KTM licensed Strider PREbike to the KTM family will let parents across the country share their passion and hobby with their kids as I was able to do with mine." Check out the KTM Striders in action at www.StriderSports.com/ktm

About Strider Bikes
If your toddler can walk, your toddler CAN ride a Strider PREbike™. Skip the tricycle. Skip the training wheels. Go straight to riding on TWO wheels. The Strider™ balance bike helps toddlers learn balance and coordination BEFORE pedaling, which develops glittering confidence and amazing bike handling skills. So ditch the tricycle and training wheels, and teach your child to ride a bike sooner, better, and safer with a Strider™. For more information, visit
www.stridersports.com
.
About the KTM North America, Inc.
KTM, founded in 1953, is the second largest European motorcycle manufacturer specializing in "Ready to Race" on and off road motorcycles and ATVs.
Proven successes in worldwide competition are embodied into the design and function of each KTM race machine. KTM has built a reputation for high-quality premium race ready machines suitable for street and off road race competition and recreation. With more than 170 World Championships and counting, the technology, design and performance of KTM continues to race past the competition time and again.