Scorpion Delivers Safety For The Holidays
Lake Forest, CA — There is no question that the Holidays are a magical time of year. Even the greatest riders of all time still remember that first mini-bike or kid-sized quad they ever received! However, the family oriented folks at Scorpion suggest completing the perfect present by adding plenty of protective gear to the package this year. Scorpion's VX-9 youth helmet is a gift that can keep on giving long after the wrapping paper comes off!

Safety was of paramount importance to the parents at Scorpion, so the VX-9 is constructed of the same polycarbonate composite shell combined with Scorpion's state-of-the-art dual density EPS liner found in its adult-sized VX-14 racing helmet. This combination of a sturdy shell and energy-absorbing EPS liner meets or exceeds all DOT safety standards.

Rather than strip down a small shell, the VX-9 gets all the upgrades of its VX-14 older brother, but it is specifically made to fit kid-sized craniums. Knowing how fast mini riders can grow, one helmet can easily be transformed from small to medium to large simply by changing the snap-out inner liner. Speaking of the inner liner, Scorpion's washable KwikWick® moisture-wicking comfort liner keeps young riders cool no matter how hot the action gets. Even cooler, dual forehead air intakes and twin exhaust ports ensure plenty of airflow.

Of course it is the cool graphics that will really count with the rug rats. Kids can choose the cool "Ray Gun" or "Impact" graphics in red or blue color schemes. Scorpion offers a full three-year warranty on the VX-9, same as its full-sized helmets. But best of all Scorpion magically makes the price of the matte black, gloss black or white helmets $10 cheaper for this Holiday season.

MSRP: $99. 95 For Ray Gun or Impact Graphics, $89.95 for Solids

Get Stung! More information about ScorpionExo™ Helmets and Scorpion Sports, Inc.'s complete ScorpionExoWear™ line can be found at www.ScorpionUSA.com or check out the all-new Scorpion Blog at http://scorpionexoblog.blogspot.com for the latest news from "The Nest."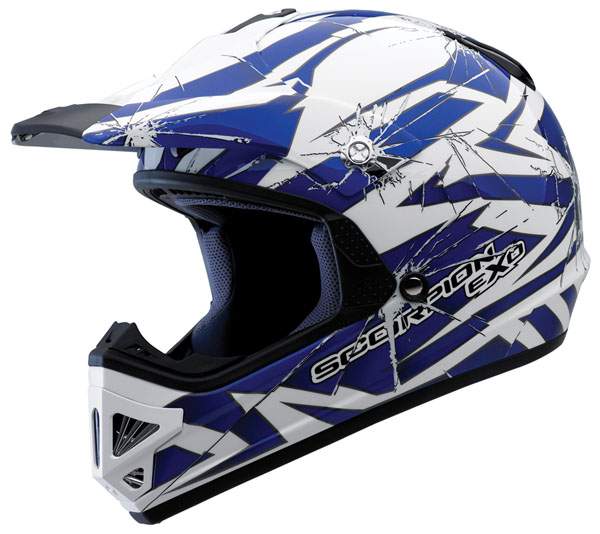 About Scorpion Sports
Scorpion Sports, Inc. (SSI) is a California-based company supplying helmets and technical apparel directly to motorcycle dealerships. SSI imports a full line of unique dirt, snow and street helmets from their state-of-the-art production facilities in Asia. Determined to build the brand based on innovation and high quality, all street helmets feature the exclusive SpeedShift® quick-change faceshield system, EverClear® no-fog faceshield and comes with a washable, removable, moisture-wicking KwikWick® liner. AIRFIT® is an air adjustable cheek pad system to personalize helmet fit on the higher end products. SpeedView™ retractable sun visor accommodates varying light conditions quickly without changing face shields on specific EXO models.
ScorpionExo, SpeedShift, EverClear, KwikWick, ShadeShifter, SpeedView, AIRFIT, RaceCase, EXO-TEC, EverHeat, AirVent, ABRADIUM, EXO-Stitch, NightViz, AirGuard and the ScorpionExo logos are trademarks of Scorpion Sports, Inc. ©2010 Scorpion Sports, Inc.