Battle of The Giants at Taupo
By Andy McGechan

If the weekend's racing at Taupo's annual Labour Weekend Motocross Extravaganza was a foretaste, then this coming season's racing in New Zealand is going to be very tasty indeed.

The bike that Taupo's Ben Townley raced so impressively at the weekend was sitting idle on a showroom floor just a few days ago and his main rival, Mount Maunganui's Cody Cooper, had been sidelined with injury for the preceding two months.

But none of that was apparent when the gate dropped for the first of three MX1 class races on Sunday.

In the hands of a world class motocross star such as Townley, a stock standard Kawasaki KX450F can be a lethal machine, as the talent-packed field at Taupo soon discovered when he came from behind to win the day's opening MX1 race, edging out Cooper (MotoGB Suzuki RM-Z450) with a daring pass late in the race and holding on for a convincing win.

It didn't go quite to plan for Townley in the next race, with Copper snatching the lead at the start and never looking back, Townley mired in the pack and left to battle with traffic before eventually forcing his way through to take runner-up spot.

With Townley and Cooper sharing the wins, they were equal in points and it would take the third and final race to separate them.

The final race, which doubled a "feature race" and included the top riders from the 125cc and MX2 classes, saw Cooper again snatch the lead, again leaving Townley to fight with heavy traffic.

Townley was soon through to second place but, by then, Cooper was already long gone. Although Townley caught up to Cooper as the race wore on, Cooper made no mistakes and Townley was again forced to settle for second place honours.

Fellow Taupo rider Brad Groombridge (Action Suzuki RM-Z250), fresh from his solid Motocross of Nations appearance for Team NZ, won the MX2 class on a count-back from Hamiton's Darryll King (Rockstar Yamaha YZ250) and he also finished third overall in the all-in feature race.


It was an upbeat Townley who talked about it afterwards.

"I have not raced here since 2003," said the Kiwi international, who finished a courageous fourth overall in motocross nationals the United States this season, following nearly two years sidelined with injury.

"It was great to be back here … sure it didn't pan out with the overall win for me today," he shrugged, "but, when you consider I only picked this bike up from the shop on Tuesday, it's still a great result. I was still getting the bike set up as I went today and I still have some work to do.

"Cody was outstanding. He's a world class rider and that showed today. But I am very impressed with this new Kawasaki bike. I'm looking forward to racing it in the world championships in Europe this season."

Cooper was naturally thrilled his comeback from injury was rewarded with victory.

"I was wrecked before the start of that last race. I didn't think I'd last the distance. I just hoped Ben was feeling as ruined as me," he smiled.

"But I found a nice flow on the bike. I'm still not 100% yet but the season's not really started yet."

These two men – and the rest of New Zealand's cream -- will next face-off at the Australasian Supercross Championships round at North Harbour Stadium on November 13, before they have another showdown at round one of the New Zealand Supercross Championships in Tokoroa on December 11.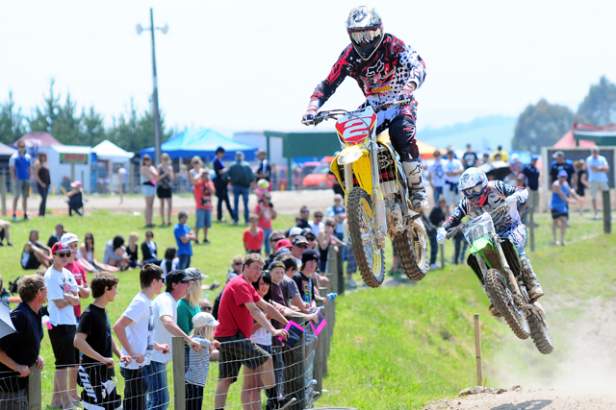 Mount Maunganui's Cody Cooper (Suzuki) leads Taupo's Ben Townley (Kawasaki) in this MX1 class race at the annual Labour Weekend Taupo Motocross Extravaganza.
Photo by Andy McGechan, BikesportNZ.com