5 Minutes with... Jake Weimer
After wrapping up the 2010 AMA Supercross Lites West Championship on an early-May Saturday night in Las Vegas, Nevada's Sam Boyd Stadium, Monster Energy/Pro Circuit/Kawasaki rider Jake Weimer stamped a big exclamation mark on his season by winning the hard-fought, club-swinging Dave Coombs East/West Shootout. Entering the AMA Pro Motocross Championship, and on a roll after winning four of eight races on the way to his Supercross title, the Idaho-born rider was hoping to make a run at his first 250 National Championship. Two rounds in, however, Weimer suffered a back injury and, well, motocross being motocross, the injury got worse and worse until it was so painful that Weimer was unable to finish out the season. A no-show at the Unadilla National (and onward), his timing couldn't have been much worse, as upward of ten riders were shopping around for 450 rides for 2011. Ryan Villopoto, Chad Reed, Christophe Pourcel, Weimer, and others all wanted in at Monster Energy/Kawasaki, but only two seats were available. Weimer bounced back and forth between Kawasaki and Pro Circuit making sure he was both seen and keen about riding green in 2011, and last week word finally came down from Irvine—and Jake Weimer was all smiles. Today, Racer X spoke with the new 450 pilot.
Hey, Jake. How are you doing, man?
I'm doing good. How are you, bud?
I'm good, thanks. What are you up to this gray and rainy Thursday morning?
I'm just getting ready to ride some supercross.
Have you been on the bike much yet?
Yeah, I've actually ridden it probably five times over the last three weeks; I've probably ridden it a couple times a week for about three weeks. So, yeah, I've spent a little bit of time on it already.
So far, so good. I didn't really know what to expect because I'd never really ridden one on a supercross track. So far it's been super-fun and it's been easy to adapt to, and I've had a lot of fun with it.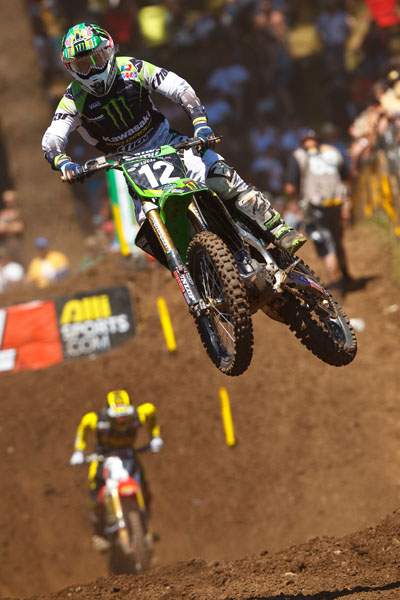 You won't see Weimer on a 250 in 2011...
Photo: Simon Cudby
Yeah. Yeah, I've been riding with him a little bit.
Okay, the big question: is your Team Monster Energy/Kawasaki 450 deal done for 2011?
Congratulations. What can you tell us about your deal?
Well, obviously it was kind of where I was hoping to be. I wanted to continue the relationship with Kawasaki. You know, it took a while to get it going, but yeah, I got it done and got a two-year. I'm happy that it worked out and so far everything has been a lot of fun and it's been a pretty easy transition so far. I'm happy and I couldn't really ask for much more.
Is Ryan happy you've continued your relationship with Monster Energy/Kawasaki?
Yeah, as far as I know. You know, I've been buddies with him for a while, and obviously with me being on Pro Circuit and him being on Kawasaki, we rode together all the time anyways. I guess to answer your question, yeah; I think he's happy about it. Obviously, we get along together and we can ride together and we can train together, so yeah, I believe he's happy about it. I guess you have to ask him about that! But as far as I'm concerned, I think he's good with it [laughs].
I know it's relatively new to you, but how does it feel to be a part of that Kawasaki factory team?
Yeah, I mean so far everything has been really awesome. I really didn't really know what to expect getting on the bike. I'd never really ridden a 450 on a supercross track, so I didn't really know what to expect as far as that went. And I've never ridden a factory 450 before, so I didn't really even know! So far, so good. And like I said, it's been an easy transition and everything has gone well. I mean, I hadn't ridden since Washougal [in July] and I rode my Lites bike only two times, and then I got on the 450. It's been fun to even to be able to ride again. They've been out to the track with me quite a bit and we've already been getting the ball rolling as far as getting the bike set up for me. Everything is going good and smooth, and I'm liking the bike. This is definitely where I wanted to be, so I'm excited about that.
I assume your 250F Supercross Championship has to help your confidence in this "graduation" as well?
Yeah, for sure. I'm very optimistic about next year and 2012, and I'm definitely hoping for the best. I'm getting back into training and trying to step up my game to be ready for Anaheim I. Like I said, I'm very optimistic that I want to get in there and have some success right away.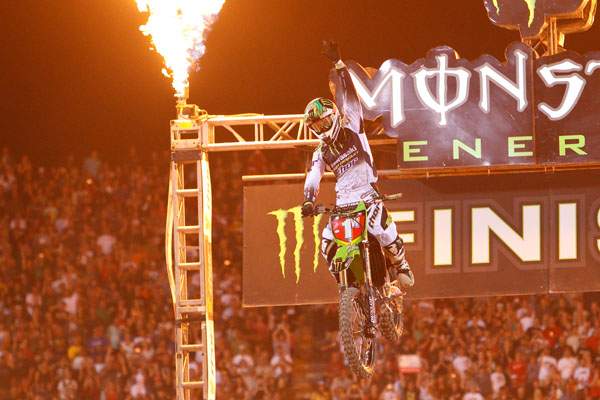 Now with a 250 SX Lites championship under his belt, Weimer is shooting for the stars in the 450 class.
Photo: Simon Cudby
How is your back? We all know that injury took you right out of the Nationals….
Yeah, it wasn't like I had one crash and hurt it; it was just one of those situations where I must have just tweaked it a little bit and it just got worse and worse and worse to the point where I really couldn't even ride anymore and basically had to call it quits and get it taken care of. That was a very long process. So far everything has been really good and I've ridden a handful of times. For sure, right off the bat, I was kind of seat bouncing stuff to make sure I was good to go. Everything has been good.
When you were forced to leave the Nationals, a number of riders were jockeying for rides for 2011. A lot of names were being thrown around at that point in time—Villopoto, Reed, Pourcel, Canard, Grant, Metcalfe, Short, and Townley. Were you starting to get worried about where you would be riding in 2011?
Well I mean, yeah, I was a little bit worried. The way I looked at it was, I was sitting out with a back injury, and there was just nothing I could do. It wasn't like I could get fired up and just show up at one of the rounds and just earn my spot—that just wasn't even an option. The way I was looking at it was, "There's nothing I can do. All I can hope for is the best." For sure there was a time where I was a little concerned and I started to stress for a minute, but luckily it ended up panning out. But the reality was that it didn't really matter because there was nothing I could do about it. I had done everything I could in supercross and the outdoors season was tough for me, but the truth was there was nothing I could do about it. It was what it was. I was just hoping somebody would step up. Luckily, I ended up where I wanted to be and with a good ride. I guess to answer your question, I stressed out for a little bit.
As far as Monster Energy/Kawasaki goes, things got a little wild in regard to rumors about the 450 team. Your name was coming up, Pourcel's name was coming up, nobody was sure what Chad Reed was going to do, and even Ryan Dungey was mentioned at one point. There was a lot swirling around, huh?
Yeah, all that was definitely out and about and traveling around from people's mouths. There was definitely a lot of talk. Like I said, I was definitely a little bit stressed about it. I had some confidence and I had some faith because I've always been very good to my sponsors and I was hoping that they would see that aspect of it. Luckily, I got the shot that I was hoping to get.
Looking at the 2011 supercross season and team rider rosters, wholesale changes have been made. Canard and Grant are at Honda, Metcalfe went to Suzuki, Short went to KTM, Millsaps went to Gibbs, Stewart is back, and Reed, Pourcel, and Hill have not been penciled in anywhere yet. Come Anaheim I on January 8 at Angel Stadium, it appears we're poised for a great season. What do you think about it all?
I think there's going to be plenty of competition at Anaheim I. It seems like—and I'm not just saying this because I'm there—as long as everyone stays healthy and nobody gets hurt, it seems like the field might be a little bit deeper this year, and for obvious reasons that's good for the sport and good for the fans. As long as everyone stays healthy, it's going to be a packed gate at Anaheim I. You're going to have to have your stuff together to even be on the gate. There are definitely some challenges ahead.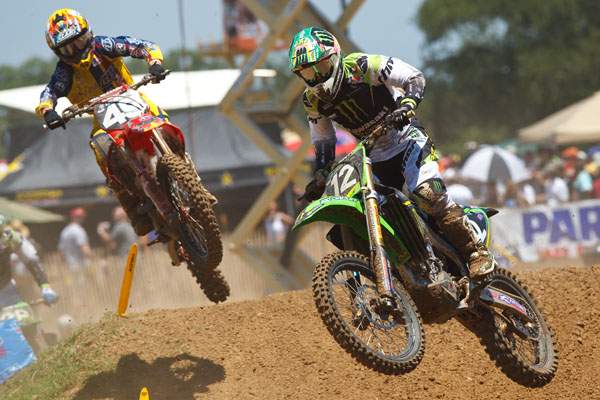 You won't see Jake running number 12 in 2011, he'll be number 32.
Photo: Simon Cudby
How are you going to approach the start of the season? Do you know yet? It's still early….
You know, like you said, it still early and I'm still getting used to the bike and learning the team and the 450 and everything. I don't really want to warm into the season; I'd like to be able to come out with a bang and then be able to hold it. That would obviously be better for me than just kind of easing into it. I want to try to bring my A Game to Anaheim I and try to hold it throughout the whole season.
As far as goals, what would make you happy in 2011?
Well, I want to be up front. I want to battle up front. I definitely have a lot of confidence in supercross and the way my supercross season went last year. And the way the first few weeks on the bike have been, I'm pretty confident that if I do my homework—and short of any injuries or anything like that—I think it's a realistic goal to be up at the front. I'm not claiming I'm going to go win ten rounds; I'm not claiming that. My goal is that I want to be battling at the front of the pack.
So full speed ahead toward Anaheim I?
Yep, exactly. I'm very excited about the 2011 season so I just definitely want to thank Kawasaki and Monster Energy for keeping me on-board and I definitely think the next two years are going to be good. Oh, and I guess I should probably thank Bob [Nichols] for helping me out and getting this thing going. So thanks to those people. I think I'm going to have a good program for next year, and I'm definitely excited about that.