KTM Women's Pro Team Win Glen Helen 24 Hour
San Bernardino, CA – The KTM Women's Pro Team accomplished what they set out to do: win the Glen Helen 24-Hour race.

It was a brutal race that started at 10:00am on Saturday, October 16th and ran a full 24 hours until 10:00am on the 17th. The KTM Women's Pro Team was comprised of 2010 GNCC Women's Champion, Maria Forsberg, 2010 WORCS Champion, Kacy Martinez, KTM support rider Sarah Whitmore and Sherri Cruse.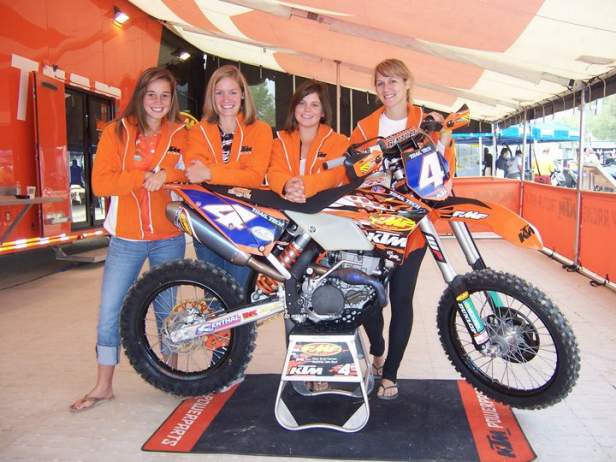 The four-member team had an amazing start to the race when lead rider Kacy Martinez came around 2nd place in the first corner on the same line as the Men's Pro class. Martinez held 3rd position against her male competitors until they entered the EnduroCross section.

"We were all so excited for Kacy," remarked Whitmore. "She said she was going to take it easy off the start, but she pinned it and almost got the holeshot."

The weather remained around a cool 70 degrees throughout the day. "The track was pretty decent but a lot of the hills got pretty dusty after the first lap and visibility became an issue," commented Forsberg.

During the daylight hours the girls choose to ride two laps each before they handed off to the next rider. The running order started with Martinez who passed to Cruse, then Forsberg and lastly to Whitmore.

The ladies each averaged 26 minute lap times during the daylight hours and dropped to 27 minute lap times in the evening. Martinez was the first one to ride at nightfall and utilize the headlight.

"It is always a little nerve racking riding at night. You have to slow your pace at first and be a little more cautious on the hills," stated Martinez.

When nightfall hit the girls began to run 3 laps each to give the others more time to rest between rides. "We were all pretty energetic until midnight and then we became pretty worn out," remarked Cruse. "It was hard to sleep with all the noise in the pits and bikes constantly going by but every minute of rest seemed to help."

With an hour left, Martinez was set to roll out to take it through the checkers but she felt a little under the weather and passed it on to Cruse for the final two laps. Cruse hopped aboard and rode the #4 KTM machine to the Women's Pro class victory.

"It was great to see the camaraderie amongst the team. Everyone got along great and really tried to help each other out. We are very happy with the ladies performance," commented KTM Off-Road Team Manager Antti Kallonen.