Pro Motocrosser Helps Make-A-Wish Kids Learn To Surf
What do pro motocross racers do in the off season? Rookie pro Bryce Vallee took some time off his training to give surfing lessons to some Make-a-Wish kids last weekend in Encinitas, California. The annual event began 6 years ago when Bryce's local Rotary Club joined with the local chapter of The Make-a-Wish Foundation to give free surfing lessons to kids suffering from cancer and other serious conditions. Bryce volunteered that first year, and every year since. This year, Bryce was teamed with 9 year old Dominic (see photo) who couldn't get enough of the water and the waves. "He wore me out!" said Vallee, estimating he helped Dominic catch about 100 waves in Dominic's first attempt at surfing. "This is one of the highlights of my year. Their smiles say it all," says Bryce. Dominic reportedly now wants a surfboard for Christmas.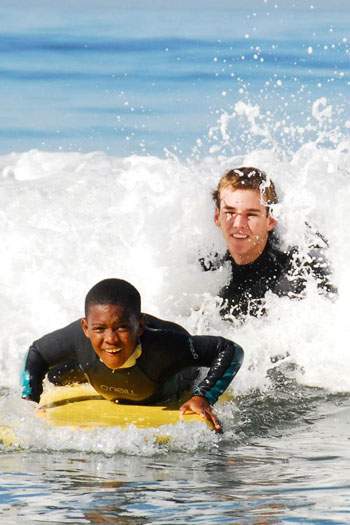 Bryce Vallee finished 3rd overall in the 450 ProSport class at Lorettas this year before turning pro. He entered his first AMA pro event at Pala in the 450 class, finishing 17th in moto 1 and 20th in moto 2 for a 21st overall. He is currently looking for a position with a team for the 2011 supercross season. He would like to thank his current sponsors, Yamaha, North County Yamaha, MSR, Truth Soul Armor, Globe, Pro-Tec, Dubach Racing, Smith, Dunlop, Motorex, No Toil, Panic Rev, Icon Sports Development, Valleelaw.com , 3GR, Pro-Taper, Toyota of Escondido, Applied Racing, Bettencourt State Farm Agency, and Enzo Racing. Bryce can be contacted by e-mail at dudelaw@sbcglobal.net or jmvallee@sbcglobal.net or by phone at 858 755-6477.