Next Weekend's GNCC Finale Goes Pink
For Immediate Release

Contact: Jason Weigandt
media@gnccracing.com
304-284-0084

Can-Am GNCC Series Announces Pink Race for Breast Cancer Awareness at Amsoil Ironman GNCC Finale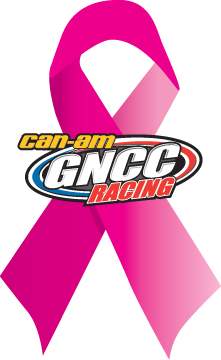 Morgantown, WV (October 12, 2010) – In a first for America's largest off-road racing series, the Can-Am Grand National Cross Country tour will add a pink theme for the series' finale, the Amsoil Ironman GNCC. With nearly 1500 dirt bike and ATV competitors expected, the race will raise awareness and funds for breast cancer care and research and serve as the final round of the 13-stop national tour. The pink livery will make a dynamic contrast to the woods, hills and mud of the Ironman, which takes place October 23 and 24 in Crawfordsville, Indiana, just an hour west of Indianapolis.

"We are honored to be involved in turning this year's race pink," says Sasha Clements, Communications Coordinator for the FAITH Alliance, a breast cancer resource for Montgomery County, IN. "Most of our board members and their families have attended the Ironman for many years, and it's a fun weekend that the entire community looks forward to. Almost everyone knows a family member or friend affected by breast cancer, and now the Ironman weekend is our chance to have fun and show support for all the courageous survivors and help the continued efforts to find a cure."

October is Breast Cancer Awareness Month, and GNCC racers and fans are encouraged to get in on the action. GNCC Racing will relax number-plate background codes for the race and encourage riders to run pink backgrounds, available via PowerSports GrafX at ridepg.com. A $22.95 pink front number plate background will result in a $5 donation, and a full set of front and side backgrounds retails for $69.95, and includes a $10 donation. Ridepg.com will also sell exclusive GNCC breast cancer awareness race stickers for a minimum $2 donation. Pink wrist bands will also be sold at the track for a $1 donation. Donations will go to the Susan G Komen Breast Cancer Foundation in Indianapolis and the FAITH Alliance.

The race facility will be adorned in pink, including a special pink podium backdrop, which will be autographed by each podium finisher during the weekend and then auctioned off on eBay. In addition, pink-themed trophies, awards, t-shirts and plaques will ensure a memorable scene. The famous pumpkins lining the Ironman entrance gate will even be painted pink.

The GNCC Racing family always steps up for a good cause, and racers and spectators can get in on the fun by bringing and wearing pink clothes, riding gear, graphics and decorations. Combine the pink theme with the traditional Ironman fun—a superb cross country race track, great fall weather, and championship battles, and the weekend has the potential to be the biggest in Ironman GNCC history. For more information, log on to www.gnccracing.com


About GNCC Racing
The Can-Am Grand National Cross Country Series is America's premier off-road racing series. Founded in 1979, the 13-round championship is produced exclusively by Racer Productions. Cross country racing is one of the most physically demanding sports in the world. The grueling three-hour GNCC races lead as many as 1,800 riders through tracks ranging in length from eight to 12 miles, competing for more than $3 million in prizes. With varied terrain, including hills, woods, mud, dirt, rocks and motocross sections, GNCC events are tests of both survival and speed. GNCC Television airs on Versus, now back on DirecTV, every Sunday and Tuesday. For more information, please visit www.gnccracing.com.