World Champion Production Line - KTM & Red Bull
Red Bulletin is the monthly lifestyle magazine from Red Bull. for more information about the magazine and to find out where to get your copy, check out www.redbulletin.com

It's not easy strutting through the KTM factory buildings after Heinz Kinigadner. This tall man from the Tyrol strides along briskly. He knows all the ins and outs of the assembly line, the manufacturing bays and test benches. 'Kini' has a slightly stiff gait but his arms dangle from the sleeves of his checked shirt as if he were some Wild West sheriff. But Kini carries no Colt, and those stiff hips are a throwback to his former life as a motocross and rally-raid racer. Heinz Kinigadner was twice Motocross World Champion, in 1984 and 1985, and later proved one of the best and most fearless racers in endurance epics such as the Paris-Dakar rally. The miles covered and falls taken have exacted their price on his body, yet Kini is proud never to have taken the easy option: "You've got to be ready to put up with a bit of blood in motocross."

Another challenge of our tour, apart from Kini's pace, is that people constantly come to talk to him. A quick "hello" here, a barbed sentence or two there, the odd handshake. You're wandering around with someone who's appreciated by everybody and without whom none of this would work. But Kinigadner doesn't have an official title at KTM. Nor does he have one of the chip-cards that all other KTM employees need to walk through the turnstiles at the entrance to the factory in the small Austrian town of Mattighofen. He is, nevertheless, the undisputed right-hand man of CEO Stefan Pierer.

Pierer attracted Kini to the then near-bankrupt KTM almost 20 years ago, at the same time bringing in financial syndicate Cross Industries AG to help fix their finances, thus starting KTM's ascent to the top of the motocross world...

Win on Sunday, sell on Monday: KTM's mantra is to humble its opponents in off-road competitions right from the outset, and that includes Japan's two-wheeled giants. The first Six Days factory team came about as early as 1964 when the company was still being run by the founding Trunkenpolz family (the 'T' in KTM). In 1973 they won their first Motocross World Championship title, thanks to Gennady Moiseev of the USSR. By the end of 2009 they had won 173 motocross and Enduro titles; by the end of this year they'll add another 15 or 16. Following bankruptcy and instability triggered by management with little interest in motorsport, the motorbike division of KTM Sportmotorcycle

GmbH was set up in 1992 under Pierer's leadership. KTM became a public limited company in 1994, manufacturing scramblers and road bikes under the motto "Ready to Race" (producing about 66,000 units in the 2009/2010 financial year).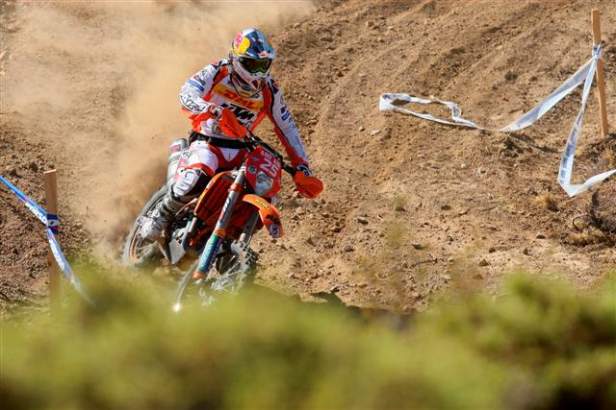 The company is now called KTM Power Sports AG and even if Pierer has never been a top sportsman, his philosophy is to live and breathe competition every day. He can pack in 48 hours-worth of work, if the job requires it.

Doesn't the knowledge that KTM would be dead if it weren't for its sporting success (60 per cent of sales are racing models) make work seem like a relentless pursuit as part of the rat race?

Pierer agrees, but adds that the rat race is good training. And the results back him up: in the competitive Enduro area, KTM are world market leaders with more than 50 per cent market share. They're not quite there yet in motocross, but with the new 350 they've practically reinvented the sport. Their Japanese competitors still dominate the overall market, but as a premium brand, KTM makes more per unit. For Pierer, nothing beats beating the Japanese.

He has already laid the groundwork for KTM's future so that their sporting ventures will have a solid foundation to build on. Cross Industries AG, which has a controlling stake in KTM, has focused its other investments on the automotive industry – companies such as Pankl, the specialists for the inner components of racing engines. Formula One would have to shut its doors were it not for Pankl and as KTM engines are now technically just smaller F1 motors, its closeness to Pankl gives an invaluable competitive edge.

Meanwhile the Freeride, based on a motocross 125 model, will herald the start of electric motocross bike production next spring. It's intended as a "feel-good recreational vehicle" for areas whose wintersports infrastructure goes unused in summer – ski resorts in other words. "A lift valley station is an ideal charging point," Pierer confirms. Alternative power with a sporting touch. Very KTM.

A partnership with Indian bike giant Bajaj (2.5 million motorbikes are manufactured each year) is the starting point for a further image and technological overhaul. Having had to withdraw from road racing in 2008 due to the global economic crisis, KTM would like to move back into the Moto3 category in 2012. Moto3 uses 250cc, single-cylinder, four-stroke engines – home from home for KTM, which wants to become the driving force behind a fully faired Bajaj motorbike.

Then there's the Dakar Rally, in South America in January 2011. It could be just the shot in the arm KTM needs; a 10th successive victory would be pretty good PR for its soon-to-be-established Brazilian subsidiary. (Brazil's bike market is one and a half times the size of Europe's at 1.4 million units per year.)

KTM's director of sport, Pit Beirer, is an important bridgehead towards sporting success. The German former world-class motocrosser started at KTM in 2003, "on the sidelines," as he puts it. He is paraplegic and has been confined to a wheelchair ever since a racing accident in 2002. Beirer was robust in his criticism of some of KTM's ways from the outset. Such as the engineers' arrogance in failing to listen to the riders when they complained of shortcomings. In 2004, Beirer took charge of Sports Management and with Kinigadner's help was able to set up new structures. Beirer's opening gambit was taking on Belgium's former World Champion Stefan Everts as off-road racing director.

A former Yamaha man, Everts had been cast aside after retiring in 2006 having won his fifth title for Yamaha (he won 10 in all). One handshake later and Everts – a good friend of Beirer's – was on board, bringing with him a wealth of money-can't-buy experience.

Beirer's latest catch is Roger De Coster. The 66-year-old Belgian was a five-times motocross champion before moving to the USA where he headed the Honda and Suzuki teams. De Coster also successfully guided the US team through the Motocross of Nations, the unofficial team World Championship. Under his guidance, the USA has won the event 20 times out of 29 since 1981. Like Everts, De Coster was also unhappy with his former employers for refusing to guarantee long-term prospects. Beirer won De Coster over by promising to provide the perfect conditions for the development of a KTM team in the USA. Beirer explains, "You don't get people like Roger with money. You get them by providing the ideal environment." With De Coster's help, KTM would like to gain a foothold in AMA Supercross, the US's popular indoor series. Beirer continues, "With the narrow circuits, jumps, special surface and sprint distances, indoor races demand a particular strategy. Roger knows all the tricks."

While other manufacturers rely on five-year plans, KTM invests in the short- term. And it only takes two years for an idea to become a successful motorbike. That was the time-scale with the 350, with which Antonio Cairoli won KTM's first MX1 – the premier league of the MX World Championship – in 2010. (Ideally a prototype should be ready for its first tests within two months.) The first framework for the Italian's 350 was conceived inside the head of Swiss amateur crosser Michael Achleitner. No design drawing. No computers. Which brings us on nicely to KTM's next plus point: several current or former sportsmen work in the research and development department, which increases efficiency immensely.

Then there's having the courage to take an unorthodox approach, which Pierer always encourages in his colleagues. For instance, Kinigadner and his team had known for some time that the lap times for the MX2 (a maximum of 250cc and 40bhp) were often better than those for the more powerful MX1 (a maximum of 450cc and 65bhp). Less power meant fewer disruptive load changes and better driveability, "because physically it makes quite a difference if you haven't got a traction engine constantly on the go underneath you", as Kinigadner puts it. So they pursued the idea of reducing the MX2 by 100cc and 10bhp and testing it against a 350. The project started in April 2007, just after Stefan Everts, who had always been the best driver technically in his day and always took the cleanest cornering lines, had joined KTM. He was the perfect test driver for the 350 venture.
The result of this voluntary loss of power was a World Championship title for Cairoli. And a conceptual head-start which the competition will only be able to rival in two years' time as the crisis in the bike market has also worn away at the development budgets of the big four: Honda, Yamaha, Suzuki and Kawasaki.

The icing on KTM's development cake is entering prototypes in national championships and long-term tests on World Championship-style circuits in Spain, Holland, Belgium, Italy and Sardinia. Bernhard Plazotta, the man in charge of the chassis, initiates little expeditions for the occasions with mobile garages where the chassis can be reconstructed with welding equipment, if need be. Such efforts and the quality they produce place KTM in a favourable position; whereas in the past you had to attract stars to your factory team with a lot of money, they now come of their own accord and beg for a test-drive.

KTM also has a sophisticated scouting system. Jointly responsible for that is Stefan Everts' father Harry, another former five-time World Champion and owner of a motocross school in Spain. This year also saw the start of a new talent scheme, the Champions Academy. The best youths (aged up to 14) will secure a place on a World Championship team.

The motorbikes are also subject to the scrutiny of their designer Gerald Kiska. He entered a KTM design competition over 20 years ago because as a fan – "I had a KTM bicycle when I was a child" – he felt that the brand had little to offer beyond the sexiness of its performance. "If they don't do something, they'll never get anywhere." He won the competition but his design was never brought to life.

The basic tenet of Kiska's designs is to lay bare the company's roots, "...and KTM has a thorny old history." And to bring the brand motto to life. "Ready to race, that's what our products should unapologetically embody." Kiska is right, that KTM's motorbikes have an aggressive look about them. "They're competitive machines. And KTM is a tiny player in a huge world market. No one will ever pay us any attention if we don't stand out from the crowd."
One of the most important design decisions Kiska ever made was choosing orange as their corporate colour. The unpopular hue was hardly used in the mid-1990s, so KTM has stood out ever since. Will orange age well? Kiska replies, "Does red get old? Ferrari are happy to be red every day. I embrace orange as our corporate colour."

Kiska involves the racers in the design process. The guys come to try things out, up to 10 times sometimes, and then they complain down to the last millimetre. They don't really care about the shape. All they care about is how functional it is. Kiska says that only rarely is he praised. For example, Stefan Everts once said with astonishment, "And it looks good, too." Kiska continues, "For some reason, he seems to have been surprised."

Discover Simple, Private Sharing at
Drop.io