Red Bull X-Fighters Rome Results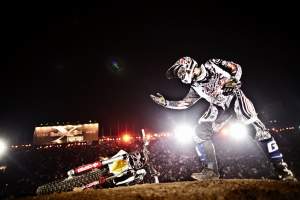 ROME - The Stadio Flaminio hosted the 1960 Olympic soccer final, in which Yugoslavia defeated Denmark for the gold. Some 50 years later, the venue hosted the final stop of the world's premiere freestyle motocross series, with a Spaniard winning the event and an American claiming the overall series title. At the grand finale of the Red Bull X-Fighters World Tour 2010 it was Spain's Dany Torres who sailed to victory in front of a capacity crowd of 20,000, defeating American Adam Jones in a thrilling final. In the overall series standings, American Nate Adams managed to secure back-to-back titles in the world's most respected freestyle motocross tour with a strong third place finish in the Eternal City.

"I love Italy!" screamed an ecstatic Torres into the microphone after impressing both judges and crowd alike with his huge bag of tricks in the final round. Jones, his opponent, was forced to admit that the Spaniard had deserved the win in Rome: "Dany didn't make a single mistake. I messed up in the final round. He deserved the victory here tonight."

In a city which has witnessed more than its fair share of legendary gladiatorial battles, the duel for the overall Red Bull X-Fighters World Tour title could barely have been closer going into the final stop of the season. At the end it was Adams who emerged victorious by the smallest of margins – just five points – from the head-to-head showdown with Andrè Villa of Norway. The victory means that Adams successfully defend his title, while Villa, who finished on the podium at the first four of the six stops in 2010, was left to rue chances missed in the season.

The Red Bull X-Fighters World Tour 2010 took the world's best freestyle motocross riders to spectacular locations across three continents, where they were cheered on live by a total of 169,000 fans. The riders competed in the world's largest bullfighting arena in Mexico City; in front of the Great Sphinx of Giza; on Moscow's Red Square, in Madrid's famous bullfighting ring; in front of the Battersea Power Station in London; and at the season finale in Rome's Stadio Flaminio. They completed a total of 770 jumps – including 524 flips – and combined, flew more than 55,000 feet in the process.

The 2011 Red Bull X-Fighters series promises to bring more high-flying FMX action to incredible locations around the world.

Final Standings, Red Bull X-Fighters World Tour 2010
1. Nate Adams (USA/370 points)
2. Andrè Villa (NOR/365 points)
3. Dany Torres (ESP/310 points)
4. Levi Sherwood (NZL/290 points)
5. Adam Jones (USA/290 points)
6. Robbie Maddison (AUS)
7. Mat Rebeaud (SUI)
8. Eigo Sato (JPN)

Red Bull X-Fighters World Final Rome 2010
1. Dany Torres (ESP)
2. Adam Jones (USA)
3. Nate Adams (USA)
4. Andrè Villa (NOR)
5. Mat Rebeaud (SUI)
6. Rémi Bizouard (FRA)