Where Are They Now? Rick Ryan
Welcome to another edition of Where Are They Now, presented by Bob's Cycle Supply.

In 1987, San Jose, California's Rick Ryan accomplished the unthinkable, winning a supercross main event as a true privateer. Making this historic first even more impressive, he managed to do it on the notoriously demanding Daytona Supercross circuit. To this day, no privateer has matched Ryan's accomplishment.

Despite his upset win, Ryan was unable to get a factory job for 1988, and he went on to make a career as a journeyman racer, chasing contingency and start money all over the world before disappearing from the sport in the 1990s.

A few years back, there was a report that he had suffered a heart attack, but follow-up information was scarce and Ryan remained something of a mystery. We ran into him by chance on a Tuesday afternoon while he was riding with his son at a local motocross track in San Jose, California.

Racer X: Rick, where have you been, and what are you doing out here?
Rick Ryan: Well, my 7-year-old son Jeremy got the bug to race, so here we are, just getting some seat time. He got his first bike for Christmas last winter and pretty much wants to ride every day of the week.

I had heard rumors that you showed up out of the blue last winter on an old RM250 - wearing grey sweatpants - and went out and pretty much smoked all the local guys.
Yeah, I hadn't been on or near bike in around eleven years. Around the same time I got the bike for my kids, I thought I would try it out again. A friend had that old RM laying around his garage and I just kinda borrowed it for the day. It all came back real quick, and I was able to clear all the jumps by the third lap. I went out and got my own bike and just got back into it. I raced that one-off MX event at Infineon back in May and had some fun, along with Rodney Smith. I was thinking that I might try to get myself in shape and race a few of those Endurocross events, but then I crashed and broke a few bones.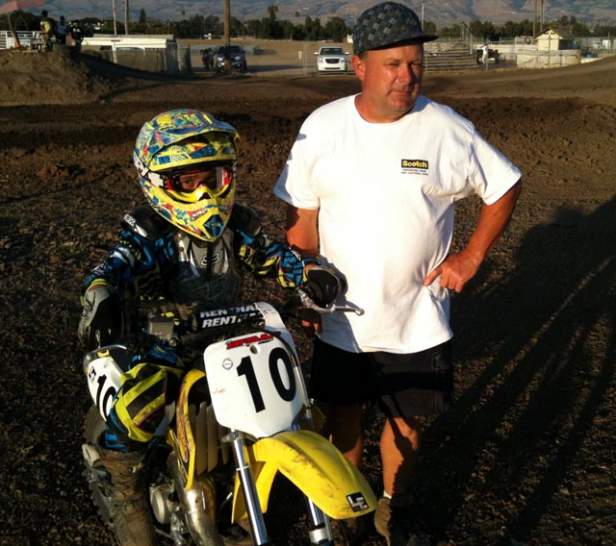 Rick Ryan with his son Jeremy at 408MX in San Jose, CA. Jeremy chose #10 as a tribute to his dad's lowest national number, which was earned for the 1988 AMA season.
photo: Nick McCabe


I had heard it was worse than that.
Well, it wasn't good. I broke three vertebrae, three ribs, and my sternum. I'm still healing up and plan to ride again, but not for a while yet.

The story of your privateer Daytona win has been pretty well documented in the past, but was that the proudest moment of your career?
No—winning the first 125cc outdoor moto at Gainesville the week before was. I had trained my butt off all winter and worked so hard for the 1987 125cc nationals and really wanted to win 'em. My goal was to go and dominate that first moto, and I did. I told my mechanic on the starting line that I was the fastest guy there and no one there could beat me. My proudest moment was maybe two or three laps from the end when my mechanic put out the pit board that read "P1, +55 seconds."
If my memory is correct, you actually hurt your knee while leading that race, right?
Yes. I was lapping a guy towards the end and I tweaked my knee bad. It actually really messed me up for the second moto, and also for the supercross the following week. Coming into the supercross, my knee was jacked and I was pretty much just planning to go and ride around, but things went my way and I won.

How much money did you make for that Daytona win?
Between the purse, contingencies, and my sponsors' bonuses, I think it was a little over $70,000.

That's pretty good money for that era!
Back then, Daytona was a real big deal. The race was shown on live TV in Japan and a few other countries, and a lot of companies like Honda used to put a big focus on it.

You had some other close calls where you almost won a race, but something always seemed to go wrong.
Yea, that's for sure. In 1986, I had the 125 overall at Lake Sugartree in the bag. With three laps to go, my air filter fell off. The bike managed to run for another lap or so, but it quit before the checkered flag and I scored a DNF. Also, that same year at the Japanese Supercross, I was on a works bike and was leading but came together with [David] Bailey and bent the shift lever. That sucked, and the bike was stuck in third gear, and I finished fourth.

Looking back, what was the your biggest regret?
I gave up after 1987 when I was 21 years old and I couldn't get better bikes. Basically, I had spent the time from 1983-1987 stuck right around fifth place in the AMA races. I always seemed to finish between fourth to sixth and felt that I needed better bikes to make that next step and win. When I couldn't get good bikes after 1987, I pretty much threw in the towel and just bounced around in search of money races. I went to Europe for a few years, until 1992 or so. I could make $6,000 or $7,000 a weekend riding some big international race. Seemed like every week it was a different bike and different team - I didn't train or practice and just collected a paycheck.

You raced for a while after that, though, right?
I raced until around early 1997 and until my wife was pregnant. I turned pro in 1982, so it was a pretty good run. After the international races stopped paying in the early '90s, I came back and just chased contingency. I was actually making some really good money doing that, racing all sorts of events every weekend - CMC, Trans Cal, GFI, the Spring Classic, some series in Idaho, and even the Pac-West events. I would show up at a local race and sign up for as many classes that paid both money and contingency and was able to make a couple hundred grand a year for a while. But then I hung it up until this winter when my son wanted to ride.

So what what's your story now?
Well, I live in Saratoga [California] now with my wife, Cindy. We have two kids, Jeremy and James. Basically, I own my own concrete pumping business and work for myself. Its called RC Concrete Pumping. It's hard work, but not as tough as racin' motocross. My older son James rides a little bit, but he's really into fishing, while Jeremy seems to be the rider. I don't push them at all, and actually prefer to let them do other things, but Jeremy, all he wants to do now is ride pretty much every day. He has only been riding for eight months or whatever, and it really impresses me how good he's become. He's already going through bikes pretty quick.

A few years back, there was a report that you had a heart attack. What was that all about?
Well, it wasn't a heart attack, but I did have quadruple bypass surgery in 2007. It's all fine now, though.

What do you think about the racing at the top level today? Do you still follow it?
Well, it's not that much different, in that there's still one guy kinda dominating at a given time. But I do recall, back in 1987, we had, like, twelve different winners in the 125 [outdoor] class. I don't think that today there are twelve guys on the line that could win a moto, so the level of competition was really strong. Also, today it seems like getting good equipment is a little easier. There's a pretty clear path for the big amateur riders, and they can pick from a number of good teams once they move up. In the 1980s, good bikes and good rides were scarce, no matter how you did.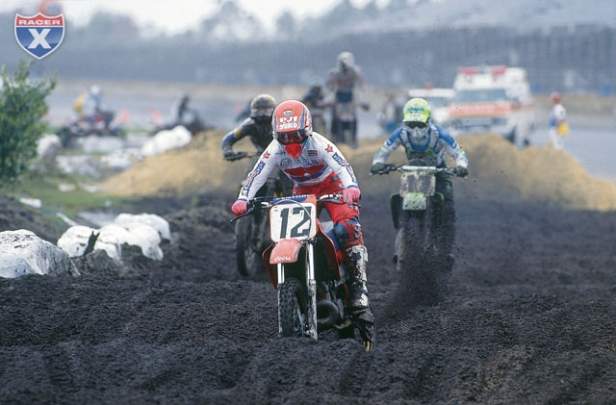 Ryan leading at Daytona.
photo: Courtesy Moto Verte