Welcome to Redux presented by Renthal.
First, a disclaimer: I didn't go to the Red Bull Motocross of Nations in Colorado over the weekend. Yup. Perhaps I'm not a patriot. Maybe my colors actually run. Suppose, there's a chance, that I don't bleed red, white and blue, but only one of the three.
Or, I actually couldn't justify the trip this year, because I didn't have any actual working gigs—no U.S. TV so no one needed me to announce—so, if I wanted to go, I would have had to spend my own money to go. And I would have LOVED to do that, for real – it's des Nations and I wanted to go, bad. But, with a newborn at home, I can't really justify spending money to go watch a race and party. And in the old days (like Budds 2007), I would have just brought the wife and we would have enjoyed the good times together, but the after-party doesn't really work with a three-month old in tow. Hire a babysitter and leave the little one at home? Well, let's just say she likes boobies more than any of you boys lusting after the Red Bull/Monster/Rockstar girls. Wherever mom goes, she goes.
So, that's it. I didn't go. I'll only have an infant at home once (or twice, I guess, more likely) when MXdN comes around, and one of those years happened to be when the race took place in the U.S. I would not rule out going to France next year.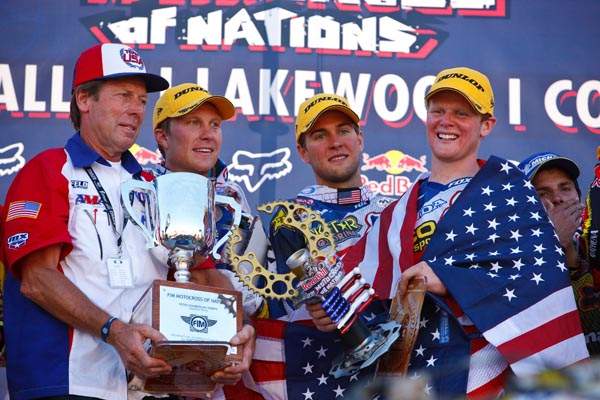 I saw this on the web.
Cudby photo
But I still bring you ReduX, with information courtesy of the same Freecaster web show you probably watched on Sunday, as well as lots of conversations with people who were there. Basically, this week I'm just like all the NFL studio guys who just watch the games on TV and then tell you what they think.
So, this year will go down in history as the day Team USA won again, on home turf, again, but it was, as it always is, much deeper than that. The cool thing about the Motocross of Nations is the bench racing can go on much further, because there are more scenarios and ramifications when you throw the team concept into a motocross race. On a normal weekend, one dude is the fastest, strongest, best, and/or luckiest, and he wins. Here, it takes three dudes to be fast, lucky, strong, and/or good, to win, and at least one guy of three on another team not to be.
In fairness, this year the deck was really stacked up against anyone else but Team USA. As previewed last week in PReduX, no other team could truly feel that all three of their riders could compete for the win in each class. Dungey, Short and Canard, though, could potentially sweep all three. And that was the difference this year—some other teams brought two good guys to the game, but no one could produce three, so Team USA looked like a lock unless something horrible happened.
But that almost happened! In moto two, Ben Townley took Short down early and Short got up really slow, and the whole hydraulic clutch assembly was ripped from his bike. The door was open for someone else. What if he couldn't get the bike into neutral and start it? What if he was hurt? What if he couldn't go in moto three?
In the end, Shorty rode amazingly well to go from 25th to 13th without a clutch—and surely in pain. Honda switched to the backup bike in moto three, and he was fine.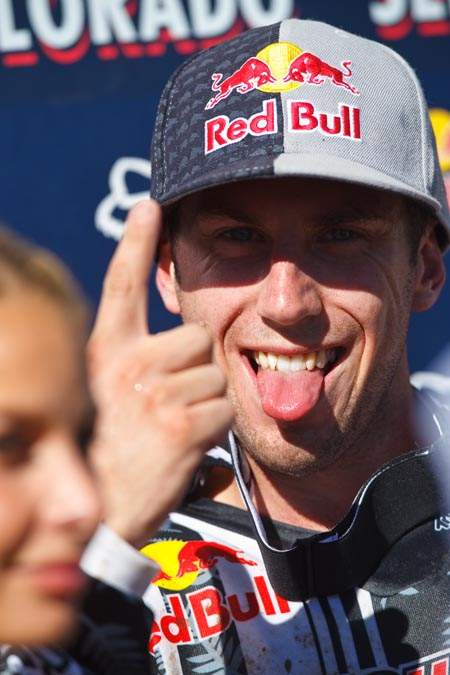 Is Townley the new smiling assasin?
Cudby photo
The worst-case scenarios, for some reason, hardly ever take place for the U.S. Last year, Italy's hopes went down the drain with a Tony Cairoli first-turn crash, which left his bike unrideable. This year, Germany led the points heading into the final moto, but Max Nagl went down and out with a hip injury in the third moto. To find a moto where a Team USA rider crashed out of a race and could not finish, either due to mechanical problems or injury, you have to go all the way back to 1999, when Ricky Carmichael crashed his KX125 in Brazil and broke the throttle housing. That's 11 years.
This year, Germany was the upset special, the underdog, and the team with the best shot at the win. They didn't have three top names, as Ken Roczen and Nagl are certainly strong, but MX3 entrant Marcus Schiffer has struggled all year with some injuries. They did have two other things going for them: First, the Short crash; second, their best rider, Roczen, was on the 250, which, as I also mentioned last week, is the class where one guy can do the most damage.
Here's the math: Every rider at the event is scored via their overall finish, so when Trey Canard got 12th in moto one, he was given 12 points, not three for being the third-best MX2 guy. Roczen won the class, but got sixth in the moto, meaning Germany made up six whole points on Team USA right there. If your 250 guy can put in a miracle ride and beat a bunch of 450s, he will shove a lot of extra points between himself and the other teams. And that's exactly what Roczen did in moto two. Canard, like everyone else on a 250, got killed on the uphill-at-altitude start. But somehow Roczen got a top-five start and started passing dudes immediately, going around Clement Desalle, Townley and Short, and taking the lead!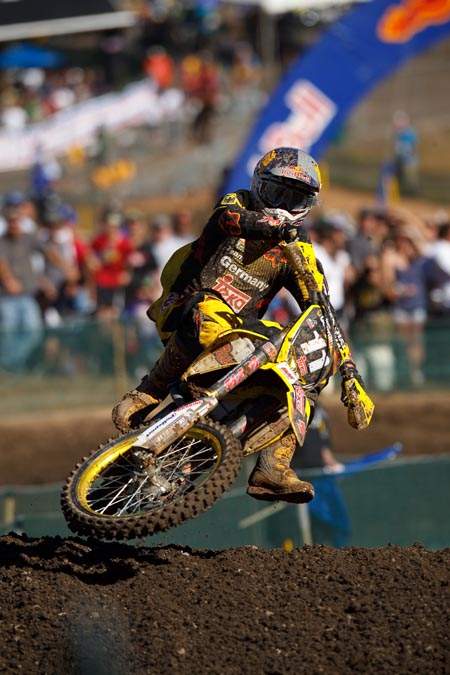 This is Ken Roczen, not Justin Barcia.
Cudby photo
The small bikes versus big bikes battles have produced some of the most miraculous rides in MXdN history. From Johnny O'Mara's second overall in both motos in 1986, to Paul Malin riding the race of his life to end Team USA's win streak in 1994, to Sebastien Tortelli announcing his arrival on the scene with a 125 win in 1995, to Steve Lamson winning a moto overall on a 125 in 1996, to Antonio Cairoli's win in the MX2/MX3 moto in England in 2006 on a YZ250F, to Ryan Villopoto's amazing double-moto overall sweep at Budds Creek, this is how names are made. Roczen made himself a name in the U.S. when he stole the lead from the 450s.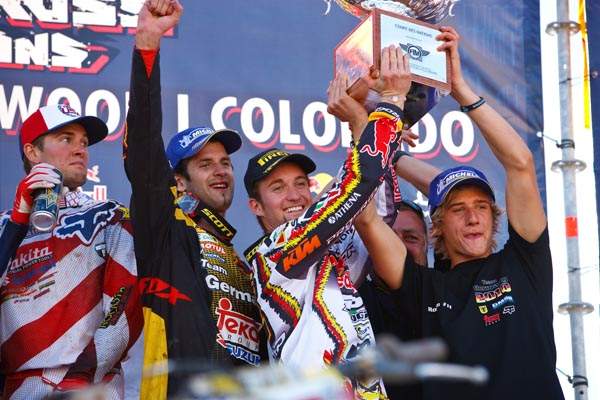 Again the guy on the right is Roczen, not Barcia.
Cudby photo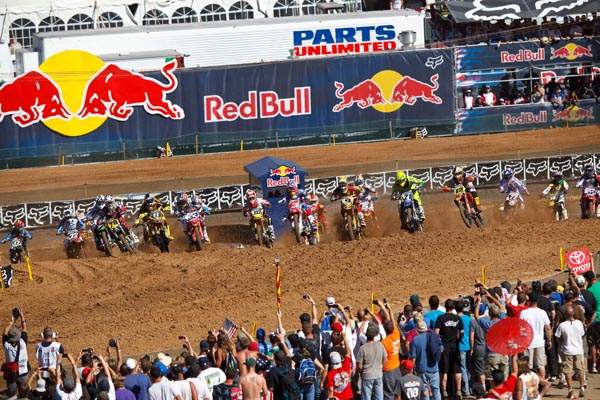 Check out Roczen (11) pulling right alongside Townley and the other 450s. Canard's way on the inside (and nowhere to be found).
Cudby photo
Meanwhile, Canard, Dean Wilson and the rest of the fast MX2 pilots were riding well, but they were riding as more mortals on 250s—they got bad starts on their small bikes, and they were working really hard to come through the pack. Worse yet, Marvin "The Martian" Musquin, who beat Roczen for the MX2 title this year, barely got any laps completed in either moto due to fuel-pump issues.
So, Roczen was on fire. Then came the "Townley/Short Incident." From the shot I saw on the Webcast, and from what I heard from people who saw it, and from some of the photos I saw, it was an ugly move by BT. But why? There's no bad history at all between Shorty and BT. But there was Short, on the ground, his clutch lever gone and Team USA's chances nearly gone with it.
I tried to call BT today, but he's actually heading back to New Zealand to get his passport renewed. But if that Short hit had cost Team USA the win, he might have never been allowed back over here!
Anyway, as hard as the hit was, I just can't see Townley doing it as a deliberate takeout. I think he expected to make an aggressive pass and maybe make some contact, but there was a bump on the inside line that maybe threw him wider than he expected, and he hit Shorty even harder than he wanted. Yes, I'm just making up answers for the guy, but seriously, there's no bad blood between Short and Townley. And BT knew that even if Shorty was out for the day, New Zealand wasn't going to win the event—his teammates Josh Coppins and Brad Groombridge went 11-29 in moto one. So, I really don't think Ben went in there to purposely end Short's moto or day. I think he just wanted to make an aggressive pas and it turned into a really, really aggressive pass. What would have been his motivation to do otherwise? I bet you could put Townley on a lie detector test, and he could say in complete honestly that he feels he could beat Short for that moto win without taking him down. So I just don't see him doing this on purpose.
Beyond that, Townley was actually quite calculated in the moto. Seems like he just decided to let des Wunderkind ride his tail off and tire a bit, knowing he had just raced the moto previous, then Ben rolled back up on him and took over the lead. Then Kyle Regal got by Roczen as well. Regal may be, um, Puerto Rican, but he was potentially saving the day for Team USA by stealing a point from Roczen and Germany.
Anyway, Roczen's ride was amazing, and combined with the solid fifth from Nagl in that race, and Germany was on top! Meanwhile, Short recovered pretty impressively for 13th, and Canard took seventh. Yeah, so that means Trey went 12-7 on the day. Sounds bad, but realistically that was 3-3 out of the MX2 riders. And in the first moto, he was down on the ground with Zach Osborne, so he came from way back. In the second moto, he was fighting super hard coming through the pack, and hooked up with Aussie Jay Marmont. It sure wasn't easy passing Marmont's 450 on a 250, especially in the hills and altitude. Trey rode really well, but watching him battle Marmont for seventh showed just how impressive it was for Roczen to battle Townley and Short for the lead.
Last week, I said a team like Germany could only win with this strategy: Hope their two main guys had awesome motos, and try to get just one decent performance from their third man. The plan was working heading into moto three, but Schiffer was going to have to come through with a top-ten. And then, like it did for Italy last year, it quickly went to hell. Nagl was down hard early – he crashed out – and with Schiffer only able to deliver a 16th, that was it for their chances. But still, a good run for Germany. I really don't remember they last time they were even in contention, and Roczen really made a name for himself over here.
Belgium was in the hunt, too; they were just a few points back heading into moto three. But Shorty erased any fears by pulling the holeshot in the final moto. For Short, that was two holeshots in two motos (three, if you count the Saturday MX3 qualifier), and both times he had given the other Team USA guy the better gate pick! His starts really saved us—if he had started mid-pack in moto three, it could have been time to get nervous and start counting the Belgian's positions and points. But with he and Dungey out 1-2 early, and Nagl out altogether, this one was over and the pressure went away.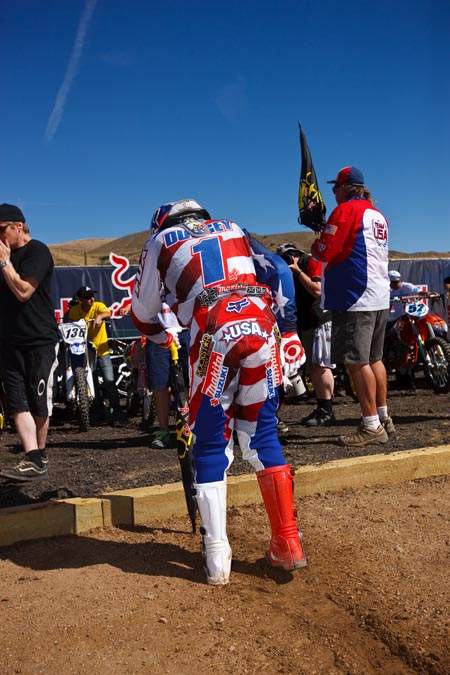 Can't get the cool custon Team USA gear? Just buy a set of white and red boots and then run one of each like the Dunge.
Cudby photo
Nicely done for Belgium; all three of their riders did the best they could, and Germany hung on for a podium.
France and Italy had tough days, but Italy's chances were pretty much shot once David Philippaerts went out with a knee injury two weeks ago. And France lost Chris Pourcel (man, how great would it have been to see him on a 450?), and then Musquin was out of both motos with bike problems.
Ah, but Italy did have Super Tony Cairoli! And he was indeed super early in the first moto. For a few laps, he was quicker than Dungey, he was catching Dungey, and he nearly passed Dungey. He was working an inside line to make his passes, but he couldn't jump the big quad jump after the turn from the inside – at least not on a 350. He cased it a bunch, then tried to huck it one more time to pass Dungey, cased it, and that was the end of the charge. After the race, Cairoli said he hurt his ankle, and the KTM press release later says he hurt his wrist and his back. Either way, he couldn't maintain Dungey's pace after that hit. I'm sure he was hurting, but I think the altitude and pace took a lot out of the visiting teams. In the GPs, Cairoli is known for handling dudes in the last 10 minutes of the motos, but I really don't think anyone in the motocross world right now is in better cardio shape than The Dunge. You gonna argue that?
And so Dungey goes out and wins both of his motos overall. He dominated. He killed it. He's the man. But darn it, here I am writing that Cairoli was catching Dungey a paragraph before I give Dunge credit for winning everything. Not sure what it is that leaves us never quite giving Dungey all the credit he deserves. I mean, he saved the team. I remember going to Unadilla's MXdN (before I had a kid) and seeing Jeff Ward and Bob Hannah have their problems in the first moto. But I was like, "Yeah, just wait until we unleash RJ on those guys." And Ricky Johnson crushed everyone! That's what I remember from that event. Why am I starting this talking about Germany, Ken Roczen, Townley, Short and Cairoli?
The Dunge just doesn't get the credit. Maybe it will take us a few years to realize just how good he is. Maybe it's because he doesn't ride all out of control, and doesn't talk trash. I don't know, but he won both motos at the biggest motocross race in the world, after clinching the AMA SX and MX titles, all in the same year. That's about as good as it gets. All hail.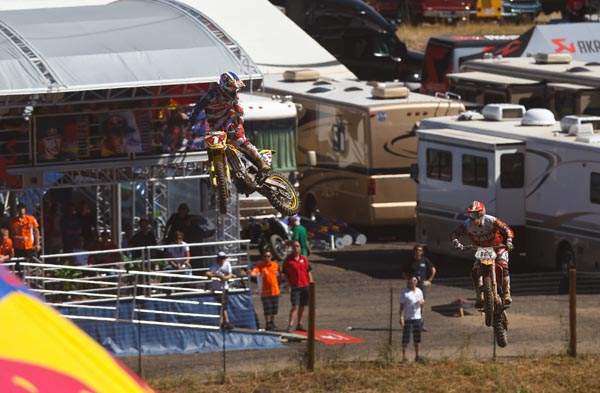 For a few laps, it was on.
Cudby photo
Roczen's performance netted him the Ricky Carmichael Award, which goes to the youngest rider competing in the event. Roczen is just 16. But I don't understand why the RC Award goes to the youngest rider. It's not like Carmichael holds some record as the youngest MXdN competitor ever. And somehow this RC Award isn't the only one that doesn't make sense, as the other RC Award – the RC Hard Charger Award – is handed out in the AMA Nationals to the rider who passed the most people during the moto. Didn't RC usually just get good starts and win? I'd say if you're handing out an RC Award, just give it to the guy who wins, because that's what Ricky did the most.
Kind of like this Dungey guy.