5 Minutes with... Josh Coppins
New Zealand's Josh Coppins may have just ridden the last Motocross of Nations in his career, and the team was in the running for a top spot until the final moto, when teammate Ben Townley crashed out of second place. We caught up with Coppins for a quick take on the race, his career, and his influence.
Racer X:
Team New Zealand was right up in the running there right up to the end, weren't you?
Josh Coppins: We were eighth... We were around fifth or sixth, but BT [
Ben Townley
], when he DNF'd...
You said in Friday's press conference that this might be your last ever Motocross of Nations, after doing 15 for New Zealand, right?
I hope it is, because I hope that it's time for someone else [from New Zealand] to step it up. I'm 34 next year, but you never know. I'm always here for my country, so if they need me, I'll come, for sure.
It's not like the U.S., where you have 300 million people to draw riders out of...
Exactly, but it's been a long season, so I'm happy it's come to an end. I started racing February 7th, so it's been long...
So, what are your plans back home? Are you racing?
Yeah, I'm going to race for Rockstar Yamaha in Australia and do a few races in Australia and New Zealand. I'm going to do about 12 in total, so it's much shorter than what I'm used to. Then, I'll just try to get back into the swing of life back in New Zealand.
So, you want to actually live a life as a New Zealander in New Zealand?
Yeah, which I haven't done for 15 years – so that's like half my life. I'm just going to go back with my family and try to do it and see how we go. I've still got a year of sort of racing under my belt to go.
At least, right? If you really like it, will you maybe keep racing?
Yeah, we'll see. Just take it step by step.
Ben Townley credits you for everything, just about. When he went to Europe, he said that you took him under your wing...
Yeah, yeah. Well, I don't know, it was just easy to do. Ben's a cool guy and when someone gives 100 percent, it's easy. I just gave him some advice and if I thought the deal was worth having I put his name forward and just did what a friend would do, really. I don't really see it like anything major; I just did what a friend would do. We've remained friends and we raced hard together in 2005 [in the MX1 World Championship], until he came to America. He was third in the Championship, I was second, and Stefan [Everts] won, but we went five GPs in a row winning; him, me, him, me...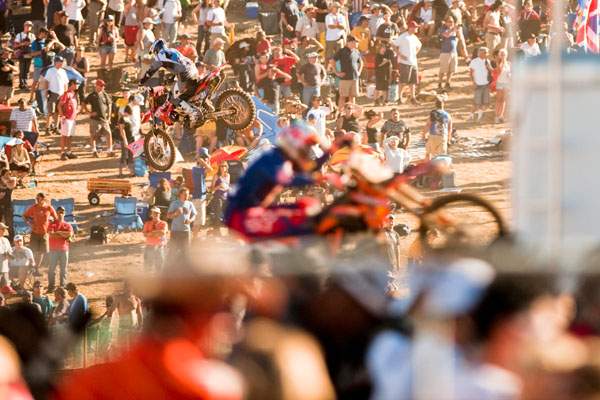 Josh Coppins (background, in case you missed him) may have raced his last MXoN for New Zealand this past weekend.
Photo: Steve Cox
Do you hold that over his head that you beat him in points? Do you tell him that all the time?
Nah, I don't bother because, dude, he's got more championships than me, so I don't argue that point. I just let him do his thing.
Now that you can reflect on your long career, to know that you didn't just have racing success, but that guys of a caliber like Ben Townley credit you with sort of making them happen in a way, that's kind of cool, isn't it?
Yeah, it's just a nice feeling because, at the end of the day, I love the sport. I just helped him like a friend and by the end of the day, I love the sport, so it was an easy thing to do and it's great that he's gone on to do so well. Like I said earlier, when someone works hard, it's easy. I'm not taking any credit, really. He did the work; I just pointed him in the right direction sometimes.
Well here's something I'm going to make you take credit for: Talking to anybody around here from the GPs, they all talk about you leaving as if they're losing a family member. What is that like for you?
Yeah, I've had a lot of friends obviously in the GPs, and also a lot of almost family, like you say. It's a nice feeling, you know? I think I raced hard, I worked hard, I won some races, and I did well, and I'm leaving with my head held high with a lot of respect, and that means the most to me. I think maybe later I'll think about all that, but right now I'm just sort of happy it's over and it's good because it means it's the right decision.
Yeah, you don't want to be regretting it...
Nah, I'm happy it's over and I'm happy I did this last year with Aprilia. It was a different job, but the last five GPs I finished top 10, and that was a goal. We came from five DNFs the first few races to top 10 five times, so I did my job, I feel. I'm happy I've had a good career. Of course, I didn't win the championship; that's probably the most disappointing part. I had the one so close and people ask me what was your best year, and I say that year because I won five GPs. I was on the podium every GP and I had a 107-point lead [before he was injured], and that's pretty dominant. I still say it's my best year even though it turned pear-shaped. I'm pretty happy with my career. I rode for some great teams and I had a lot of great people around me during that time. I think everywhere I went I gave 100 percent, and people respect me for that.
There's always talk about politics in racing, and you're a guy that obviously knows the ins and outs of everything, so have you thought about taking up that end of things after you're done racing?
Yeah, I'm a rider that rode with no promoter, I'm a rider that rode with Action Group, with Dorna, with YouthStream; with little prize money, with big prize money, with no prize money... So, I've seen a lot and I've done a lot, but that's not really my thing, I don't think. I'm not a political-type guy. I'm not BT. I'm a bit soft for that sort of stuff. Maybe training a rider, I like that and I think I could probably be better at that. Team Manager? I'm not so sure, because I'm a little bit soft for that. But we'll see. I'll just take it step-by-step, and first we're going to try and live in New Zealand for a bit, and if that doesn't work then we'll go back [to Europe] somewhere and maybe look at doing something like that.
Thanks for your time, Josh, and congrats on a great career.
Thanks a lot.