As Ryan Dungey so thoughtfully explained in the press tent following the press conference at the conclusion of the 2010 Red Bull Motocross of Nations in Lakewood, Colorado, it's one thing to go into this kind of an event as the underdog who no one thought would win, and it's quite another thing to go into a race on home soil that absolutely everyone expects you to win.
In the case of the 2009 running of the event in Italy, the team of Dungey, Jake Weimer and Ivan Tedesco was not widely expected to win. Now that we know they did win, it's hard to imagine why people would think that, but they definitely did at the time. In the 2010 running, though, the team featured the current 250cc and 450cc MX Champions in Trey Canard and Dungey, and Andrew Short, who was third (second American) in the 2010 450cc championship.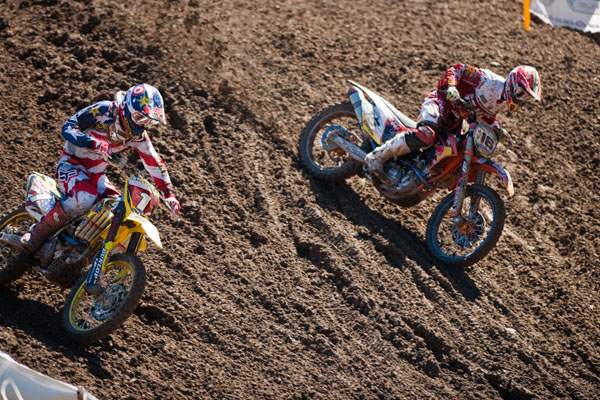 Ryan Dungey (1) and Antonio Cairoli (16) faced off in moto one. Dungey won.
Photo: Steve Cox
This team was not an underdog. It was a monster. And being the favorite adds a whole different level of pressure that Dungey simply didn't have on last year's team. If they lost last year, no big deal – they weren't supposed to win anyway. But to win was amazing. It's all upside. For this year's team to win, though, was expected, so to lose would have been horrible. It's all downside.
Ben Townley
of New Zealand.
Team USA did manage to qualify first, though, with two wins in the Saturday qualifiers by Canard and Short, while Dungey's result – a fourth place – was used as the throwaway result. Short won his qualifier after nailing a massive holeshot from the 13th gate pick.
On Sunday, Team USA had the first and 21st gate picks in each moto, and first up was the MX1/MX2 moto. Dungey conceded the first pick to Canard, as did most of the other teams (the MX1 racers giving their MX2 racers the inside gate).
It was Spain's Jonathan Barragan with the first-moto holeshot, but Dungey was quickly to second and pressuring the speedy Spaniard. However, Canard's day got off to a poor start when he went down in the first turn with fellow American (racing for Puerto Rico) Zach Osborne.
Canard and Osborne's bikes were stuck together momentarily, and they both got up and running as quickly as they could. Canard rounded the first lap in 27th place with a whole lot of 350s and 450s in front of him.
On lap two, Dungey made a move on Barragan for the lead, and it wasn't long before Cairoli – the winner of Saturday's MX1 qualifier – moved into second. Just as the fans prepared for the showdown between the world champ and the national champ, though, as Cairoli inched up on Dungey, he bobbled and Dungey was gifted a few seconds worth of a lead, which he held to the finish. Cairoli hung on for second over Australia's Brett Metcalfe, Barragan, France's Gautier Paulin, and then first MX2 finisher Roczen.
Behind Roczen came Belgium's Steve Ramon, and then the UK's Dean Wilson (second MX2 racer), Portugal's Rui Goncalves, Estonia's Tanel Leok, New Zealand's Josh Coppins, and then Canard (third MX2), who passed Belgium's MX2 racer Jeremy Van Horebeek late in the race, and actually caught Coppins at the end, but came up feet short.
France started out with a strong finish from Paulin, but MX2 world champ Musquin dropped out of the moto early on with mechanical problems. Although he had reportedly been running a carbureted KTM all season, for the altitude the KTM team switched to the EFI model, although it's unkown if this was the cause of Musquin's trouble.
Moto two was the MX2/MX3 moto, and Team USA's Andrew Short happily handed the first pick to Canard yet again. And just as he did in the MX3 qualifier on Saturday, Short nailed a big holeshot from the outside while Canard struggled in the middle of the pack. Musquin actually made gestures just before the gate was about to drop, indicating his bike still wasn't running correctly, and he dropped out after a couple of laps yet again, ruining France's chances at dethroning Team USA – or, for that matter, even getting on the podium.
But it wasn't long before Short found himself trying to fight off young German Ken Roczen on his RM-Z250. Roczen soon got by Short and began to stretch a lead out while Short tried to fight off Townley for second. However, early on in the race – on the second or third lap – Townley made a move to the inside of Short after the finish-line jump and the two collided. Short went down hard, ringing his bell and banging up his left side, along with breaking off his clutch lever. He got up slowly, but he did get up and get back into the race. He rounded the next lap in 25th, and over the course of the final 12 laps, Short managed to work his way forward to 13th place.
Meanwhile, up front, Townley began reeling Roczen in and then caught the young German on the fourth lap, eventually finding a way past and running away to take the moto win for New Zealand. As the laps winded down, Puerto Rico's Texan Kyle Regal caught Roczen, too, and made the pass with four laps to run. Regal ended up second in the moto over Roczen, Belgian Clement Desalle, German Max Nagl and Wilson.
Late in the moto, Canard had caught and passed Australia's MX3 racer Jay Marmont (whose name Tim Cotter pronounced "mary mount"), but then began to tire, allowing Marmont to catch him again. With two laps to go, Marmont tried to race Canard to an inside line, and Canard got there first, sending Marmont highsiding violently as he ran into Canard. Canard finished the race in eighth with a bent subframe from the contact. Marmont finished off with a DNF.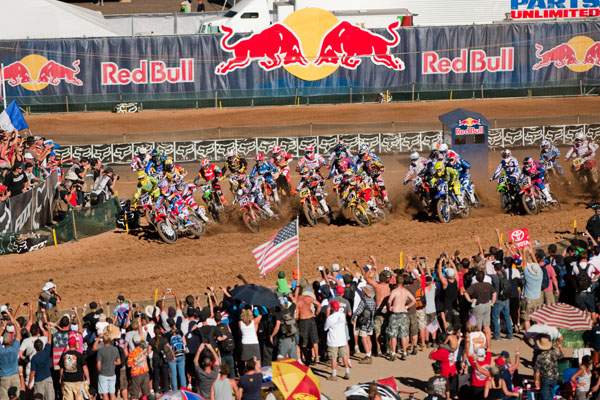 In the final moto, Andrew Short (3) pulled yet another holeshot, but had Dungey (1) right behind him. That sealed the deal.
Photo: Steve Cox
Going into the final, Team USA trailed Germany by five points, respectively. But with the throwaways added in (or subtracted...), Team USA actually trailed Germany by 6, as their worst finish (13th) was one spot better than Short's finish in moto two.
Townley actually made a push to get around Dungey early on the first lap, but Dungey held him at bay until Dungey began catching Short out front. Germany's Nagl went down on the first lap, putting him way back in the pack, and as he tried to push his way back forward, he went down hard and dropped out of the moto, credited with a 39th, which ruined Germany's chances at dethroning Team USA.
Short started to up his pace to hold off Dungey after a few laps, but he though it was possibly Puerto Rico's Regal. Eventually, though, Short looked back over a tabletop and saw his teammate, then quickly pulled over for his National-series rival to let him go run away with it – which Dungey promptly did.
Short then had his hands full with Townley again, and perhaps to avoid another costly takeout move, Short didn't seem to put up much of a fight. However, only a few laps later, Townley went down and began circulating the track slowly before dropping out and getting credited with 35th, ending New Zealand's run at the weekend podium.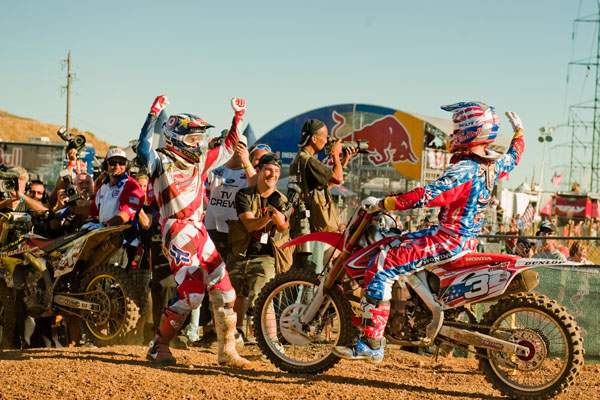 Ryan Dungey meets Andrew Short at the finish to celebrate their MXoN championship.
Photo: Steve Cox
With Townley out, it was left up to the two Americans out front to cruise to a 1-2 score in the final moto and secure yet another Motocross of Nations victory. At the end of the moto, Belgium's Desalle and Italy's Cairoli were gaining on Short, but ran out of time. They finished third and fourth, while Metcalfe hung on for fifth.
While the points bounced around all day, and many teams, including New Zealand and Australia, had podium finishes locked up before big crashes (like Townley's in the third moto and Marmont's in the second), in the end it was Team USA with a convincing victory over MXoN podium stalwart Belgium and the very strong German team in third.
Next year, the event returns to St. Jean D'Angely, France, where it was held in 2000.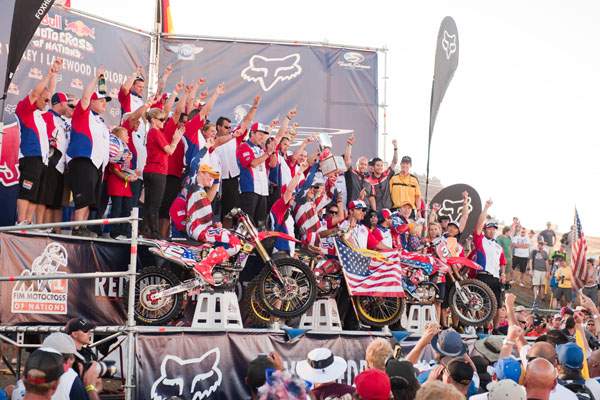 Team USA celebrates on the podium.
Photo: Steve Cox