Racer X Redux: MXoN Predux
Redux? Ha! Consider this week's column PRedux, because I'm writing about a race that's coming this weekend, the Red Bull FIM Motocross of Nations. Yes, this means I'm writing about GP riders and AMA MX riders. Land mines all over the place here.

As part of Motocross of Nations Week here on Racer X Online, ReduX has assembled a scouting report on Team USA's competition in Colorado. Yes, the American team is a favorite to win based on their current five-year Nations win streak, and the fact that they're racing on home soil. But despite all of Team USA's success—20 victories in its last 26 attempts—it doesn't prevent the team selection from sparking controversy each year. After all, last year's squad of Ryan Dungey, Jake Weimer and Ivan Tedesco was even dubbed the B Team after so many top Americans like Ryan Villopoto, James Stewart and Mike Alessi were unable to compete. Some message boarders proclaimed Team USA would be lucky to get on the podium.

This year's team is a little more proven, since the AMA Pro Motocross 450 and 250 Champions Ryan Dungey and Trey Canard are representing in the MX1 (450) and MX2 (250) classes. The MX3 pick, Andrew Short, drummed up some controversy, especially since Stewart made it clear he would race the event this year if he were selected.

Shorty's consistent, he gets good starts and he's more comfortable in Colorado than anyone. He's a solid pick, for sure. But judging Team USA's strength based only on its own riders would be a mistake. Last year's so-called B Team didn't have to race the A Team (either Alessi, Stewart and Villopoto or BA, Hannibal and Face). They had to race other teams from around the world.
So to really know who is the favorite, you have to look at all the major teams. And when you do that each year, it becomes clear that just about every team has a tough time getting their best three best riders to the event healthy and ready. Indeed, last year's U.S. squad may be known as the B Team, but it's not the only Nation that has had to try and soldier forward when the A picks are out hurt.
Adding further complication this year, the MX2 (250F) riders must be age 23 or younger, so if a nation's three best riders are proven veterans, one of them is staying home. In my view, the MX2 spot has the most potential to really make or break a team. All the riders are scored based on their overall finish, not in their class. Last year in the first moto, Tony Cairoli, Chad Reed and Ryan Dungey went 1-2-3, a very small spread of points between the three contenders. But if a 250 rider can really find some magic and work his way past some 450s, he can put a lot of points between himself and the other MX2 riders.
Gate selection strategy will be a huge issue, too. Each team picks two gates per motos, and some squads will put their 250 guys in the best gate and let him run wild, and some will put a 450 guy on the best gate and hope for a moto win.
It's really a lot to think about. Here's some info on some other top teams heading into this weekend's race.

Team Italy: Last year Team Italy had it. They were hosting the race, and their three top rider riders made it to the event healthy and ready. Team leader and MX1 Champion Antonio Cairoli even won the first moto overall after a straight-up battle with Chad Reed. Then bad luck struck in moto two, when MX2 entrant Davide Guarneri collided with Australian MX3 competitor Michael Byrne over a jump in moto two, knocking both out of the race, and really damaging both the Italian and Australian hopes. Italy headed into the final moto third in points, and with '08 and '09 MX1 Champs David Philippaerts and Cairoli on the gate, they still had a punchers chance. They ended up getting knocked out. Cairoli went down on the start straight and his bike was too bent up to continue. Philippaerts did all he could, even trying to knock down Tedesco, but two big crashes in two different motos cost Italy a shot at a home win.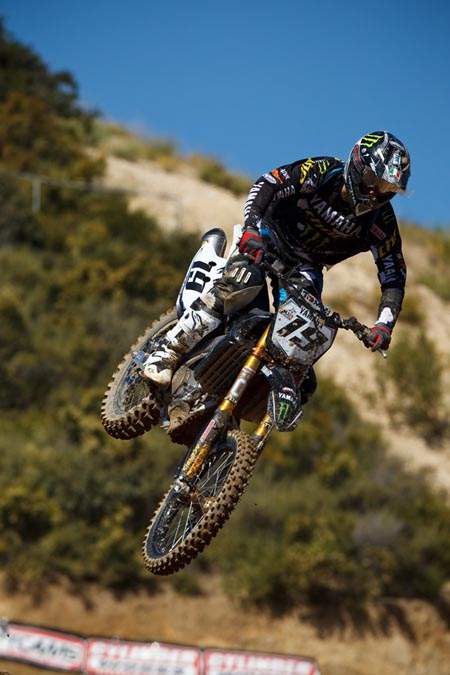 Bad news for the Italians: 2008 MX1 Champion Philippaerts is out for a second time.
Simon Cudby photo
This year the bad news came early—a team clothing issue originally kept Cairoli and Philippaerts off the team altogether. The situation was fixed two few weeks ago, but then days later, Philippaerts twisted his knee at the final GP of the season. He's out of the event again! This puts Manuel Monni, who was originally going to take Philippaerts spot, back in. Monni will have a tough time filling DP's boots, as he only finished 22nd in this year's MX1 rankings.

Cairoli is in, though, and even if the Philippaerts-less squad can't make a run for the Chamberlain Trophy, Italy would still be super pumped if he can pull off an overall MX1 class victory against Dungey. Much like the buzz about Stefan Everts versus Ricky Carmichael years ago, fans may be anticipating this individual battle as much as the team championship.

The Italian MX2 entrant is Alessandro Lupino, who took 14th in this year's MX2 rankings and scored a podium in a moto. The stars don't seem to be aligning for Italy like they were last year, but at least they have Super Tony ready to go.

Team France: Another contender dealt a crushing blow due to a late injury. Just as anticipated as the Dungey/Cairoli matchup was the 450 debut for Christophe Pourcel, who remembers well his battles with Dungey last summer on 250s. Pourcel missed last year's MXoN due to shoulder surgery, but this year it would have been fantastic to watch on a 450. Then he crashed two weeks ago at Pala (maybe you heard about this?) and the shoulder injury from that crash will keep him out of this event. Too bad. Pourcel does all his practice riding on a 450, so we could have made the joke that this was the only race this year where he came in with full preparation!

Teaming 2009 and 2010 MX2 Champion Marvin Musquin (who won the MX2 overall at last year's MXoN) with Pourcel would have made for one tough team. Luckily France does have a pretty solid replacement in Gautier Paulin, who won the next-to-last MX2 GP of the year and won the second moto at last year's MXoN on a 450. He's tall and strong, so he can handle the bump back up to a 450, but still, France is suffering from losing one of their main men. Xavier Boog will handle the other 450 for the squad, and he carries the 2010 French National MX Title and a solid rookie MX1 season with him to the event.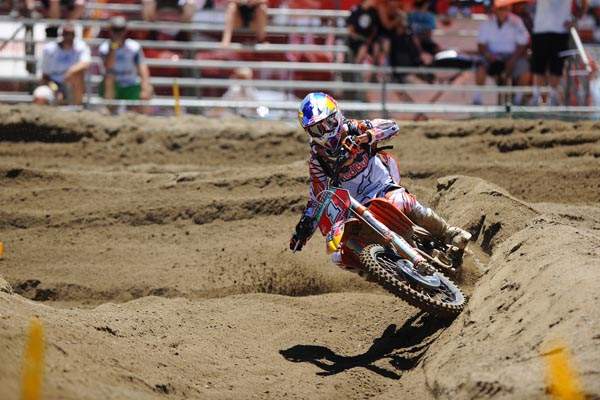 Get a good luck at Marvin Musquin this weekend, because you can expect him to be a top contender in the U.S. next year.
Steve Cox photo
Team Belgium: You can always count on a strong team from Belguim, as the MX history-rich nation that sits third on the all-time MXoN win list. And they can at least say their original three selections will make it to the race. Clement Desalle is the MX1 rider. He's known in Europe as second behind Cairolli in the MX1 ranks, and known to Americans as the guy who battled Dungey for the Unadilla win. The MX Panda is hungry for some hardware in Colorado. And Steve Ramon, the 2007 MX1 Champ, is always a contender and could make a strong case for the MX3 win. On paper, at least, the Desalle/Ramon Suzuki tandemn looks best able to match up with the Dungey/Short American 450 combo.

Jeremy Van Horebeek is the MX2 rider. He's raced this event before, but will be hard pressed to match up with Musquin and Canard. This is where the MXoN rule structure comes into play. Teams keep five of their six moto scores, so Belguim's goal would be for DeSalle and Ramon to deliver the solid results they're capable of, and then get one decent finish from Van Horebeek to stay in the hunt.

Team Germany: It's been awhile since the German team came into the race considered in podium contention, but they're there this year thanks to Max Nagl and Ken Roczen. Nagl is Red Bull KTM's factory 450 rider, alongside Cairoli's 350. He won the first GP of the year and looked to be in contention for the title after finishing second last year. A broken collarbone slowed his title bid, but he came back to end the year ranked fourth. He'll be a contender in MX1 this weekend.

Roczen is das Wunderkind of the GPs, winning a GP last year at age 15. This year he battled Musquin for the MX2 crown all season before some mechanical problems and other bad luck cost him points. This actually won't be his first race in the U.S.—he competed at the AMA Amateur National at Loretta Lynn Ranch a few years back, with disappointing results—but no doubt Roczen has proven to be the real deal this year. Surely the kid will be fired up to show the American fans what he has. I'm going to coin the nickname "Rockin Roczen" right now and hope it sticks. You heard it here first!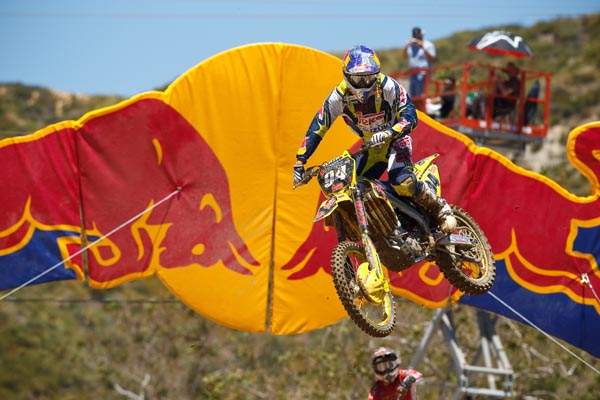 Will Roczen be rockin' this weekend?
Simon Cudby photo
Germany's issue, again, is finding a third contender. Marcus Schiffer is the MX3 rider, and he only scored a few MX1 points this season. Injuries have slowed Schiffer a bit, so the German team will hope for one solid score from him and two great motos each from Roczen and Nagl to get into contention.

Team Great Britain: Talk about injuries! Team GB lost four original candidates to injury—Tommy Searle, Shaun Simpson, Billy Mackenzie and Stephen Sword. British MX1 Champion Brad Anderson is on board, along with 20-year-old newcomer Jake Nicholls.

The bright spot should come from Dean Wilson, which is crazy when you think that Wilson was riding for Team Canada last year. He won the B final last year, which is both good for him, and also shows why racing for Team Canada could be a bit of an issue. They didn't even make the A final last year!

So this year Dean's representing his original home of Scotland, and will obviously be a MX2 contender.

Team Australia: Last year's Australian team was considered the MXoN favorite by many, although again, you had to look at who they were racing. Picking a fave between last year's Michael Byrne/Tedesco and Brett Metcalfe/Weimer matchusp was tough, leaving only MX1 entrant Reed with what would seem like a clear advantage over The Dunge, who had never raced a 450 outdoors before.

But Team USA also seems to have something else on their side—the really, really bad luck seems to fall on the other teams. See Byrne and Guarneri crashing into each other, for example. It didn't work out for Australia last year, and then this year's team lost Reed to illness and a bout with what seems like a Twitter addiction at the moment. The dude is on it!

Metty is now the anchor, running the MX1 class on his GEICO Powersports Honda 450. He was strong all summer and should continue to ride well this weekend. Reed's spot was filled with Jay Marmont, who you may remember raced in the U.S. for Red Bull KTM a few years ago. From what I've heard, he's a completely different and much improved rider now, and he won the Australian MX title. But Reed's spot is a pretty big hole to fill.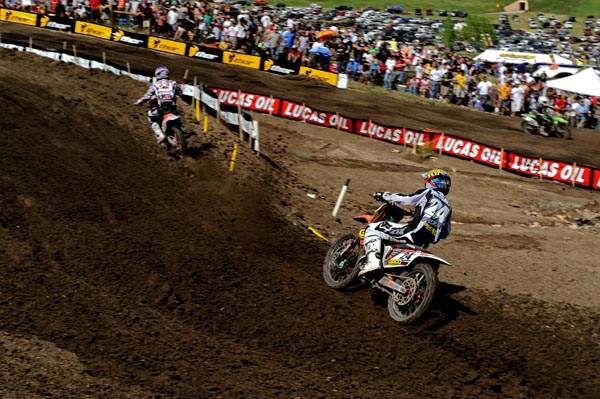 Metcalfe and Short battling at Lakewood back in June.
Steve Cox photo
And there's the under-23-rule in the MX3 class, so newcomer Dean Ferris gets the nod. Ferris rode a few GPs this year, but actually on a 450. I do know this much about Ferris, which I saw posted on his Myspace page: "My name is Dean and some mates like to call me Ferris wheel!!!!"

Excellent. And I didn't even know MySpace existed anymore!

Team Canada: Hey, these guys at least have a home continent advantage, right? Unfortunately, Canada isn't bringing their top riders. Blame Canada, or Blame Blackfoot Yamaha, the team that houses the "shoulda' been" squad of Dusty Klatt, Colton Facciotti and Tyler Medaglia. I'm not sure of all the details here, but from what I hear, Blackfoot would basically be footing the bill for the whole team since they have all the top riders, which isn't fair to them. So they're not sending anyone. And perhaps Wilson would have been tempted to stay with the team if Klatt and Facciotti were backing him on the 450s. At least they have the Olympic Hockey Gold Medal, eh?

The Medaglia family as least gets representation from Jeremy, who will race MX1, Jer-Bear, as Matthes tells me he is called, was third in the Canadian MX2 ranks. He's on a 450 for 'Nations with Kyle Keast and Kaven Benoit. Keast raced the Southwick National this year and was fourth in the Canadian MX1 ranks. And Benoit won a Canadian MX2 National this year, and frankly I'm just pumped this have a good French-sounding name on the team.

Team Puerto Rico: Somehow you can say there is a second Team USA, with Puerto Rico entering once again, and basically anyone with a U.S. passport being eligible to race. So that means Dungey was available! Virginia's, er, Puerto Rico's Zach Osborne is the stalwart for this squad, and he had a nice run in the MX2 GPs this year with fourth in the championship. Then somehow Kyle Regal got on the team, not sure if he's any more Puerto Rican than any of the other U.S. rider, but we all know he's fast. PR's 2009 National Champion, Christian Ruiz, is running the MX1 class. How a territory has a National Championship is beyond my geographical knowledge.

Team New Zealand: New Zealand isn't a big country, but it's produced more than it's fair share of motocross stars over the last decade. If on any one year all of them came in healthy and ready at the same time, they could conceivably win the whole thing. Like 2007, when Ben Townley was leading the AMA Motocross Lites standings at the same time Josh Coppins was leading the MX1 boys in Europe, and Cody Cooper, no slouch, was going to run the MX3 class. Then Josh and Ben got hurt and the team couldn't even race. Bummer.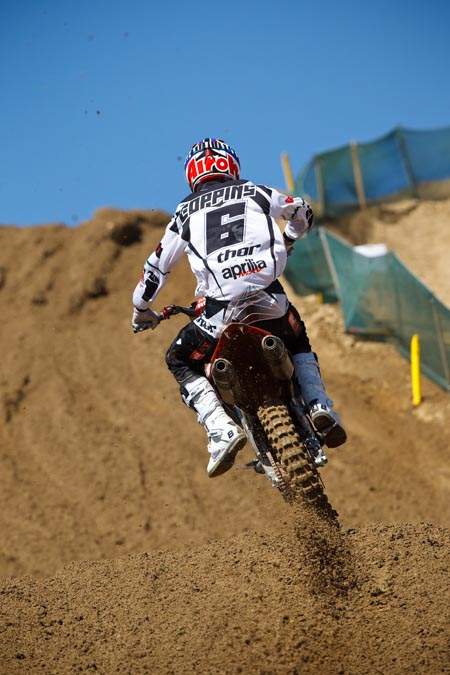 After this weekend, The Lizard slithers off the international map.
Simon Cudby photo
BT is back this year and racing MX3, could be some good battles between he, Short and Ramon. Coppins is the MX1 guy on his twin-cylinder Aprillia, but the Lizard is winding his career down and was only 12th in this season's MX1 rankings. He's heading back to race in New Zealand next year, but it would be a cool send off for he and BT to get NZ to the front one last time.

The age-23-and-under MX2 rule means a newcomer named Brad Groombridge is riding the 250.

Team Spain: Again, getting three top riders to the event healthy and ready is not easy. Spain will have regular GP front runner Jonathan Barragan in MX1, but they won't have the 2010 MX3 Champion, Carlos Campano, who was injured two weeks ago and won't be able to race. The MX2 rider is Jose Butron. I don't know who is filling in for Campano at this point, and apparently Regal and Osborne are not eligible or available here.

So there's the list. Even with a drop score, a team is only as strong as its weakest rider, and every nation has faced struggles getting its three best to the race healthy and ready. And that's just getting to the race, bad luck during the race day has derailed even the strongest teams.
One more factor: home count advantage. This event has only taken place in the U.S. twice before. The 1987 race was an epic mudder, which erased much of the advantage of home soil. But the weather was nice at Budds Creek in 2007, and Team USA dominated, much more so than they did in '06 or '08, for example. Does racing on familiar turf make a big difference? We'll see.
We'll see what happens!