Two More of Team USA's 10 Best
September 22, 2010 10:55am
| by:
dirtgirl
Yesterday we featured the first two riders of Team USA's 10 Best -- Danny Chandler and Steve Lamson. Here are two more:

Jeff Stanton: 1989-1991

Hired by Team Honda to run as tail-gunner for Rick Johnson in 1989, Jeff Stanton took over the team's lead role when RJ broke his wrist early that season. Over the course of the next four years, the Michigan rider would win six AMA titles. He would also lead Team USA from 1989 through '91 at the MXoN, almost singlehandedly holding on to the Chamberlain Trophy for the Americans.

At Gaildorf, Germany, in 1989, riding a Honda CR250, Stanton came through to lead Team USA to victory by winning both motos, including the final 250/500 moto. A year later, Team USA's decade-long win streak would have ended if not for Stanton. With teammates Jeff Ward (500) and Damon Bradshaw (125) struggling in Vimmerby, Sweden, it all came down to the dramatic final moto. Stanton was knocked down in the first turn and began a frantic charge through the pack. Having recaptured fifth by the halfway mark, he zapped Englishman Paul Malin (now a television analyst for the FIM World Championships) and went after Belgium's Dirk Guekens. After the two entered the far back section of the track, only one rider reemerged.

"I parked him," Stanton explained. "He screwed with us one too many times and I got tired of it, so I put him down in the back." The move was enough to earn Team USA its tenth straight MXoN win.

Stanton's last tour came in '91 at sandy Valkenswaard, Holland, where he again saved the day. Despite hitting the sand four times in the final moto, he mowed down as many competitors as he could to get the team into position to win over the vaunted Belgians.

"I just did what I had to do," Stanton said. "I didn't think we would win. I didn't know where the Belgian riders were, so I just kept riding."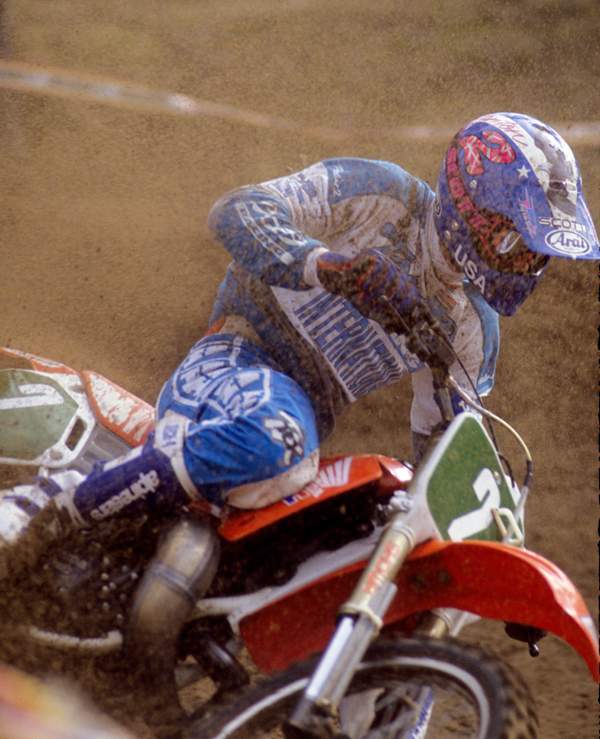 Jeff Stanton
photo: Jack Burnicle

Jeff Ward: 1983-'85, 1987- '90

On seven separate occasions, Kawasaki's Jeff Ward represented Team USA at the MXoN (and twice at the Trophee des Nations in '83-'84), and each and every time Team USA won. That makes Ward the most accomplished and decorated rider in Team USA history.

In 1985 in Gaildorf, Germany, Ward rode his factory Kawasaki to three clean-cut class victories to lead Team USA to the top of the podium. Another highlight came in 1987 at Unadilla, New York, the first time the MXoN was held in the U.S. Ward climbed on the big Kawasaki 500 and guided it through a driving rain and swingarm-deep mud to help teammates Rick Johnson and Bob Hannah keep Team USA's winning streak alive at seven straight.

In 1988 in France, Ward was tapped to ride the Kawasaki 125 alongside Johnson (250) and Ron Lechien (500). Before 40,000 fans, the Californian battled with a young French hero named Jean Michel Bayle. "I barely got out of there," Ward said. "On the last lap, things were getting thrown at me. It was scary."

Ward is still proud of being one of the MXoN's greatest American heroes. "As a motocross rider, feeling-wise, it's the only race where we race as a nation, and it's a big pressure situation," he says.
"I've never lost a race there, and it's definitely the highlight of my whole career."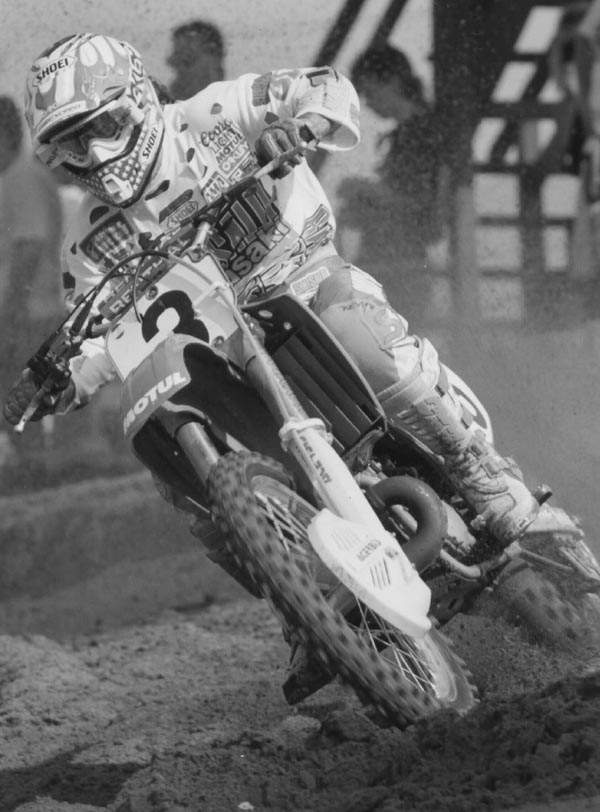 Jeff Ward
photo: Racer X archives