Team USA's 10 Best
September 21, 2010 11:01am
| by:
dirtgirl
Each year the United States sends some of its best riders to the Motocross of Nations. The picks are not without controversy, but once they're made, the riders are expected to win. For the next few days we will showcase the ten best performers in Team USA history. Here are the first two:

Danny "Magoo" Chandler: 1982

From 1947 through 1984, two separate events determined the world's top motocrossing nation: the Motocross des Nations (for 500cc equipment) and the Trophee des Nations (250cc). No single rider had ever won all four motos at the two events until Magoo in '82.

At the Trophee des Nations at West Germany's sprawling Gaildorf circuit, Danny "Magoo" Chandler, the wild child of American motocross, smoked the world's best riders on a Honda 250, winning both motos and leading Team USA to victory. One week later in Wohlen, Switzerland, he led teammates David Bailey, Jim Gibson, and Johnny O'Mara to another victory at the MxdN, again sweeping both motos. It must be considered the most dominant fortnight in the event's long history.

Chandler passed away this year after dealing with health issues that began way back in 1985 when he broke his back at a supercross race in France. But for as long as there is a Motocross of Nations, Magoo's name will be associated with it.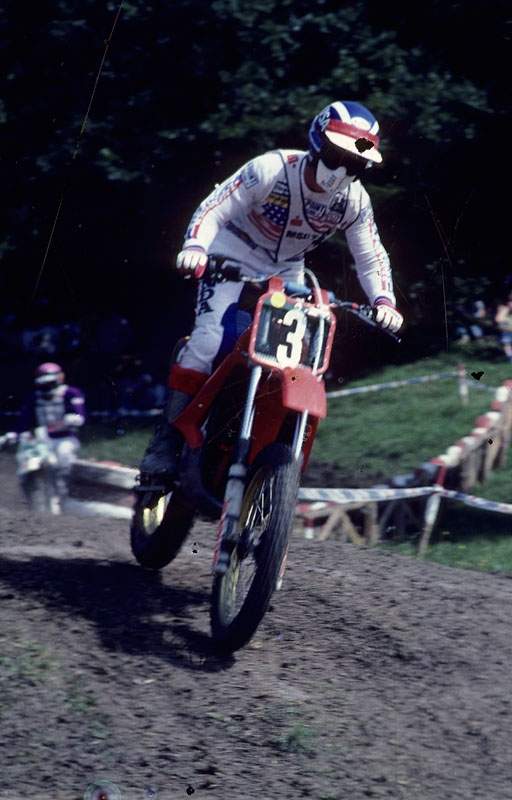 Danny Chandler
photo: Racer X archives
Steve Lamson: 1995-'97

Team USA was victorious for only one of Team Honda's Steve Lamson's three appearances—1996 in Jerez, Spain—but what Lammy did that day on his CR125 gets him on this list.

At the time, Lamson was the two-time AMA 125cc National Champion, and he was coming off a devastating loss in 1995 in Slovakia, at the hands of 16-year-old Frenchman named Sebastien Tortelli. The track in Spain was fast, hilly, and hard-packed—just like the tracks Lamson grew up on in northern California. In the first 125/500 moto, Lamson screamed around the track and passed all the way up to the rear wheel of the race leader, his teammate Jeff Emig on the 500 Kawi. Emig yielded, then watched as Lamson took off, Tortelli in hot pursuit. Winning the moto outright, Lamson became the first rider to do so on a 125.

The second time out, against the premier 250cc riders, Lamson beat everyone but his teammate Jeremy McGrath and Belgium's Marnicq Bervoets, both on 250s. The win helped Team USA get back on top for the first time in three years, and it also cemented Lamson's name among the all-time great performers in the MXoN.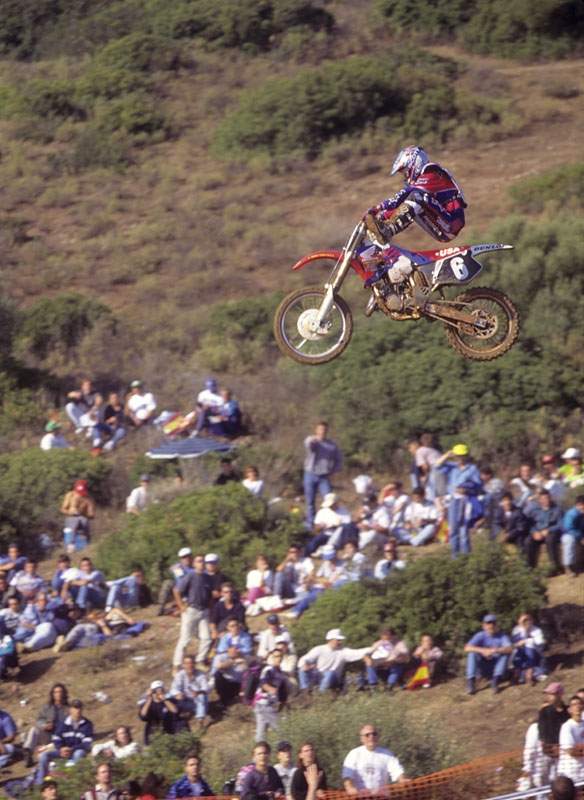 Steve Lamson
photo: Racer X archives
Be sure to check back tomorrow for two more of USA's ten best MXoN performers.