ProMotoFan.com Announces 2010 MX Champions
September 17, 2010 9:25am
After 12 amazing rounds of competition among fans from around the world, there can only be a select few Champions. Just like the racing action on the track, fan's put their heart and skills to the test and competed all summer long for the prestigious title of 2010 PMF Fantasy MX Champion!

Presented by
MotoCrossGiant.com
, MX Champions were rewarded with Grand Prizes totaling over $2,000! In the WMX Series presented by DeCal Works, a $350.00 Shopping Spree was up for grabs, and all Champions were awarded exclusive Championship #1 Plates by DeCal Works that are worthy of even
Ryan Dungey
's bike!
Congratulations to the 2010 PMF Fantasy MX Champions:

MX Series – Roger Smith, Vernonia, OR.
MX 450 – Tim Hogan, Ormond Beach, FL
MX 250 – Travis Joyce, Spokane, WA.
WMX Series – Shayne Wilton, South Australia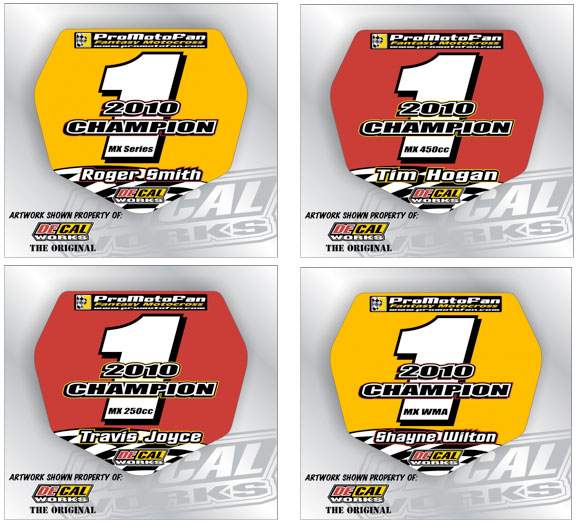 ProMotoFan.com would also like to express our appreciation to ALL the fans who participated throughout the series, as well as, to all our amazing sponsors who made this possible for the fans. Thank you! MotoCrossGiant.com, DeCal Works, KTM USA, Scott USA, Mechanix Wear, Fly Racing, Fuel Clothing, Pit Posse Motorsports and Rockwell Time.
Up next is the 2010 PMF Fantasy MX of Nations for cash and prizes! Visit
www.ProMotoFan.com
to play!
About ProMotoFan.com:
ProMotoFan.com is home of The Premiere Fantasy Racing Series for Pro Motocross and Supercross in the United States, and is dedicated to providing fans, industry, and fellow racers a unique opportunity to support privateers and the sport.


Fast and easy to play Pick 'Em Game. Battle bar to bar and compete for awesome prizes and national championships including authentic #1 Plates just like the pros!