Welcome to Redux presented by Renthal. No one was predicting this.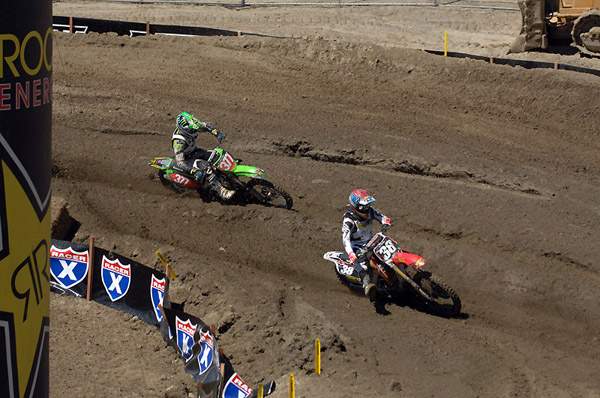 It was on!
Carl Stone photo
Last weekend at Steel City, Jeff Emig told me the Pala track was going to be tough. Fro has been riding a 250F this year for the fun of it, and he lamented how the soft, unpredictable soil at Pala bogged the bike down, making even routine jumps tough on the small bike. In particular, he told me about one small double which he could only clear twice during a practice day two weeks ago.

"The 250 guys, and the women on the 250s, are going to have a tough time jumping that one," said Fro at Steel City. He then called Kawasaki to get a 450.

Well, Fro was onto something there, because that routine double, the one he told me was deceptively hard for a 250 a week ago, will end up going down in lore as deciding the 2010 250 National Championship. Christophe Pourcel had the crown in hand, until he wadded it on that jump.

It was a crash so surprising, so unexpected, that no one saw it. None of the 13 TV cameras caught it. None of the video shooters from Racer X, or Transworld, Vital, Vurb or any other cool pub with Xs or Vs in the title caught it. None of the still photographers saw it, either. No one saw it, because no one expected Pourcel, alone in third with three laps to go in moto one, to throw it all away.

At that point everyone was either watching the leader, Dean Wilson, or Trey Canard trying to run back through the pack after a crash of his own. The Canard vs. Pourcel final race showdown was already crazy. For starters, it's improbable that Canard was even in the hunt, since Pourcel had been The Man in the class and once held a 57-point lead over Trey (who was only running fourth in the series at mid-season). Canard went on an amazing roll after getting his first overall win at Red Bud, but the Crafty Frenchman was still collecting points. I even had a few emails from fans saying to calm down on the Canard championship talk, because Pourcel was clearly just protecting his big lead.

Well, maybe he was. But maybe he wasn't. Big points lead or not, you're playing with fire when you give someone that kind of momentum. Canard kept ticking off wins even though Pourcel may have actually been faster—the few times they met head-to-head in motos, CP seemed to come out on top. But the momentum kept building for Canard, building and building until Steel City, when he finally beat Pourcel straight up in both motos. And in the first moto at Pala, he was clearly the faster man, again. Wilson and Tyla Rattray were out front, Pourcel was in third and Canard was all over him, just looking for a way around. In dramatic fashion he made the pass in a left hander, but then went too far wide and clipped a hay bale, crashing moments later. It was emotional overload there—seconds after making the pass, he gave it back.

From there Pourcel had it in hand. Canard dropped as far back as eighth. It was over, until Pourcel's improbable crash.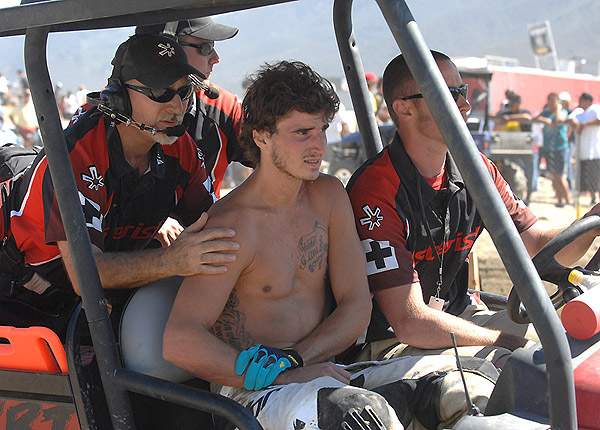 Somehow even more heartbreaking than last year.
Carl Stone photo
"I would way rather have momentum than points," said Emig. "Strange things like that happen when someone else has the momentum."

Indeed it had. This is why I always warn against the, "If this guy goes 1-1 at the rest of the rounds, and this guy goes 2-2" math because the sport is too freakishly mental to expect a guy to be able to go 2-2 each week. Win streaks? Happens all the time. But finishing second every week is tough. When you're not winning, you get frustrated, and with frustration comes the great unknown. Pourcel went 2-2 at Steel City. Did he look at all pleased after the race?

Christophe dislocated his shoulder in the Pala crash and was out for the day. The crowd went nuts when they saw Canard come by, and from that point on, Trey just had to bring it home. He did, completing one of the most amazing, dramatic, and popular comebacks of all time.

Stories don't get much better than this one. Remember the heartbreak Trey has dealt with, major, life-changing heartbreak like losing his dad, Roy, when he was just 12-years-old. He's also had his share of racing trouble, including huge injuries outdoors in 2008 and 2009. If not for his crash while leading High Point last year, he could have easily been in the hunt for last year's 250 title, as well.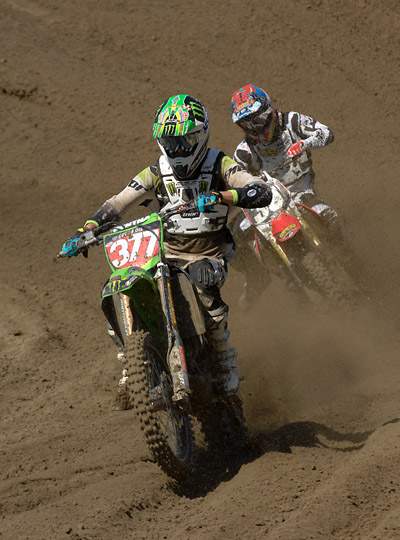 Canard got a gift from Pourcel, but you can't say he didn't show the speed and tenacity to earn it on his own, anyway.
Carl Stone photo
It's impossible not to like Trey. He's a great rider who works hard, he's well spoken, a nice guy, and really funny, which is an amazing combination when you realize he's still only 19-years-old. So as the fans began to react to his amazing comeback, some also seemed to turn on Pourcel. Fans at the last few races were partying like it was 1991, booing the Frenchman and cheering the Yank, like it was Jean-Michel Bayle versus Jeff Stanton and Damon Bradshaw.

Haven't heard fans boo "The Foreigner" in twenty years, at least not at this level. I heard people boo Pourcel as he was getting hauled off in the Asterisk Medic Mule, and when Canard officially grabbed the number-one plate after moto two, the old-school "USA! USA!" chant began. The only thing we were missing was Hulk Hogan coming out to Real American and dropping the big leg on the Iron Sheik!

I'm not gonna' rant against fans cheering or booing, because that's the essence of being a fan, but I still maintain that Pourcel is a cool and funny guy who people would really like if they knew him. I only hope he wins people over like others in his position have done-- the previous generation of fast Frenchman, Sebastian Tortelli, Stephane Roncada and David Vuillemin were well-liked when they were done. And we may never know the extent of the pain or illness Pourcel has to ride through each weekend. Rumor has it that his internal injuries prevent him from eating on race day. Could he have simply been wearing down as the summer went on?

Meanwhile, a star is born in Canard. All along, I've felt that Pourcel was the best of the best in the 250 class, and I'd imagine he was being sold to 450 teams that way. Not sure you can make that argument now, especially with the way Canard closed this series. He might have gotten a gift in the finale from Pourcel, but his rides leading up to this weekend prove he's a deserving champion.

We're now over 1000 words into this before even giving Dean Wilson credit on his 1-1 win, and we haven't even mentioned the 450s yet! So, first, congrats to Wilson, who took two overalls this year (and it should have been three if not for you-know-what in Texas) and really outperformed expectations as far as I'm concerned. The dude's gonna' be good for a long time, especially on these rough tracks. And last week, I thought Tyla Rattray was still using the metric system when he kept saying he was still in title contention. Turns out he was! His 2-2 pushed him past Pourcel for second in the series, and had Canard really wadded it up in moto one….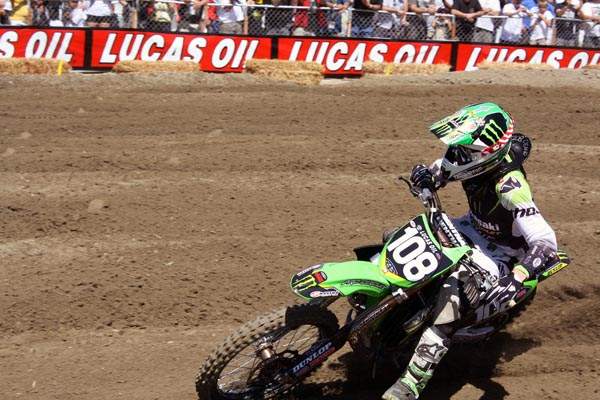 Dean Wilson never seems to get the credit he deserves. He goes 1-1 on the day but unfortunately everyone was talking about the championship fight.
Pete "Roostie" Richards photo
After the race I visited Mitch Payton at the Pro Circuit truck. Mitch was bummed, but he knows them's the breaks of racing, and he's won way too many titles to start complaining about bad luck. I give that team credit, pundits like myself where coming up with team tactic scenarios before the race, but Mitch let his boys race for it straight up. Wilson and Rattray had Pourcel beaten in moto one, and that was okay with the team. We didn't see anything sinister from the other GEICO Honda boys, either.

Not only did Pourcel improbably crash away the 250 National Championship—an outcome no one expected—but the debut National at Pala Raceway in California was a big hit, with an absolutely massive crowd, way bigger than anyone expected. Actually, these last four races had bigger crowds than usual, and while I'm heaping praise on events organized by the company I work for, let me also mention Renthal sponsors this column and makes super awesome great handlebars that will shave three seconds off of your lap times, and that the annual High Point Vet National is racing this weekend. Be there!

Seriously, through, Pala was dialed in. The track was rough and tough, the mid way was packed with stuff to do, and they had swimming pools with bikini-clad Rockstar girls. We even had Erin Bates jumping on a trampoline during our show. What else where you looking for? Oh. Maybe you were stuck in traffic all day and didn't make it in? Well, uh, the racing sucked and stuff. Yeah. Consider yourself lucky.

For the third week in a row, Brett Metcalfe had the stuff to win the 450 class, especially in moto two when he checked out early and set the fastest lap of the race. After running out of gas at Southwick, I thought Metty had officially (and finally) run out of ways to not win races. Not yet! I think he had Dungey covered in moto two until he hit a soft spot with his front end and went down. That's just how that momentum thing works, I bet if Metty had won the 'Wick, he could have won Steel City and Pala, too. Still, this was a breakthrough season for Metty and he should be a big player next year. Congrats on second in the series, too, he out dueled Andrew Short for that spot. No more talk about Metcalfe not being able to win races. The ability is definitely there, even if the actual results column doesn't show a W.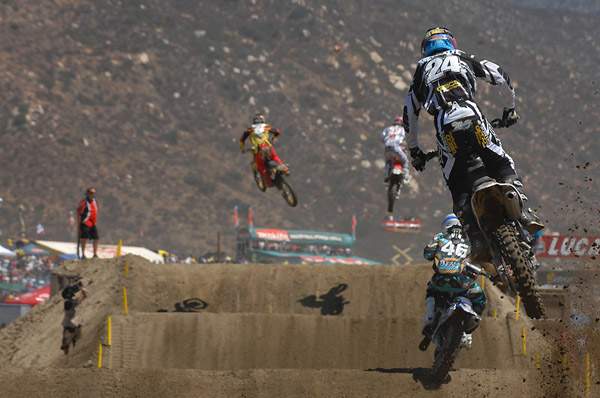 This is what we call close racing.
Carl Stone photo
Dungey won the race. He ends the year with a combined 215 point lead in motocross and supercross, which is the largest combined gap ever, even ahead of Ricky Carmichael's 205 total in 2002. And RC had a perfect season outdoors that year!

Behind the Metcalfe and Short battle for second we had a season-long struggle between Ben Townley and Mike Alessi. Remember, these two had a rivalry going after Mike took Townley out at the Glen Helen GP. Fittingly they battled in points all year. Mike had trouble in the second moto and finished 21st, giving BT enough points to slip by and edge Mikeee boy for fourth in the series. And I'm sure neither of them care because these dudes wanted to win this year, not finish fourth. But if you're either one, just getting through all 12 rounds healthy was good compared to injury plagued '08 and '09 tours.

Behind that, the privateer gang of Chisholm/Sipes/Regal seemed to get stronger as the year went on, especially The Chizz and Sipes, who were mixing it up with that next group at the last few rounds. All three rode well at Pala. Sipes had a great start in moto one and was practically riding a Yamaha YFZ450R (the quad) trying to hold Dungey and Metcalfe off. He rode the wide bike, and was not afraid to mix it up with the factory talent. Well done this year by Team Motoconcepts Yamaha.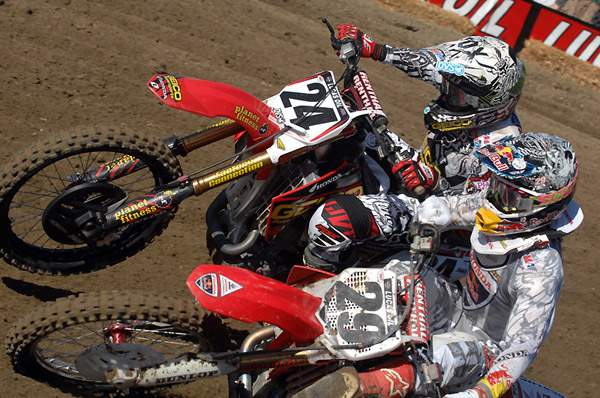 Shorty and Metty battled it out...
Carl Stone photo
Tommy Hahn tried to ride practice with the shoulder he separated at Steel City, but couldn't hang on. But he wouldn't quit until he at least had one up on his brother. "Make sure you let everyone know I was four seconds faster in practice than Wil," said T Hahn after practice. There you go. I told Wilbur about this and he countered with, "Yeah well who went 40-40 and who went 7-7 during the day?"

And Wilbur's Lucas Oil/Troy Lee Honda teammate Cole Seely was even better, netting a third in moto one. Seely and Wil Hahn were complete washouts last year outdoors, it's quite a step up for them this year. But this is par for the course for the Troy Lee team. I'm thinking of joining the squad next year to see what I can do.

Or maybe I could find a ride at Rockstar Suzuki, which must have pitted a dozen different riders this year. Ian Trettel was out after his Steel City crash, so Tommy Weeck came on board for the weekend and went 9-18 for 13th. Impressive. Austin Howell went 10-14 for 12th. Good fill ins for that team. All of their original riders, T Hahn, Jake Moss, Blake Baggett, and Ryan Morias, were out for the weekend. I did see Baggett hanging out under his new home, with Payton and the Pro Circuit squad, and Morias was kidnapped by Jim Holley to race a supercross in Sweden over the weekend. He got third, if my Swedish is correct (and while looking for results from this race, I "stumbled" on a link to the Swedish Bikini Team, and this superb description: The Swedish Bikini Team was a group of American female models who appeared in an advertising campaign for Old Milwaukee beer. These commercials ran for several months in 1991 in the United States, playing with American stereotypes of Scandinavian women being blonde and having big breasts.)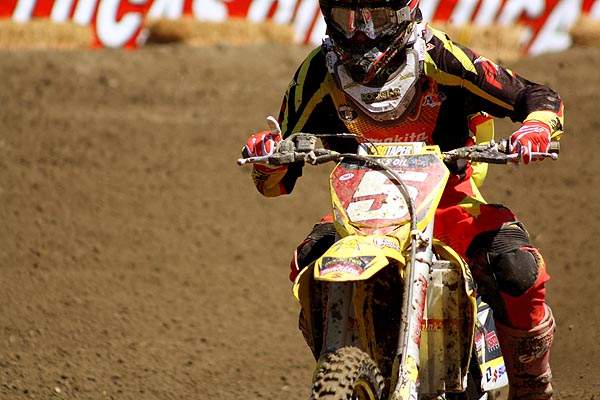 Check out The Dunge's right hand. It will be much safer to indicate he's number one than it must have been to show number five.
Pete Richards photo
Jessica Patterson successfully claimed the WMX championship with a 1-2 ride, Ashley Fiolek got the win but came up short in points. JP$ thus completes one of the hardest tasks in professional athletics, wining the championship back from the next big thing. After Fiolek won the WMX title in '08 and '09, a lesser rider would have given up, but Patterson kept fighting. First, she hooked up with a Ryan Hughes training program and a gluten-free diet in 2009, getting in better shape. She still came up short, realizing she needed a better bike if she was going to beat factory-backed Fiolek. And if she didn't get that bike, she was just going to retire, because JP doesn't race just to get second and collect a paycheck, no matter what the nickname JP$ indicates.
She found the last piece of the puzzle with Star Racing/DNA Shred Stiz Yamaha this year. With a good bike and a training program to match, she was totally unstoppable at times this year. She's still strong and fast, but has mixed some finesse into her game this year. Jessica was also only a second off of the qualifying pace for the men's 250 class at Pala. At a time when most riders would have their best days behind them, JP is only getting better. At the end of the day, Yamaha gave Jess a check for $25,000, and Star Racing another for $20,000. Way to go!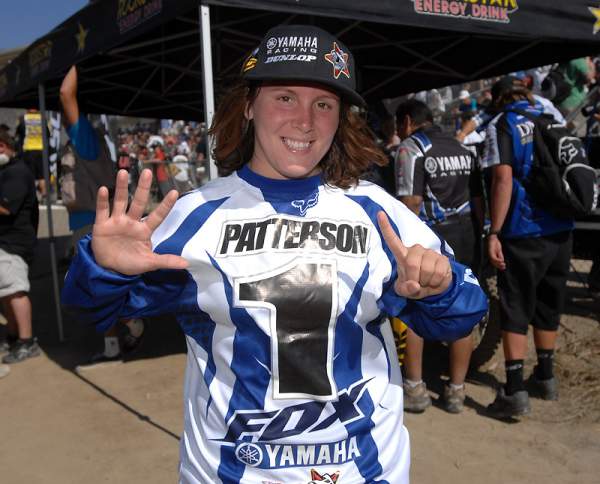 JP$ lived up to her nickname by collecting nearly $50gs in bonuses.
Carl Stone photo
Emig busted out his 450 to do a lap with the Go Pro Hero cam on Saturday, and he stepped up and jumped everything on the first lap. But then on lap two he buried his head in the sand, all in the name of getting a feel for the dirt. What a dedicated journalist!

Pala not only featured a cool track, but the casino up the road (walking distance for those really desperate folks stuck in traffic) offered a mini-Vegas atmosphere. And less is more in this case, because by the time Sunday night rolled around and I got to trot out some jokes at the Series Awards Celebration, the crowd was only semi-hammered, and even listened and laughed a bit. By the time Sunday night rolls around at the Vegas Supercross, the crowd is there in body and spirits, but not mind. So the banquet, er, Awards Celebration went well, and Trey Canard nearly matched the all-time banquet speech record by thanking everyone who has ever helped him. (But Ricky Carmichael's 45-minute 2007 SX retirement speech is still the longest ever. He's the GOAT, of course). A good time was had by all, and then I realized that I had spent money over the weekend gambling and playing golf, two things I never thought I would do. And then I posted this column a day late. Yes, an unpredictable weekend, for sure.

Email me. The season is over and I need stuff to talk about. Jasonw@racerxonline.com