Welcome to Racerhead, coming to you from the media tent right next to the brand new AMA National track at Pala Raceway here in San Diego County. The curtains are about to come off on a new facility, and so far all of the riders who have tested it out -- Ryan Dungey, Andrew Short, Brett Metcalfe, Tyla Rattray, and title contenders Christophe Pourcel and Trey Canard -- really enjoyed it. It has many more elevation changes than has been painted out, and while it lacks the big hills of some of the other national tracks, it's got more than Hangtown, Southwick, Steel City, Freestone.... Hopefully it will make for good, safe racing tomorrow, and the fans will enjoy a new event in Southern California for years to come.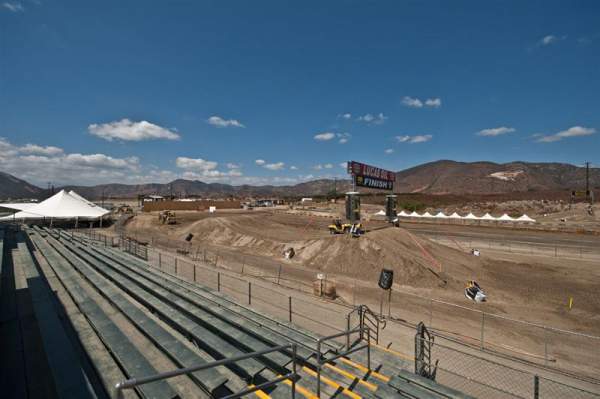 The Pala finish.
photo: Steve Cox

DC has been out there all week working with the rest of the MX Sports crew, as well as Pala bosses Ryan Oulette and Kirk Chandler, to help nail down a great first event. We asked him if he had anything to offer for Racerhead and he only said "Please ask everyone to tune in tomorrow to the live motos on the web or the two live SPEED shows and make their own decisions." So there, we did it! The first motos will begin at 1:00 p.m. California time, which is 4 p.m. back east, and then the live SPEED shows will follow with some early primetime Saturday night windows. It's going to be an epic race, so tune in!

And for a preview of the track, check out these two films Simon Cudby put together, first from Thursday's press day and then this morning's Crossover Challenge.

One cool thing we're noticing is some of the interesting hospitality areas, like DC Shoes up on top of the hill. They have an in-ground swimming pool and a 100% view of the track! How cool is that? Look for more tonight when the Racer X Pre-Race Shows go live on www.allisports.com.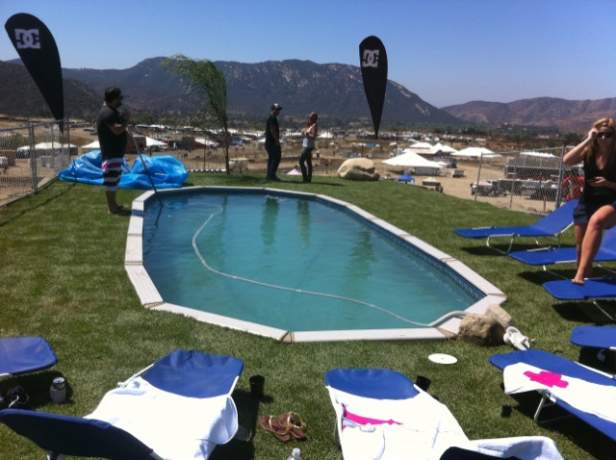 The DC Shoes hospitality area.
photo: Davey Coombs

Okay, let's get into the week's news, starting with....Steve Cox.

And it's here, the season finale of the Lucas Oil/AMA Pro Motocross Championships. It's a big deal, and it's made even bigger due to the fact that it's at a brand-new venue: Pala Raceway. I'm camping out in a rented trailer with my wife and dogs this weekend because yesterday was Press Day (you can see a gallery of shots from that here).

For Press Day, the top three in each class got about 45 minutes of track time, and having just ridden the track (in preparation for the Crossover/Media race, which I'm pretty sure I'm going to lose badly), I think that extra track time is going to be very valuable for the six guys and three girls (and one announcer in Jeff Emig) who got the track time.

The track is awesome for watching, but Chris Pourcel, Trey Canard, Tyla Rattray, Ryan Dungey, Brett Metcalfe, and Andrew Short made it look really easy to get around out there. The turns are very soft, and the jumps are pretty soft, too. But the problem is that out of the soft turns, you're spinning your tires so much that it's very difficult to judge your speed for the jumps. Many times, you're spinning so much that when you let off the gas, you speed up!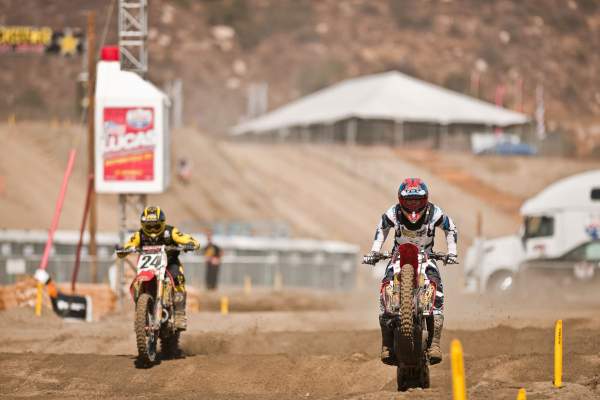 Canard and Metty testing out the new track.
photo: Steve Cox

I've only completed three jump sections today after our one practice, which are the tabletop after the start, the six-pack of doubles followed by a table-top step-down obstacle (which a few of the pros were doing with a double, triple, step-on, step-off rhythm), and one tabletop going down a hill. It really is gnarly out there. And if the wind kicks up like it did yesterday, it may get a bit dusty, but the temperatures are going to be mild, so that should help – both today and tomorrow.

We've gone on ad nauseam about the Canard/Pourcel thing for tomorrow, so I won't expand on that any more here, but I think it's safe to say that a lot of us are going to be almost as anxious as the racers themselves in anticipation for what we're going to see in the two final 250cc motos of the season.

Press Day also featured a Q&A with our own Davey Coombs about the Pala National, and he went on and on about the work that the folks here at Pala put in to make this event happen, and although I do work for the man, I have to say that it really is pretty awesome out here. The track is big, it's gnarly, and it's going to be really rough and really technical. And there are pools to watch from scattered around the track, as well as a full-on, extremely large set of grandstands. One thing that DC did say was that the plan right now is for Pala to be the sort of permanent series finale for the Lucas Oil/AMA Pro Motocross Championships, and that's fitting considering that southern California is pretty much where 90% of the industry is located (sorry, everyone in Morgantown!).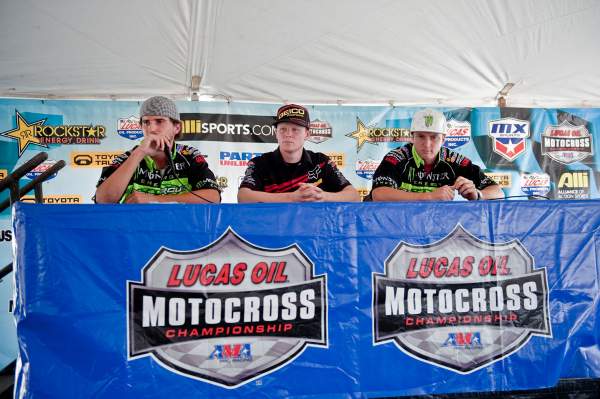 photo: Steve Cox

Also, Kristin Cunningham brought out a new Leatt brace called the Leatt Pro brace that's made of carbon-fiber and has slightly different dimensions to the brace they've sold up until now, including a bit more range of motion. It's much lighter, obviously, as well. Dungey wore it yesterday and will wear it on race day, which shows he's not too superstitious. I like that in a racer.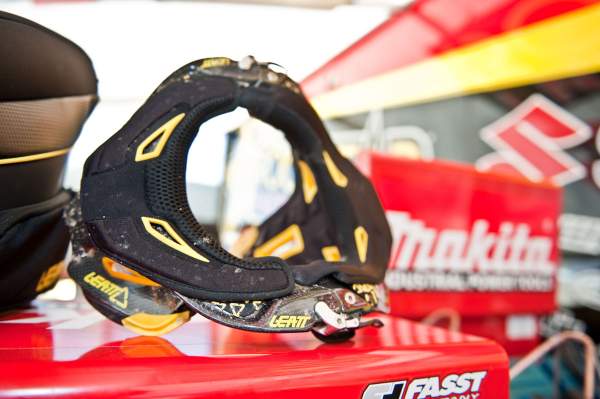 photo: Steve Cox

So, provided I survive today's racing, I'll be online tomorrow sending updates and updating our Twitter account, so if you want up-to-the-minute happenings, follow us on Twitter. But if you don't, and you want to watch the tape-delayed broadcast as if it's happening live, do yourself a favor and do not check our Twitter or website. It's up to you, but we do get complaints from time to time that we "spoiled" the race. Forewarned is forearmed.


So, if you ride or race on the hard stuff, you're going to want to check these out. Notice, in the direct rear-tire tread photo, that the rear tire's tread is actually asymmetrical. Believe it or not, the Dunlop guys say it's also directional! We're now entering the world of MX tires so specialized that they're directional treads, much like high-end sports-car tires have been for a long time. It's cool for Dunlop to do something like that.
And finally, don't laugh, but having not ridden in quite a while, I went out Wednesday to Milestone MX to "get ready" (HA!) for this Crossover race thing today, and my arms pumped up so bad and so fast that I never actually got the chance to get tired. So, I got to thinking: If arm-pump is essentially compartment syndrome (sometimes, and I think it is for me), where your muscles get too swollen and press out against the fascia that surrounds your forearm muscles, trapping all of the blood in there and essentially cutting off circulation, I decided to experiment and take a Viagra before I rode today.
I know that sounds funny, but Viagra works by increasing blood flow to your nether regions. Well, the reality is, it increases blood flow everywhere. It's just like taking a Tylenol if your hand hurts: sure, it may help your hand, but it's not like the acetaminophen just goes to your hand – it goes everywhere. So, Viagra is a vasodilator, meaning that it dilates your blood vessels (makes the blood vessels larger, so they can flow more blood volume), and I wondered if it would help me not get arm pump.
Well, the results are in: I don't know if the one 50mg Viagra that I took did it, because it could just be that I was better ready to ride today than I was two days ago, but I can say without a doubt that I didn't get arm-pump nearly as quickly or as badly as I did on Wednesday, and the reality is that I was trying harder today and riding on a track that was much, much more uncomfortable for me to ride due to the conditions and extreme build of the jumps and whatnot.
So, I'm inclined to think that the Viagra really helped my arm-pump. I don't know if anyone else has tried this, but that's my two cents. (Don't take prescription medication without talking to your doctor, and if you ride your dirt bike on Viagra and something happens, that's your own deal, blah, blah, blah.)
See you at the races! (And GO BRONCOS!!!)
Here's
Motocross 101.com
's David Pingree:
This week the
Racer X
staff was invited out to
Glen Helen
Raceway, site of the US Grand Prix and the now-infamous "Race of the Century." But we weren't there for a race this time. Yamaha just received their 2011 YZ250F's and invited us out to
have a ride
. The 2011 model is nearly identical to the 2010 model, so there isn't much in the way of new technical info. But there is BNG. Bold new graphics can make a big difference on a bike, for better or worse. Did anyone else have a 1991 or 1992 Suzuki with the camo seat cover and pink highlights? I think that designer did the honorable thing and fell on a sword after those catastrophes. What about the year Yamaha had a seat cover that they called "magenta?" If you called it pink they got upset… it was magenta.
Anyway, Yamaha kept it very clean and very simple this year and they are offering the bike in a blue/white or black/white color combos. The bike with black plastic comes with black Excel rims and a gold chain that really finish it off nicely. Personally, I still like the blue and white version but they both look good. Our designer, Langers, and I took turns riding the new bike for Simon Cudby's lens and we also invited Yamaha rider
Nico Izzi
out to show us how it's done properly. Nico has had a year he would rather forget and he's been nursing one injury after another. The only upside has been the birth of his daughter which has been a real eye-opener for him. He has been working with Randy Lawrence for the past few months and the two of them have made good progress. Nico has definitely shown that he has speed but his fitness hasn't allowed him to stay at the front the whole moto yet. He's hoping his 2011 season will bring him a little more luck.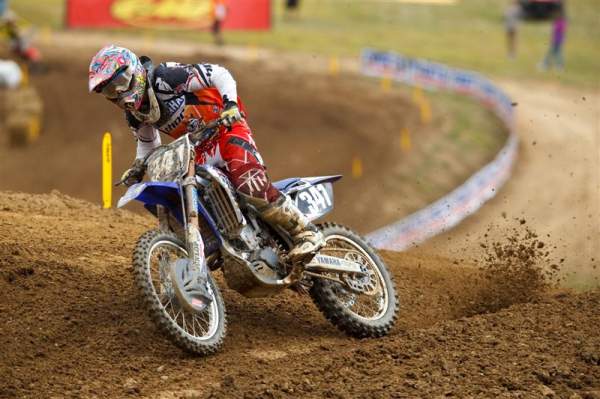 Nico Izzi helped test the 2011 Yamaha YZ250F.
photo: Simon Cudby

Another guest rider at the Yamaha function was newly crowned Australian champion Jay Marmont. Jay is a good guy and a lot of people were stoked to see him have such a good season back at home. I asked if he was racing the Pala round this weekend but he will just be spectating. He is here prepping for the MxoN coming up in Colorado. It would be great to see Jay have another chance here in the States before he calls it quits. He had a couple of really bad years when he came here with KTM the first time. He went home, regrouped, and has been kicking butt ever since. Second time is a charm?

There has been a lot of chatter about whether or not Pala will be a good place to hold a national. I think motocross fans just like their traditions and heritage; there's nothing wrong with that. But just because a venue is new doesn't mean it won't be great. Kirk and the guys at Pala have really been working hard to make sure this weekend's event is a success. And their plans don't quit at the end of this weekend, either. The master plan for the Pala Raceway site is amazing; it's just going to take some time to get there. For the national they have added some elevation and screened thousands of yards of material to build and extend the course. They are bringing in grass and trees and really doing all that they can to make it a great event. I, for one, think it's awesome to have race promoters that are passionate about the sport like that. Good luck guys. And don't get all freaked out about traffic. I keep hearing about the "terrible two-lane road" that goes into the facility. Do you know how many nationals have terrible two-lane roads going in and out of them? Almost all of them is my answer. Just go and enjoy the season finale.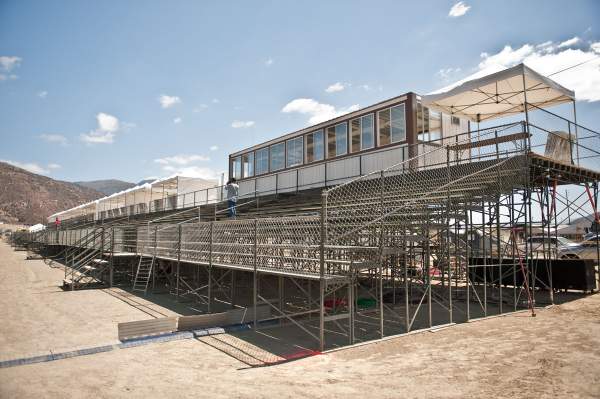 These will be filled tomorrow.
photo: Steve Cox

Let's turn this over to Mr. Weigandt:

Okay, the finale is on this weekend, and what a weekend it's going to be. SPEED will be covering both the 450 and 250 shows live on Saturday night, which, combined with the usual Allisports.com web video from the first motos, means you'll be watching the full 450 and 250 slate live all day long. College football is lucky we're done racing after this because their ratings would really take a hit if they had to face this competition every week.

Awesome that the final race of this full live TV slate is the 250 second moto, which will most probably determine the championship (unless Trey Canard DNFs moto one for some crazy reason). Canard has made up 50 points on Christophe Pourcel since the Lakewood, Colorado race in June. This is an amazing comeback, and a real study in how big the mental game is in this sport. Once Trey grabbed a win and some confidence, he took this series over, and this has been a comeback for the ages.

If he wins it all, this will be the third-biggest gap ever overcome to win a title. The biggest? In 1995, Steve Lamson missed the High Point National, round three of that tour, with a knee injury and sat 61 points behind leader Damon Huffman after that race. He came back to win the very next race, at Budds Creek, and came all the way back to win the title, but not until winning an epic battle with Ryan Hughes at the Steel City finale to claim the crown. Lamson was leading Hughes by just a few seconds for the entire second moto, and they were tied on points, so with two laps to go, Hughes started riding over his head to try to catch up. He broke his chain instead, and ended up pushing his bike across the finish in an epic climax for the season. But Lamson's moto win scored the title, his first, and also the first for his mechanic, Mike Gosselaar.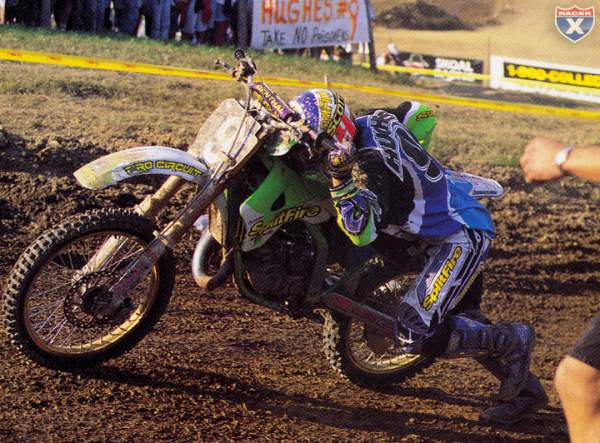 Ryan Hughes pushes his KX125 across the finish line at the '95 season finale at Steel City.
photo: Racer X archives

But that was only the second-biggest gap. The 1992 125 National Championship was one of the craziest ever, as Mike LaRocco dominated the early season on his Kawasaki and then rode to protect his big points lead in the second half. But then Yamaha's Jeff Emig caught fire and started winning races. After he crashed out of the second moto at High Point, Emig was 62 points behind LaRocco, but he shaved some points off once he started winning races. LaRocco still appeared headed for the title, until he ran into perhaps the most unbelievable string of bad luck in AMA history--at the next to last round of the series, he suffered mechanical problems in both motos and scored zero points, opening the door for Emig. At the Budds Creek finale, LaRocco then bent his shifter in the first moto, while Emig won and grabbed the points lead. For good measure, Emig won moto two and the championship. The 62 point gap is the largest comeback in AMA National Motocross history, or at least it is as far as I can tell.

A few other big comebacks included Emig's comeback from over 40 points down on Jeremy McGrath in the 1996 250 Nationals. And Travis Pastrana was down over 40 points to Stephane Roncada in the 2000 125 Nationals. Pastrana caught fire late in the year, and Ron-Ron was suffering from a knee injury and couldn't hold him off. In the last moto of the year, Travis prevailed and emerged with the championship. France, meanwhile, is still looking for its first championship in this class. Halfway through the 2000 season, it looked like Roncada was a lock, just like Pourcel was this year.

By the way, I found all this info by digging through old Cycle News' this week in preparing for the SPEED broadcast. Cycle News just proved its worth for me again this week.

Remember, Pourcel still has seven points to play with, a huge gap if you consider he will still win the crown if he goes 2-2 in the motos. But I don't think Christophe is happy winning like that, even though he may have to tuck his pride back and do so this weekend. He wanted to win a lot of races this year, and he only has two, and a dwindling points lead. Even if he wins the crown, it's not the way he had hoped it would happen. But still, you have to remember where this guy came from to win this--and I don't mean France. Three years ago, Christophe was in a wheelchair and his career was thought to be over. He may be the guy out front, but it's been one heck of a comeback for him, too.

In one other piece of trivia I figured out, Kevin Windham has won AMA National MX or SX races in 12 different seasons, which is a record (Jeff Ward held the record with wins in 11 seasons, but Ward's were consecutive, while Windham's are not). He is not, however, the oldest national winner ever, as John Dowd had just turned 33 when he won the Broome-Tioga, NY, 125 National in August of 1998. Windham is a comparatively spry 32! What's funny is, I'm always grilling Dowd for stories when we hang out during the arenacross broadcasts for SPEED, and he told me how, when he and Windham were on Team Yamaha together, Dowd was super old and Windham was just this young kid, and now Windham is the same age that Dowd was then!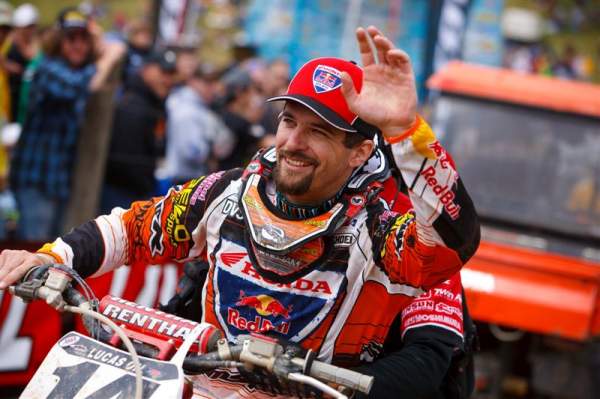 K-Dub is the man. Period.
photo: Simon Cudby

In other news:

Rickie Fowler Brings Motocross Experience, Cool Hats, Zero Wins to Ryder Cup. Read more here.


Road 2 Recovery
Charity Poker Tournament, presented by Rockwell Time. Cassaro outlasted Tim Dixon and Jimmy Button to take the win. He then donated back $500 of his winnings to Road 2 Recovery. Carl Stone made it out to the event and said R2R's Anita Button did an amazing job putting on the event. "There were so many prizes for the winners and gift bags were given out to all the participants," he said. "Have to give big props for Pourcel for showing up and supporting the cause. Such a huge race coming up for him this weekend and he came there played and had a good time."
If you want to win free swag, keep your eyes on Racer X Online. Both
Matrix Concepts
and
MotocrossGiant.com
have stepped up to hook up our readers with some great prizes via online trivia, and you can expect a lot more opportunities to win stuff like a limited-edition Matrix Team USA mat and stand and a
Fox Racing
back to school combo in the coming weeks. Which day will we post the trivia? Well, that's a secret. Thanks to both of those companies and make sure you check out what else they have to offer at
www.matrixracingproducts.com
and
www.motocrossgiant.com
.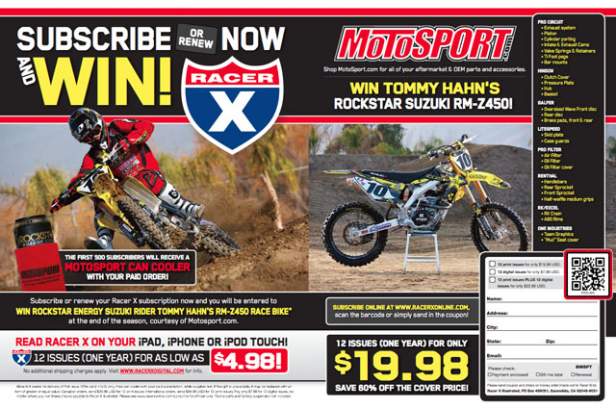 You could win this bike. Just for subscribing. Seriously. Subscribe here.

The annual MX Sports Season Celebration will be going off on Sunday night, September 12 at the Pala Resort and Casino. The party kicks off at 6.30pm and will feature a number of awards, including including the prestigious Edison Dye and Gary Jones cups. A limited number of tickets are available for purchase at the front gate of the event. You can bet that some of the top riders and industry folks will be kicking back and enjoying the start of the off season!

Finally, the semi-finalists for the inaugural SHIFT/Racer X Amateur Film Festival have been announced. Check them out right here.

Like us on Facebook here.

Follow us on Twitter here.

That about does it for this week. Thanks for reading, and we'll see you at the races.